This recipe for roasted tomato garlic soup is served with a savory and creamy goat cheese flan and crisp thyme sticks. It is a delicious and easy way to turn a soup into an elegant dish.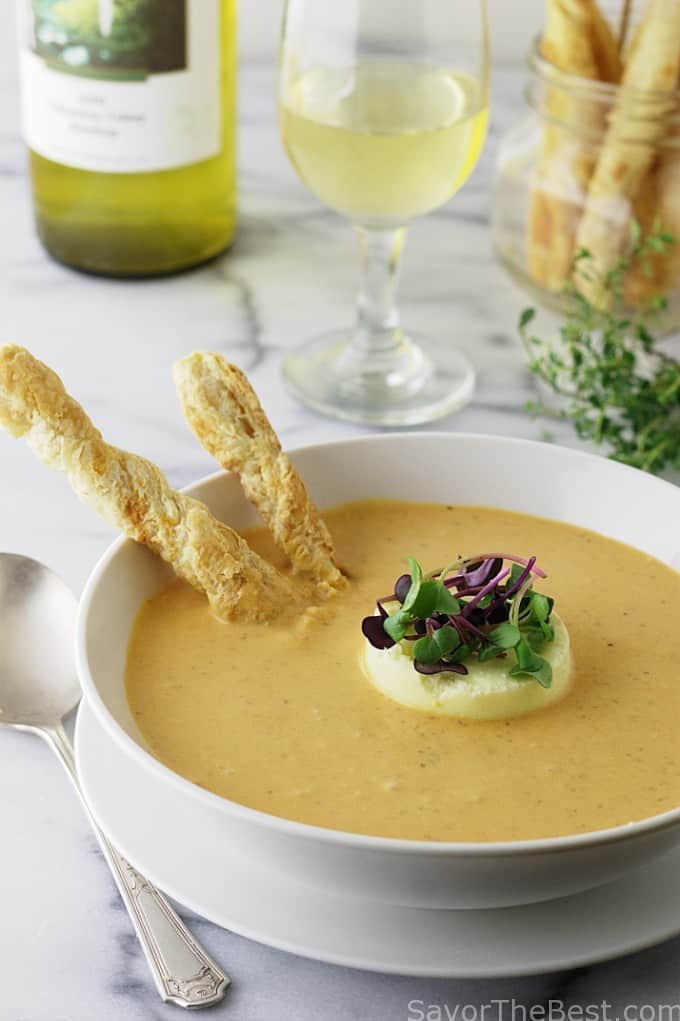 Roasting intensifies the flavor of the tomatoes while the roasted garlic, white wine and fresh herbs add a subtle sweetness to this amazing soup.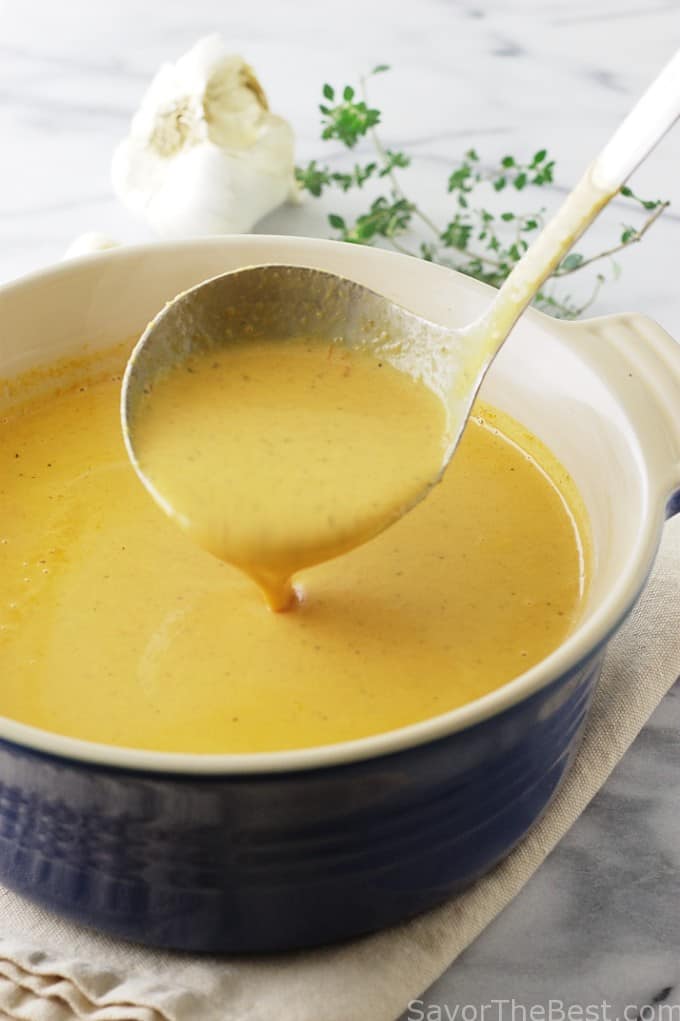 The fresh tomatoes are cut in half and added to a baking sheet along with shallots and garlic cloves then they are roasted in the oven until tender. Fresh herbs, spices, dry white wine and a little cream and milk give the soup a rich flavor and creaminess.
Goat Cheese Flan For the Roasted Tomato Garlic Soup:
The savory goat cheese flans, with a little lemon zest and fresh thyme, have a creamy texture and compliment the tomatoes and fresh herbs in the soup.
We used puff pastry and fresh herbs to create the crisp thyme sticks which is a nice change from bread or crackers.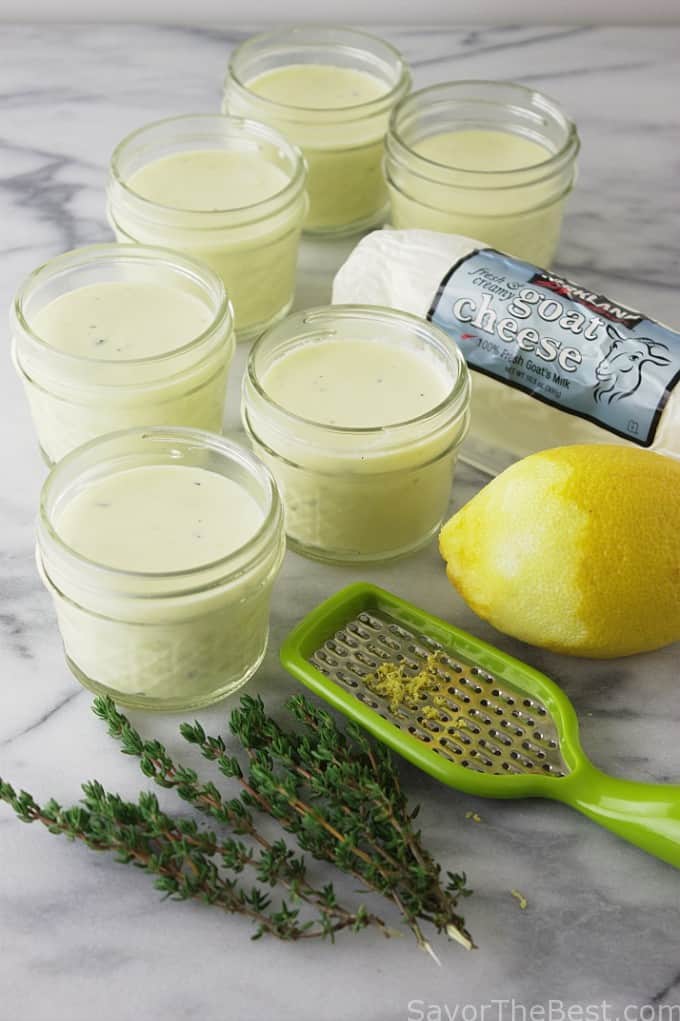 Microgreens?
To serve this roasted tomato garlic soup the goat cheese flans are un-molded and placed in the center of a shallow dish and the hot tomato soup is carefully poured around the flan.
We garnished the flans with radish microgreens that are available in the produce area in Central Market, or Whole Foods but any fresh herb will do nicely. You can learn more about microgreens in our recent post on Asian Pear Prosciutto Appetizers.
We served this creamy soup with crisp herb sticks made from puff pastry and chopped fresh thyme.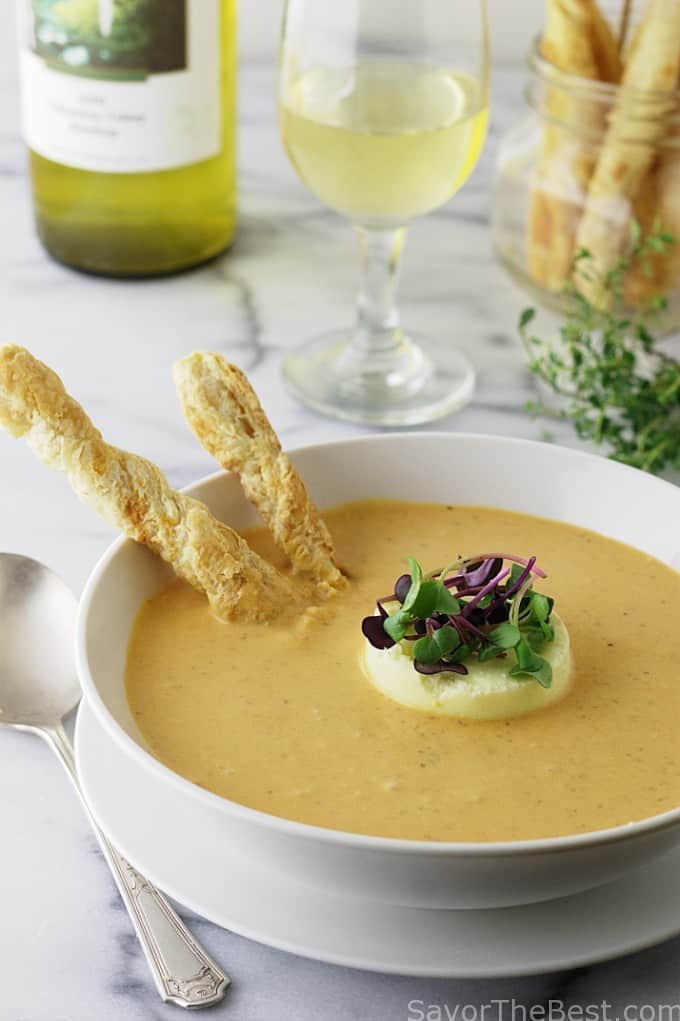 Check Out These Soups:
CONNECT WITH SAVOR THE BEST!
Be sure to follow us on our social media accounts
Facebook * Instagram * Pinterest * Twitter * Youtube
Did you make this recipe? We would love to hear from you. Drop us a comment below.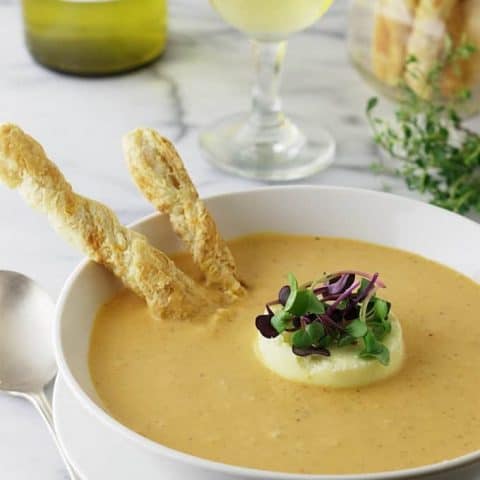 Roasted Tomato Garlic Soup
Yield: 6 servings
Prep Time: 2 hours
Active Time: 2 hours 45 minutes
Total Time: 4 hours 45 minutes
Roasting intensifies the flavor of the tomatoes while the roasted garlic, white wine and fresh herbs add a subtle sweetness to this amazing tomato garlic soup. The savory goat cheese flans have a creamy texture and compliment the tomatoes and fresh herbs in the soup.
Ingredients
For the Soup:
8 Roma tomatoes, halved
2 large shallots, sliced
1 head of garlic
3 tablespoon olive oil
2 tablespoons chopped fresh thyme
3 tablespoons chopped fresh rosemary
1 tablespoon chopped parsley
1/2 teaspoon smokey paprika
1 1/2 cups chicken broth
1/2 cup dry white wine
1/4 cup heavy cream
3/4 cup whole milk
1/2 teaspoon sea salt
1/4 teaspoon freshly grated white pepper
For the Goat Cheese Flans:
4 eggs
8-ounces of goat cheese, softened
Lemon zest from one lemon
1 tablespoon chopped fresh thyme leaves
2 tablespoons sour cream
salt and white pepper to taste
For the Crisp Thyme Sticks:
1 sheet of puff pastry
2 tablespoons butter, melted
3 tablespoons chopped fresh thyme
Instructions
Preheat oven to 400°F
Add the tomatoes, shallot slices and garlic cloves to a baking sheet and drizzle with olive oil. Transfer to the preheated oven and roast for 1 hour.
Place a heavy-bottomed saucepan over medium-high heat, add the roasted tomatoes, shallots, garlic, chicken broth, wine, thyme, rosemary, parsley and paprika. Bring to a boil, reduce to simmer and cook for 30 minutes.
Remove the soup from the heat and allow to cool slightly. Transfer the soup, in batches, to a blender or food processor and puree, being careful to not overfill the container. Pour the puree through a sieve back into the saucepan and stir in the cream and milk. Simmer for 10 minutes, do not allow to boil. Season to taste with the salt and white pepper.
For the Goat Cheese Flans:
Preheat the oven to 300°F
Lightly coat 6, four-ounce ramekins or 6, 4-ounce canning jars with non-stick cooking spray, reserve.
In a medium bowl, beat the eggs until slightly frothy, add the goat cheese, lemon zest, chopped thyme, sour cream, salt and pepper. Beat together to a smooth consistency. Pour the mixture into the prepared ramekins and place them in a larger oven-proof dish. Add enough hot water to the larger dish so that it comes halfway up the sides of the ramekins. Bake in the oven for 25-30 minutes, or until a toothpick comes out almost clean. Remove from the oven, transfer the ramekins to a cooling rack and allow to cool, then refrigerate until serving the soup.
For the Crisp Thyme Sticks:
Preheat the oven to 375°F and line a baking sheet with parchment paper.
Unwrap and thaw one sheet of puff pastry and on a floured-dusted board, lightly roll the pastry. With a sharp knife divide the pastry into six strips. Carefully transfer the strips to the prepared baking sheet leaving several inches between the strips. Brush each strip of pastry with melted butter and sprinkle lightly with the chopped thyme
Beginning at the long side of the first strip, twist the dough as tightly as possible, creating a long spiral shaped stick. Repeat with the remaining five strips of pastry. With a sharp knife, cut each stick in half, creating a total of 12 sticks.
Place the baking sheet on the middle rack of the oven and bake for 10-12 minutes until golden brown. Transfer from the oven and cool on the baking sheet.
To Serve:
Run a knife around the outside edge of the ramekins and tip upside down over a shallow bowl to remove the flan. Carefully pour the piping hot soup in the dish and around the flan, garnish with microgreens or fresh herbs and serve with the crisp thyme sticks.
Notes
The goat cheese flans can be made the day before and kept refrigerated. They will keep for several days in the refrigerator.
Any remaining puff pastry crisp herb sticks should be stored in an air tight container the same as you would store crisp crackers.
Nutrition Information:
Yield: 6
Serving Size: 1
Amount Per Serving:
Calories: 391
Total Fat: 29g
Saturated Fat: 14g
Trans Fat: 0g
Unsaturated Fat: 14g
Cholesterol: 170mg
Sodium: 794mg
Carbohydrates: 15g
Fiber: 3g
Sugar: 6g
Protein: 15g
Nutrition information is a guideline only, is calculated automatically by third party software, and absolute accuracy is not guaranteed.