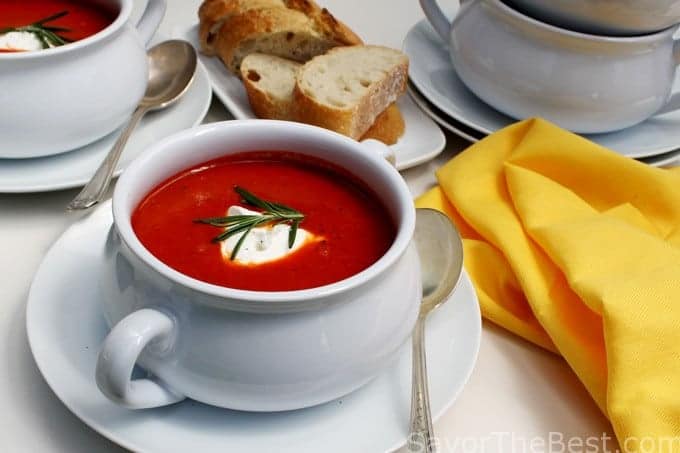 Oh, goodie, these beautiful red Italian grilling peppers are back in season again! When I saw them in the produce section at Central Market I almost did my happy dance right there. I love these things! I made roasted red pepper soup with goat cheese cream for lunch and it was delicious and not too complicated to make.
Last summer when I discovered these grilling peppers, I just couldn't get enough of them. I grilled and jarred them for the refrigerator as well as freezing them and later I used them for a goat-cheese and grilled pepper bruschetta We added them to many meals as a side dish. This roasted red pepper soup is delicious by itself but that little dollop of goat cheese cream on top is perfect.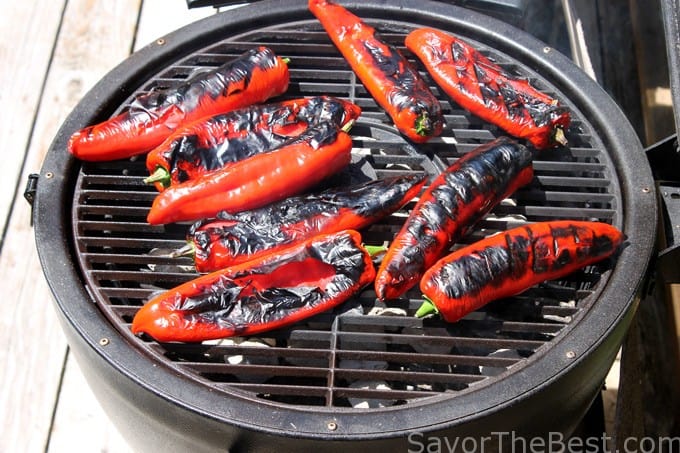 I roasted these peppers on the outdoor grill but it can be done in the oven as well. Just put the charred peppers in a bowl covered with plastic wrap so they can sorta steam and loosen up the skins. While you are waiting for the peppers to do their thing, sauté the onion and garlic, add the fresh herbs, wine and chicken broth. Once the peppers are charred the skins just slip right off and the seeds are right at the stem in one clump and easy to remove. Add the peppers to the soup pot and use an immersion blending stick or your blender to create a smooth consistency to the soup.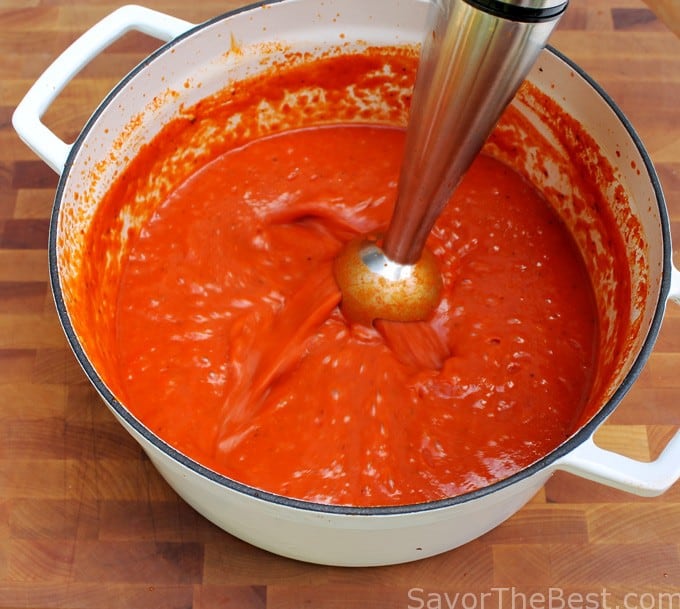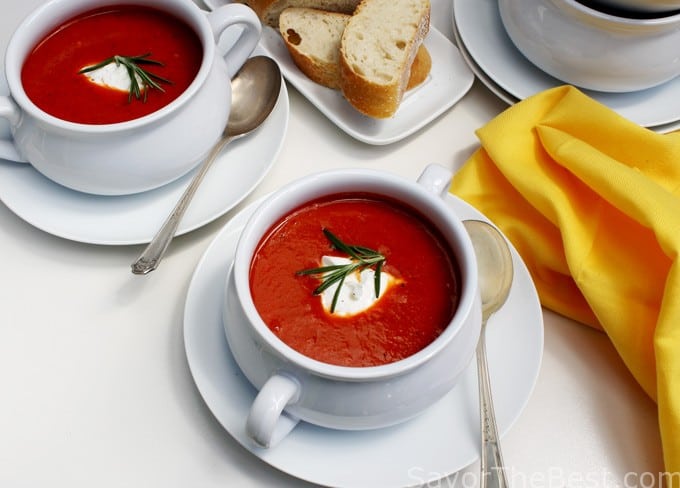 The goat cheese cream is a nice flavor enhancement for this soup and looks beautiful as a garnishment. This roasted red pepper soup with goat cheese cream is delicious served hot with a crusty loaf of bread and is really refreshing served chilled on a hot summer day.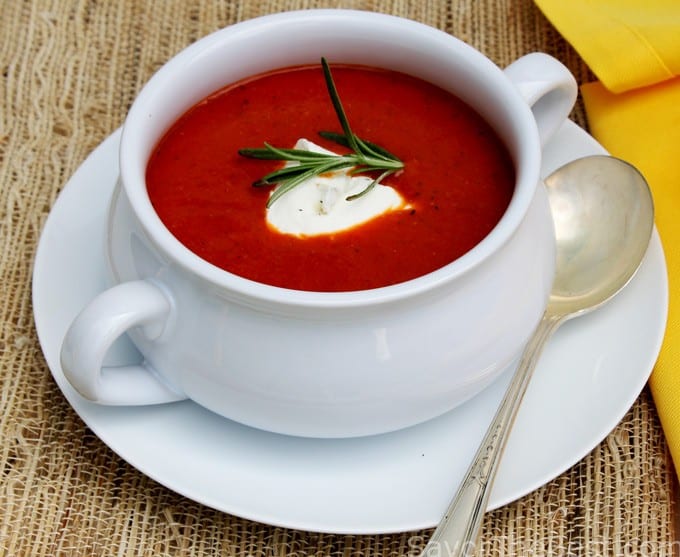 CONNECT WITH SAVOR THE BEST!
Be sure to follow us on our social media accounts
Facebook * Instagram * Pinterest * Twitter * Youtube
Did you make this recipe? We would love to hear from you. Drop us a comment below.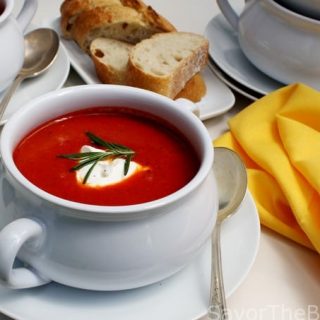 Roasted Red Pepper Soup with Goat Cheese Cream
Yield: 4 servings
Prep Time: 40 minutes
Cook Time: 20 minutes
Total Time: 1 hour
This stunning roasted red pepper soup with goat cheese cream is smooth and delicious with a smokey hint of the charred pepper. The goat cheese cream is a perfect accompaniment.
Ingredients
For the Soup:
2 pounds of Italian sweet red peppers, (the red bell peppers work as a substitute)
2 tablespoons olive oil (divided)
1 large white or yellow onion, chopped
4 cloves of garlic, chopped
3 cups chicken stock
1 cup white wine
2 tablespoons fresh rosemary, finely chopped
1 tablespoon fresh tarragon, finely chopped
2 tablespoons softened butter
2 tablespoons all-purpose flour
Salt and pepper to taste
For the Goat Cheese Cream:
4 ounces goat cheese
2-3 tablespoons heavy cream
Instructions
For the Soup:
Prepare the grill for a hot fire
Wash the peppers and wipe dry with a paper towel. Brush them lightly with 1 tablespoon of olive oil and when the grill is ready grill them to a char, turning to char all sides. Remove and transfer them to a large bowl and cover with plastic wrap. Alternatively, they can be added to a zip close type plastic bag.
While you wait for the peppers to steam the charred skins loose, add the remaining olive oil to a Dutch oven or heavy-bottomed pot over medium-high heat and when it is hot, add the onions and garlic. Cook until the onions are translucent, about 3-5 minutes. Add the chicken stock, wine and fresh herbs.
When the peppers are cool, lay them on the cutting board, peel the charred skins off, leaving some bits of charr for flavor, slit the peppers open from stem to tip. Scoop out the seeds and stems and discard. Rough chop the peppers and add them to the pot with the onion mixture. Bring the soup to a boil, reduce the heat to simmer and cook for 5 minutes. Taste and season with salt and pepper as needed.
Remove the soup from the heat and carefully blend with an immersible blender or a blender until smooth. (see notes)
Add the softened butter and the flour to a small dish and with the back of a tablespoon mash and mix them together until it looks like a paste. Whisk the butter-flour paste (beurre manié) into the blended soup. Return the soup pot to a boil while continuing to whisk, reduce the heat to simmer and cook for 1 minute more.
For the Goat Cheese Cream:
In a small dish, combine the cheese and cream mixing until it is smooth.
To Serve:
Ladle the soup into 4 soup bowls, add a dollop of the goat cheese cream to each serving and garnish with a rosemary or thyme sprig.
Notes
If you are using the blender, do not over-fill the blender and be sure to process the soup in batches with the lid vented to let out steam. If steam builds up inside a sealed blender, it will explode the hot soup all over your kitchen.
Nutrition Information:
Yield: 4
Serving Size: 1
Amount Per Serving:
Calories: 437
Total Fat: 26g
Saturated Fat: 12g
Trans Fat: 0g
Unsaturated Fat: 12g
Cholesterol: 46mg
Sodium: 525mg
Carbohydrates: 32g
Fiber: 4g
Sugar: 15g
Protein: 13g
Nutrition information is a guideline only, is calculated automatically by third-party software, and absolute accuracy is not guaranteed.