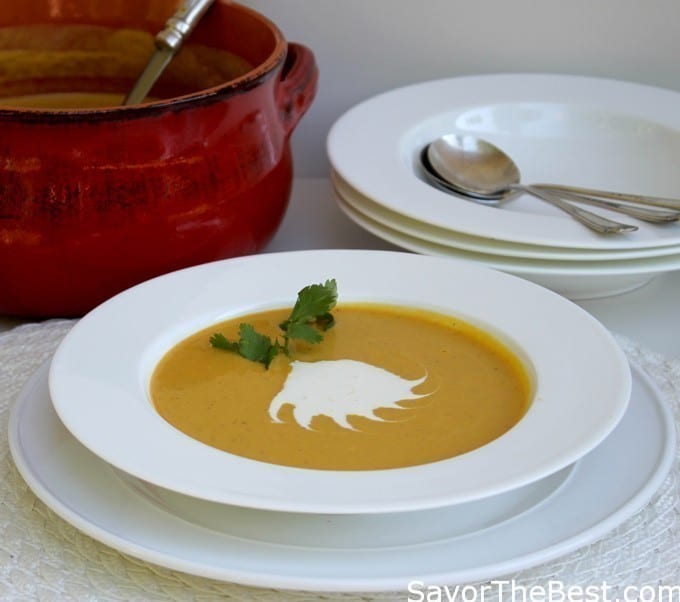 October, and the leaves have turned red and gold, the morning air is crisp and cool and I am thinking of a soup project. Specifically, a good low-calorie, low-fat soup and roasted butternut-ginger soup fits the bill. Perfect for a cool-weather lunch.
A couple years ago, Don gifted me a huge book, entitled The Ultimate Soup Bible, by Anne Sheasby. It is almost two inches thick and has over 400 illustrated soup recipes in it. If you can imagine a soup, the recipe is probably in this book. If I made one soup per week from this book, how long would it take to make all 400 of them? Hmmm
So today I am doing a roasted butternut-ginger soup that is actually adapted from the recipe in the book. But that is just the way I roll, doing my own thing and can't follow a soup recipe without adding my own twist to it. In this case I am adding the roasted ginger root. This is the time of year when it seems to me that the ginger root is the best. The color of the root is smooth and not at all wrinkly or shriveled and when it is sliced the flesh is moist looking.
Ginger root has been around for a long time and is used extensively in Asia in particular but I love candied ginger, ginger preserves and ginger tea, especially the tea if I have an upset tummy as it settles it quickly. And, of course, there is always the ground ginger that we use in baking cookies and other delicious goodies.
When ginger root is sliced into thin little coin-sized rounds, oiled and roasted they become crisp little chips with an intense ginger flavor and I have found them to be delicious to munch on and addictive. They are much more ginger-y than before they were roasted, maybe because the moisture has evaporated and it leaves just the concentrated flavor.
If you have never roasted ginger root you should give it a try. As it roasts your kitchen will fill with an incredible aroma of ginger and when it is crisp and cooled the flavor is intense and delicious. Whatever magical chemistry happens, they taste good. When adding it to this soup it is best to add a little at a time, taste and add more as needed. It is this little bit of roasted ginger root that gives this soup it's zing of a unique taste.
If you are a butternut soup lover I hope you give this roasted butternut-ginger soup a try and if you do, please let me know how you liked it. I always love hearing from you.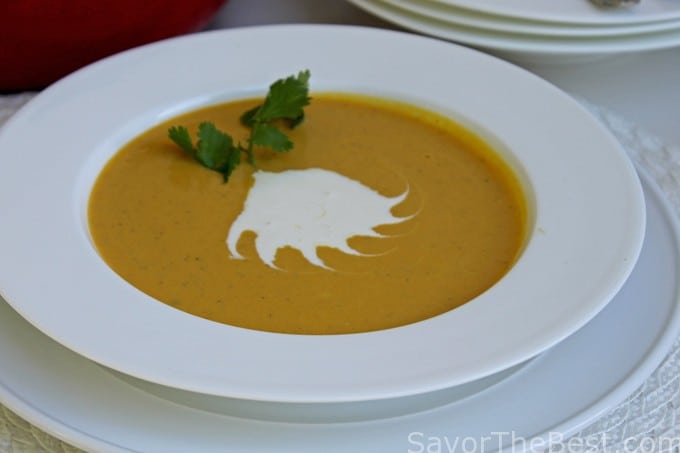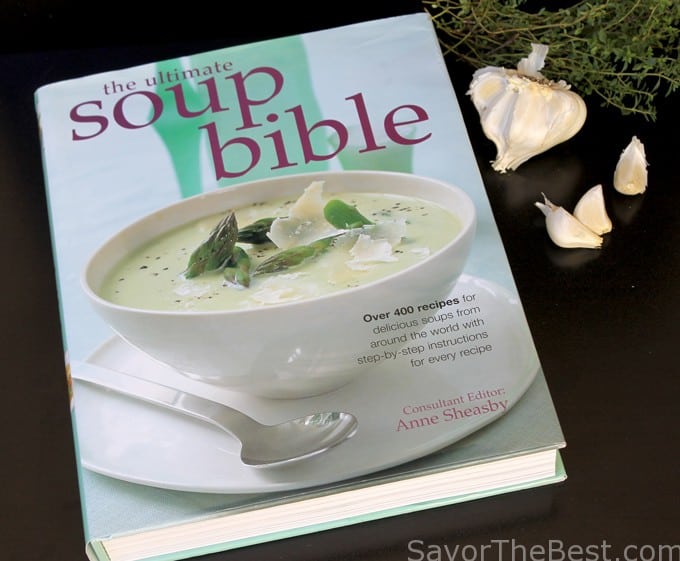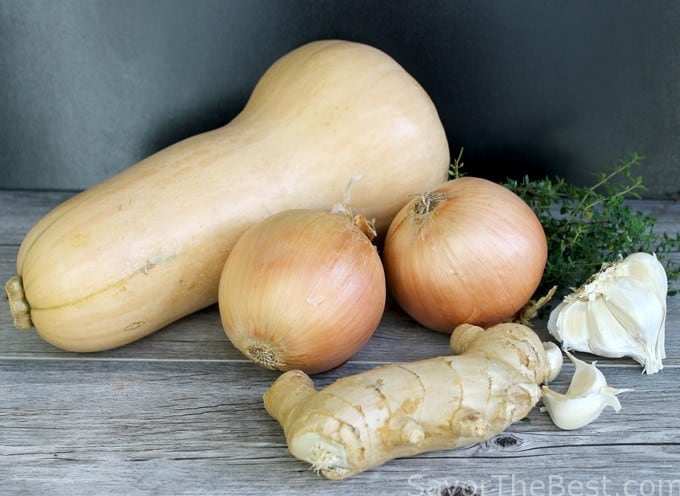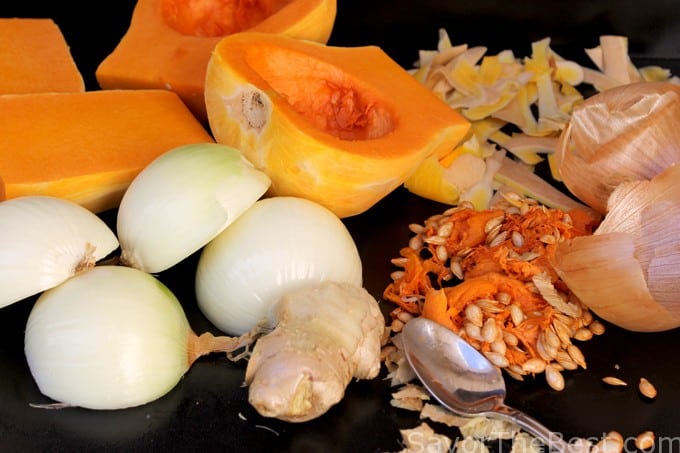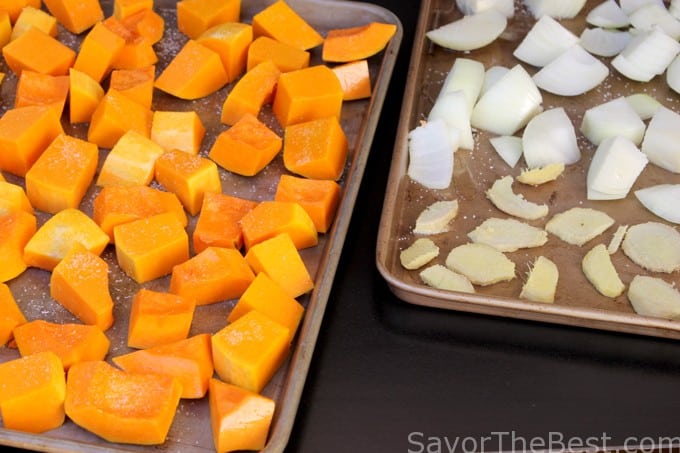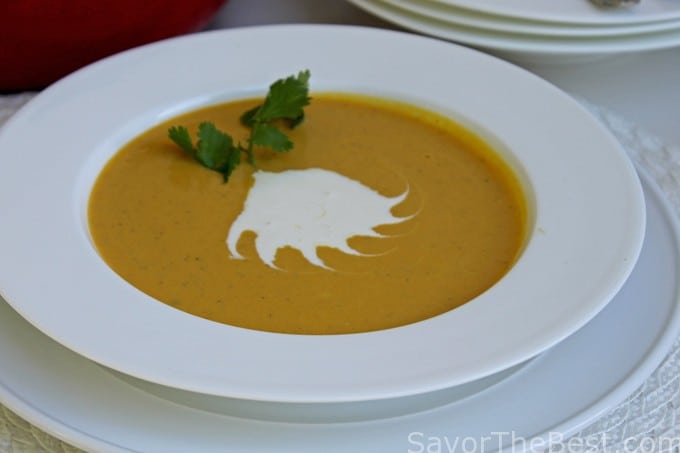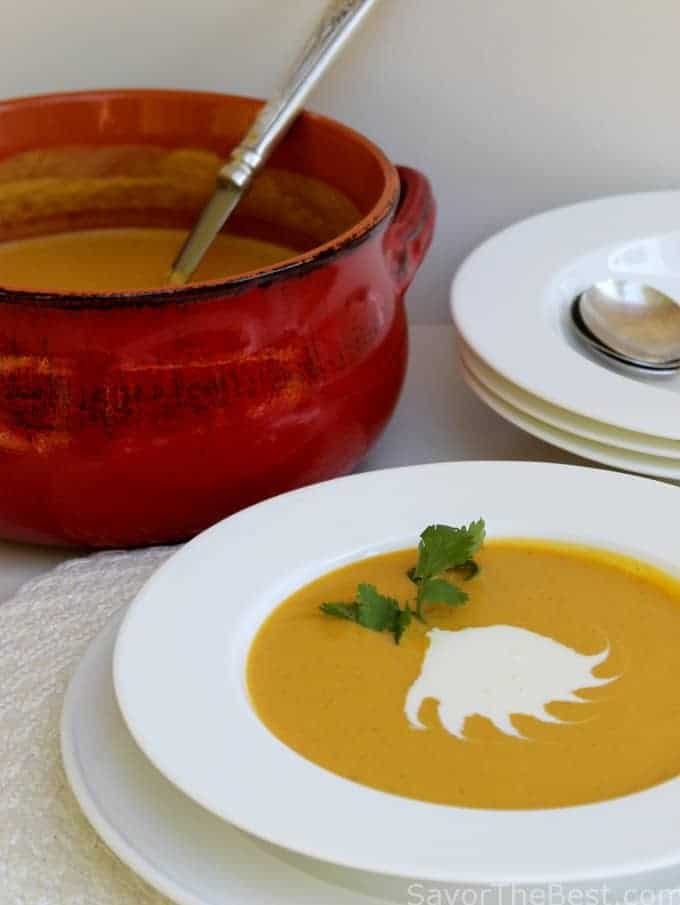 CONNECT WITH SAVOR THE BEST!
Be sure to follow us on our social media accounts
Facebook * Instagram * Pinterest * Twitter * Youtube
Did you make this recipe? We would love to hear from you. Drop us a comment below.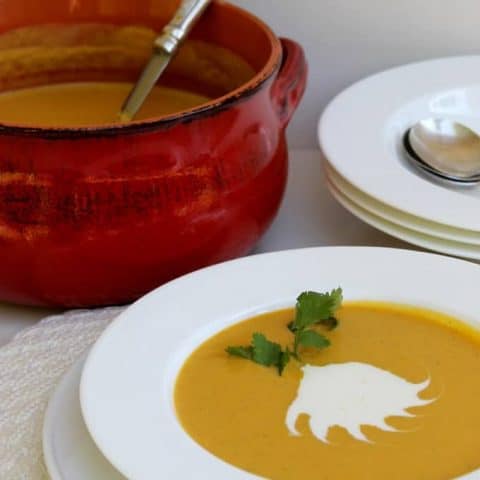 Roasted Butternut Ginger Soup
Yield: 12 servings
Prep Time: 1 hour
Cook Time: 45 minutes
Total Time: 1 hour 45 minutes
A delightful recipe for roasted butternut-ginger soup that is low-fat, low-calorie, creamy and has a bit of zing from the ginger root.
Ingredients
1 (2-1/2) pound butternut squash
2 large onions
1 3 oz. piece of fresh ginger
3 cloves fresh garlic, chopped
2 tablespoons chopped fresh cilantro
4 tablespoons olive oil, divided
12 cups chicken broth
1 cup fat-free or low-fat Greek yogurt
4 oz. low-fat cream cheese
1 teaspoon sea salt
1/2 teaspoon freshly ground black pepper
sprigs of fresh cilantro for garnish
heavy whipping cream for garnish
Instructions
Preheat oven to 400°F
Cut the butternut squash in half and remove the seeds. Peel and cut the squash into 2-inch pieces and place on a baking sheet.
Peel onions and cut into 2-inch pieces and place on a separate baking sheet.
With a teaspoon or vegetable peeler, peel the chunk of ginger and slice into thin disks and place on the same baking seet as the onions.
Drizzle both baking sheets of vegetables with 3 tablespoons of olive oil and transfer to the oven. Set the oven timer for 20 minutes and then remove the sheet pan with the onions and the ginger, transfer the onions to a plate to cool. The ginger should be crisp little chips, if they are not quite crisp return them for an additional 5-7 minutes until they are crisp, then remove and allow to cool. Continue roasting the squash for another 10 to 15 minutes, until tender and a little caramelized. Remove from the oven and allow to cool.
While the vegetables are roasting, prepare the remaining ingredients. Add 1 tablespoon of olive oil to a dutch oven or soup pot over medium-high heat, chop the garlic and add to the dutch oven or soup pot and sauté just until soft and fragrant. Remove and allow to cool, then transfer to a blender.
Being careful to not overfill the blender, add the vegetables to the blender in three batches, with 3-4 pieces of the ginger, and process until smooth then transfer to the dutch oven. In the final batch of processing, add the yogurt and cream cheese and process until smooth and creamy.
When completely smooth transfer to the dutch oven and stir to combine. Add the rest of the chicken broth, the chopped cilantro, salt and pepper, to taste.
Bring the soup just to a boil, reduce to simmer and cook for 15 minutes. Serve hot with a tablespoon of heavy cream and a sprig of fresh cilantro as garnishment.
Nutrition Information:
Yield: 12
Serving Size: 1
Amount Per Serving:
Calories: 156
Total Fat: 5g
Cholesterol: 5mg
Sodium: 990mg
Carbohydrates: 15g
Fiber: 2g
Sugar: 4g
Protein: 9g