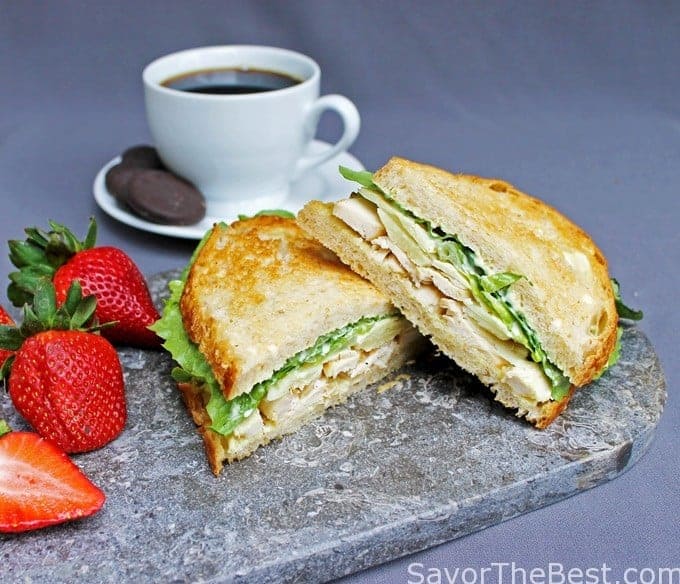 While browsing through my book, The Sandwich Bible and viewing the contents of my refrigerator, I was inspired to make this chicken Caesar sandwich for our lunch. This book is packed full of a huge variety of sandwiches but it is so fun to just do your own thing and be creative. However, if you are trying to create a sandwich that is your own 'unique' creation you will discover that it has already been created by someone else. Such was the case with my chicken caesar sandwich. But, it doesn't take much imagination to use the Caesar salad ingredients to create a sandwich.

If you like Caesar salad as much as I do you will love this chicken Caesar sandwich. It makes a great fast lunch with left over-chicken, Caesar salad dressing, parm cheese, romaine lettuce and bread. I used sourdough bread that was buttered only on one side and lightly toasted under the broiler, then rubbed with garlic, this was my 'crouton'. When it was cool, the other side was slathered with some homemade Caesar salad dressing. The thinly-sliced left-over grilled chicken breasts, large shards of parmesan cheese and crisp romaine lettuce was piled on with a little more dressing to help stick it together. Finally, it was topped with the other slice of lightly toasted bread.
This makes two large chicken Caesar sandwiches and will serve two very hungry people or four hungry people. It is just Don and myself so I believe I will call up our friends to come join us for lunch.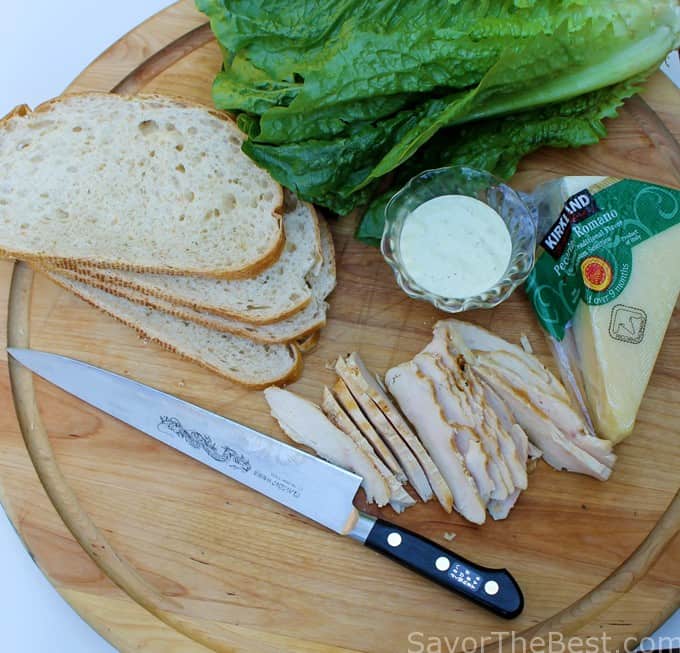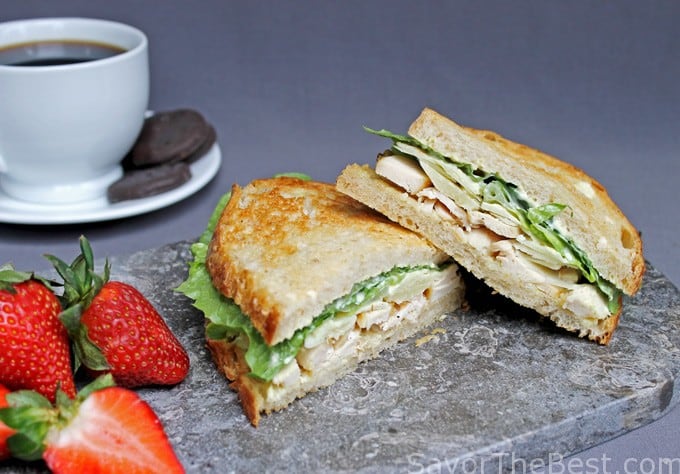 CONNECT WITH SAVOR THE BEST!
Be sure to follow us on our social media accounts
Facebook * Instagram * Pinterest * Twitter * Youtube
Did you make this recipe? We would love to hear from you. Drop us a comment below.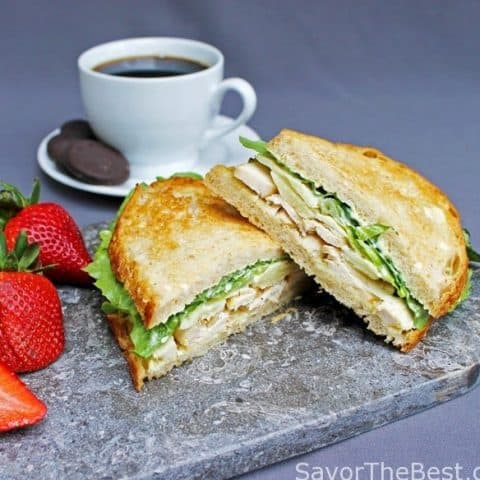 Chicken Caesar Sandwich
Chicken Caesar sandwich on toasted sourdough bread with Caesar salad dressing and crisp romaine.
Ingredients
4 slices sourdough bread
4 tablespoons butter
2 garlic cloves
6 tablespoons caesar salad dressing (divided) or your favorite commercial bottled dressing
4 ounces parmesan cheese, shaved into large shards with vegetable peeler
8 ounces boneless, skinless chicken breast, cooked (about 2 pieces)
romaine lettuce
Instructions
Set the oven on broil
Butter each slice of bread on just one side, place the slices of bread on an un-greased baking sheet with the buttered side up, and transfer to the upper rack of the oven and toast the buttered bread just slightly. Watch the bread closely as it will toast quickly. Remove and transfer to a wire rack and allow to cool for 5 minutes. Rub the toasted side with the garlic cloves.
Add one tablespoon of the dressing to each un-toasted side of the bread and spread to the edges. Divide the chicken slices between two slices of bread, drizzle another tablespoon of the salad dressing over the chicken. Divide the cheese between the two sandwiches, and place on top of the chicken.
Add pieces of romaine lettuce to each sandwich and place the prepared top slice of bread on the lettuce. Plate, serve and enjoy…