Surf and turf wrapped up in a soft bun! This is a sandwich for all the hungry people. This steak and lobster sandwich comes on toasted garlic bread and is smothered in a silky, creamy, buttery, lemon-garlic hollandaise sauce. It's an epic sandwich That will satisfy all your cravings.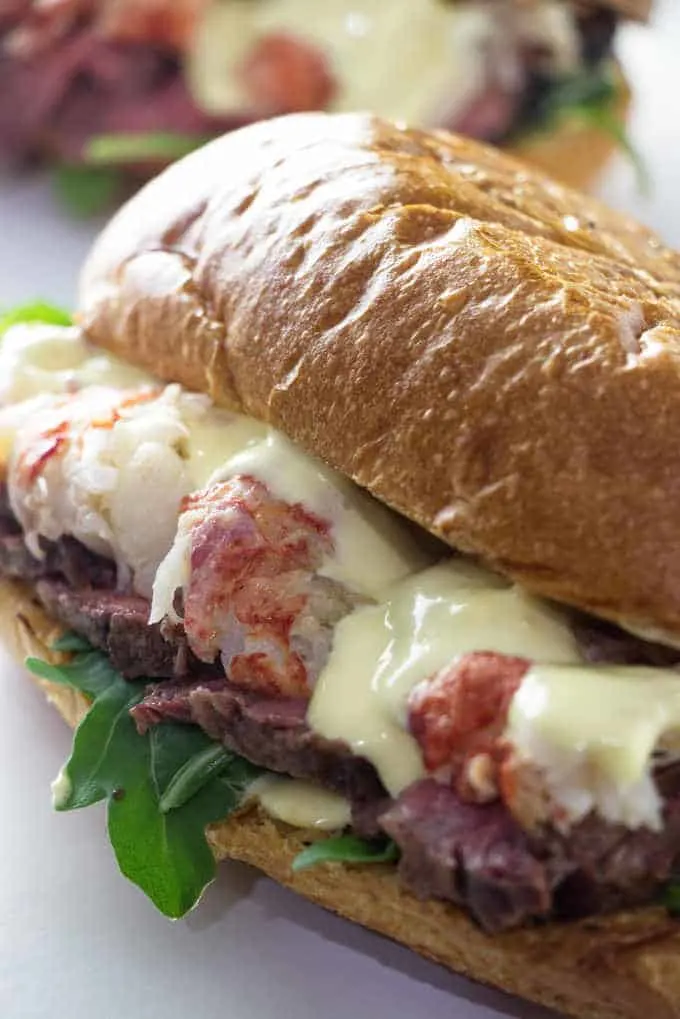 Juicy grilled steak. Tender lobster meat. Peppery arugula. Silky, smooth lemon-garlic hollandaise sauce. All that sandwiched between a toasted garlic bread. What's not to love?
This recipe makes two thick sandwiches but I was stuffed after eating just half of a sandwich so depending on your appetite you could get 4 servings out of the recipe.
If you serve the sandwiches with a couple of sides like potato salad and this hot crab dip, you will definitely get more than 2 servings out of the meal.
End your meal with a simple dessert like this easy peach crisp or some vanilla-lavender ice cream. By the way that lavender ice cream is pretty amazing topped off with lemon curd. YUM.
How to make a steak and lobster sandwich.
Start off with a thick steak. We used a boneless New York strip steak that was almost 2 inches thick.
Cook the steak and lobster
First, cook the steak and lobster so the steak has time to rest and the lobster tails have a chance to cool down so you can remove the meat.
Get the grill ready
If you're using an outdoor grill, set the grill up with two heat zones. The lobster doesn't need as much heat as the steak plus you will want to start the steak off with a nice hot sear then move it to a lower heat.
Cook the steak.
Sear the steak over high heat for 3 minutes then flip it and sear the other side for 3 minutes. After you have a good sear on both sides of the steak, move it over to the side of the grill that has less heat.
Cook the steak to your desired doneness, let it rest, then cut it into thin strips. It is important to let the steak rest before you slice it. You could even let sit until it is time to assemble the sandwiches.
Cook the lobster tails.
While you're cooking your steak, cook the lobster tails. The lobster only needs to cook over medium heat.
If you "book" butterfly the lobster tails, they will not only cook faster, it will be easy to remove the meat when they are finished cooking.
If you're wondering what I mean by 'book butterfly', we have a recipe and a video guide for grilled lobster tails.
Basically, we cut down the middle of the lobster tail and opened them up like a book. It is a fast and easy way to grill lobster tails.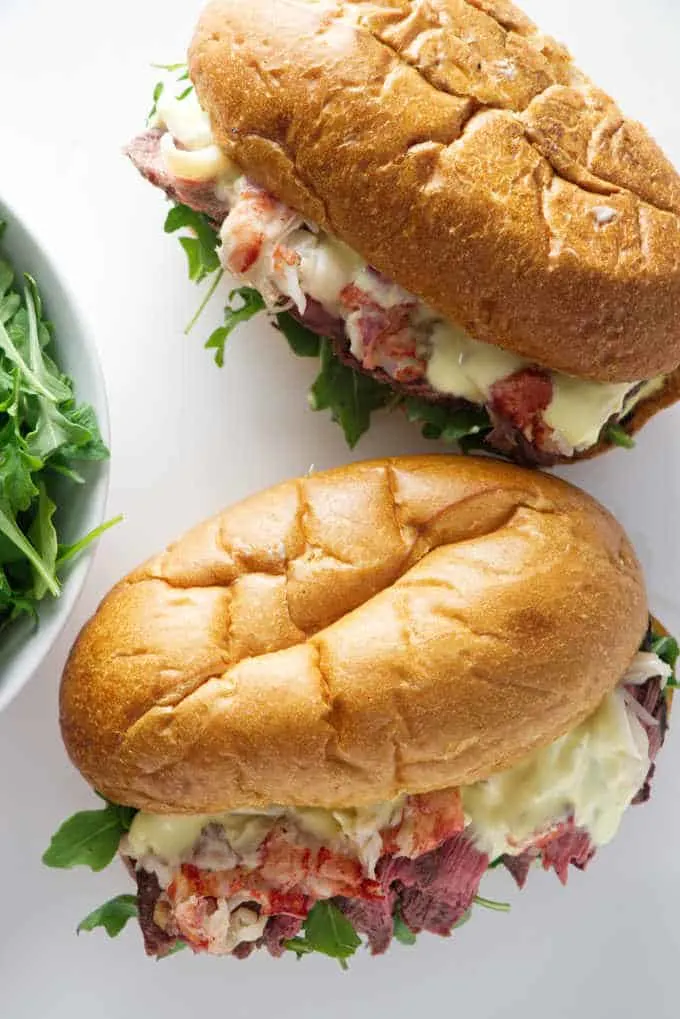 Make the lemon-garlic hollandaise sauce.
We made a lemon-garlic hollandaise sauce to slather all over the steak and lobster. The sauce is a variation of this blender hollandaise sauce. It comes together in less than 5 minutes if you use the blender. It is a super-slick way to make perfect hollandaise sauce. Every time.
Our recipe for blender hollandaise sauce has 4 different variations. We used the lemon garlic variation but honestly, any of the flavors will taste delicious with this sandwich.
Make the garlic bread.
After you finish using the grill for the steak and lobster, get your bread ready. We used 2 soft hoagie rolls but this would work with 1 large loaf of French or Italian bread like the one we used in this garlic bread recipe or you can use our garlic butter sauce which has dried and fresh garlic.
Heat up a cast-iron skillet and slather each side of the hoagie rolls with garlic butter spread. When the skillet is hot, lay a roll face down on the skillet and cook it until it is golden brown and toasted.
There is just something about a toasted bun that makes a sandwich special. Of course, steak and lobster are the stars in this sandwich that make it so incredibly special but the toasted bun takes it even further.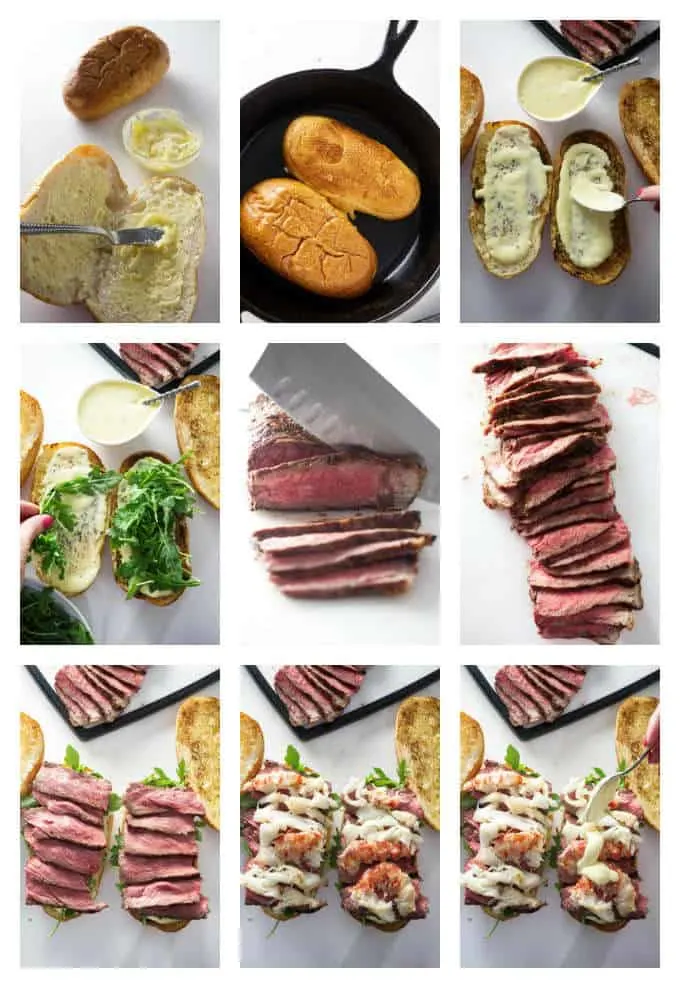 Assemble the sandwiches.
Now that you have some toasted garlic bread hoagie buns, slather the lemon-garlic hollandaise sauce on the buns. Next, lay down a bed of arugula then pile a bunch of steak slices on top followed by some lobster meat.
Drizzle some more of that buttery hollandaise sauce on top and you have a perfect steak and lobster sandwich.
Why does steak need to rest after it is cooked?
If you want juicy, tender, delicious steak, you need to let it rest after it is finished cooking. If you slice into the steak right away, the juices will pour out all over the cutting board. That will give you a dryer, tougher steak.
If you let the steak rest for 10 minutes, the muscle fibers will cool down, relax, and hold on to more juice. More juice inside the muscle fibers = juicier meat.
Make this sandwich with leftovers.
If you had a steak and lobster dinner and have leftovers then recycle them the next day into this sandwich. You can also cook the steak and lobster a day in advance and keep the meat covered in the fridge until you assemble the sandwich.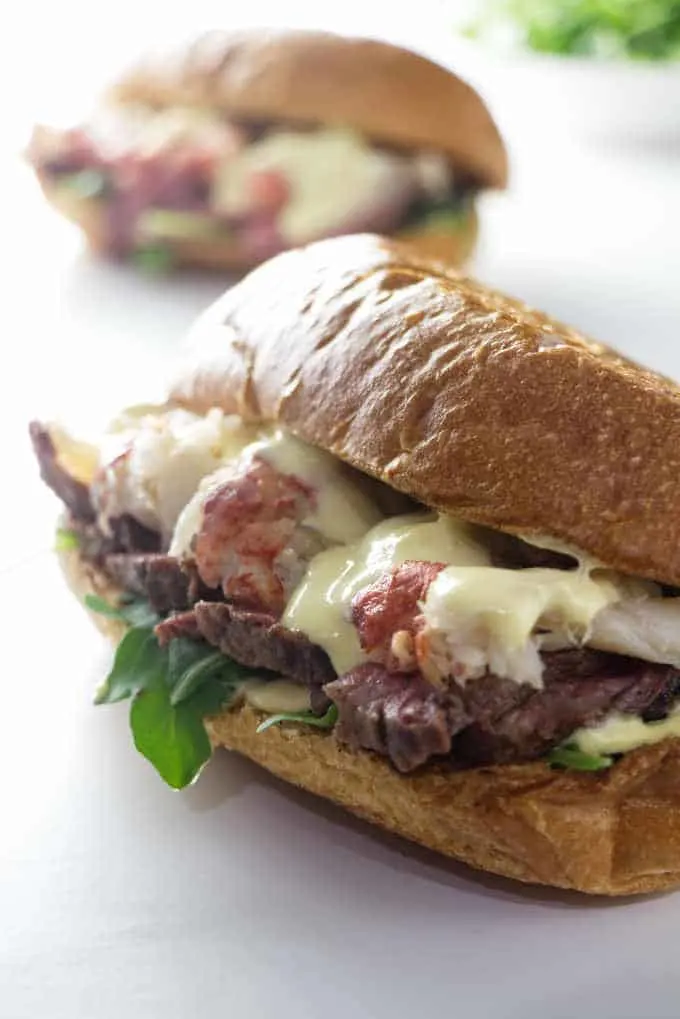 SOME OTHER RECIPES WE ARE SURE YOU WILL LOVE:
These plump steamed mussels in garlic wine sauce make for a fast and easy dinner. Serve them with some crusty sourdough bread and a wedge salad.
This Creole seafood gumbo is a thick, flavorful stew. It is packed full of spicy andouille sausage, crabmeat, shrimp, oysters, calamari rings and vegetables. One bowl of this is a full meal!
You have to try these seared scallops with Romesco sauce. The large sea scallops get pan seared to a golden brown and basted with a garlic-thyme butter. Then they get served with a rich, smooth romesco sauce that is to-die-for.
Connect With Savor the Best:
Please follow us on our social media accounts
Facebook * Instagram * Pinterest * Youtube * Twitter
Did you make this recipe? We would love to hear from you. Drop us a comment below.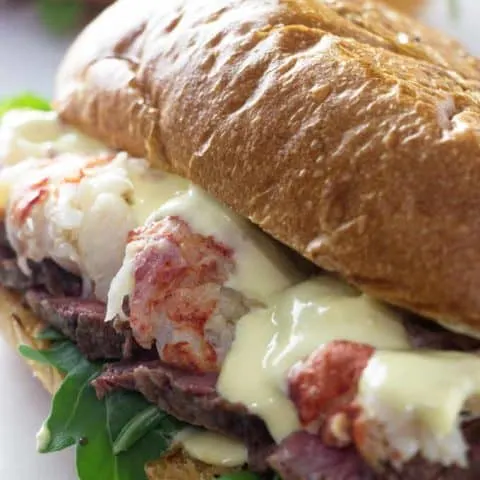 Steak and Lobster Sandwich on Garlic Bread
This is not your average sandwich! It is loaded with a juicy grilled steak, tender lobster meat, peppery arugula, and topped off with a silky-buttery-lemon-garlic hollandaise sauce. All that deliciousness gets bedded down on a soft loaf of garlic bread. It's a hefty sandwich!
Ingredients
1 (12 ounce) beef steak (we used a 1-1/2 inch thick boneless New York strip)
salt and pepper
3 to 4 small lobster tails (about 4 to 5 ounces each)
4 tablespoons softened butter
3 large garlic cloves minced
2 soft hoagie rolls
Lemon-garlic blender hollandaise sauce
1/2 cup baby arugula leaves
Instructions
Get the grill ready. Set the grill up so it has two heat zones, really hot for searing the steak and medium heat to finish cooking the steak. You will also want to cook the lobster over the medium heat.
Season the steak with salt and pepper then place it on the hot grill. Cook the steak for 3 minutes per side to get a good sear on the outside of the steak then move the steak to medium heat and cook to desired doneness (see doneness guide below).
While the steaks are cooking, place the lobster tails on the grill over medium heat. Grill the lobster tails for 3 to 5 minutes per side until the meat turns from opaque to white.
When the lobster tails and steak are finished cooking, set them aside while you prepare the other ingredients.
MAKE THE GARLIC BUTTER SPREAD
Combine the softened butter and minced garlic in a small dish and mash together with a fork.
Spread the garlic butter over the cut sides of both the hoagie rolls. Place a cast iron skillet over the hot grill. When the skillet is hot, place a hoagie roll in the skillet, cut side down. Cook the bun over medium heat until the bottoms are toasty brown.
ASSEMBLE THE SANDWICHES
When the steak has had at least 10 minutes to rest, cut it across the grain into thin strips then remove the meat from the lobster tails.
Spread the cut sides of the hoagie buns with the hollandaise sauce then pile some arugula on one side of each bun.
Place the slices of steak on the bed of arugula then top with the lobster meat.
Drizzle the top of the lobster meat with more hollandaise sauce then top with the other half of the hoagie bun.
Notes
For an outdoor grill, set the grill up so it has two heat zones. You will want to start the steaks off at a high heat to get a good sear then finish them at a medium heat. You will also want to cook the lobster on the medium heat.
You can cook the steak and lobster 1 day ahead or use the leftovers from your steak and lobster dinner.
If you want to book butterfly the lobster tails, check out this post and video to see how that is done. Book butterflying a lobster tail will make it easy to remove the meat and allow the lobster to cook quicker.
For doneness of your steak:
Rare: 120° to 125° F – center is bright red, pinkish toward the exterior portion
Medium Rare: 130° to 135° F – center is very pink, slightly brown toward the exterior portion
Medium: 140° to 145° F – center is light pink, outer portion is brown
Medium Well: 150° to 155° F – not pink at all
Well Done: 160°F and above – meat is uniformly brown throughout
Nutrition Information:
Yield:

2
Serving Size:

1
Amount Per Serving:
Calories:

1037
Total Fat:

61g
Saturated Fat:

31g
Trans Fat:

1g
Unsaturated Fat:

23g
Cholesterol:

396mg
Sodium:

1302mg
Carbohydrates:

41g
Fiber:

3g
Sugar:

15g
Protein:

81g
Nutrition information is a guideline only, is calculated automatically by third party software, and absolute accuracy is not guaranteed.