A visit to New Orleans would not be complete without experiencing a steaming bowl of spicy gumbo. There are many varieties of gumbo but this Creole Seafood Gumbo is one that visitors favor. Creole Seafood Gumbo is a pungent, concoction of spicy sausage, seafood and vegetables swimming in a uniquely flavored, savory broth.
New Orleans is also known as the Big Easy. Visitors from around the world gather here in March for their annual Mardi Gras. It is like a big holiday party with music, parades and fun. But the big ticket item is their food with their gumbos being in high demand.
We visited New Orleans in 2011 and enjoyed all the wonderful foods and sights of this great city. A tour through the Garden District, coffee and beignets in the historic French Quarter and a stroll down the jazzy Bourbon Street was just part of our fun trip.
New Orleans has eating choices for any occasion from quaint cafe's, casual food trucks, to fancy, romantic fine-dining and on every menu is at least one variety of gumbo. Don't leave New Orleans without having tasted their gumbo!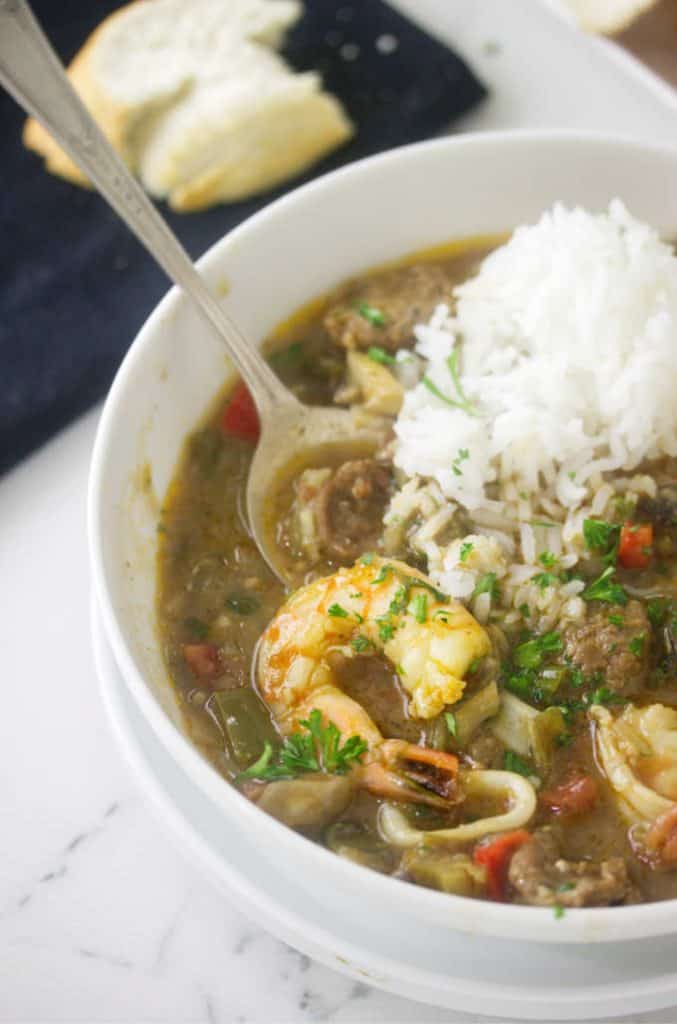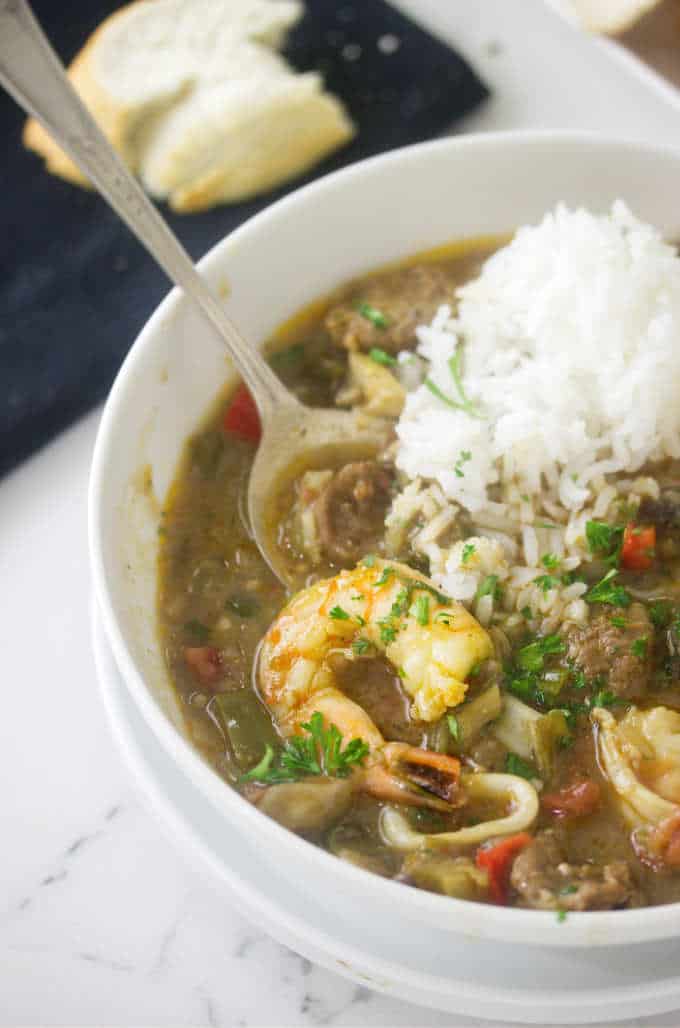 Our Creole Seafood Gumbo is bursting with flavor.
What is Gumbo?
Gumbo is a soup or stew made with any combination of beef, pork, poultry, fresh seafood, sausages, and vegetables. The stew is cooked in a dark, savory, spicy broth that is rich and flavorful. The dish is most commonly associated with Louisiana but it is known throughout the world. When you think of New Orleans the first thought in your head is probably gumbo!
How is gumbo thickened?
Most gumbo recipes should have a thickener added to the broth. The three traditional thickeners are a roux, okra and filé powder.
Roux:
A roux is flour and fat of either oil or butter cooked together until it is a dark brown color. To achieve that rich, dark color it is cooked over low heat for a long time. The darker the roux becomes, the more intense the flavor. You probably have made gravy by first making a roux.
Okra:
Okra, that pod-like vegetable is traditionally added to gumbo as a thickener as well. The juice in the pods has an unusual slimy consistency. Oh, I hate that word 'slimy' but it is what it is! If not prepared properly the sliminess will add an unpleasant texture to the gumbo. The secret to eliminating this unique plant juice is to cook the okra separately prior to adding it to the gumbo base.
Filé Powder:
Then there is the earthy flavor of filé powder, (pronounced fee-lay), it is made from finely ground sassafras leaves. Filé powder is usually added at the end of the cooking process or served with the gumbo sprinkled over the top as a condiment.
What is

Creole Seafood Gumbo:

Creole cuisine is a fusion of several different cultures. Originating in Louisiana, it blends cuisines from the Southern States with French, Spanish, Italian, African, Native American, Haitian, and German cultures. Check out our previous post of spicy andouille sausage and chicken gumbo:

Creole Seafood Gumbo is a delicious concoction of seafood swimming in a rich, uniquely flavored stew. This recipe includes spicy andouille sausage, crabmeat, shrimp, oysters, and calamari rings. Furthermore, no gumbo is complete without the holy trinity vegetables of onion, celery and bell pepper. It is not uncommon to also include garlic and tomatoes.

These veggies, the roux, and okra are the base of the gumbo. You will also add a flavorful broth which turns it into either a soup or stew depending on the amount of broth you use. The spiciness and unique flavor associated with Creole seafood gumbo comes from Creole seasoning. It is a combination of cayenne pepper, garlic powder, paprika, celery salt, and chili powder.
What is in our recipe for Creole Seafood Gumbo?
In our recipe, we are using fresh Dungeness crab meat but you can use any good lump crab meat, fresh, canned or frozen. Just pick over the crab meat to remove any shells that may have escaped the pickers. Whole crabs are often used in gumbo. Whole crabs would make a more impressive presentation but would also be messier to eat. In our Creole seafood gumbo we also include andouille sausage, large shrimp, small shucked oysters, and calamari rings.
Calamari is the Italian word for squid. Cleaned squid is first cut into rings, then frozen and packaged for market. Bags of calamari rings are available in the frozen fish section of most grocery stores. Fried calamari rings are one of our favorite ways of eating this delicate sea creature. It is deep fried and dipped in a zesty sauce. They are crisp, tender and a wonderful treat!
Calamari are a little tricky to cook. The rule is that you either cook it for 2-minutes or 20-minutes. Anything in between and they will be tough and rubbery. We will be adding these calamari rings to the broth for a two-minute cook just before serving.
How to Make A Creole Seafood Gumbo:
We begin with trimming the stem from the okra pods being careful to not cut into the pod as it will begin weeping out the slime. We placed the pods in a dish with a little water, covered the dish with plastic wrap and microwaved them for 4 to 5 minutes. After they cooled enough to handle we cut them into slices and reserved them for later.
You can do a little multi-tasking while the okra is cooking by starting the roux as this will take about an hour. Use a heavy-bottomed pan for the roux, such as a Dutch oven. Heat the oil and mix in the flour then cook it over low heat. The darker brown it becomes the more intense the base of your gumbo will become. Some folks like a deep, chocolate roux but you must watch it carefully, stirring frequently as it will burn in a heartbeat.
Next we added the andouille sausage, vegetables, tomatoes, broth, liquor from the oysters, seasonings and the cooked, sliced okra. We let the gumbo simmer for 30 to 40-minutes for all those yummy flavors to meld together. While the pot simmered away, we cooked up a big pot of rice as it is a must with the Creole seafood gumbo.
Adding the seafood at the end of the cooking time will prevent the seafood from overcooking. We added the large shrimp first and let them cook for 2-minutes. Then we added the crab meat, oysters and calamari rings and cooked them for two more minutes. We removed the bay leaves and portioned the gumbo into bowls with the rice and garnished each serving with parsley.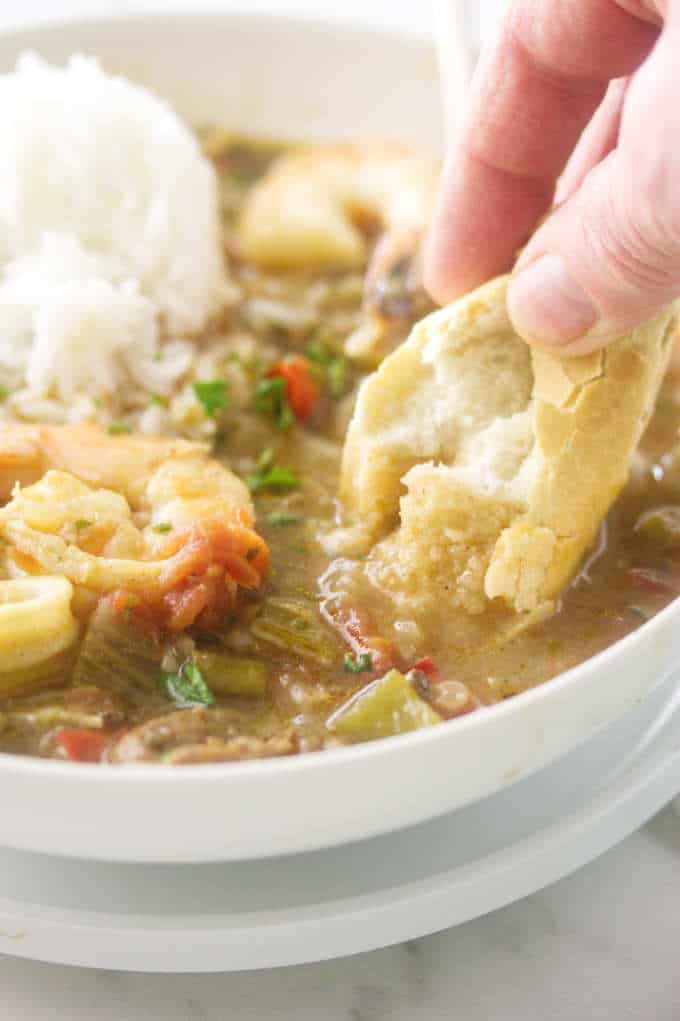 Chunks of French bread for dippers.
Can You Freeze Creole Seafood Gumbo?
Yes, you can freeze it. However, the seafood will not reheat well as it will become overcooked and rubbery. Our recommendation is to first remove the seafood and freeze separately from the gumbo soup. When ready to reheat the gumbo, thaw both the seafood and the soupy portion in the refrigerator. Reheat the gumbo soup on low heat until it is hot and bubbly. Remove from the heat and add the thawed seafood and let the hot gumbo warm the seafood. That way you won't overcook the seafood and make it rubbery.
Another option is remove the seafood and re-purpose it for another meal the next day…..pasta with garlic butter sauce would be delish! Just freeze the soupy portion of the gumbo and when reheating it, add fresh seafood at the end when the gumbo is piping hot.
MORE RECIPES WE ARE SURE YOU WILL LOVE:
CONNECT WITH SAVOR THE BEST!
Be sure to follow us on our social media accounts
Facebook * Instagram * Pinterest * Twitter * Youtube
Did you make this Creole seafood gumbo? We would love to hear from you. Drop us a comment below.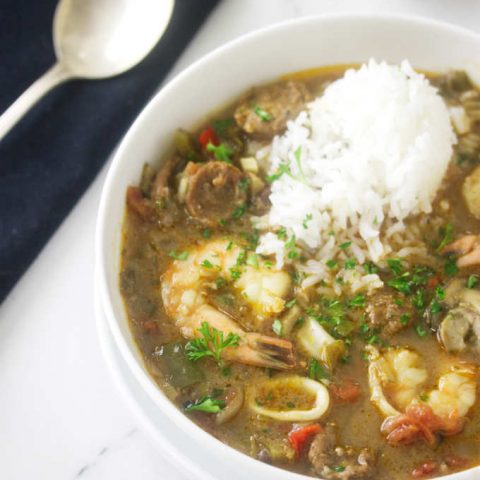 Creole Seafood Gumbo
Total Time:
2 hours
30 minutes
Creole Seafood Gumbo is a delicious concoction of spicy andouille sausage, crabmeat, shrimp, oysters, calamari rings and vegetables swimming in a uniquely flavored, savory broth.
Ingredients
1 pound fresh okra pods (See Notes)
1/2 cup vegetable oil
1/2 cup bacon drippings (or butter)
1 cup all-purpose flour
1 pound andouille sausage, sliced
1 large onion, chopped
1 bunch scallions, chopped, white and green parts separated
1 green bell pepper, chopped
1 red bell pepper, chopped
4 celery stalks, chopped
6 garlic cloves, grated or minced
1 (16-ounce) canned diced tomatoes
4 cups fish broth
4 cups chicken broth
1 cup dry white wine
3 bay leaves
1 teaspoon dried Italian seasoning
1 teaspoon Creole seasoning, or to taste
2 pounds large shrimp, de-headed, peeled and veins removed
1 pound lump crab meat, picked over
1 dozen shucked oysters, small or medium; strain and reserve their liquor (See Notes)
1 pound frozen calamari rings, thawed
1/3 cup chopped Italian parsley
a few dashes of filé powder (added when serving)
Instructions
Cook the okra:
Rinse the okra under cold water then trim the stem of the pod but do not cut into the pod itself.
Add the trimmed okra pods to a microwave-safe bowl and pour in 1 cup of water. Cover the bowl with plastic wrap and place into the microwave.
Cook the okra for 3-4 minutes on high power. Transfer the bowl from the microwave and carefully remove a corner of the plastic wrap to allow the steam to escape. When cool enough to handle cut each pod into 1/4-inch slices. Reserve.
Make the roux:
Add the olive oil and the bacon drippings (or butter) to a large heavy-bottomed pot set over medium-high heat. Add the flour and stir continually until the mixture turns golden brown. Reduce the heat to low and continue to cook and stir frequently until the roux browns to the color desired, about 40 to 60-minutes.
Add the andouille sausage, onions and the white parts of the scallions, green and red bell pepper, and the celery to the pot. Cook the vegetables, stirring, until soft, about 3-5 minutes. Add the garlic and cook until fragrant, about 30-seconds. Add the tomatoes, fish broth, chicken broth, wine and the reserved oyster liquor, stir until combined and smooth.
Add the reserved cooked okra, bay leaves, Italian and Creole seasonings. Taste the broth and adjust the seasoning if necessary. Bring the pot to a boil, reduce the heat to low, cover with it's lid and simmer for 30 to 40 minutes.
When ready to serve, add the shrimp, cover the pot and simmer for 2 more minutes then add the crab meat, oysters and calamari rings. Simmer for 2 more minutes then remove from the heat, stir in the chopped green scallions and all but 2 tablespoons of the parsley for garnish.
Serve immediately in bowls with rice and garnish each serving with parsley. Offer a shaker of filé to be sprinkled on each serving as desired.
Notes
Frozen okra may be substituted for the fresh okra. Do not break or cut the uncooked pods as the slime will begin seeping out.
When making the roux, keep the heat low and stir frequently keeping it from sticking.
Filé powder should be added only after cooking. Don't warm up gumbo that has filé in it or it may be ropey. It is best to pass the filé at the table and add to bowls individually.
Cajun seasoning is spicy. Begin adding with a small amount and increase according to taste.
Seafood gumbo can be frozen. However, the seafood will not reheat well as it will become overcooked and rubbery.
Our recommendation is to first remove the seafood and freeze separate from the gumbo soup. When ready to reheat the gumbo, thaw both the seafood and the soupy portion in the refrigerator. Reheat the gumbo soup on a low temperature, remove from the heat and add the thawed seafood and let the hot gumbo gently re-heat the seafood.
Recommended Products
As an Amazon Associate and member of other affiliate programs, I earn from qualifying purchases.
Nutrition Information:
Yield:

14
Serving Size:

1-1/2 Cups
Amount Per Serving:
Calories:

518
Total Fat:

26g
Saturated Fat:

6g
Trans Fat:

0g
Unsaturated Fat:

18g
Cholesterol:

262mg
Sodium:

1842mg
Carbohydrates:

25g
Fiber:

2g
Sugar:

3g
Protein:

39g
Nutrition information is a guideline only, is calculated automatically by third party software, and absolute accuracy is not guaranteed.