A big pot of Gumbo simmering on the stove will fill your home with a truly unique aroma! Spicy, thick and wonderfully delicious, This is the essence of Louisiana!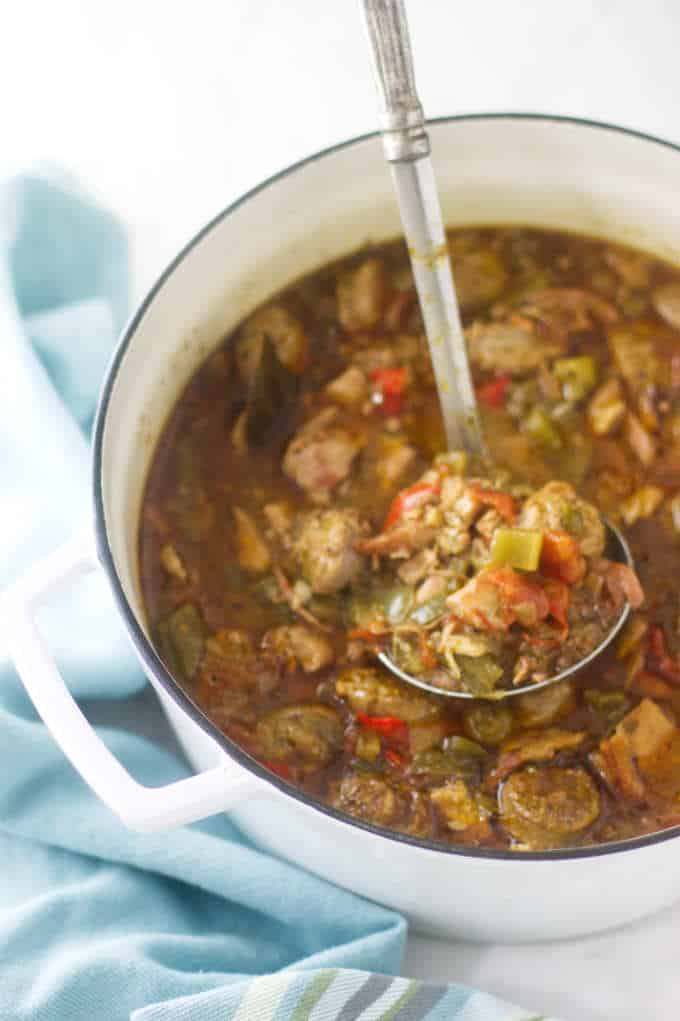 In December of 2011 Don and I spent four days in New Orleans exploring the sights, sounds and the history of that famous city. The first day, while browsing Bourbon Street, we stopped for lunch and we each ordered a bowl of gumbo.
Spicy, with a tantalizing aroma, it was served in a shallow soup plate with a scoop of white rice and a small loaf of French Bread. It was so delicious that we ordered it again for lunch the next day while on our adventure in the French Quarter.
What is Gumbo?
Gumbo is Louisiana's official cuisine and there are many variations to prepare it. Basically, it is a stew of vegetables, smoked sausage, meat or seafood and spices. Like any soup or stew the flavor becomes more intense the next day.
Whatever variety you choose, it is usually thickened with a roux, okra or both and simmered together for a couple hours to develop the flavors. I recently learned a bit of trivia, that 'gumbo' is the African name for okra.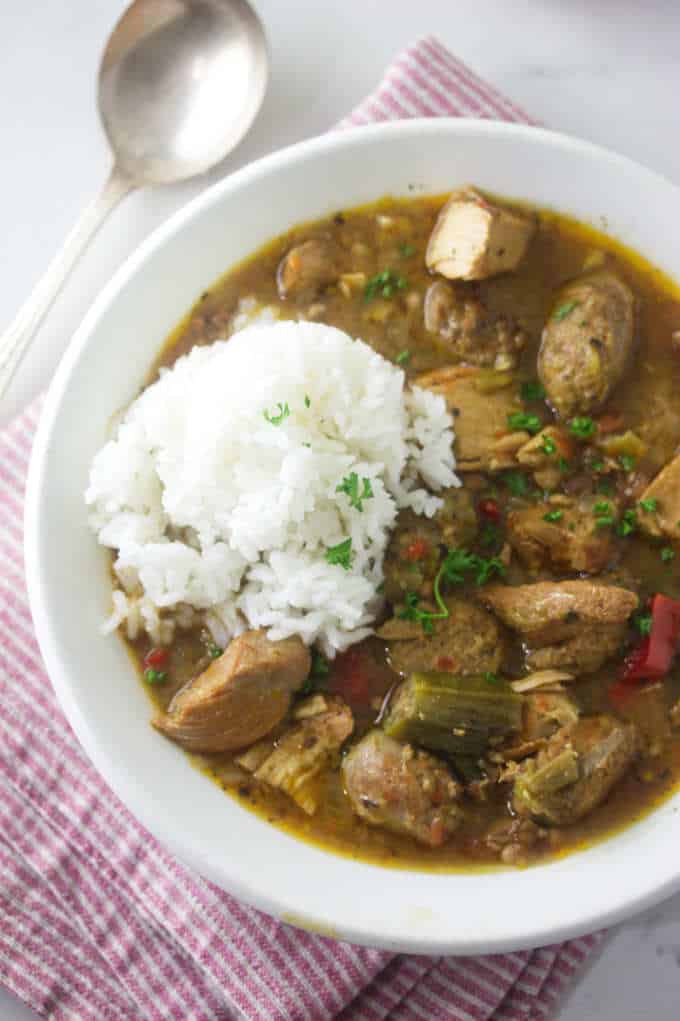 About Okra:
Okra is a pod-like vegetable traditionally used in Creole cuisine as a thickener. The juice in the pods has an unusual slimy consistency. If not prepared properly the sliminess will add an unpleasant texture to the gumbo.
The secret to eliminating the sliminess of this unique plant juice is to cook the okra separately prior to adding it to the recipe.
Filé powder.
Filé powder is another thickener commonly used in Creole cuisine. Made from ground sassafras leaves, filé powder has a unique earthy flavor. It is more commonly used as a last-minute addition to gumbo or sprinkled over individual servings.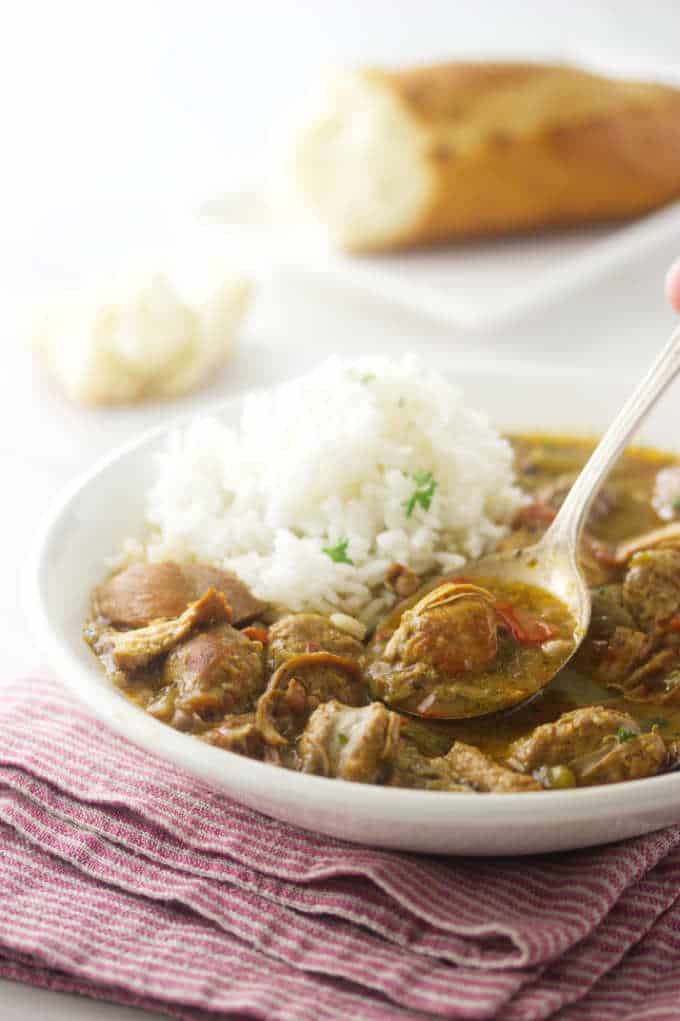 Creole Seasoning:
Creole seasoning has some heat to it! It is a spicy blend of cayenne pepper, chili powder, garlic powder, celery salt, paprika, salt and pepper. Creole seasoning is as common as salt in south Louisiana and used extensively in their cuisine. There are several brands available in most grocery stores but it is also easy to make your own supply.
Gumbo:
Of all the gumbo varieties our favorites are Creole seafood gumbo and chicken/andouille sausage gumbo. We bring you this chicken and andouille sausage recipe today and at another posting will present a Creole seafood gumbo.
This recipe is a delicious mix of chicken, andouille sausage, onions, bell pepper, celery, tomatoes. We used a roux and okra as thickeners along with a variety of herbs and spices that compliments the taste.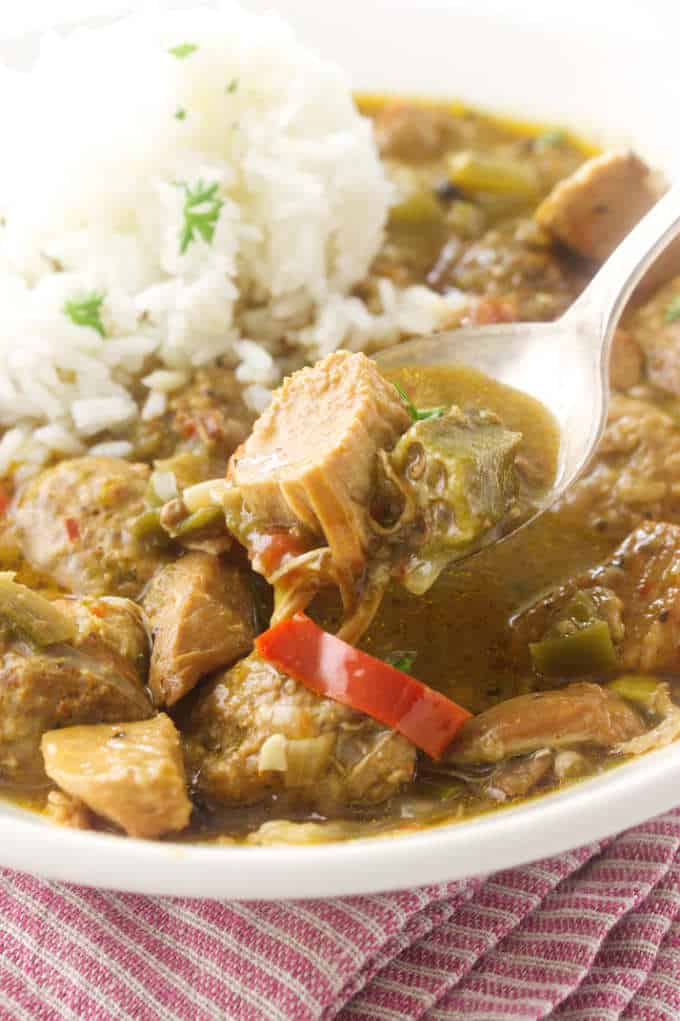 After simmering for a couple hours the flavors blend together in a delicious, slightly thickened spicy sauce. It is customary to serve gumbo with white rice which pairs well with the spiciness of the dish. Sprinkle each serving with filé powder and garnish with chopped parsley.
You might also like these other recipes:
Have you made this gumbo recipe? We would love to hear from you. Drop us a comment below.
If you snap a photo then hashtag it to #savorthebest on Instagram.
CONNECT WITH SAVOR THE BEST!
Be sure to follow us on our social media accounts
Facebook * Instagram * Pinterest * Twitter * Youtube
Did you make this recipe? We would love to hear from you. Drop us a comment below.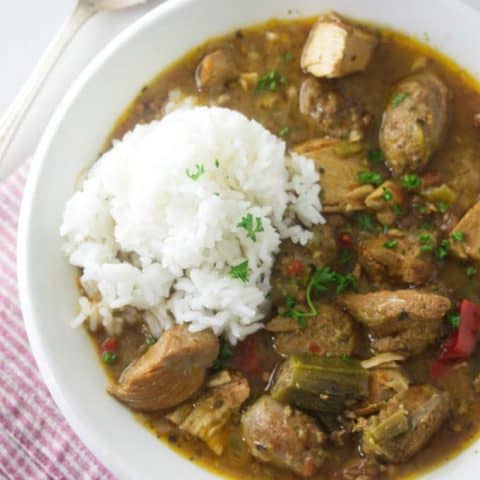 Gumbo
Cook Time:
2 hours
30 minutes
Total Time:
3 hours
15 minutes
Gumbo is traditional Louisiana cuisine of spicy stew with chicken, andouille sausage, vegetables and herbs and spices. It is customary to serve gumbo with white rice.
Ingredients
6 tablespoons coconut or vegetable oil, divided
10-ounces fresh or frozen okra, sliced thin
1 1/2 pounds chicken pieces (I used 4 boneless thighs and two boneless breasts)
1/2 cup flour, divided
1/2 teaspoon salt
1/4 teaspoon freshly ground black pepper
3 tablespoons butter
1 onion, chopped
3 celery stalks, each 6-inches long, chopped in 1/2-inches
1 green bell pepper, seeded, and chopped in 1/2 inches
1/2 red bell pepper, seeded, and chopped in 1/2 inches
6 garlic cloves, minced
1/2 teaspoon cayenne pepper, or to taste
2 tablespoons chopped fresh basil, or 1/4 teaspoon dried basil
2 tablespoons chopped fresh thyme, or 1/4 teaspoon dried basil
1 tablespoon dried oregano
2 cup chicken broth
12 ounces of andouille sausage, cut into 1/2-inch slices
2 cups chopped fresh tomatoes or one 14.5 ounce can diced tomatoes
3 whole bay leaves
2 tablespoons Worcestershire sauce
1/2 tablespoon hot sauce, or to taste
2 teaspoons filé powder (see note)
Instructions
In a large skillet, over moderate heat, melt 3 tablespoons of the oil. Add the okra and, stirring constantly, cook until the white threads from the okra disappears. Remove the cooked okra to a plate and reserve.
Add the remaining 3 tablespoons of oil to the skillet and heat over medium heat. Add 1/4 cup of the flour, salt and pepper to a shallow dish or pie plate, blend to combine. Dredge the chicken pieces in the flour and working in batches, sear the chicken pieces to a golden brown on both sides, about 8-10 minutes. Use tongs to transfer the chicken to a paper towel-lined plate as they cook. When the chicken pieces are cool enough to handle cut them into pieces and reserve.
In the same skillet, over medium-high, melt the butter, gradually add the remaining 1/4 cup of flour. Stir constantly and cook until it becomes caramel colored, being careful that it does not burn.
Add the onions, celery, red and green bell pepper, garlic, cayenne, basil, thyme and oregano and cook for 3 minutes. Gradually add the chicken broth, stirring constantly to prevent lumps. Add the sliced andouille sausage and the reserved chicken. Stir in the tomatoes, reserved okra, bay leaves, Worcestershire sauce and hot sauce. Bring the mixture to a boil, reduce the heat to low and simmer, uncovered for 2 hours.
Remove from the heat, adjust the consistency to your preference by either adding additional chicken broth for a thinner sauce or allowing to reduce further for a thicker sauce.
To serve: Remove and discard the bay leave and ladle the gumbo into soup plate. Sprinkle each serving with with filé powder. Add a mound of white rice and garnish with chopped parsley.
Notes
Filé powder is a spicy herb made from drying the leaves of the sassafras tree and grinding them to powder. It can be found in most grocery stores and it is an important ingredient in Creole cuisine.
A dark, more intense flavor in the sauce can be achieved by cooking the roux to a milk chocolate color, being cautious not to burn it.
Recommended Products
As an Amazon Associate and member of other affiliate programs, I earn from qualifying purchases.
Nutrition Information:
Yield:

8-10
Serving Size:

1-1/2 cups
Amount Per Serving:
Calories:

470
Total Fat:

29g
Saturated Fat:

10g
Trans Fat:

0g
Unsaturated Fat:

16g
Cholesterol:

177mg
Sodium:

878mg
Carbohydrates:

15g
Fiber:

3g
Sugar:

6g
Protein:

37g
Nutrition information is a guideline only, is calculated automatically by third party software, and absolute accuracy is not guaranteed.