This sprouted wheat bread is so soft and tender you are going to have a hard time convincing people it is one hundred percent whole wheat. Using sprouted wheat in this recipe changes the game of bread baking and makes the most amazing whole wheat bread.
All you need is a dab of butter or a dip of garlic butter sauce or herbed olive oil.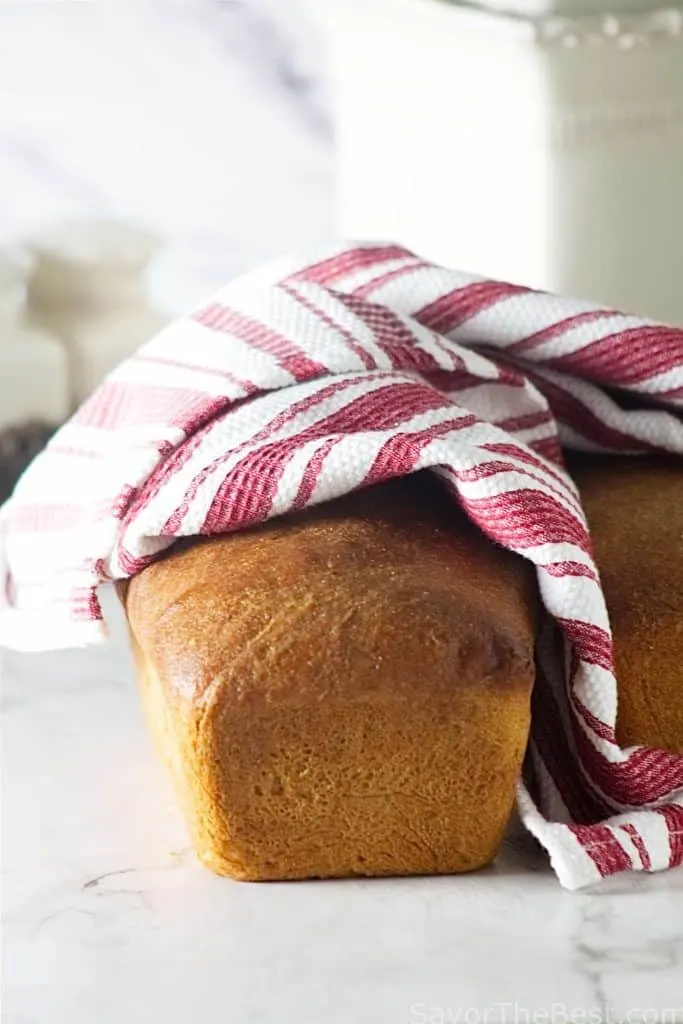 Sprouted Wheat Bread
Most people think of Ezekiel bread when I mention sprouted wheat bread. However, this bread is quite different from Ezekiel bread which is made with a sprouted grain pulp. The sprouted grains get mashed into a wet, pulpy mixture, then combined with other ingredients to make a bread dough.
This bread is different. We use dry, sprouted wheat flour in this recipe.
Although the whole wheat used in this recipe looks like any other whole wheat flour, it is actually quite unique. Sprouted wheat flour is flour that has been finely ground AFTER the wheat has been sprouted and dried. Peter Reinhart explains the concept in his book, Bread Revolution.
Sprouted wheat flour creates a bread with a soft, light texture and a naturally sweet flavor. This type of flour makes excellent bread using only the basic ingredients of flour, water, salt, and yeast. We have taken it a bit further and enhanced the dough with buttermilk, honey, and butter for an ultra-rich, honey-sweetened bread.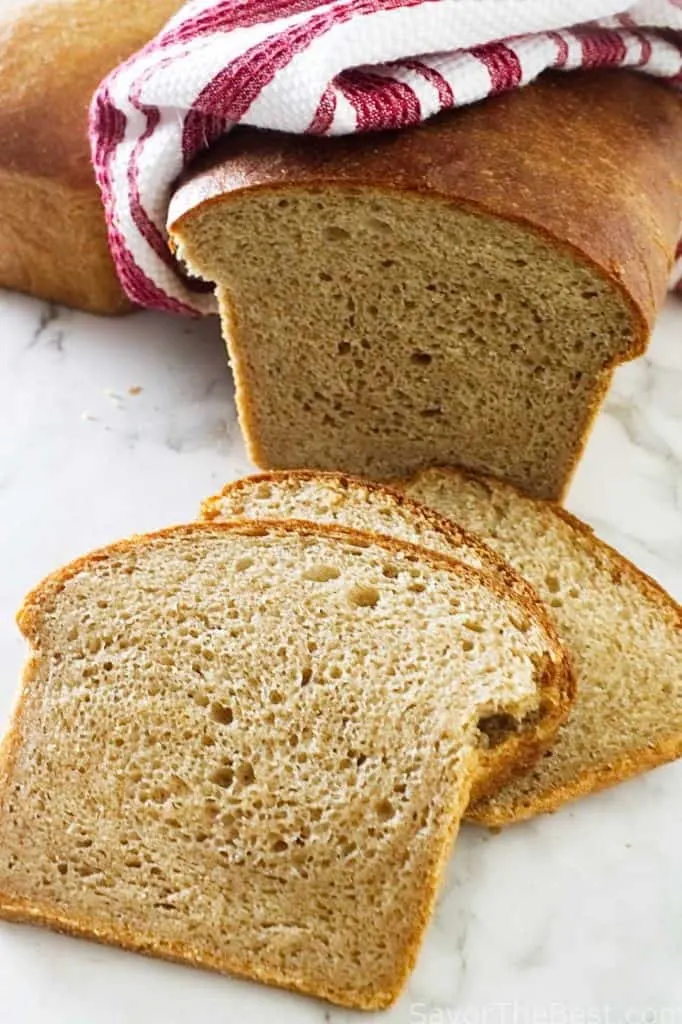 Just 100% Whole Wheat Flour
Whole wheat flour contains less gluten than white flour. Normally, bread made with 100% whole wheat flour is dense and heavy unless you add white flour or vital wheat gluten into the dough. The gluten gives the bread strength and structure and allows the dough to rise higher. Whole wheat also absorbs more liquid which can dry out the bread.
This is the reason you will find many recipes for whole wheat bread call for a small amount of white flour or vital wheat gluten. By adding gluten to the bread dough, it strengthens the dough and allows it to rise a little taller, making an airier, lighter bread.
No White Flour, No Vital Wheat Gluten Added
This recipe for sprouted wheat bread uses 100% whole wheat flour. We did not add white flour or vital wheat gluten and yet this bread bakes up to be soft, light, and airy.
High Hydration Dough
Whole wheat absorbs a lot of liquid so this recipe calls for quite a bit of liquid (in this case, buttermilk). The hydration in this bread is over 90%. That means the weight of the liquid in this recipe is almost equal to the weight of the flour. After mixing the ingredients together, the dough will be wet and sticky. Don't panic, and don't add more flour.
You really do want a wet dough for optimum results.
Working with wet dough really isn't difficult. The main challenge is coming to terms with the idea that it really is ok for the dough to be so wet and sticky. Most people want to add more flour until the dough isn't sticking to their fingers or the counter. The problem with adding more flour is that the bread will be dry and dense.
More Artisan Bread Recipes
Tips For Working With Wet Dough
With a few tips, you will be handling wet, sticky dough like a pro:
First of all, get yourself a bench scraper and a bowl scraper. Having the right tools will make any baking job easier.
Now, instead of adding flour to the countertop, which will incorporate more flour into your dough, we recommend using water or oil. If your countertop is slicked down with water or oil then the wet dough will not stick to the countertop. The same goes for your hands and any of the tools you use, like the bowl scraper.
Keeping your hands, the counter, and your tools wet or slicked with oil will make it easier to handle the wet dough.
Instead of a traditional kneading method, use the stretch and fold technique. The stretch and fold technique minimizes the need to handle the dough while maximizing the gluten development. It is almost like intermittent kneading. With this technique, you stretch the dough a bit and fold it over onto itself a few times. After letting it rest, you repeat the process. After three or four intervals of stretching and folding, the gluten proteins will strengthen just as if you spent 15 minutes kneading the dough.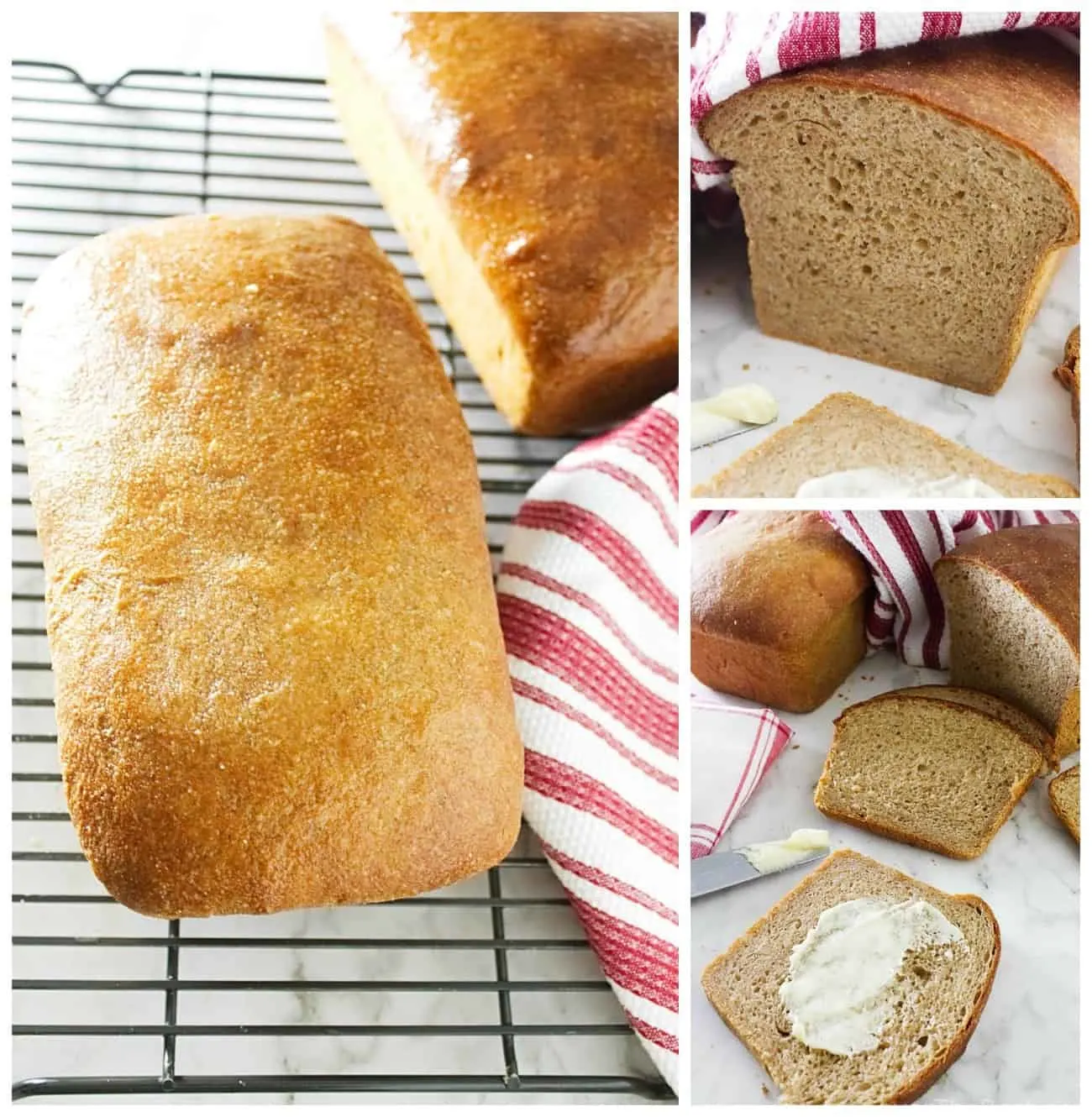 We hope you try this bread recipe, it is healthy and without preservatives. Plus, if you are trying to cut back on your gluten intake but cannot live without a slice of toast with your morning eggs, this is a great option. Bake it, slice it and freeze it then pull out a slice or two for toast. I like to add a square of parchment paper between the slices before freezing the loaf. The parchment paper keeps the slices from freezing together.
Watch Our Video:
Check out our video and see how easy it is to work with sprouted wheat flour. If you keep your hands wet the dough will not stick to your hands while you handle the sticky dough.
Here Are Some Other Recipes You Might Like:
Connect With Savor the Best:
Please follow us on our social media accounts
Facebook * Instagram * Pinterest * Youtube * Twitter
Did you make this recipe? We would love to hear from you. Drop us a comment below.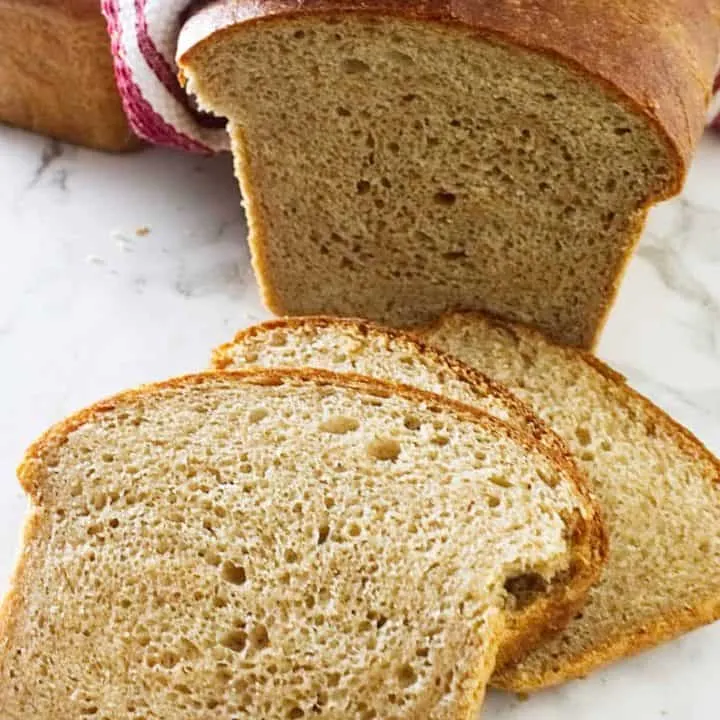 Sprouted Wheat Buttermilk Sandwich Bread
A soft and springy whole wheat sandwich bread made with sprouted whole wheat.
Ingredients
6-2/3 cups sprouted wheat flour (800 grams)
2-1/4 teaspoons instant yeast (7 grams)
2 teaspoons salt (14 grams)
4 tablespoons butter (56 grams)
3 cups buttermilk, ( 735 grams)
5 tablespoons honey (100 grams)
Instructions
In a large bowl, stir together the flour, yeast, and salt.
Melt the butter in a small saucepan and then add the buttermilk and honey. Gently warm over medium heat until it is just lukewarm. If it gets too warm, let it sit and cool down to about 95°F because if the liquid is too hot, it will kill the yeast.
Add the buttermilk mixture to the flour mixture and stir until all the flour is incorporated. The dough will be very wet and sticky. Let it rest for 5 minutes to give the flour time to fully hydrate then stir the dough for 1 minute.
Spread some olive oil on a work surface and scrape the dough onto the oiled work surface. Using wet hands (to prevent the dough from sticking to your hands) stretch the dough up and fold it over itself four times then cover it with a bowl to rest for 5 to 10 minutes (don't worry if you get distracted and 20 or 30 minutes go by, just be sure to give the dough at least 5 minutes to rest). Repeat this same stretch and fold process three more times. You will notice the dough firm up each time you repeat the process.
Put the dough into a well-oiled bowl then coat the top of the dough with oil and cover the bowl with plastic wrap. Let the dough rise for 1 to 2 hours until doubled in size (the time it takes to double in size will depend on the temperature and humidity of your environment).
While the dough is rising, grease two 4 1/2 by 8-inch loaf pans with vegetable oil.
After the dough has had time to double in size, transfer it onto a greased counter. Divide the dough in half and shape each piece into a loaf and place into the loaf pans. Oil the tops of the bread loaves. Cover the loaves loosely with plastic wrap and let them rise until they have risen about 1-1/2 times their original size, but not quite doubled. If you are using a 4-1/2 by 8-inch pan the loaves should be about 1 to 1 1/2 inches above the top of the pan.
While the dough is rising, preheat the oven to 350° F.
Place the risen bread loaves in the center of the oven and bake for 20 minutes then rotate the pans and bake for another 25 to 30 minutes until the tops are a golden brown color and they sound hollow when you thump them.
Remove the bread from the pans and place them on a wire rack to cool.
Notes
The dough will be wet and sticky. If you keep your hands and tools wet or well oiled then the dough will not stick to your hands. I keep a small bowl of water close by to dip my hands and bowl scraper into.
After the dough is shaped into a loaf make sure you don't over-proof the dough. If you let the dough rise too far then it will deflate very easily and leave you with a collapsed loaf of bread. The dough should rise to 1 to 1-1/2 inches above the top of the pan. It is better to ere on the smaller size than to over-proof the dough.
Nutrition info is based on 22 slices per loaf of bread
Recommended Products
As an Amazon Associate and member of other affiliate programs, I earn from qualifying purchases.
Nutrition Information:
Yield:

32
Serving Size:

1 slice
Amount Per Serving:
Calories:

92
Total Fat:

2g
Saturated Fat:

1g
Trans Fat:

0g
Unsaturated Fat:

1g
Cholesterol:

5mg
Sodium:

191mg
Carbohydrates:

16g
Fiber:

2g
Sugar:

4g
Protein:

3g
Nutrition information is a guideline only, is calculated automatically by third party software, and absolute accuracy is not guaranteed.