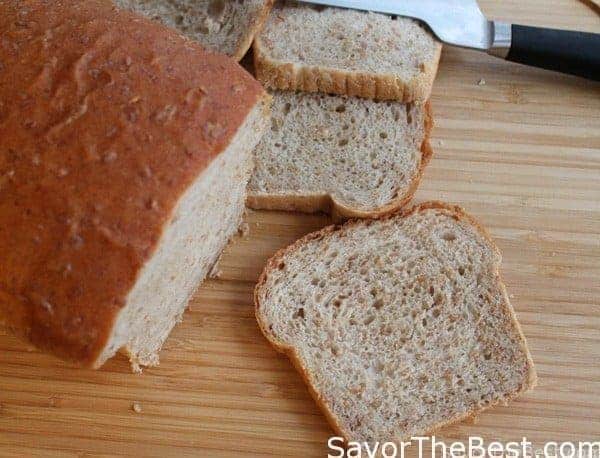 My favorite part about making bread is when the house is filled with that wonderful aroma as it bakes. There is a peaceful, warm feeling about the smell of baked bread. It's just good for the soul.
Something as simple as the smell of bread can evoke memories of grandma's kitchen and the warmth and comfort of her company. It helps me slow down and cherish the little things.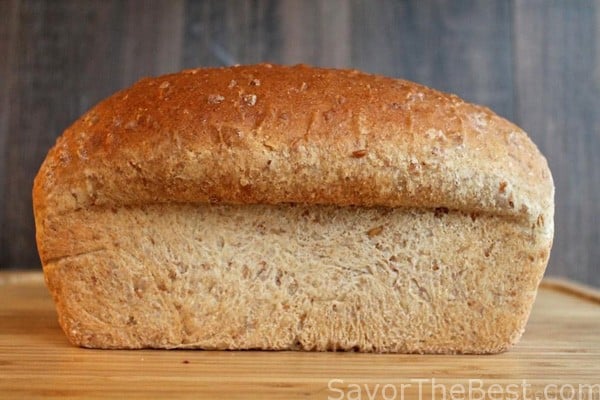 This bread has a nutty, wholesome chew of cracked wheat. Cracked wheat is the whole wheat berry that has been crushed or cut into smaller pieces. It includes the nutrient-rich bran and germ of the wheat and is high in fiber.
The wheat germ has oils in it that can go rancid so be cautious where you buy it. Store it in an airtight container and kept it in a cool area. I don't like to buy it in the bulk foods section since I don't know how long it has been sitting in the loosely closed bins.
If you can't find cracked wheat you can use bulgur which is cracked wheat that has been steamed. If you do use bulgur, you will only need to soak it in boiling water until it is soft.
This recipe calls for a starter sponge. If you have never worked with a starter sponge, don't fret about the funky fermented smell it gives off after a few hours. Rest assured that it is developing flavor and improving with time. It really is a wonderful way to make bread.
You can start this bread in a bread machine. I prefer to shape my loaves in a regular bread pan and bake it in the oven but don't let me stop you if you would rather finish it off in the bread machine.
Either way it will fill your home with a wonderful aroma and warm your heart and soul.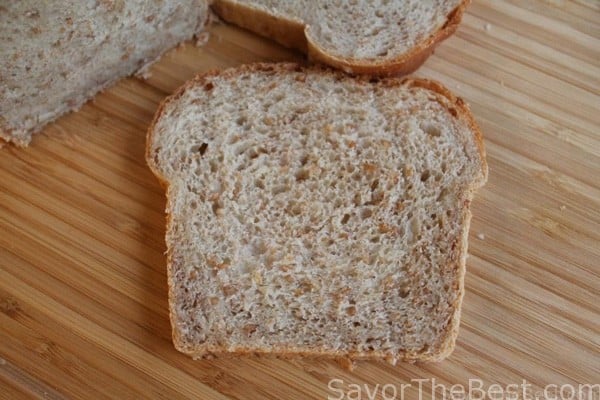 CONNECT WITH SAVOR THE BEST!
Be sure to follow us on our social media accounts
Facebook | Twitter | Youtube | Pinterest | Instagram
If you make one of our recipes, snap a photo and tag it @savorthebest on Instagram and hashtag it #savorthebest
Adapted from The Bread Bible by Rose Levy Beranbaum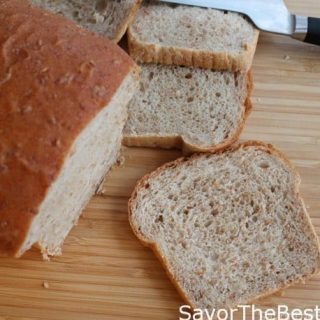 Cracked Wheat Bread
Yield: 16 slices
Prep Time: 30 minutes
Cook Time: 45 minutes
Additional Time: 2 hours
Total Time: 3 hours 15 minutes
This bread has a nutty, wholesome chew of cracked wheat and it tastes wonderful on morning toast or in a sandwich.
Ingredients
Sponge Starter
1 cup plus 2 tablespoons lukewarm water
½ cup (78 grams) bread flour
½ cup (72 grams) whole wheat flour
1 tablespoon dry milk
1 tablespoon honey
½ tablespoon sugar
¾ teaspoon instant yeast
Cracked Wheat
½ cup (85 grams) cracked wheat
1 cup water
Dough
all of the sponge starter above
all of the cooked cracked wheat from above
2 cups (312 grams) bread flour
2 tablespoons butter, melted
2 teaspoons sugar
1 ¾ teaspoons salt
¼ teaspoon instant yeast
Instructions
Make the sponge
In a mixing bowl, combine all the ingredients for the sponge starter and whisk well. Cover and let the sponge ferment for 3 to 4 hours. (If you use a bread machine, combine the ingredients in the bread machine pan and let the starter sit in the bread machine with the lid closed, do NOT turn the bread machine on).
Cook the Cracked Wheat
Place the cracked wheat and water in a microwave safe bowl. Cover the bowl with plastic wrap and cook it on high in the microwave for 6 to 8 minutes until the wheat soaks up all the water and has a chewy texture (you will want to stop the microwave and stir it once or twice). Cover the wheat and place it in the refrigerator until ready to use.
Mix the Dough and Rise Twice
Add the cracked wheat to the sponge starter then add the bread flour, butter, sugar salt, and yeast. Combine the ingredients until the flour is moistened then cover the bowl and let the dough rest for 20 minutes.
Knead the dough for 10 minutes by hand or with a stand mixer on medium speed, until it is smooth and elastic. The dough should be fairly sticky. If it is too wet add small amounts of flour and if it is too dry spray some water on it and knead it in.
Place the dough in a large bowl that has been coated with oil. Coat the surface of the dough with oil and cover the bowl with plastic wrap. Allow the dough to rise in a draft free area until doubled in volume, about 1 to 1 ½ hours. (If your using a bread machine turn the machine on "dough" setting and let the machine do the kneading and subsequent rising)
Push the dough down and turn it over in the bowl then cover the bowl again and let it rise once more until doubled about 45 minutes to 1 hour. (If your using a bread machine, turn the machine off then push the dough down, close the lid and let it double in volume for 45 minutes to 1 hour)
Shape, Rise, and Bake
Pour the dough onto a lightly floured counter and gently pat it into a rectangle then shape it into a log. Place the shaped dough into a greased 8 x 4 inch bread pan. Cover loosely with a towel and let it rise until doubled in volume, about 45 minutes to 1 hour. The loaf should be about an inch over the top of the pan.
Pre-heat the oven to 350°. Place the pan in the center of the pre-heated oven and bake for 40 to 50 minutes (when it is done it will sound hollow when tapped).
Remove the bread from the pan and allow it to cool on a wire rack. If you want the top to be soft, coat it in melted butter or olive oil while still warm.
Recommended Products
As an Amazon Associate and member of other affiliate programs, I earn from qualifying purchases.
Nutrition Information:
Yield: 16
Serving Size: 1
Amount Per Serving:
Calories: 122
Total Fat: 1.8g
Saturated Fat: 1g
Cholesterol: 4mg
Sodium: 268mg
Carbohydrates: 23g
Fiber: 1.5g
Sugar: 2g
Protein: 3g