This artisan-style rye bread has a deep flavor, crunchy top and a tender, moist crumb. It's a no-knead rye bread- a simple, homemade rye loaf that doesn't require a ton of effort! Baking it in a Dutch oven ensures a tall, lofty loaf with a perfectly crisp crust.
This one is another easy, no-knead bread recipe to add to your must-bake list!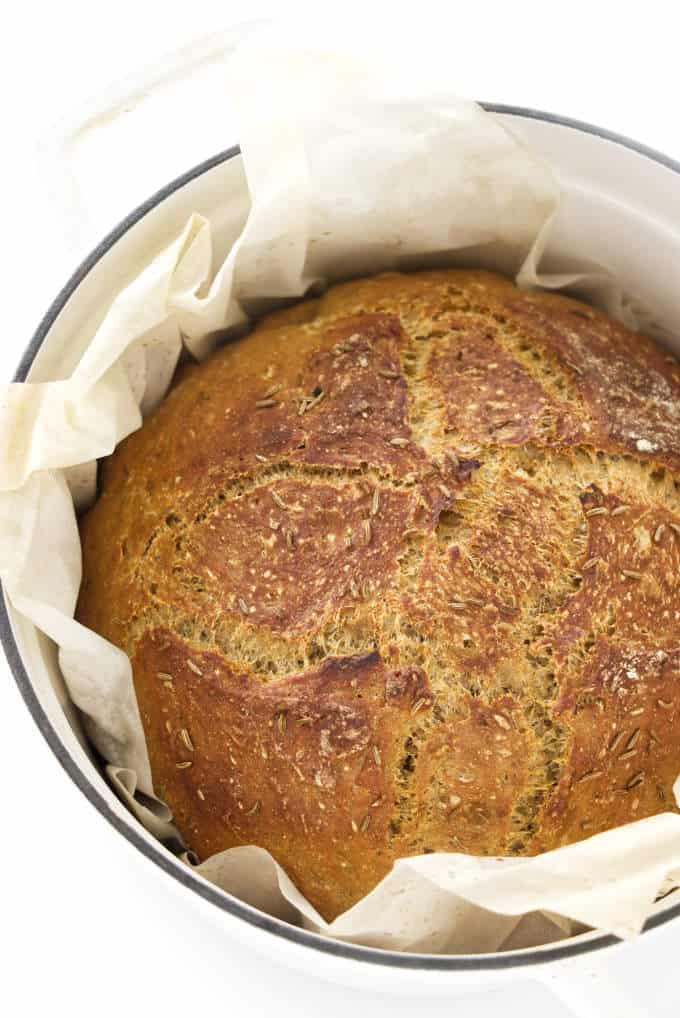 If you like this recipe, you will want to check out our no-knead rosemary bread and cranberry walnut bread. For an even faster bread, check out this barley bread that doesn't use any yeast.
What is rye bread?
Rye bread is a variety of bread made with flour from rye grain. Depending on the amount of rye and different add-ins, you can make dark or light rye and change up the deep flavor.
Is rye bread healthy?
Rye bread is often viewed as a healthier bread option since rye flour is more nutritious and a better source of vitamins and minerals than plain old wheat flours. Some studies even show that rye bread has been linked to lower inflammation, better blood sugar control and benefits to overall digestive health.
Health benefits aside, rye bread is a tasty bread option to swap in whenever you'd like- toasted and served with slab of melting butter, for sandwiches like tuna or pastrami, or alongside a salty poached egg in the morning.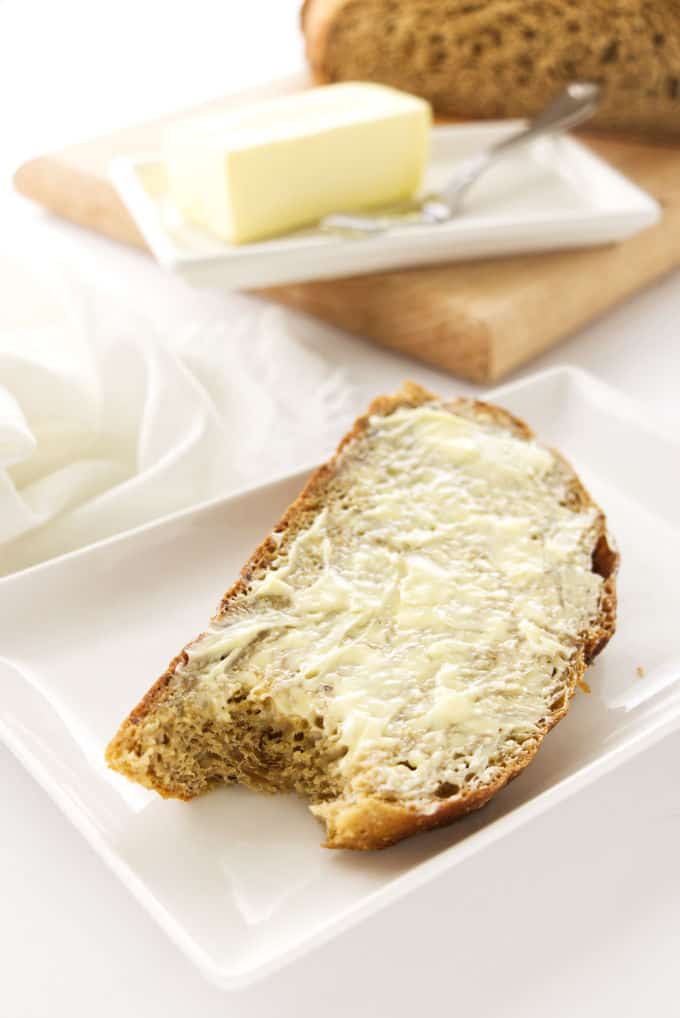 How to make rye bread
A soft and delicious bakery-style rye bread is so easy to make at home! Caraway seeds and molasses give our homemade rye bread the flavor depth that it's known for. And this no-knead rye bread recipe doesn't require a bread machine- just a bowl and a heavy-duty Dutch oven!
You will need the following ingredients: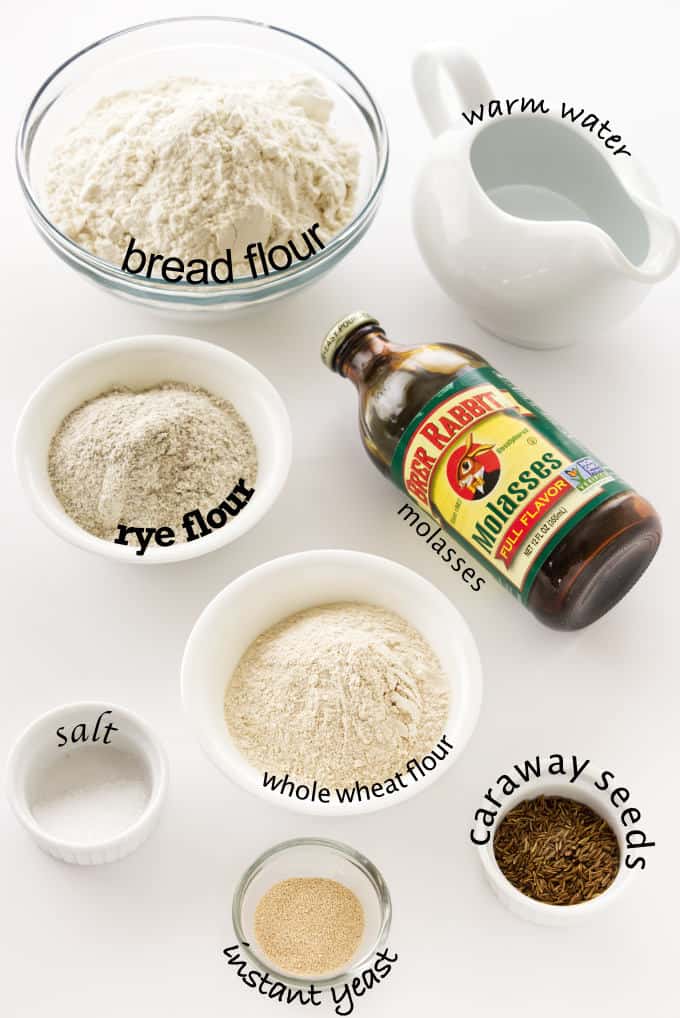 An easy rye bread recipe
So, exactly how easy is this no-knead rye bread? Follow these simple steps (and check out the full recipe at the bottom of the page for all the details!):
Combine the dry ingredients: In a large bowl, whisk together the flours, caraway seeds, salt and yeast.
Add the wet ingredients: Combine the molasses with the warm water and add it to the flour mixture. Stir it with a spoon until it's well combined.
Let it rise: Transfer the dough into a large bowl coated with oil spray. Cover it with a damp cloth or plastic wrap and let it sit and rise in a warm spot in the kitchen for three hours.
Fold the dough: Tip it onto a floured surface and fold it over several times to shape it into a large mound. Place the mound onto a sheet of oil-coated parchment paper, then transfer it into a large bowl.
Second rise: Cover the rye bread dough and let it rise for another 30 minutes. Heat the Dutch oven in the oven set at 450°F.
Bake the bread: Remove the heated Dutch oven and its lid, then score the bread loaf on top. Use the parchment paper to lift the dough and set it into the Dutch oven. Cover the Dutch oven with the lid, transfer to the oven and bake for 30 minutes. Remove the lid and bake for another 8-10 minutes. Cool the bread on a wire rack.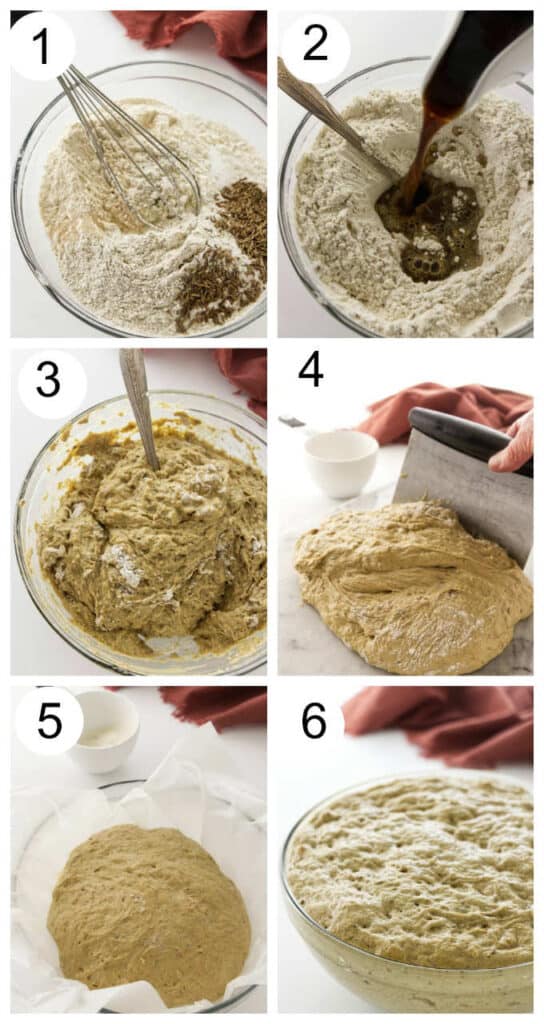 Tips for the best no-knead rye bread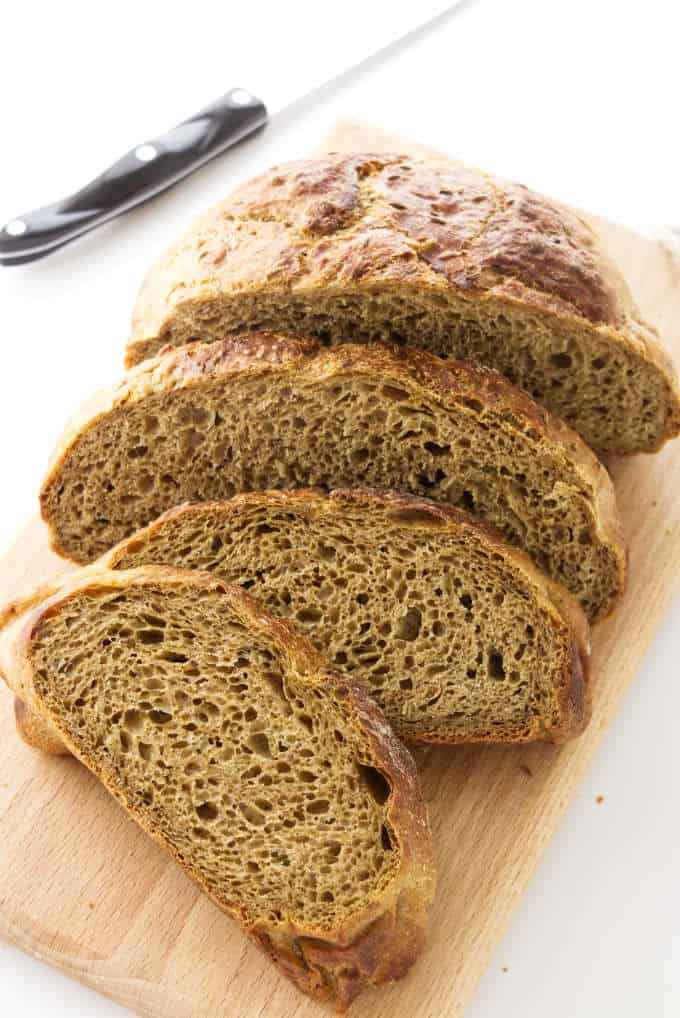 Our no-knead rye bread recipe makes a lovely, bakery-style loaf that is nearly impossible to not devour quickly! If you love fresh-baked homemade bread as much as we do, this one is certainly a must-try.
Helpful Tools
Some of the following links are affiliates. If you click on these links and purchase something, we may receive a small commission. You don't pay any extra but it will help us keep the lights on.
SOME OTHER RECIPES WE ARE SURE YOU WILL LOVE:
Connect With Savor the Best:
Please follow us on our social media accounts
Facebook * Instagram * Pinterest * Youtube * Twitter
Did you make this recipe? We would love to hear from you. Drop us a comment below.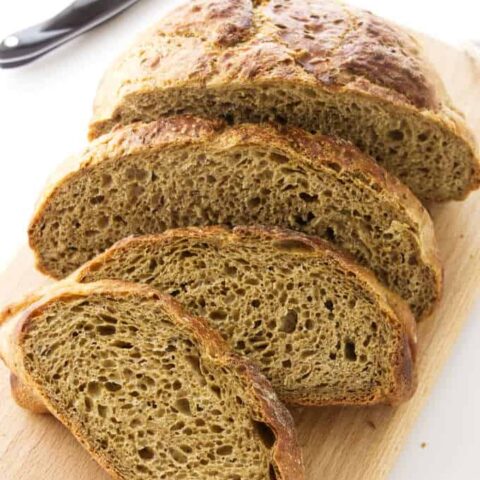 No-Knead Rye Bread
An easy, artisan-style rye bread with a crunchy crust. A touch of molasses and a measure of caraway seeds adds to the flavor depth. Baking in a Dutch oven gives this bread a crunchy top and a moist crumb.
Ingredients
3 cups (360 grams) Bread flour
1/2 cup (60 grams) rye flour
1/2 cup (60 grams) whole-wheat flour
1 tablespoon caraway seeds
1 teaspoon salt
1 teaspoon instant yeast
3 tablespoons molasses
1-3/4 cups warm water (115°F to 125°F)
Instructions
In a large bowl, whisk together the bread flour, rye flour, whole-wheat flour, caraway seeds, salt, and the yeast.
Combine the molasses with the warm water and add to the flour mixture. Stir with a spoon until well combined.
Scrape the dough into another large bowl that has been coated with oil spray. Cover the bowl with either a damp light cloth or a sheet of plastic wrap and set in a warm, draft-free area for 3 hours.
Coat a large piece of parchment paper with cooking spray and set it aside.
Tip the dough onto a lightly floured surface and using a bench scraper or oiled hands, fold the dough over several times and shape into a large mound.
Lift the mound of dough and place it on the center of the parchment paper, seam side down. Using the parchment paper as a sling, transfer the dough and set it, and the parchment paper into a large bowl to retain its shape while rising.
Cover the bowl and return it to the draft-free area and let rise for 30 minutes.
While the dough is rising, place a 4 to 6-quart Dutch oven into the oven and set the oven temperature at 450°F.
Remove the heated Dutch oven and remove the lid.
Using a sharp knife, scissors or a taser blade, score the bread dough on the top with a slash, (see Notes).
Lift the dough, together with the parchment paper, and carefully set it into the hot Dutch oven. Cover with the lid and return to the oven.
Bake the bread for 30 minutes, then remove the lid and continue to bake the bread an additional 8-10 minutes until golden brown.
Transfer the bread to a wire rack and cool completely before slicing.
Notes
We use bread flour for this recipe as it has more gluten than all-purpose flour. The higher gluten compensates for the low gluten in the whole wheat and rye flours.
All-purpose flour may be substituted for the bread flour, but the water should be reduced by 2 to 4 tablespoons.
1-1/4 teaspoons active dry yeast can be subbed for the instant yeast. If you use active dry yeast, dissolve it in water first.
Caraway seeds are optional but they add great flavor complimentary to rye.
For extra flavor, grind an additional tablespoon of the caraway seeds in a spice mill and incorporate with the flours.
Scoring the bread dough on the top is not mandatory but doing so will allow the bread to expand and give it more height. It also adds a nice decorative touch to the finished loaf.
Bread baked in a Dutch oven works because the Dutch oven holds the steam in and helps the bread rise better. This produces a lofty loaf with a crackling crust. Don't leave the lid on for the entire bake time. Remove the lid after the first 35 minutes so the crust does not get too thick.
To determine that the bread is cooked completely, tilt the bread on its side and thump the bottom. It should sound hollow. You can further check the temperature with an instant-read thermometer when done it will register 205°F when inserted into the bread.
Nutrition Information:
Yield:

14 slices
Serving Size:

1
Amount Per Serving:
Calories:

159
Total Fat:

0g
Saturated Fat:

0g
Trans Fat:

0g
Unsaturated Fat:

0g
Cholesterol:

0mg
Sodium:

157mg
Carbohydrates:

34g
Fiber:

1g
Sugar:

7g
Protein:

4g
Nutrition information is a guideline only, is calculated automatically by third-party software, and absolute accuracy is not guaranteed.