Here's a surefire way to get the most epic banana bread ever– make it a sourdough banana bread! This loaf is ultra-tender and incredibly moist, with the best flavor of any banana bread we've ever had (and that's saying a lot because we've made quite a few!). You may have seen our Starbucks banana bread or our spelt banana bread to name a couple.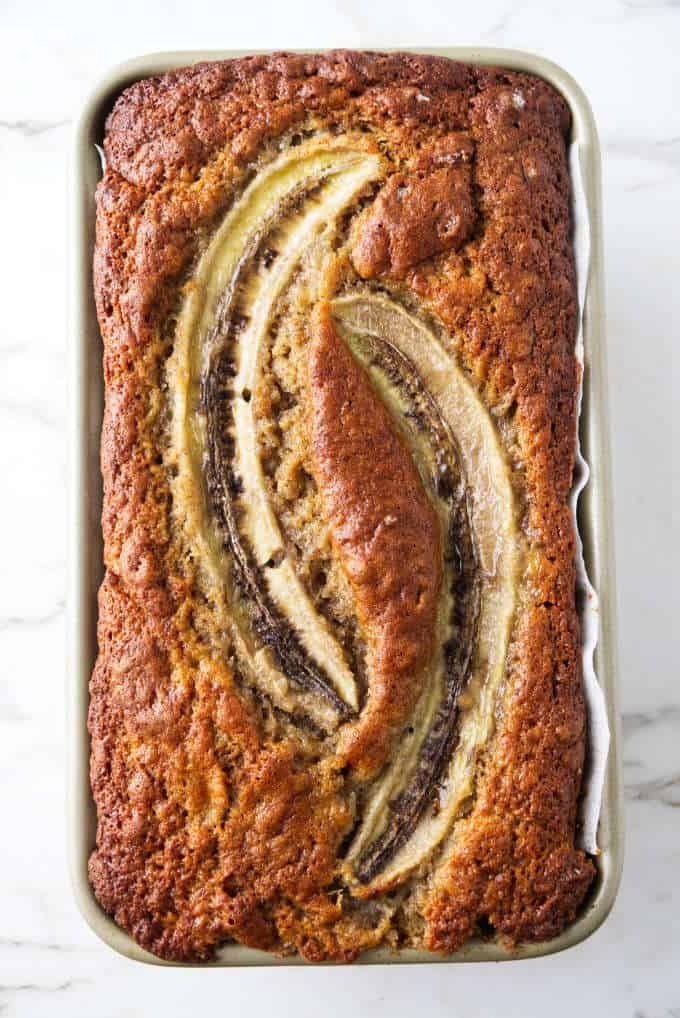 This is a resourceful and tasty way to use up that sourdough discard. You'll surpass #bananabreadgoals with this recipe, and we cannot wait for you to try it!
why we can't get enough of this sourdough banana bread
This is the year of sourdough so it only makes sense to combine two of our favorite things: sourdough bread and banana bread! Sourdough banana bread already sounds appealing enough (I'm SOLD!) so while I know you probably don't need much convincing on why you should make it ASAP, here are the reasons we love it.
It's a simple and easy recipe.
You can make it quickly.
It's a delicious way to use your sourdough discard.
It has unbeatable flavor and a stunning presentation!
how to make sourdough banana bread
To make this delicious sourdough banana bread loaf, you will need the following ingredients:
Mashed bananas (about 3-4 ripe bananas)
Melted butter
Granulated sugar
Brown sugar
Eggs
Sourdough starter discard (if you don't have this, start with our Wild Yeast Sourdough Starter recipe!)
Vanilla extract
All-purpose flour
Baking powder
Baking soda
Cinnamon
Nutmeg
Salt
Banana for the top (optional)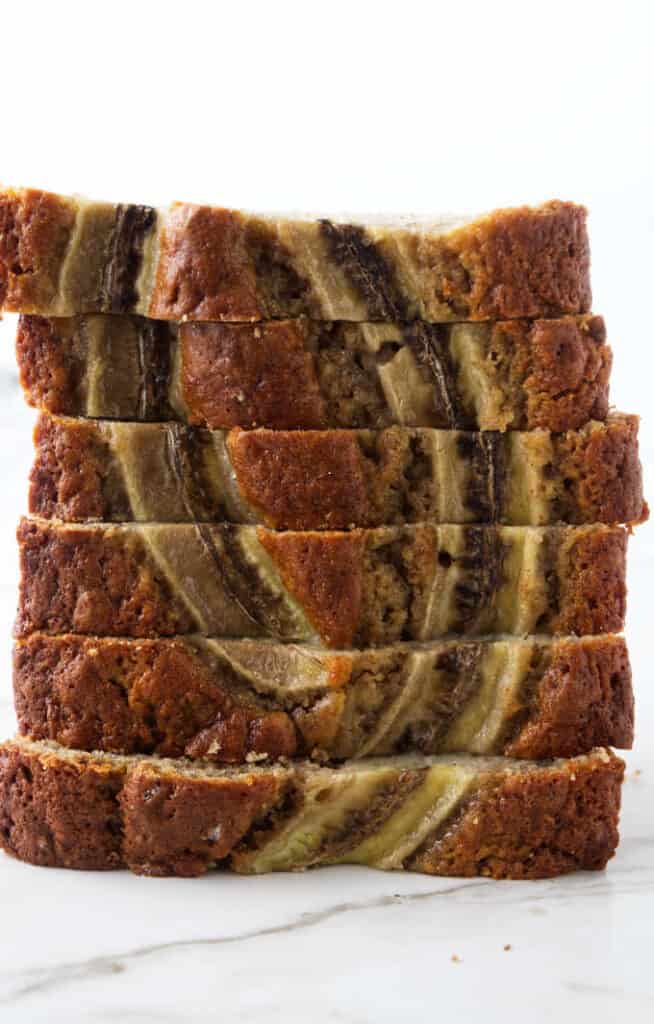 the simple step-by-step process
All you need are a few minutes to mix up this sourdough banana bread batter. Check out the full recipe card at the bottom of the page for all of the recipe details and ingredient amounts. Here's a quick look at the process:
Combine the ingredients: Preheat the oven to 350°F and grease a 9 x 5-inch loaf pan or line it with parchment paper. In a mixing bowl, combine the wet ingredients, including the sourdough starter. Stir the wet ingredients well, then add the dry ingredients and gently fold to combine.
Bake the sourdough banana bread: Pour the batter into your prepared bread loaf pan. Split a whole banana in half lengthwise, then place the banana on top of the batter. Pop that pan in the oven and bake for 55-50 minutes.
bakers tips for the best loaf of banana bread
We have a few tips to share to ensure your sourdough banana bread turns out the very best it can be! These tips are also related to working with sourdough starters.
For a tangier flavor, let the sourdough discard sit in the fridge for several days. This allows it to develop a stronger flavor that will really stand out in the bread.
If the sourdough discard develops a watery hooch on top, then dump the hooch off before adding the starter to the batter. Otherwise, the batter will have too much liquid.
If you choose to place a sliced banana on top of the batter before you bake the bread then understand that the bread will not rise as high. If you want a higher rising bread then skip that last step. We think the baked banana on top makes a stunning presentation.
The bananas should be very ripe for good banana bread and that goes for this sourdough version as well. You want the bananas to be speckled with black and brown streaks or even black. The longer they sit, the darker they will get and they will develop a higher sugar content.
You may have seen tips for baking under ripe bananas to get them black and soft for banana bread. Well, that certainly does get them black and soft but it does not develop the sugar content and make them riper. Make this banana bread with RIPE bananas.
How to tell if banana bread is done.
The easiest and quickest way to check for doneness is to stick a toothpick or thin knife into the center of the bread. If it comes out clean the bread should be done.
A more accurate way to check for doneness is to use an instant read thermometer. If you always seem to end up with under-baked quick bread then I recommend you get one of those thermometers for no-fail banana bread. The bread will be done baking when it registers 200°F to 205°F in the center.
How to store banana bread.
Store this banana bread in plastic wrap or in an airtight container for up to 3 days at room temperature or up to 5 days in the fridge. Since there is sourdough starter in this bread it will stay moist longer than traditional banana bread.
If you place a banana on top of the bread before you bake it like we did in these photos then you will want to store the banana bread in the fridge. The roasted banana on top of the bread does not last as long as the baked bread.
Can you freeze sourdough banana bread?
You can definitely freeze this bread. Keep it in a freezer-proof container for 4 to 6 months. You can freeze the loaf whole or slice it into separate servings that will thaw quickly. Just make sure each slice stays air tight or the freezer will eventually dry the bread out.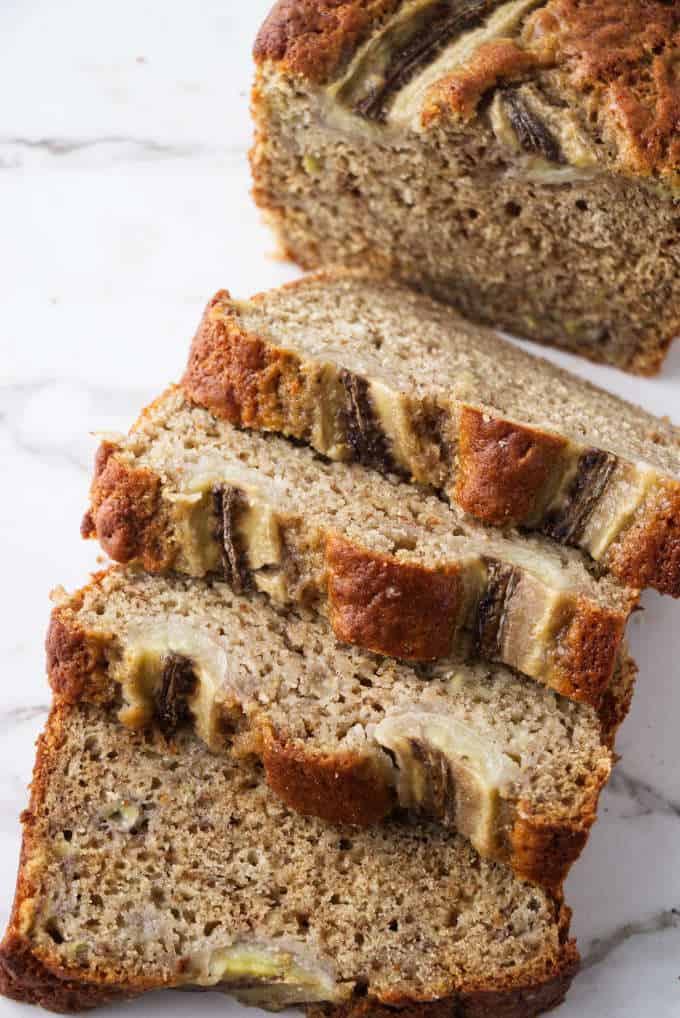 We love a good sourdough recipe and this one quickly stole our hearts! It's a comforting, homestyle banana bread recipe with a tangy twist that we cannot get enough of.
SOME OTHER RECIPES WE ARE SURE YOU WILL LOVE:
Here are a few other sourdough recipes to make use of that sourdough starter!
CONNECT WITH SAVOR THE BEST!
Be sure to follow us on our social media accounts
Facebook * Instagram * Pinterest * Twitter * Youtube
Did you make this recipe? We would love to hear from you. Drop us a comment below.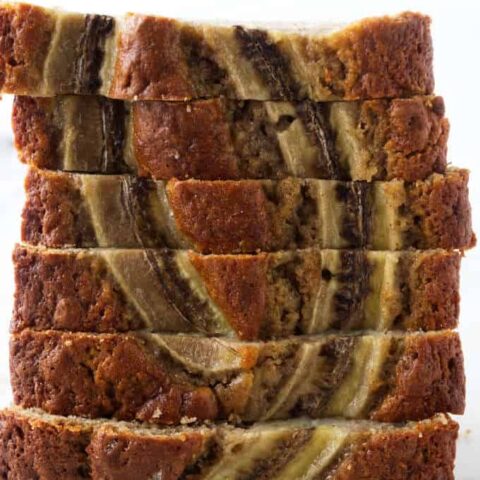 Sourdough Banana Bread
Total Time:
1 hour
10 minutes
Banana bread made with sourdough discard is ultra-tender and moist. This foolproof recipe has the best flavor and texture of any banana bread ever.
Ingredients
Wet ingredients
1 cup mashed bananas (from 3 to 4 ripe bananas)
8 tablespoons butter, melted
1/2 cup granulated sugar
1/2 cup brown sugar
2 eggs
1 cup sourdough starter discard
2 teaspoons vanilla extract
Dry ingredients
1-2/3 cups all-purpose flour
2 teaspoons baking powder
1 teaspoon baking soda
3/4 teaspoon cinnamon
1/4 teaspoon nutmeg
1 teaspoon salt
Optional
Instructions
Preheat oven to 350°F. Grease a 9 x 5-inch loaf pan or line it with parchment paper.
Combine the mashed banana, melted butter, sugar, brown sugar, eggs, and sourdough starter in a bowl. Stir well.
Sift the flour, baking powder, baking soda, and salt over the wet mixture.
Gently fold the dry ingredients into the wet mixture.
Pour the batter into the prepared pan.
Split a whole banana in half vertically and place on top of the batter.
Bake 55 to 60 minutes or until a toothpick inserted into the middle comes out clean or with only a few crumbs attached.
Notes
If you let your sourdough discard sit for several days it will develop a stronger, more tangy flavor. Let it sit in the fridge for 5 to 7 days for the best flavor.
If the starter develops a watery hooch on top then dump the hooch off before adding the starter to the batter. The hooch will add too much liquid to the batter.
Recommended Products
As an Amazon Associate and member of other affiliate programs, I earn from qualifying purchases.