A sensational sourdough pizza dough that comes together with minimal effort. Standard yeast is not required! Use your natural sourdough starter for the easiest and tastiest pizza crust ever. This recipe is easy to understand and perfect for beginners but seasoned bread bakers will appreciate how quickly it comes together.
You don't need special flour to make pizza crust. This recipe shows you how to make it with all-purpose flour.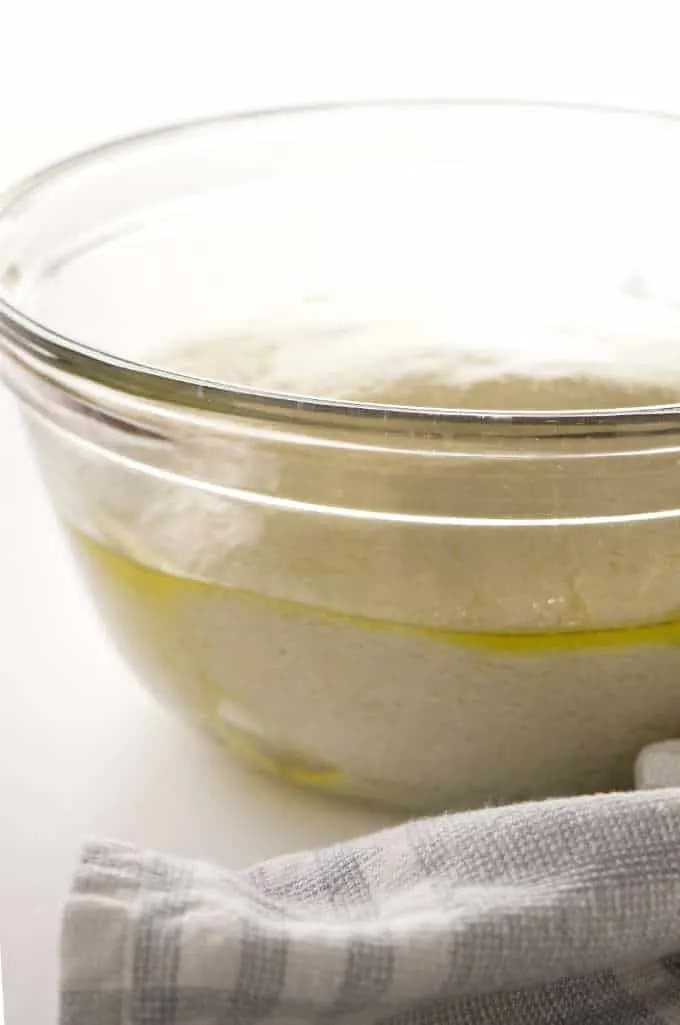 Sourdough recipes always have unfamiliar terminology and techniques. They sound intimidating if you have not done a lot of bread baking. I wanted to give readers a recipe that is easy to follow and skips all the unfamiliar jargon.
This recipe is as simple as mixing the ingredients then letting the dough sit for a while to rise and develop flavor and texture.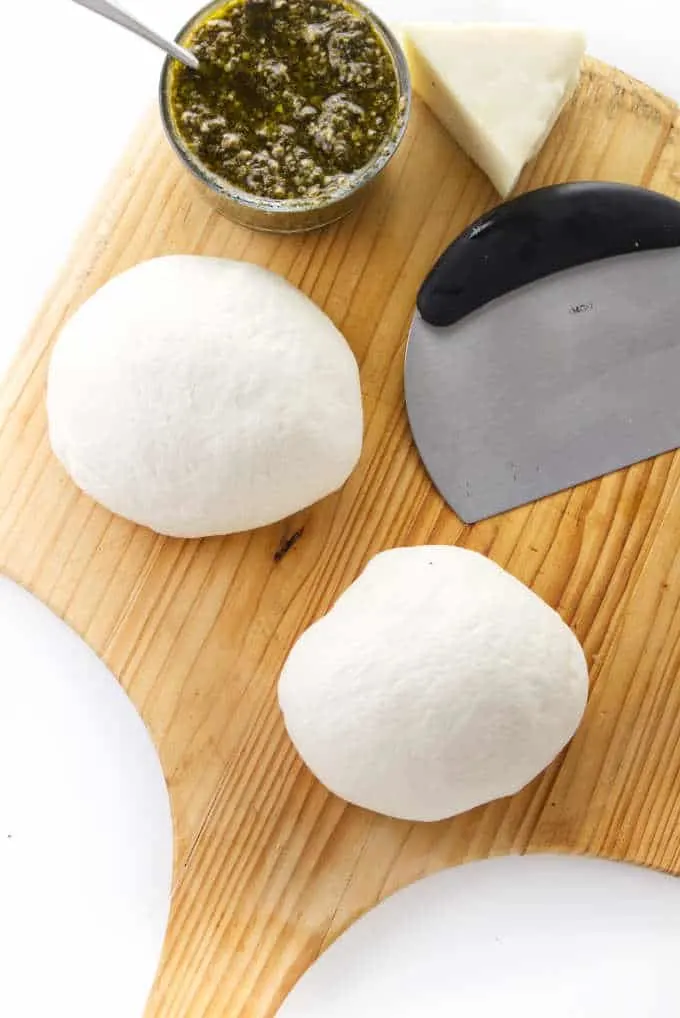 Ingredients for making a sourdough pizza crust:
You only need 4 ingredients for this recipe. That includes your sourdough starter so technically, you only need 3 ingredients. Here is what you need:
What if I don't have a sourdough starter?
If you don't have a sourdough starter then you can:
If you want to make a starter, use the link above to go to our recipe and instructions for a wild yeast sourdough starter.
A sourdough starter only needs flour and water and TIME. Our recipe has an additional ingredient to help get it going more efficiently.
Over time, the flour and water mixture collects the wild yeast spores that are floating around in the air. It usually takes 6 to 12 days to develop the starter but sometimes it takes longer.
Be patient. After you make your starter it will last forever. Not only will you be able to make sourdough pizza dough anytime, but you can also make sourdough bread, pancakes, waffles and anything your heart desires.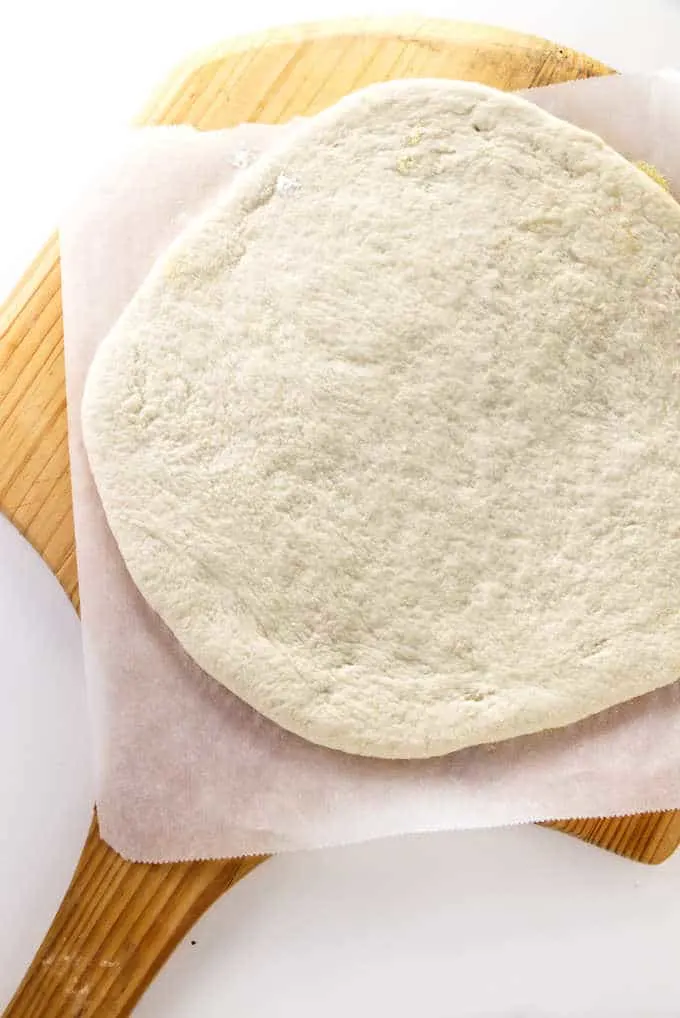 Let's make pizza dough!!
Keep reading to get the general guide and some tips for success. If you're already familiar with bread baking then scroll all the way down for the printable recipe card.
Mix all the ingredients together.
Tip the dough onto a lightly dusted counter and knead, knead, knead!
Let the dough rise.
Shape the dough into flat pizza crusts and let it rest for a while.
Add toppings and bake!
Keep reading for all the tips!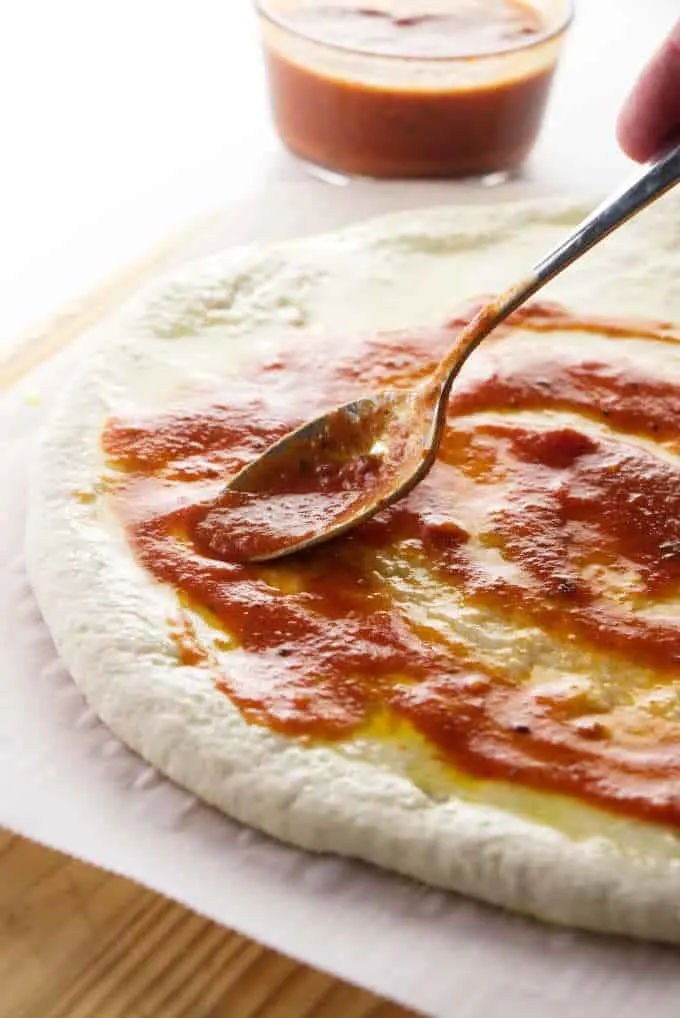 More Sourdough Recipes
There are so many wonderful things to do with sourdough discard! Every time you refresh your starter, instead of throwing away the leftover unfed starter, you can put it to use in all kinds of delicious sourdough recipes.
Tips for success.
A recipe for bread and pizza dough is ALWAYS just a guide. It gets you started but you might need to make some adjustments. Every kitchen is a bit different. Your kitchen might be warmer and have more humidity. Your flour might be dryer, your sourdough starter might have a bit more hydration.
All these variables mean you have to roll with the punches a bit. I made a video so you can see what the dough is supposed to look like. Between the video and the instructions, you will have some incredible pizza dough with hardly any effort.
FAQ's
Why does my dough look crumbly? If your dough is crumbly then it is too dry. Add some water, a little at a time until the dough looks like the same texture in the video. You can either stir or knead the water into the dough.
Why is my dough sticky? If your dough is sticky then it has too much moisture. You can slowly add more flour until it looks like the dough in the video.
Why hasn't my dough risen? It usually takes anywhere from 1 to 4 hours for sourdough to double in size. If your sourdough starter is pretty new then it might take longer. Sometimes you might even need to give your sourdough starter another week to mature before you use it to make bread and pizza.
Other reasons your dough may not rise in the allotted time have to do with temperature and humidity.
Here is a tip if you want to speed up the rise time: Place the dough in a warm spot that is about 80°F to 90°F. You can use a food dehydrator if you have one. Another trick is to turn your clothes dryer on for a few minutes then turn the dryer off and stick the dough in the warm dryer.
Freezing sourdough pizza dough.
This recipe makes 2 standard-sized pizza crusts. You can freeze one or both of them for later.
After the dough rises the first time, divide it in half and coat the balls of dough with oil. Next, drop the dough into freezer-proof sealable bags and stick them into the freezer. You can freeze them for 3 to 4 months.
Thawing and using frozen pizza dough.
Thaw the frozen dough in the fridge for 6 to 8 hours. If you leave it longer, don't worry. I have left it in the fridge for 14 hours. It actually develops more flavor when it sits longer.
When you are ready to make the pizza, let the dough sit on the counter for 30 minutes so it has some time to get the chill off of it (coat the dough with oil so it doesn't develop a skin).
After it sits out for a while, shape it into a 12-inch pizza crust then proceed with step 5 in the recipe card. If the dough is difficult to shape then let it sit out a bit longer. Cold dough is much more difficult to shape.
? More Sourdough Recipes
There are so many wonderful things to do with sourdough discard! Every time you refresh your starter, instead of throwing away the leftover unfed starter, you can put it to use in all kinds of delicious recipes.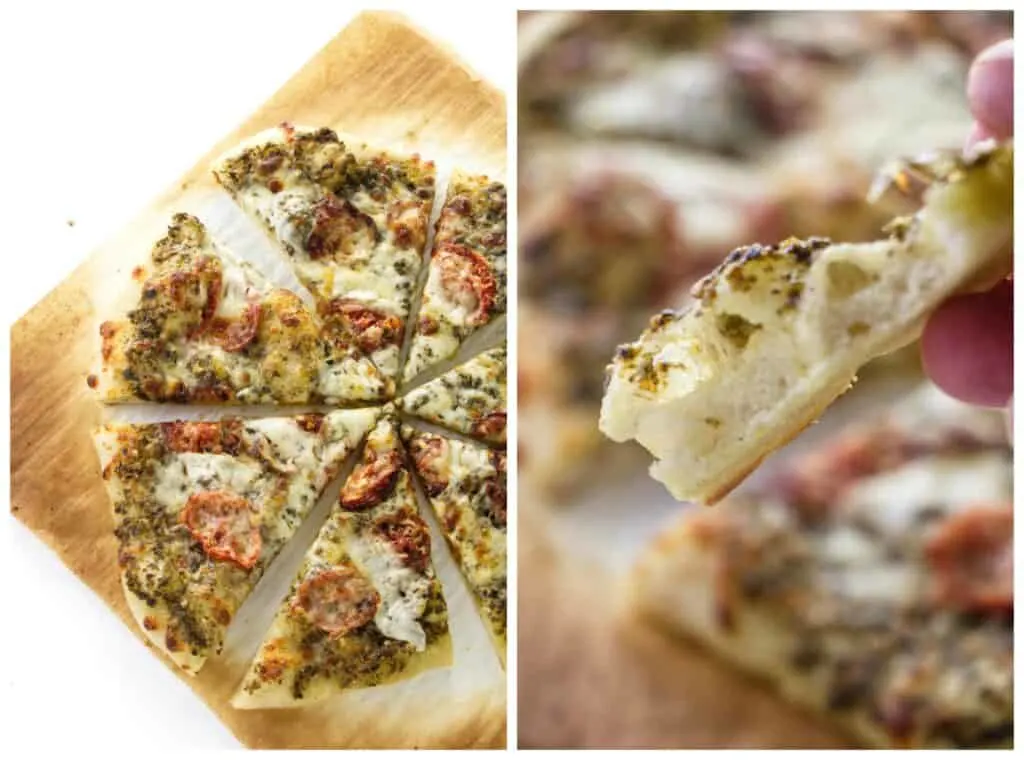 More Recipes You Will Love
If you don't have time for sourdough pizza dough, try our quick pizza dough recipe. You can have pizza tonight with this one. We also have a recipe for ooni pizza dough. It is perfect for outdoor pizza ovens.
Our sourdough ricotta pancakes are a great way to use up your sourdough discard. The pancakes are so creamy inside. They will certainly be your favorite.
Do you enjoy baking with different kinds of flour? Our Einkorn sourdough bread is a delicious, healthy, and rustic bread.
After you make a rustic loaf of sourdough bread, scoop the center out and make this baked brie in a bread bowl. So good!
Connect With Savor the Best:
Please follow us on our social media accounts
Facebook * Instagram * Pinterest * Youtube * Twitter
Did you make this recipe? We would love to hear from you. Drop us a comment below.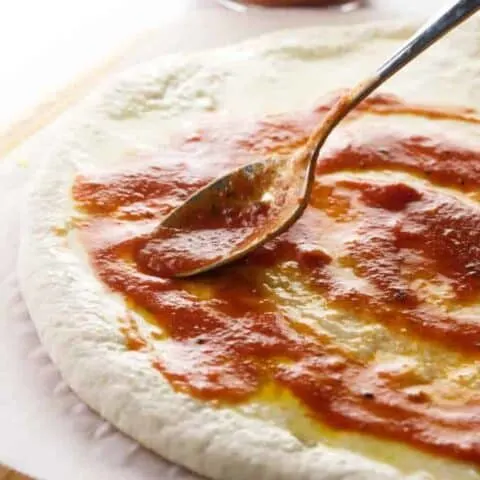 Sourdough Pizza Dough
Additional Time:
3 minutes
Pizza dough made with a sourdough starter transforms into the best pizza crust ever. This pizza dough is simple to make and it is a great starter recipe if you are new to baking with sourdough.
Ingredients
1 cup sourdough starter (240 grams)
1/2 cup warm water (118 grams)
2-1/2 cups all-purpose flour (300 grams)
1 teaspoon salt (6 grams)
Instructions
Add all the ingredients to a mixing bowl and stir well to combine. Dump the dough out onto a floured counter and knead for 8 to 10 minutes. Alternatively, you can use a stand mixer with a dough hook.
Place the dough in a greased bowl and cover loosely with a towel or some plastic wrap.
Set aside for 2 to 4 hours until it is doubled in size.
Divide the dough in half and shape each piece into 2 round pizza disks about 12 inches in diameter. Place the shaped dough on either parchment paper or a well-oiled baking pan.
Cover and let rest for 30 minutes to 1 hour or until the dough rises to the thickness you like. Toward the end of the rest period, preheat the oven to 500°F (or 425°F if making a thick crust pizza)
For a thin crust pizza, add the toppings and bake for 7 to 10 minutes (depending on thickness.)
For a thick crust pizza, bake the crust for 12 minutes before adding the toppings then bake for another 10 to 15 minutes.
Notes
It will take between 2 to 4 hours for your pizza dough to double in size. The timing depends on the strength of your sourdough starter and the temperature and humidity of your kitchen.
If you want the dough to rise faster, add 1/2 teaspoon of instant dry yeast to the mixture.
If you want a more 'sour' sourdough pizza crust, let the dough sit overnight in the fridge for a long slow rise. In the morning, let it come up to room temperature then shape it.
Parchment paper makes it easier to transfer the pizza from the counter to the baking pan or pizza stone. If you don't have parchment paper then shape your pizza dough directly on a greased baking sheet.
You can use discard starter in this recipe but the pizza dough will not be as light and airy.
Nutrition Information:
Yield:

16
Serving Size:

1 slice
Amount Per Serving:
Calories:

84
Total Fat:

0g
Saturated Fat:

0g
Trans Fat:

0g
Unsaturated Fat:

0g
Cholesterol:

0mg
Sodium:

133mg
Carbohydrates:

18g
Fiber:

1g
Sugar:

0g
Protein:

3g
Nutrition information is a guideline only, is calculated automatically by third-party software, and absolute accuracy is not guaranteed.