Sourdough crackers with parmesan cheese are a thing, and thank goodness for that! Crisp, buttery and flavorful, packed with grated parmesan and herbs, these sourdough crackers taste as if they're straight out of a pizzeria! These sourdough starter crackers are irresistible and addicting, delicious whether you're snacking on them plain or pairing them with a creamy dip!
Sourdough crackers, a must-have for any occasion
We do love a good cracker, and homemade is always the best! Have you ever tried homemade crackers? These sourdough crackers are quite simple to make and adds a nice, wholesome touch to any charcuterie board, cheese platter, or hearty and comforting bowl of soup.
Even better, they're a crowdpleaser! Who can resist the delightful combination of Italian seasoning, parmesan cheese, butter, and garlic baked to perfection in cracker form? Crispy, cheesy, and studded with herbs is certainly how we'll take ours, please and thank you!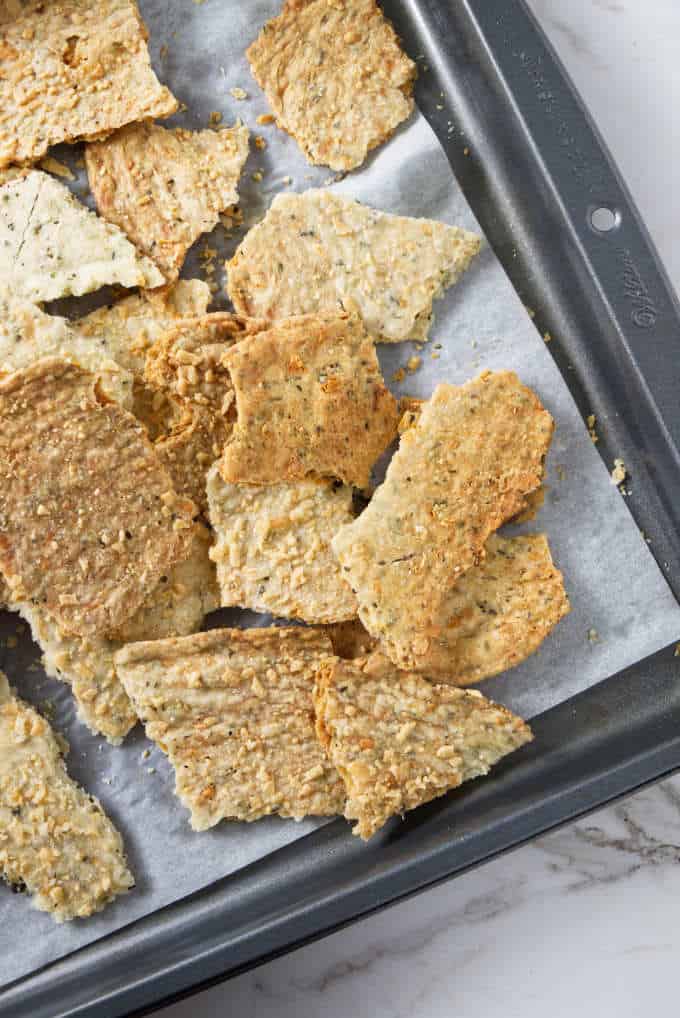 How to make sourdough crackers
Do you have ten minutes? Because that's all the time it really takes to prepare these sourdough starter crackers (not including rest time and bake time of course!). Pop them in the oven to bake while you prep the rest of the snackies- it's that simple!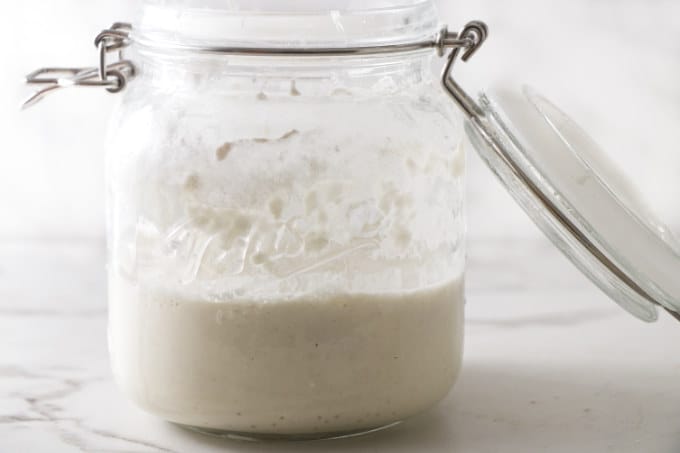 We use a sourdough starter for this recipe. It's a wonderful way to make use of sourdough discard, and the sourdough infuses an incredible flavor into these crackers. (If you need a sourdough starter, we recommend taking a look at our Wild Yeast Sourdough Starter recipe!).
And by the way, this sourdough cracker recipe works with fed or unfed sourdough starter, but we find that using unfed sourdough starter will give the crackers more of a sourdough flavor.
the ingredient list
To make these sourdough crackers with parmesan cheese, you will need the following ingredients:
sourdough starter
flour
grated parmesan cheese
melted butter
salt and pepper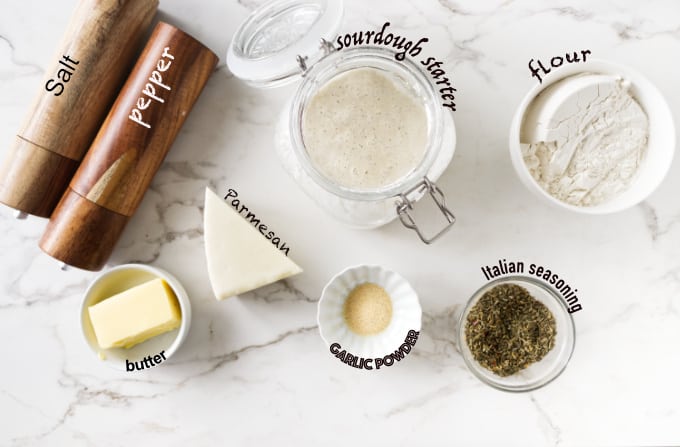 the easy steps
The sourdough cracker making process goes like this! (Check out the full recipe card at the bottom of the page for all the details.)
Add the sourdough starter to a bowl.
Mix the ingredients: Combine all of the ingredients in a bowl and let the dough sit for 10-20 minutes to absorb the moisture and firm up.
Divide the dough.
Roll out the dough: Divide the dough in half and place one half on a piece of parchment paper. Roll it out until it's a thin rectangle. Slide the sheet of dough onto a baking sheet.
Season the top. Brush the top with olive oil, and sprinkle with the grated parmesan, salt, and pepper. Repeat with the second piece of dough.
Bake the sourdough crackers: Bake the crackers for 28-30 minutes. (If the crackers are on the thicker side, they'll need to bake longer.) Remove them from the oven and allow the crackers to cool completely before breaking them into small, cracker-sized pieces.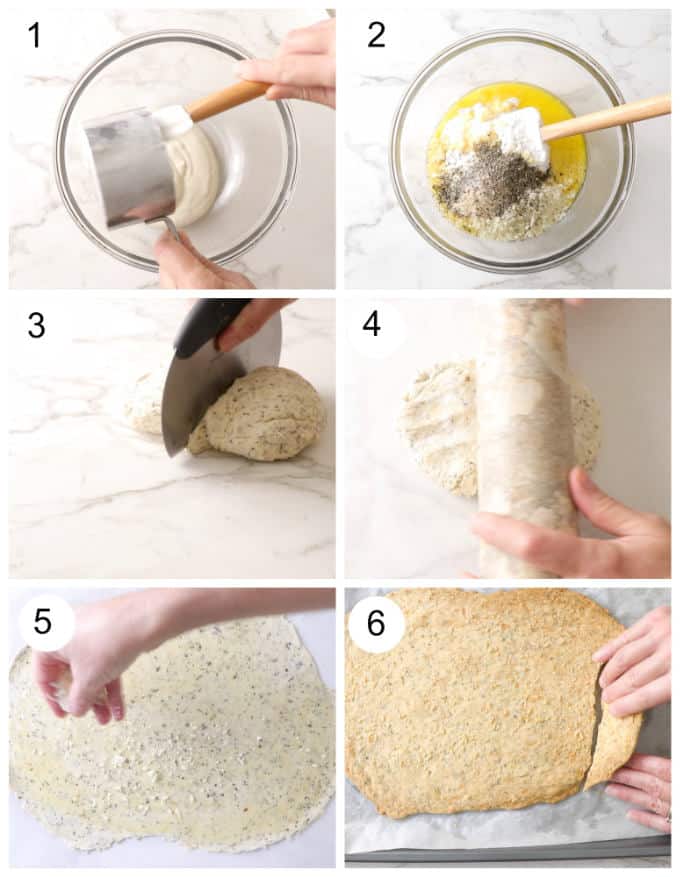 Helpful tips
Don't forget to preheat the oven. The oven should be hot when you start baking the crackers.
Roll the dough out thin. It should be about 1/16″ thick. If you want thicker crackers, you will need to bake them longer.
Using parchment paper will make this recipe so easy. Once the dough is rolled out, keep it on the parchment and use the paper to transfer the dough to the baking sheet.
When to use sourdough discard
You can make this recipe with freshly fed sourdough starter but if you want an extra sourdough flavor then use the discard. Save your discard in the fridge after each feeding until you are ready to use it in a recipe. You can just keep topping off the discard container and you don't need to feed the discard. Just save it until you have enough to bake a discard recipe.
My discard will usually last 7 to 10 days in the fridge before it starts to get a watery hooch on top.
Try it in waffles and pancakes or make sourdough banana bread which is is by far the most epic banana bread we've ever had! Sourdough adds incredible flavor to classic recipes.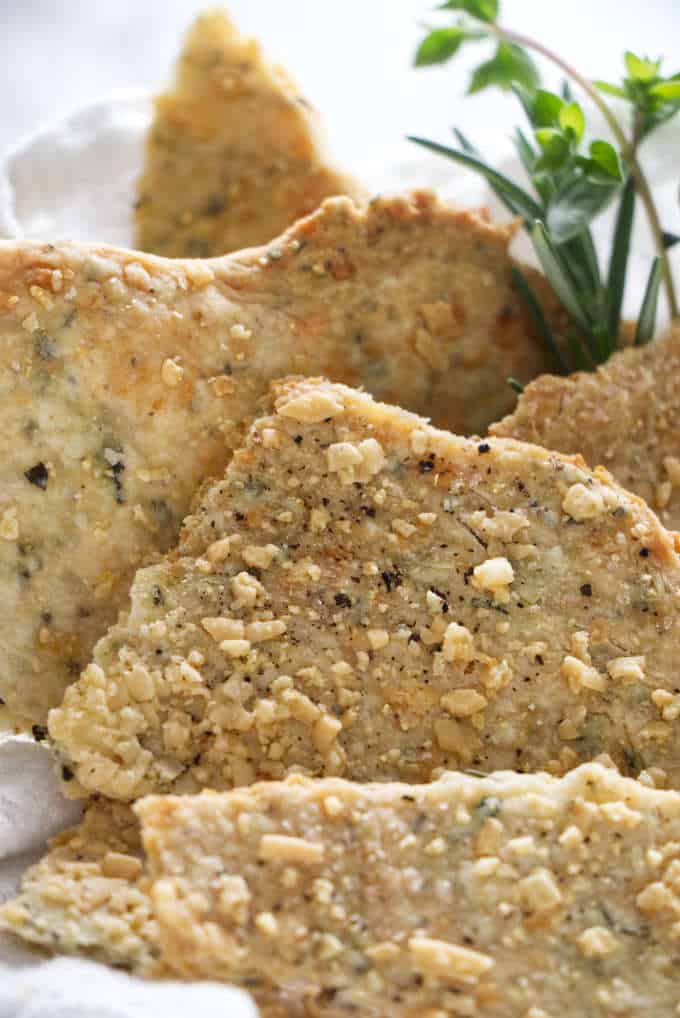 If you're big on sourdough like we are, you will absolutely love these cheesy, flavorful sourdough crackers! They are a simple to make and a fabulous way to make the most of your sourdough starter!
More sourdough inspiration
If you're looking for more inspiration on all things sourdough, here are a few of our favorite sourdough recipes!
SOME OTHER RECIPES WE ARE SURE YOU WILL LOVE:
Parmesan herb crackers made with einkorn flour. These crackers are rich, cheesy, and incredibly addictive.
These Ancient Grain Gourmet Crackers are comparable to those high priced gourmet crackers in the store but much more affordable. They are perfect for your next cocktail party.
These gluten free artisan crackers are packed with dried fruit, nuts, and seeds. They are packed with so much flavor no one will know they are gluten free.
CONNECT WITH SAVOR THE BEST!
Be sure to follow us on our social media accounts
Facebook * Instagram * Pinterest * Twitter * Youtube
Did you make this recipe? We would love to hear from you. Drop us a comment below.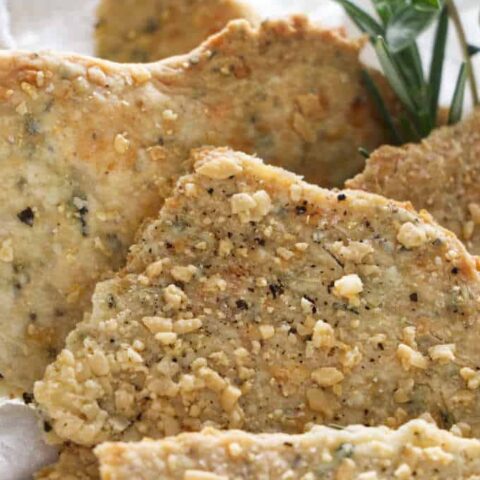 Sourdough Crackers with Parmesan Cheese
Yield: about 3 dozen crackers
Prep Time: 10 minutes
Cook Time: 30 minutes
Total Time: 40 minutes
Use your sourdough discard to make some incredible sourdough crackers. The parmesan cheese and herbs make these crackers taste as if they came out of a pizzeria.
Ingredients
1 cup sourdough starter (240 grams) *see notes
1 cup flour (120 grams)
1/3 cup grated parmesan cheese (40 grams)
4 tablespoons butter, melted
2 tablespoons Italian seasoning blend
1 teaspoon garlic powder
1/2 teaspoon salt
1/2 teaspoon pepper
Instructions
Preheat the oven to 350°F.
Combine all the ingredients in a bowl.
Let the dough sit for 10 to 20 minutes to absorb the moisture and firm up.
Divide the dough in half.
Place one piece of dough onto a piece of parchment paper and roll it out into a thin rectangle. It should be about 1/16 inch thick.
Slide the sheet of dough on to a baking sheet. Brush the top with olive oil and sprinkle with grated parmesan, salt, and pepper.
Repeat with the second piece of dough.
Bake for 28 to 30 minutes. (Thicker crackers will need to bake longer)
Remove from the oven and let cool. Once cool, break into small cracker-sized pieces.
Notes
This recipe works with fed sourdough starter or sourdough discard. Sourdough discard will give the crackers more of a tangy, sourdough flavor.
Recommended Products
As an Amazon Associate and member of other affiliate programs, I earn from qualifying purchases.
Nutrition Information:
Yield: 36
Serving Size: 1
Amount Per Serving:
Calories: 41
Total Fat: 2g
Saturated Fat: 1g
Trans Fat: 0g
Unsaturated Fat: 1g
Cholesterol: 4mg
Sodium: 56mg
Carbohydrates: 5g
Fiber: 0g
Sugar: 0g
Protein: 1g
Nutrition information is a guideline only, is calculated automatically by third-party software, and absolute accuracy is not guaranteed.