These elegant, crisp ancient grains gourmet crackers pair so well with soft goat cheese and they will be the star on your cheese board. We have packed a lot of healthy flavors into these gourmet crackers. You will be delighted with their crispy crunch and taste.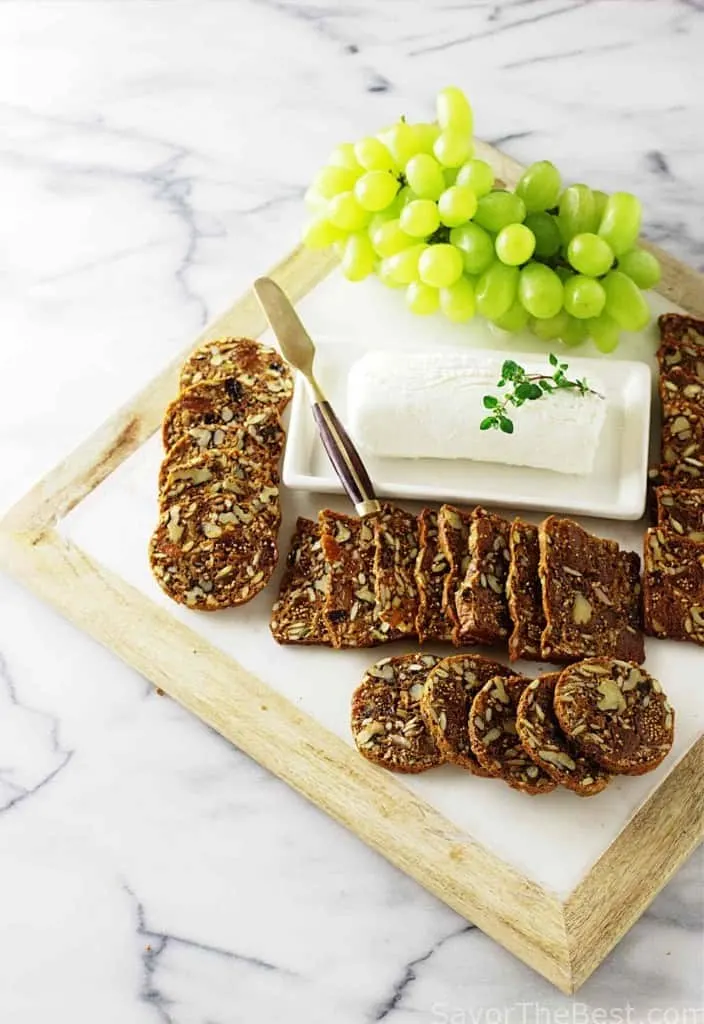 With a touch of honey these treats have a just 'barely-there' sweetness that discerns them as a cracker and not a cookie. Our ancient grains gourmet crackers are very similar to the expensive Raincoast® Crisp crackers that we all love.
Three ancient grains:
We have used Kamut® whole grain flour, einkorn all-purpose flour and rolled spelt flakes. Also included in these gourmet crackers is a good portion of organic, sun-dried Calimyrna figs, raisins and roasted walnuts, plus a variety of seeds.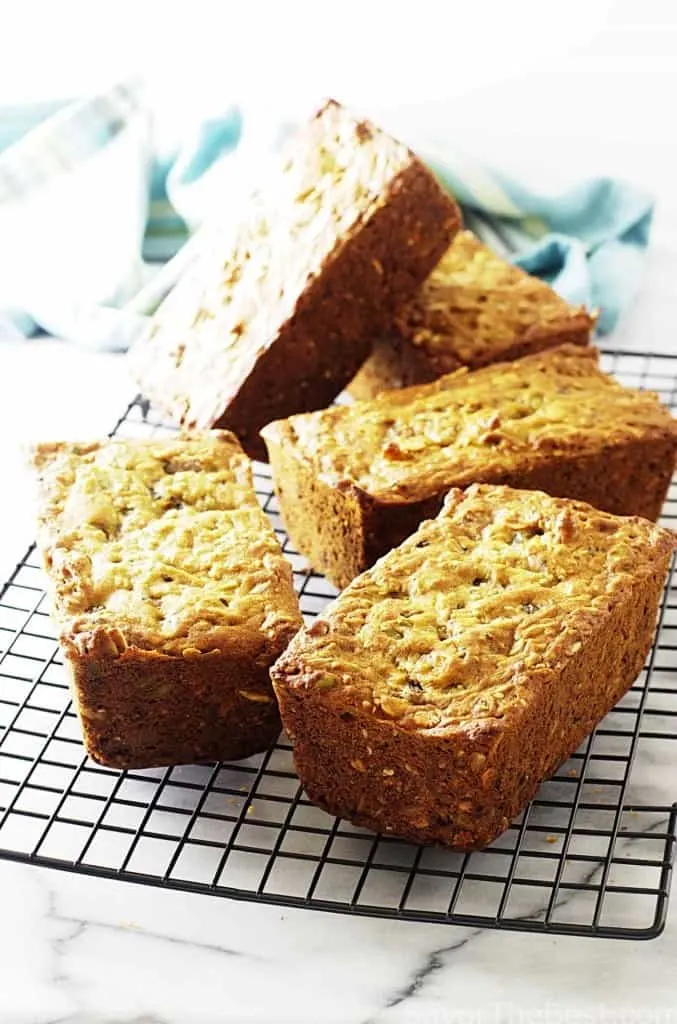 The shapes of the crackers:
These gourmet crackers are first baked as small cakes in the tiny loaf pans for the square crackers. We used small size tomato/chile cans for the round crackers.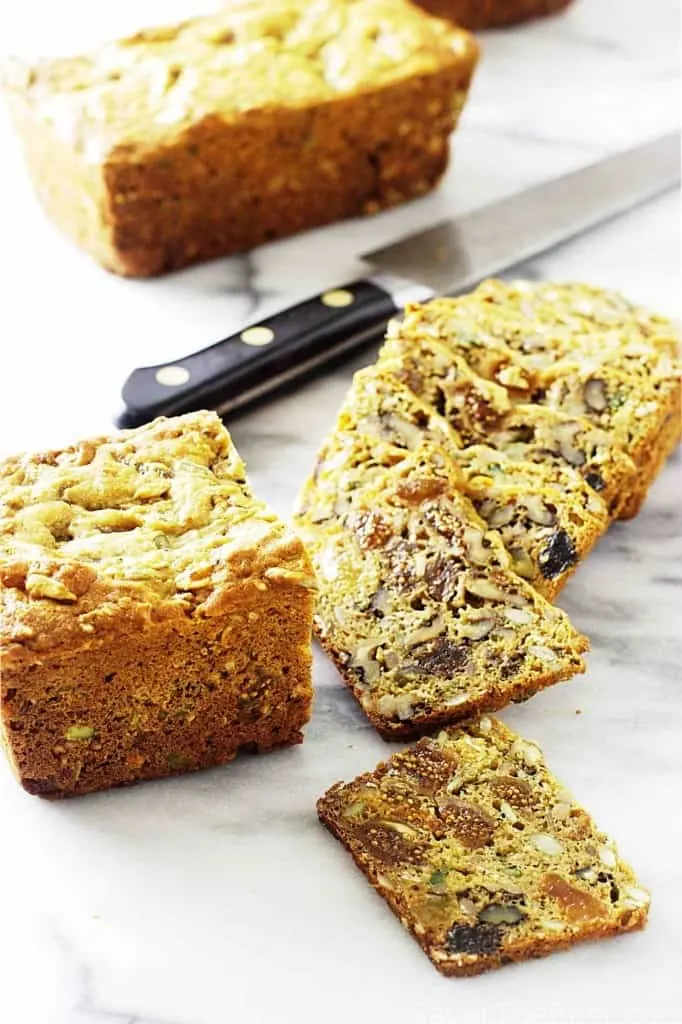 I have to tell you, though, if you choose to use the cans for the round crackers you absolutely must line the inside of the can with parchment paper.
Just make a little tube from the parchment paper and slip down inside of the can. Otherwise, even with a heavy dose of cooking spray they are difficult to remove.
How to achieve wafer-thin slices:
After the baking has cooled to room temperature they are put into the freezer for an hour or more which helps slice them wafer thin. The thin slices are then re-baked at a low-temperature oven into these crispy treats.
You will love the crunchy taste of these addictive crackers either with or without the soft, tangy goat cheese.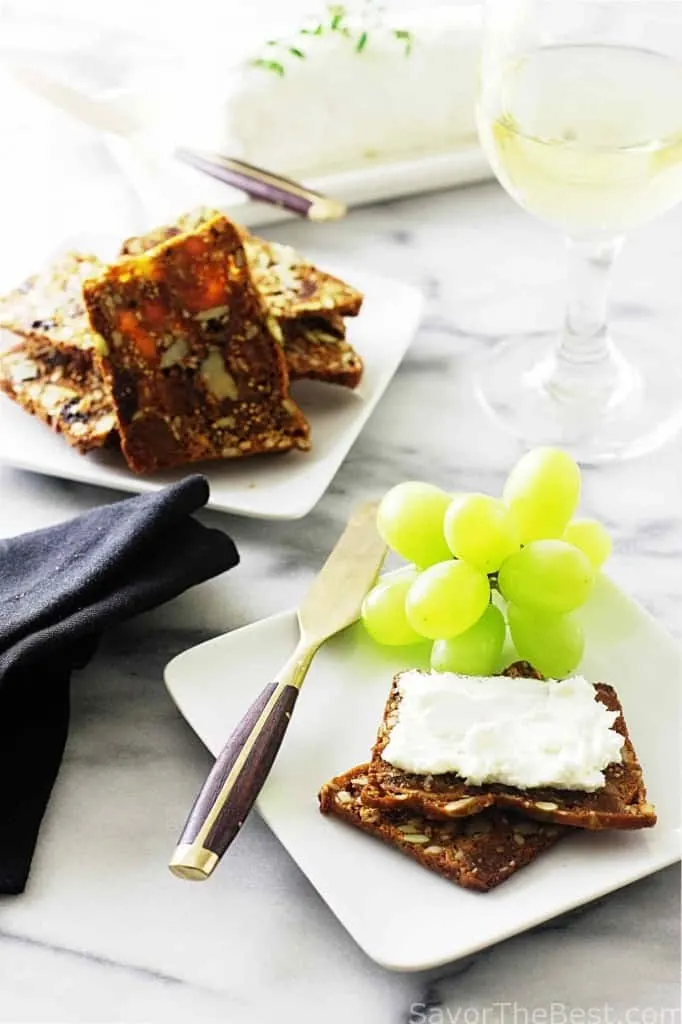 Besides this being an easy recipe to make and bake it is also fun to produce a quality, delicious homemade cracker made with wholesome ingredients and no preservatives. They are definitely comparable to those high-priced, gourmet crackers in the supermarkets. We may be prejudice but we sorta think ours are tastier. 🙂
More Easy Quick Bread Recipes
Check out these recipes: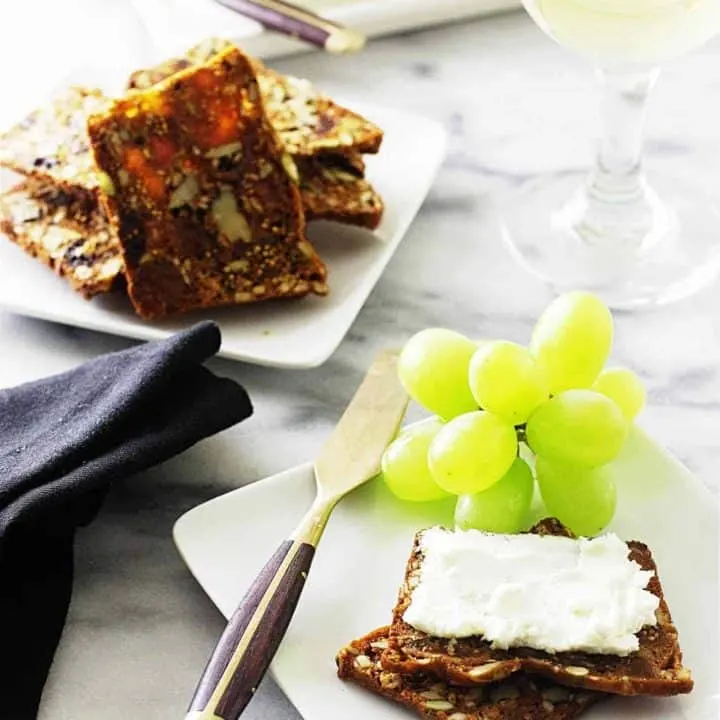 Ancient Grains Gourmet Crackers
Cook Time:
1 hour
20 minutes
Total Time:
2 hours
5 minutes
These elegant, crispy ancient grains gourmet crackers pair so well with soft goat cheese and they will be the star on your cheese board. We have used whole grain Kamut® flour, einkorn all-purpose flour and rolled spelt flakes. We also included a good portion of dried Calimyrna figs, raisins and roasted walnuts, plus a variety of seeds.
Ingredients
1 cup (120g) whole grain Kamut® flour
1 cup (120g) all-purpose Einkorn flour
1/2 cup (40g) rolled spelt flakes
2 teaspoons baking soda
1 teaspoon salt
2 teaspoons ground cumin
1 1/2 cups (12 ounces) dried figs (any kind works)
1 cup (8 oz) raisins
1 1/2 cup (12 ounces) toasted walnuts
1/2 cup (4 ounces) sunflower seeds
1/2 cup (4 ounces) pumpkin seeds
1/4 cup (2 ounces) poppy seeds
1/4 cup sesame seeds
1 cup nonfat Greek yogurt
1 cup low fat milk
1/4 cup honey
1/2 cup coconut oil
Instructions
Preheat oven to 350˚F. Coat three small loaf pans generously with cooking spray. Using 3 empty clean 10.5 ounce tomatoes with chiles cans (label removed) measure parchment paper and form a tube with it to fit inside the can. Cut a circle of parchment paper to fit the bottom inside of the can. Spray the can and the parchment liner with cooking spray. Reserve
To a large mixing bowl, add the flour, spelt flakes, baking soda, salt and ground cumin and whisk to combine.
Add the figs, raisins, walnuts and the seeds to the mixing bowl and toss to combine Reserve.
In a medium-size bowl, whisk the yogurt, milk, honey and oil together and add to the flour mixture. Using a stiff spatula or wooden spoon, combine the ingredients, scraping the bottom and sides well to incorporate the flour mixture well.
Divide the batter into the prepared containers, pressing into the corners and smoothing the tops, set them on a baking sheet and transfer to the middle of the oven. Bake for 25-30 minute to a golden brown and a testing pick comes clean when inserted into the middle of a loaf.
Transfer the loaves to a cooling rack and allow to cool for 10 minutes, then remove from the pans and allow to finish cooling. Place the cooled loaves into the freezer for 1 1/2 hours to partially freeze in order to slice easier.
Preheat the oven to 250°F Line 2-3 baking sheets with parchment paper and reserve.
With a sharp knife, cut the loaves into 1/8-inch slices, or as thinly as possible. Place the slices on the baking sheets, transfer to the oven and bake for 25, turn the crackers over and continue to bake for an additional 20 minutes until crisp.
Remove the baking sheets from the oven and transfer to a cooling rack, they will continue to crisp as they cool. Store in an airtight container until serving.
Notes
I used 10-ounce cans of Ro*Tel tomato/green chilies for the round crackers but the cans must be lined with parchment paper tubes.If baking more than one baking sheet of sliced crackers at one time, alternate the pans at the half-way point when the crackers are flipped.
Nutrition Information:
Yield:

30
Serving Size:

5 crackers
Amount Per Serving:
Calories:

150
Total Fat:

5g
Saturated Fat:

1g
Trans Fat:

0g
Unsaturated Fat:

4g
Cholesterol:

1mg
Sodium:

292mg
Carbohydrates:

24g
Fiber:

3g
Sugar:

11g
Protein:

5g
Nutrition information is a guideline only, is calculated automatically by third party software, and absolute accuracy is not guaranteed.