I love the taste of these Kamut flour tortillas and they are so easy to make. With a few simple ingredients, they can be stirred up, rolled, and on the griddle in just a few minutes.
Tortillas have many uses as in burritos, tacos, wraps, crispy chips and so much more. They are always a delicious accompaniment to your favorite Southwestern meal, just butter a hot tortilla, roll it up and enjoy. These Kamut flour tortillas are especially delicious and Kamut flour is a great change from traditional flour tortillas.
What You Need to Make Kamut Flour Tortillas:
These are so simple to make and you can whip them up in just a few minutes with these ingredients. Be sure to scroll to the bottom of the post for full instructions.
Coconut oil
Kamut white flour
Salt
ice water
Cooking the Kamut® Flour Tortillas
Getting the correct temperature when cooking these tortillas is the most challenging part of making these babies. The griddle should be really hot so they cook within 15-30 seconds on each side but not so hot as to have them burn.
Depending on your type of heating unit you may need to experiment a little. Hint…make a double batch! I would love to have a cast iron griddle with an automatic thermostat!
We like the slightly nutty taste of the Kamut flour used in these tortillas, the dough is easy to roll and comes off the griddle thin, soft and delicious.
Any tortillas that are not gobbled up can be stored in the freezer for a quick reheat another day. Just stack the tortillas with a piece of parchment paper between each tortilla, slide them into a closable plastic bag and boom, fresh tasting tortillas anytime.
Check out some of our other recipes:
Yield: 8 servings
Kamut Flour Tortillas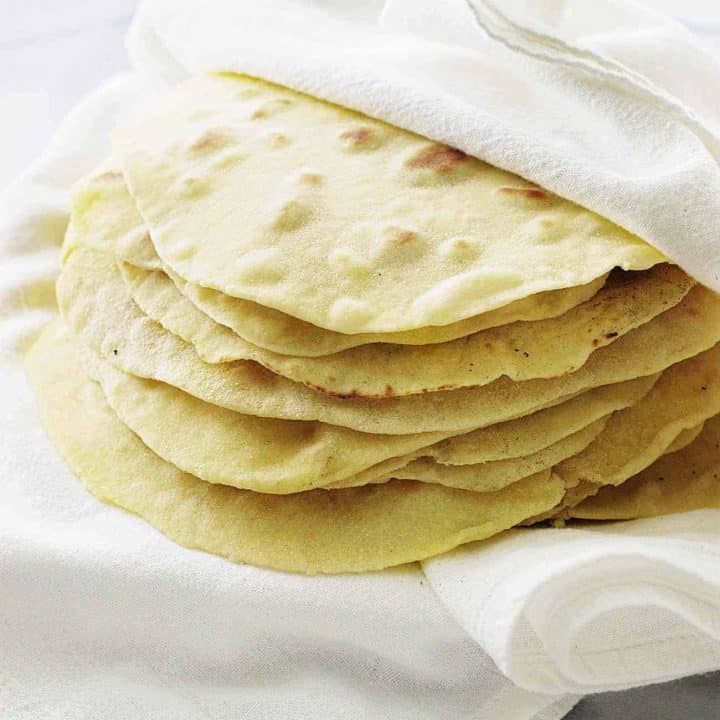 Kamut flour tortillas are thin, soft and easy to make with just a few simple ingredients. They are always a delicious accompaniment to your favorite Southwestern meal, just butter a hot tortilla, roll it up and enjoy.
Prep Time 30 minutes
Cook Time 15 minutes
Total Time 45 minutes
Ingredients
1/4 cup coconut oil
2 cups Kamut white flour
1/2 teaspoon salt (or 1 teaspoon of kosher salt)
3/4 cups ice water
Instructions
Measure out the solid coconut oil and add it to a small dish, transfer to the freezer for 5 minutes.
Add the flour and salt to the work bowl of a food processor. Using the steel blade, pulse to combine. Add the cold coconut oil and pulse until mixture resembles coarse crumbs. Add the ice water and process until a cohesive dough forms.
Turn dough out onto a lightly floured board and knead until smooth, about 1 minute.
Cover the dough with a damp cloth and let rest for 10 minutes.
Tear off a portion of parchment paper and place on a workspace. Heat a heavy skillet or griddle, over medium-high heat, cast iron is my choice.
While the griddle is heating, divide dough into 8 equal pieces. Dust your work board with flour, flatten each ball into a round disc and roll into an 8-inch round. If you like a thicker tortilla roll to about 6-inches.
Place rolled tortilla onto the prepared parchment paper, cover with a light cloth and proceed with the remaining tortillas. Keep the rolled tortillas covered with the cloth until cooked. Do not stack the uncooked tortillas directly on top of each other, parchment paper between them will prevent them from sticking to each other.
Place one rolled tortilla on the griddle and cook until bubbles form on the top and the bottom side has lightly browned spots, 15-30 seconds. It may be necessary to adjust the temperature of the griddle. Flip tortilla with a metal spatula and cook until the second side develops light browned spots, 15-30 seconds longer.
Transfer tortilla to a plate and cover with dishcloth. Keeping the tortillas covered with a cloth will trap the steam and keep them soft. Repeat with remaining balls of dough. Serve immediately while still warm.
Recommended Products
As an Amazon Associate and member of other affiliate programs, I earn from qualifying purchases.
Nutrition Information:
Yield:
8
Serving Size:
1
Amount Per Serving:
Calories: 174
Total Fat: 7g
Saturated Fat: 6g
Trans Fat: 0g
Unsaturated Fat: 1g
Cholesterol: 0mg
Sodium: 269mg
Carbohydrates: 24g
Fiber: 2g
Sugar: 1g
Protein: 4g
Nutrition information is a guideline only, is calculated automatically by third party software, and absolute accuracy is not guaranteed.
Have you made these kamut flour tortillas? We would love to see a picture. Tag us on
Instagram
.