Zucchini bread is a classic American favorite. It's easy to make and doesn't require any fancy ingredients, so you can whip up a loaf whenever the zucchini harvest comes around–or even when it doesn't! This recipe for zucchini bread with brown sugar will have your kitchen smelling like heaven.
It's moist, tender, and sweet enough to pass as dessert but not too sweet for breakfast. The brown sugar in the recipe gives it a hint of caramel that makes this zucchini bread irresistible.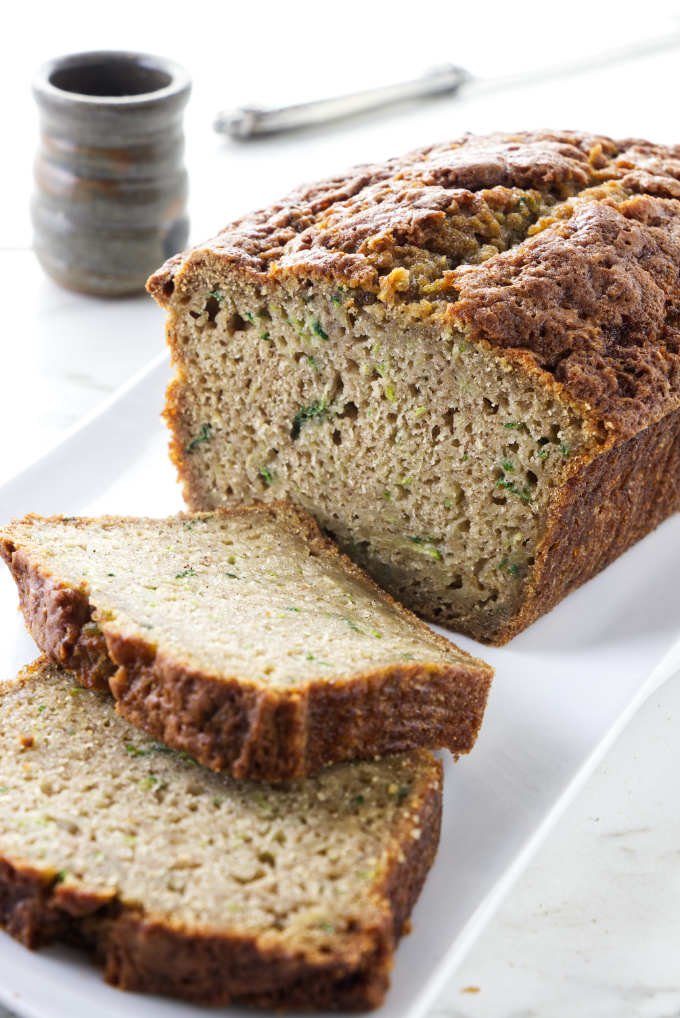 This is the perfect recipe for no-fail zucchini bread. It does not require an electric mixer or any highly technical skills. The most important thing is to UNDER-MIX your batter for the best results. Over-mixing causes the gluten in the flour to form, making it tough and chewy. That is the case with all quick bread recipes like our Starbucks banana bread, our sweet potato bread, or our quick barley bread to name a few.
This recipe for zucchini bread with brown sugar creates a rich and complex flavor that is perfect with morning coffee. We also used a combination of butter and oil. The butter offers a balanced, buttery taste to the bread, while the oil keeps it moist.
If adding zucchini to sweet bread sounds strange, don't worry. The mild flavor of zucchini mixes in with the sugar and spices and provides moisture and structure to the loaf. It's a tried-and-true recipe that will never go out of style. By the way, if you have extra zucchini to use up, try making our kamut zucchini muffins.
Brown Sugar Zucchini Bread
This recipe for zucchini bread with brown sugar also has some granulated white sugar. If you want to replace all of the white sugar with brown sugar, you can do that as well.
If you do replace all of the white sugar with brown sugar, then the bread will look darker, but it will still bake the same.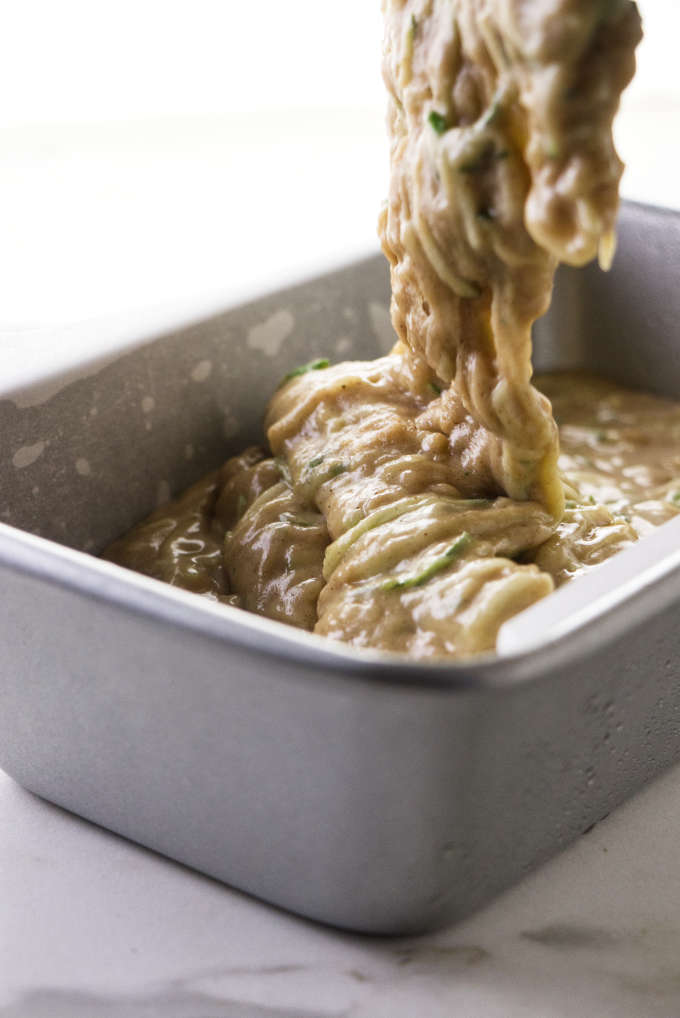 The Ingredients You Will Need
Here is a list of the ingredients for our zucchini bread with brown sugar. Make sure to scroll to the printable recipe card for all the details.
Dry Ingredients
Flour.
Baking powder and baking soda.
Salt.
Cinnamon and nutmeg.
Wet Ingredients
Eggs.
Oil.
Butter.
Granulated sugar.
Brown sugar.
Vanilla.
Zucchini.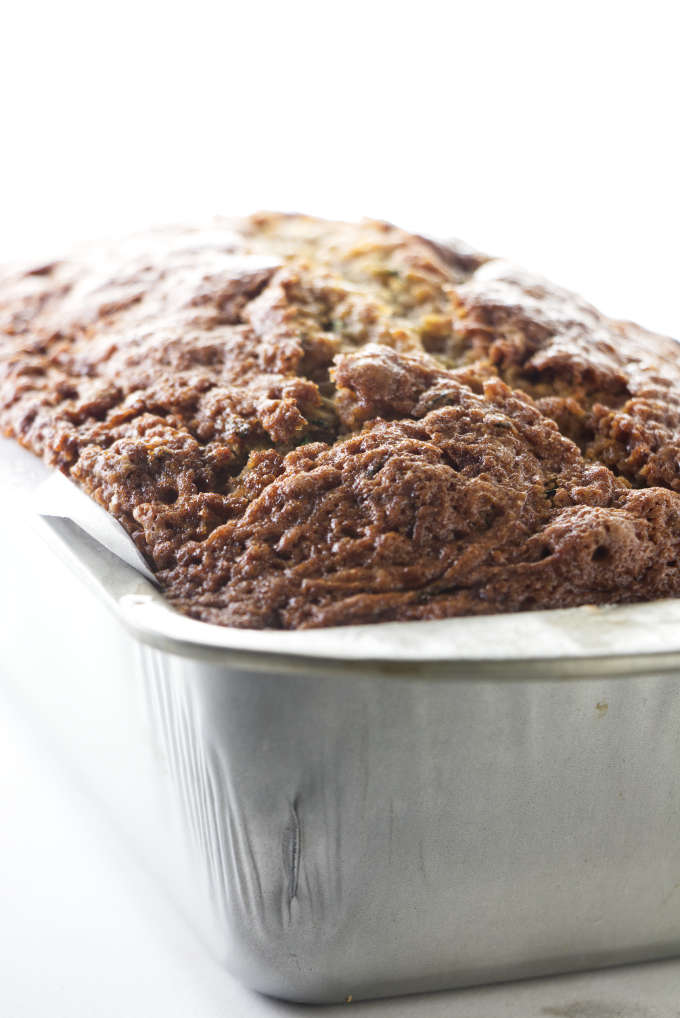 How to Make Zucchini Bread with Brown Sugar
Combine the dry ingredients in one bowl and sift them with a whisk, flour sifter, or mesh strainer.
Combine the wet ingredients in a separate bowl.
Gently fold the dry ingredients into the wet ingredients.
Pour the batter into the baking pan and bake until a toothpick stuck in the center comes out clean.
Pointers for Success
Sift the flour, baking soda, baking powder, and salt. These dry ingredients (particularly the flour and baking soda) tend to have tiny lumps that won't evenly blend into the batter unless they get sifted.
Do not use an electric mixer with this recipe. An electric mixer will overwork the batter, causing gluten to form and result in a tough texture.
It is ok if there's a few streaks of flour in the batter. As a matter of fact, it is better to have the batter slightly under mixed than to risk over-mixing it.
The batter for this zucchini bread recipe is thick. If you notice that is it thin and watery then you probably did not squeeze out the excess liquid from the zucchini. It will be hard to fix the batter once that happens because adding extra flour will change the ratios in the recipe. Make sure you squeeze the liquid out of the zucchini before you add it to the batter.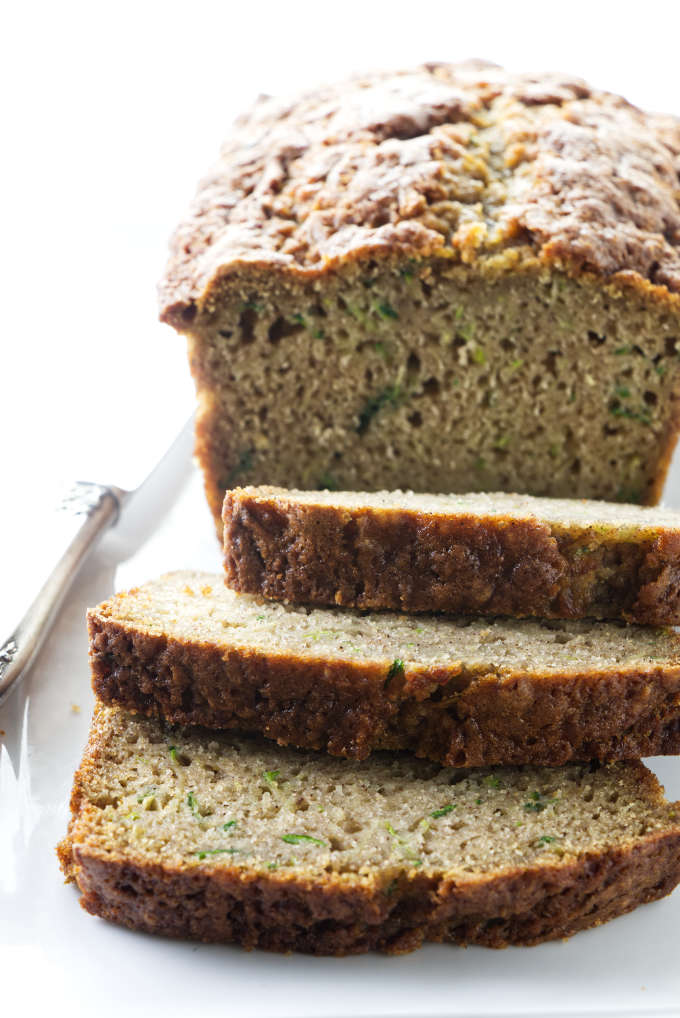 Use the Right Size Pan
It is important to use the correct size bread pan for accurate results. This brown sugar zucchini bread makes one large loaf in a 9 by 5 inch loaf pan. If you have a smaller pan, you can still make this recipe, but you will need to refer to the recipe notes in the card for baking instructions.
Baking Tip: The Muffin Method
This zucchini bread recipe uses a two-bowl mixing method called the muffin method. The muffin method is commonly used for pancakes, waffles, quick breads, and of course, muffins like these banana blueberry muffins. It is easy, fast and creates a delightfully moist and tender texture that holds together well. Although this method is easy, if you over-mix the batter it can create a tough texture.
The key to success is to only mix the batter until the dry ingredients are moist and just barely combined. You want to see some lumps which will dissipate once it is baked.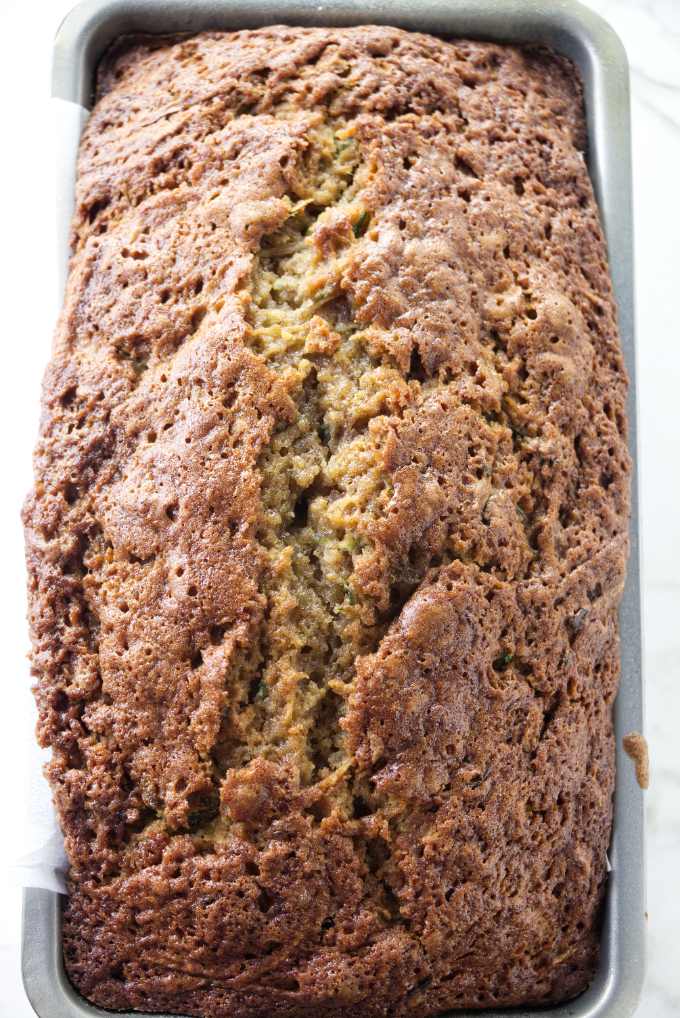 Frequently Asked Questions
Should I use bread flour to make zucchini bread?
No. You do not want to use bread flour for this type of bread recipe. Bread flour has a higher ratio of gluten and will make zucchini bread heavy and tough. Stick to pastry flour or all-purpose flour which has less gluten.
Do I have to peel the zucchini?
The zucchini does not need to be peeled. The peel will not only provide beautiful flecks of green to the zucchini bread, but it will also improve its nutritional value.
Do You Squeeze Water Out of Zucchini for Bread?
Yes. After grating the zucchini, press it to remove any extra water. You can wrap it in a dishtowel and squeeze it over the sink or simply let it drain in a colander.
Larger zucchini will have more water in them and therefore require more draining.
If you don't get excess water out of the zucchini, you could end up with gummy zucchini bread that sinks in the middle and looks underbaked.
Why Did My Zucchini Bread Sink in the Middle?
Zucchini bread will sink in the middle for various reasons. Here are the most common issues that cause zucchini bread and other sweet bread recipes to sink.
The batter is too wet (from excess liquid in the zucchini.
Expired baking soda and baking powder.
Under-baked bread.
Over-filling the baking pan.
Beating the batter too vigorously.
Connect With Savor the Best:
Please follow us on our social media accounts
Facebook * Instagram * Pinterest * Youtube * Twitter
Did you make this recipe? We would love to hear from you. Drop us a comment below.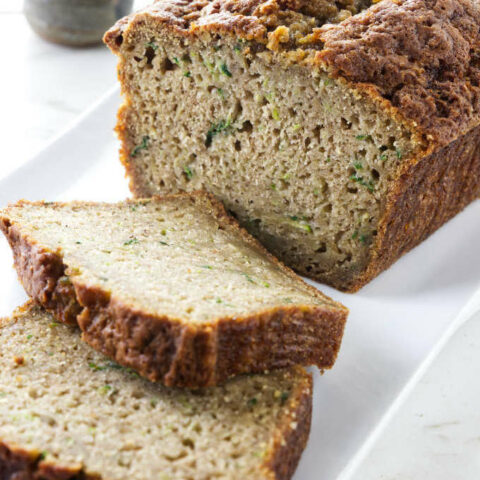 Zucchini Bread with Brown Sugar
Total Time:
1 hour
15 minutes
Brown sugar zucchini bread is soft, tender, and sweet enough to pass for dessert but not too sugary for breakfast. The brown sugar gives this zucchini bread a hint of caramel flavor. Butter adds even more flavor and a bit of oil keeps it extra moist.
Ingredients
Dry Ingredients
2 1/4 cups all-purpose flour or pastry flour
2 teaspoons baking powder
1 teaspoon baking soda
3/4 teaspoon salt
2 teaspoons cinnamon
1/2 teaspoon freshly ground nutmeg
Wet Ingredients
3 large eggs
1/4 cup cooking oil
1/4 cup butter, melted
3/4 cup granulated sugar
3/4 cup light brown sugar
2 teaspoons vanilla extract
2-1/2 cups grated zucchini
Instructions
Preheat the oven to 350° and grease a 9 by 5-inch loaf pan (see the notes if you have a different size pan).
In a large bowl, whisk the dry ingredients together.
In a medium bowl, whisk the wet ingredients together except for the zucchini. Once all the wet ingredients are blended, stir in the zucchini.
Fold the dry mixture into the wet ingredients until just barely combined. Do not over-mix.
The batter will be thick. Spread the batter into the prepared loaf pan and bake for about 60 to 75 minutes, or until a toothpick inserted into the center comes out clean. Place a sheet of aluminum foil over the bread after 45 minutes to prevent the top from getting too brown.
Let the zucchini bread cool in the pan for 20 minutes, then remove it from the pan and cool completely on a wire rack (allowing it to cool in the pan first will help you remove it easier)
Notes
All-purpose flour works very well in this recipe but if you use pastry flour, the zucchini bread will be slightly more tender.
Squeeze extra moisture out of the zucchini after you grate it. You can wrap it in a dish towel and squeeze it over the sink or let it sit for a while in a colander. If you don't get excess moisture out of the zucchini then the bread will not bake correctly and it will sink in the middle.
If you have an 8 x 4-inch pan you will have enough batter left over for 5 to 6 standard size muffins. Bake the muffins for 22 to 25 minutes. Bake the 8 x 4-inch pan of zucchini bread for 55 to 65 minutes.
You can also bake this zucchini bread recipe in 6 mini loaf pans for 35 to 45 minutes.
Nutrition Information:
Yield:

12
Serving Size:

1
Amount Per Serving:
Calories:

364
Total Fat:

13g
Saturated Fat:

4g
Trans Fat:

0g
Unsaturated Fat:

7g
Cholesterol:

60mg
Sodium:

397mg
Carbohydrates:

57g
Fiber:

2g
Sugar:

26g
Protein:

7g
Nutrition information is a guideline only, is calculated automatically by third party software, and absolute accuracy is not guaranteed.