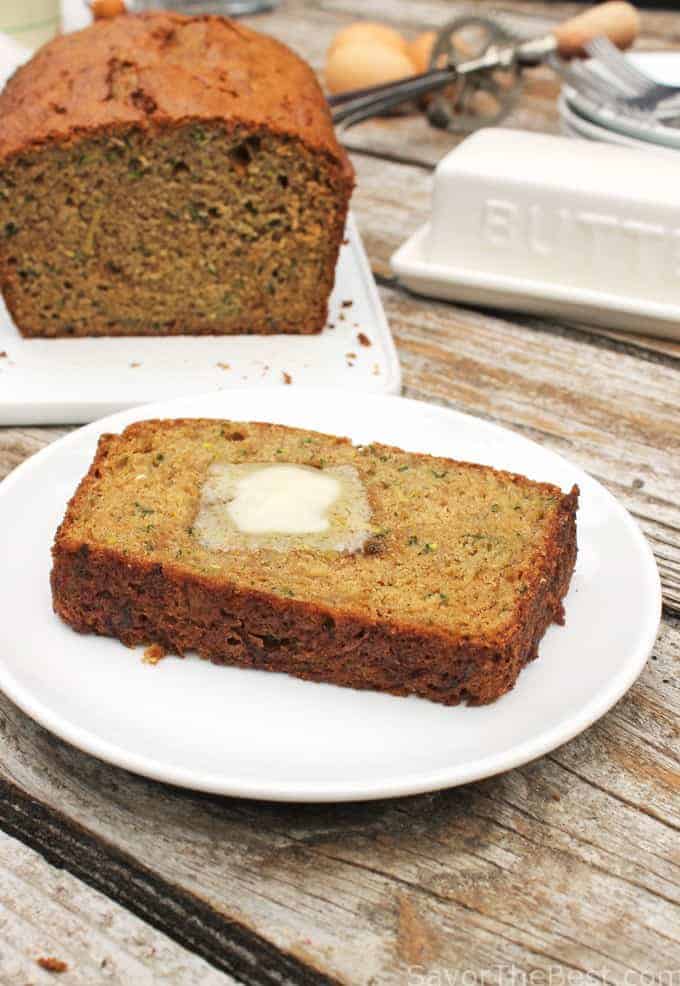 This is a perfect no-fail zucchini bread. It does not require an electric mixer or any highly technical skills. The main thing is to UNDER mix your batter for a perfect outcome. Over-mixing will develop the gluten in the flour and make it tough and chewy.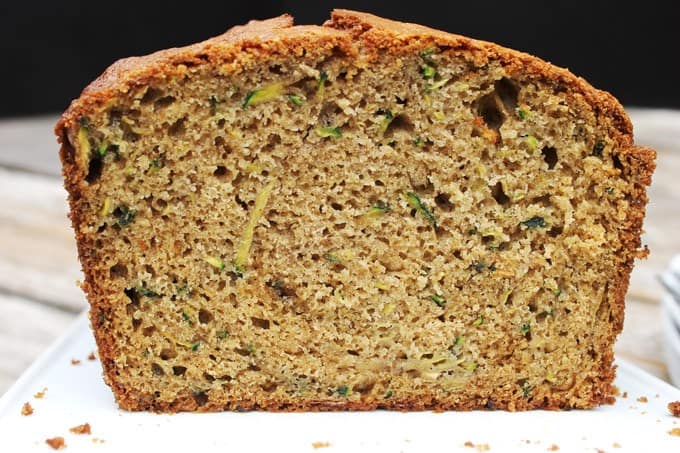 If you think it sounds odd to add zucchini to a sweet quick bread, don't fret, it blends with the sugar and spices and adds moisture and structure to the bread. I am pretty sure a wise mother invented the recipe in an effort to get her children to eat more vegetables (even though zucchini is actually a fruit). It is an old-fashioned recipe that will never go out of date.
This recipe makes a large loaf in a 9 by 5 inch loaf pan. If you only have a smaller 8 by 4 inch pan, reserve some of the batter for 2 or 3 muffins so you don't overfill the pan. The most time spent preparing this recipe is on grating the zucchini but I made quick work of it with my food processor. Use the larger holes when you grate your zucchini, the smaller holes will pull more water out of it and make a wet mess. If that does happen then just drain it in a colander.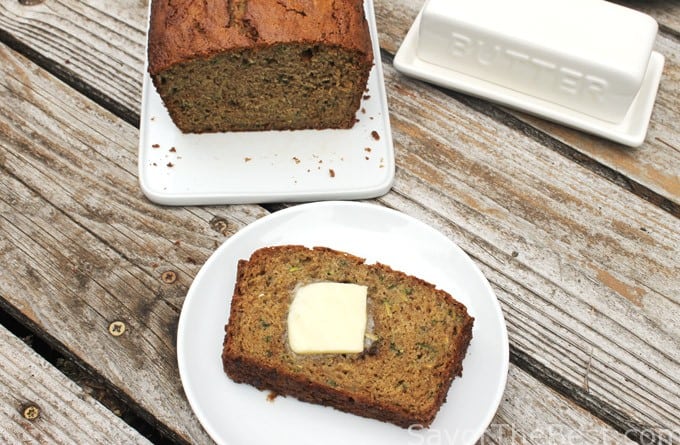 Baking Tip: The Muffin Method
This zucchini bread recipe uses a two-bowl mixing method called the muffin method. The muffin method is commonly used for pancakes, waffles, quick breads and of course muffins. It is easy, fast and creates a delightfully moist and tender texture that holds together well. Although this method is easy, if you over-mix the batter it can create a tough texture.
The key to success is to only mix the batter until the dry ingredients are moist and just barely combined. You want to see some lumps which will dissipate once it is baked.
Start by combining all the dry ingredients in one bowl. Whisk or sift them together to get them evenly combined (you don't want to bite into a "pocket" of baking soda). Next, stir together the liquid ingredients in a separate bowl then pour the liquids into the flour mixture and fold them together with a wide spoon or spatula. You should only use a few strokes to prevent over-mixing. It is good to have a lumpy batter.
Do not use an electric mixer with this method. An electric mixer will over-work the batter and develop the gluten which will result in a tough texture.
Even though this is a recipe for a quick bread, you do not want to use bread flour which has a higher ratio of gluten. Stick to pastry flour or all-purpose flour which has less gluten.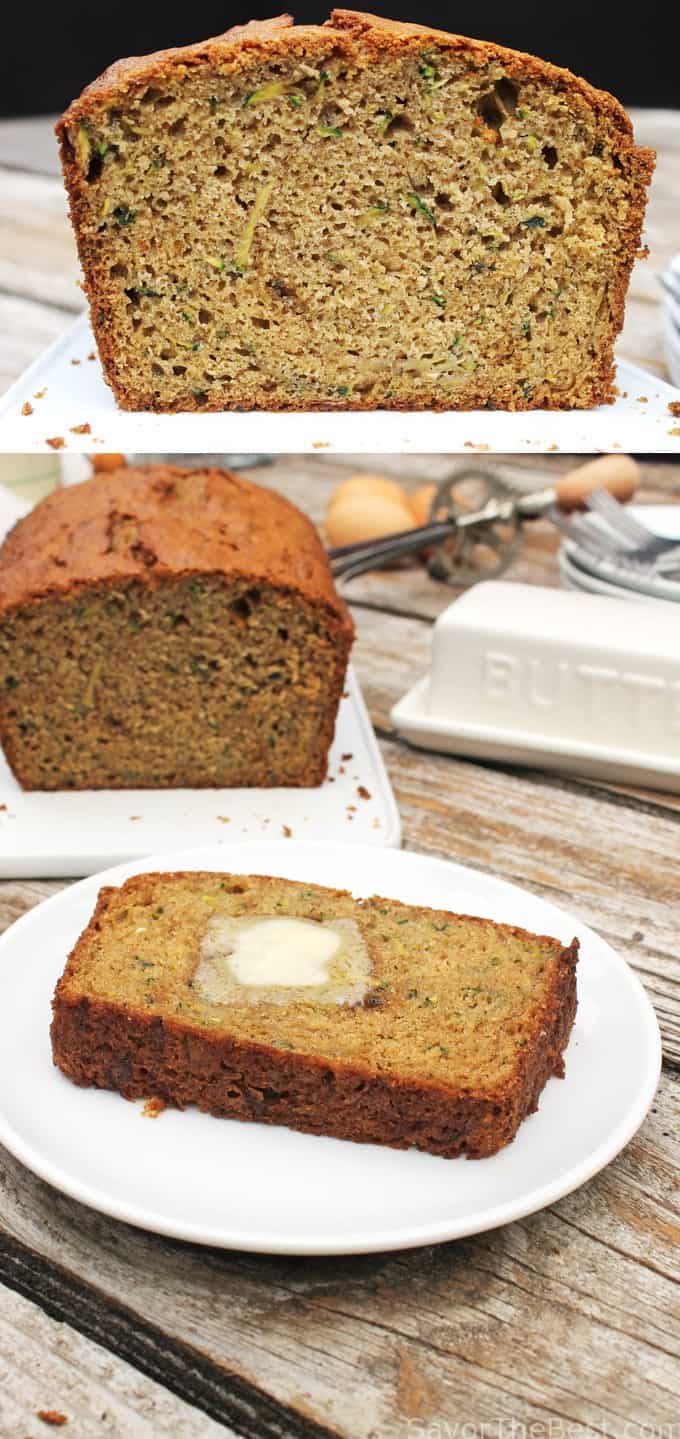 CONNECT WITH SAVOR THE BEST!
Be sure to follow us on our social media accounts
Facebook * Instagram * Pinterest * Twitter * Youtube
Did you make this recipe? We would love to hear from you. Drop us a comment below.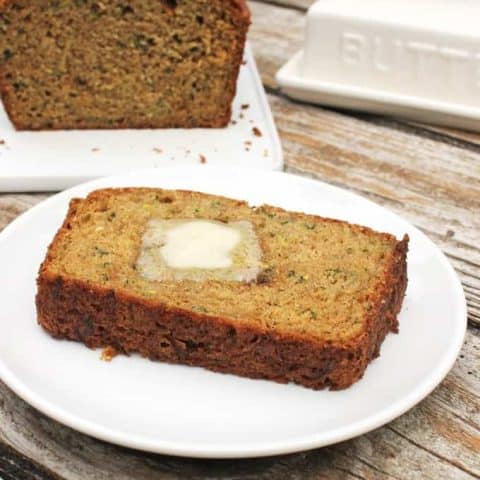 Zucchini Bread
Yield: 12 servings
Prep Time: 15 minutes
Cook Time: 50 minutes
Total Time: 1 hour 5 minutes
A perfect zucchini bread that is easy and quick to prepare. It is just right for breakfast or a quick snack but makes a great dessert as well.
Ingredients
Dry Ingredients
2 1/2 cups all-purpose flour or pastry flour
2 teaspoons baking powder
1 teaspoon baking soda
3/4 teaspoon salt
2 teaspoons cinnamon
1/2 teaspoon freshly ground nutmeg
Wet Ingredients
3 large eggs
1/4 cup light olive oil or another cooking oil
1/4 cup butter, melted
3/4 cup granulated sugar
3/4 cup light brown sugar
2 teaspoons vanilla extract
3 1/2 cups grated zucchini, (14 ounces)
Instructions
Preheat the oven to 350° and grease a 9 by 5-inch loaf pan.
In a large bowl, whisk the dry ingredients together.
In a medium bowl, whisk the wet ingredients together except for the zucchini. Once all the wet ingredients are blended, stir in the zucchini.
Fold the wet mixture into the dry ingredients until just barely combined. Do not over-mix.
The batter will be thick. Spread the batter into the prepared loaf pan and bake for about 50 minutes, or until a toothpick inserted into the center comes out clean. Let the zucchini bread cool in the pan for 20 minutes, then remove it from the pan and cool completely on a wire rack (allowing it to cool in the pan first will help it be removed easier)
Nutrition Information:
Yield: 12
Serving Size: 1
Amount Per Serving:
Calories: 364
Total Fat: 13g
Saturated Fat: 4g
Trans Fat: 0g
Unsaturated Fat: 7g
Cholesterol: 60mg
Sodium: 397mg
Carbohydrates: 57g
Fiber: 2g
Sugar: 26g
Protein: 7g
Nutrition information is a guideline only, is calculated automatically by third party software, and absolute accuracy is not guaranteed.