My niece Maddie spent the night last night. She is 16 now, growing up fast and developing plenty of other interests that don't include her Aunt and Uncle. I am tickled that she still makes time to hang out with Jon and I, as boring as we may be.
Since Josh lives in Seattle now, she doesn't even have the pleasure of hanging out with her cousin when she comes over. That changes the mood quite a bit. The two cousins get along so well and have made some lasting memories together. With six years between them, they look more like a brother-sister duo but get along much better than siblings do. That's one of the appeals to having a relationship with cousins; the sibling rivalry is often avoided since they don't live in the same household, constantly in each other's "space".
Since Maddie's visit is void of her favorite cousin this weekend, I wanted to make her morning a little more special with my favorite waffle recipe. This recipe can't replace the charm and revelry of Joshua's company but I am certain it will make Maddie want to come back again for one of her Aunt's famous waffles and make me seem a little less boring.
This is the recipe I gave to my brother when he was still dating Gillian, who soon afterward took his hand in marriage. Coincidence? I don't think so. Now that I think about it, I just might have to take some credit for their blessed union.
I got the recipe from Rose Levy Beranbaum's book, The Cake Bible. It takes some forethought since it has to be mixed the night before but it really is no trouble.
The yeast ferments the batter overnight and develops a complex malty flavor and the baking soda tones the acidic flavor that is produced by the yeast. It has a crisp exterior and a light, fluffy, cloud-like interior yet is still rich and decadent.
Since the batter sits out on the counter overnight, the eggs are not added until the morning. It develops a fermented, yeasty smell and if you are not accustomed to baking yeast bread, you may wonder if the batter has gone bad. Rest assured this is exactly how it should smell and is part of what makes the waffles so indulgent.
I have modified the original recipe, separating the eggs and folding the whipped egg whites in at the end. This step is not necessary and the waffles will turn out fine if you blend the whole eggs in without whipping the whites however this final step adds considerable height and airiness to the finished waffle.
CONNECT WITH SAVOR THE BEST!
Be sure to follow us on our social media accounts
Facebook | Twitter | Youtube | Pinterest | Instagram
If you make one of our recipes, snap a photo and tag it @savorthebest on Instagram and hashtag it #savorthebest
Yield: 6 to 8
Wonderful Yeast Waffles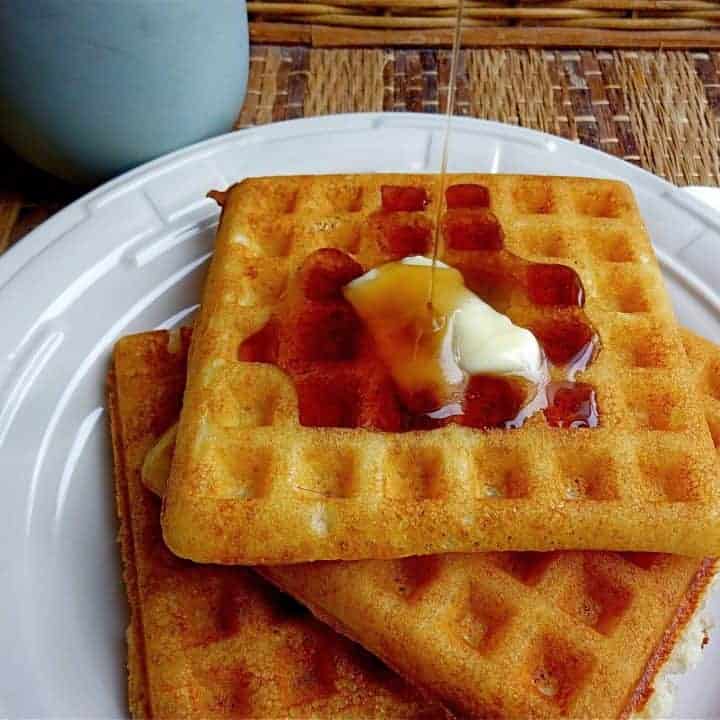 Crisp on the outside and light and airy on the inside, these rich, decadent waffles are a must for your most special guests.
Prep Time 10 minutes
Cook Time 5 minutes
Additional Time 8 minutes
Total Time 23 minutes
Ingredients
½ cup warm water (105° to 110°)
1 teaspoon sugar
2 ¼ teaspoons active dry yeast (1 packet or 7 grams)
2 cups warm milk (105° to 110°)
4 oz. butter, melted (1 cube or 113 grams)
¾ teaspoon salt
2 cups flour (240 grams)
2 large eggs, separated
¼ teaspoon baking soda
Instructions
On the night before breakfast, combine the warm water, sugar and yeast in a large bowl. Let stand for 5-15 minutes, the yeast will proof and turn the mixture bubbly. If you are certain that your yeast is alive you can skip the wait time and move on to the next step.
Add the milk, melted butter, salt, and flour and blend until smooth. A beater or emersion blender makes quick work of this.
Cover the bowl with plastic wrap and let the mixture sit overnight at room temperature. The batter will triple in size and then collapse back down so make certain that the bowl is large enough to accommodate the reaction.
In the morning preheat the waffle iron then beat in the egg yolks and baking soda.
Whisk the egg whites until they hold soft peaks then fold them into the batter.
Oil the waffle iron and pour ½ to ¾ cup of batter (or the amount recommended for your waffle iron) into the iron. Cook until the waffle is golden brown.
Keep the waffles in a warm oven until time to serve. If you place them in a single layer on a rack they will stay crisp.
Notes
Any leftover waffles can be cooled then wrapped in plastic and frozen. They reheat and crisp up well in a toaster.
Nutrition Information:
Yield:
8
Serving Size:
1
Amount Per Serving:
Calories: 269
Total Fat: 14g
Saturated Fat: 8.5g
Cholesterol: 82mg
Sodium: 384mg
Carbohydrates: 28g
Fiber: 1g
Sugar: 3.4g
Protein: 7.4g