These overnight sourdough pancakes are a delicious way to use your excess sourdough starter. They are soft, tender, and fluffy and remind me of breakfast at grandmas house. Letting the sourdough sit overnight will give it the best sourdough flavor but for a milder flavor, you can cook them right after you mix the batter. This is how you need to start your day.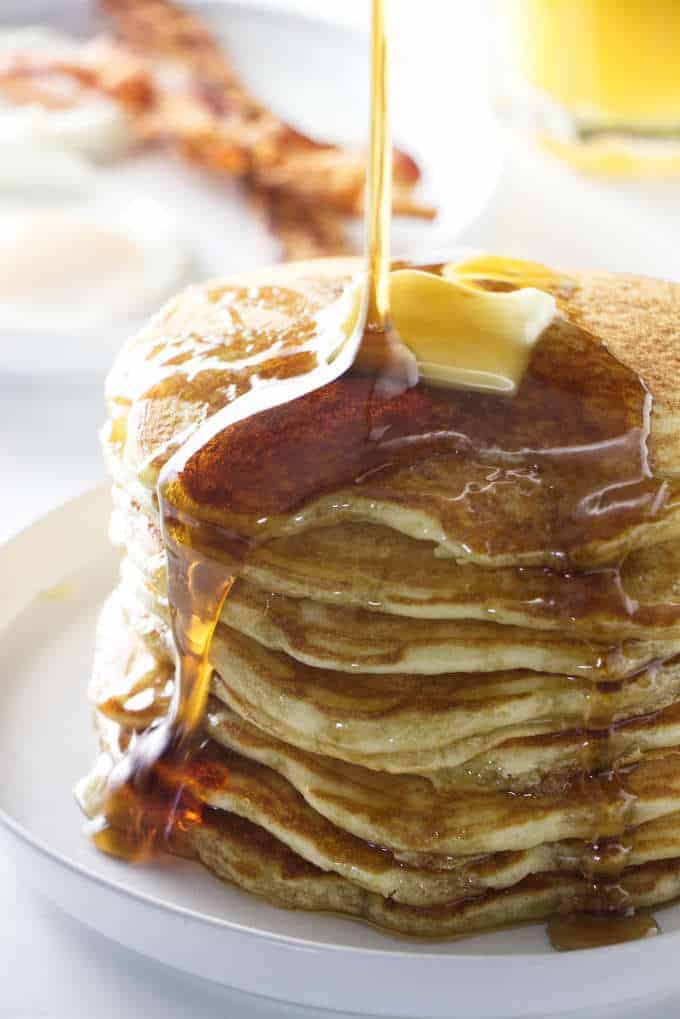 We love our sourdough bread and I make it on repeat in this house. That means I have to maintain my sourdough starter even when I am not baking bread. Many times when I feed my starter, I simply toss out the excess or give it to a friend.
Other times I tap into one of my recipes that I can use with the excess starter. This recipe for overnight sourdough pancakes is one of my most loved, mostly because it reminds me of my childhood.
Food that evokes nostalgic memories of grandmas house will always make it on my "favorites" list.
How to make sourdough pancakes with starter:
This recipe is incredibly simple to toss together and the results are absolutely amazing. The overnight fermentation gives them a pronounced tangy sourdough flavor. In my mind, that is what a good sourdough pancake is supposed to taste like.
However, I know some people prefer a more mild hint of sourdough and that is definitely achievable with this recipe.
If you like a less 'tangy' pancake you can just let it sit for a few hours. And for an even milder flavor, you don't have to let them sit at all. Just mix the ingredients up and pour the batter on a skillet.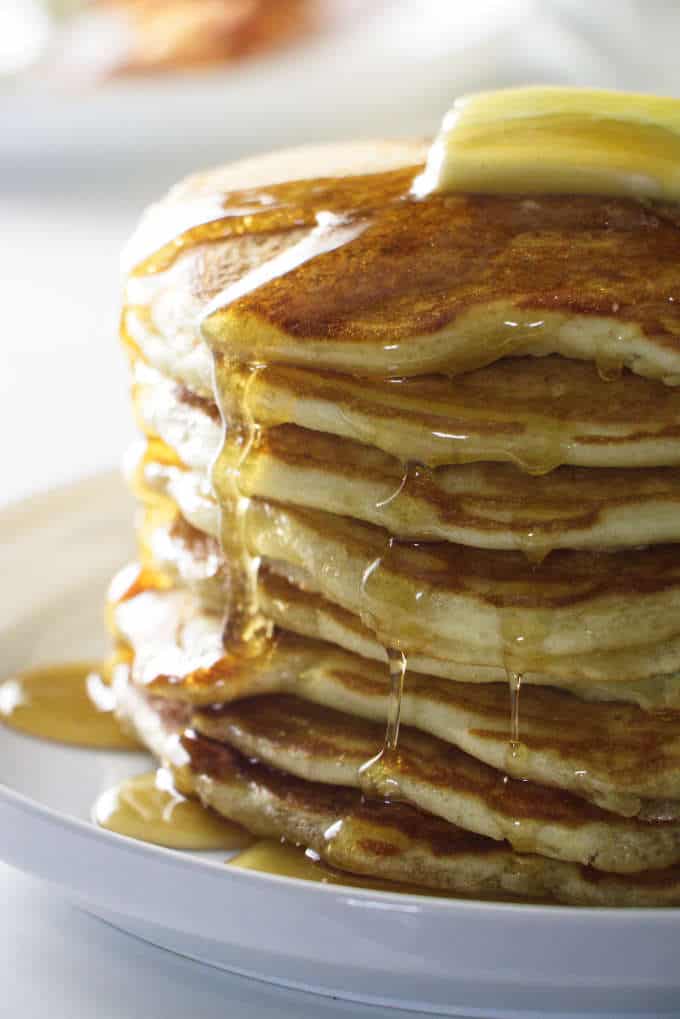 Overnight sponge
This recipe is divided up into two steps. The first step is to make a sourdough sponge. You will add some unfed sourdough starter along with some buttermilk, flour, and a bit of sugar. (Make sure you have enough starter left over to feed and maintain for your bread).
You can do this step before you go to bed. Make sure you put the mixture in a large bowl. The bowl should be big enough to allow the batter to double in size. Remember, your starter is full of natural yeasts and now that you have fed them with milk, flour, and sugar, it is going to grow.
So, place it in a large bowl then cover it up with plastic wrap and let it sit out overnight. During the night it will fill up with lots of gas pockets and double in size then start to sag back down.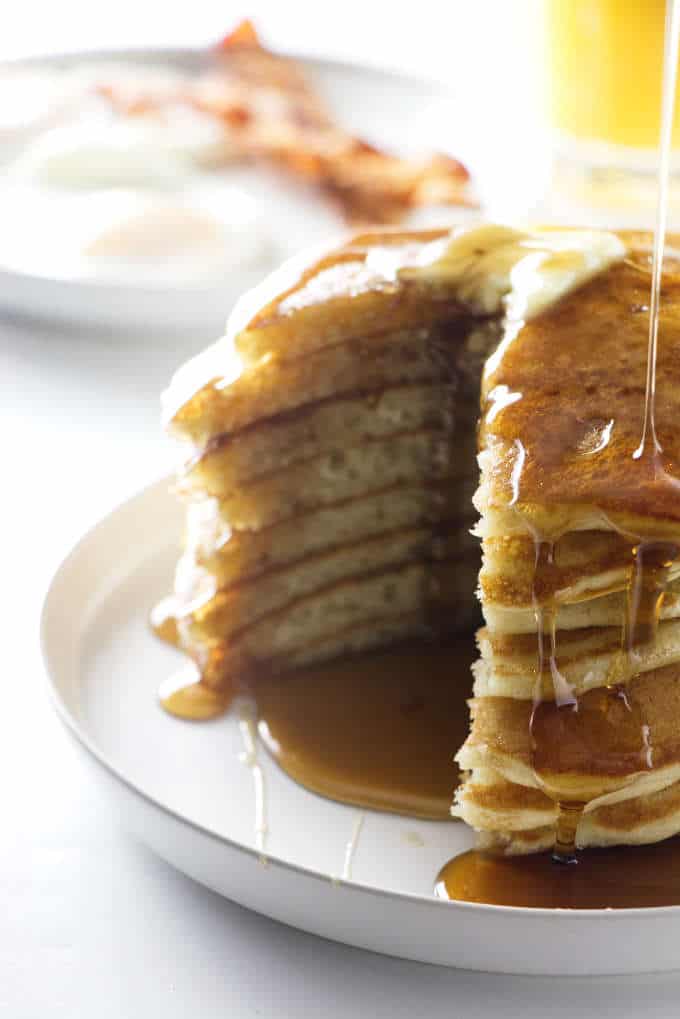 Pancake batter:
When you wake up in the morning, it will no longer be doubled in size but it will still have plenty of gassy air bubbles and look spongy. Take that spongy sourdough goodness and add the rest of the ingredients.
Even though there is some natural leavening in the batter from your sourdough starter, you still need to add some additional leavening. Technically, if you want to wait 4 more hours after you add the ingredients, you don't have a to add that extra leavening. But we want pancakes now!
So mix all the stuff together and as soon as your skillet is nice and hot, pour some batter on the skillet.
That's really all there is to it. It is just as easy as any pancake recipe. There is just an extra step involved with the overnight fermentation (and of course, using your sourdough starter).
I would love to hear how often you make sourdough pancakes with leftover starter. What is your favorite excess sourdough starter recipe? I have a lot of them in my recipe bin so throw some requests at me and I will work at getting them posted.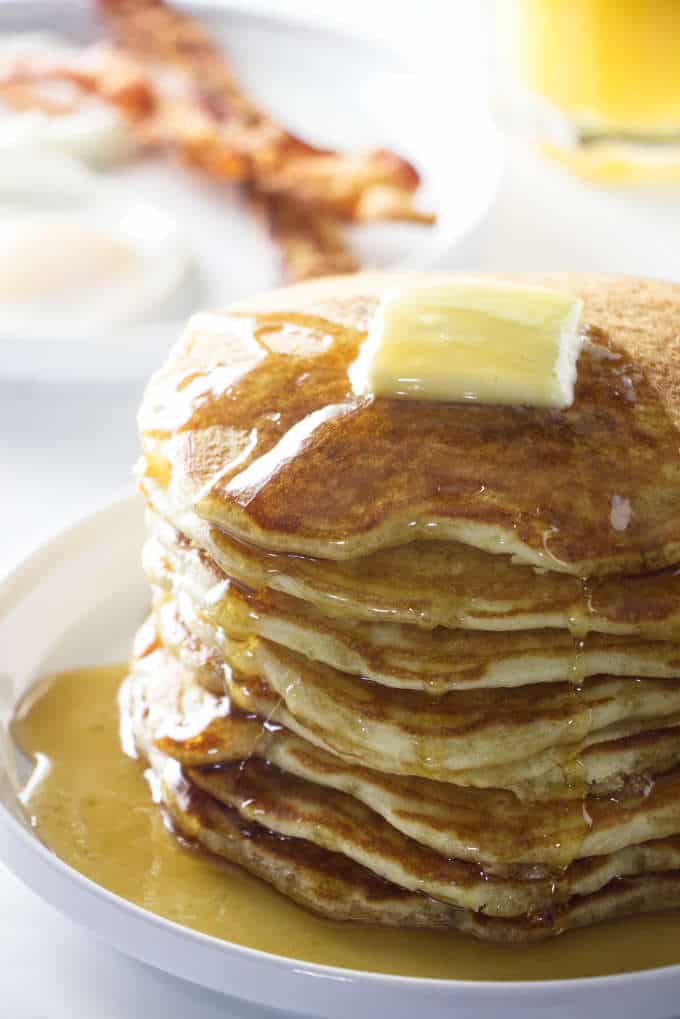 SOME OTHER RECIPES WE ARE SURE YOU WILL LOVE:
Did I mention you need a sourdough starter if you're going to make these overnight sourdough pancakes? If you don't have a starter, you better get started making one. Check out our Wild Yeast Sourdough Starter. Give it several weeks to grow then start making the best sourdough recipes of your life!
These overnight sourdough waffles are amazing. The batter is a bit thinner than our pancake recipe and it makes perfectly crisp waffles that are tender and soft on the inside. You might have a hard time deciding which one you like best.
There isn't an overnight step to these sourdough ricotta pancakes. You can just wake up and whip them up. The ricotta gives the pancakes a custard-like center. Crazy good!!
Connect With Savor the Best:
Please follow us on our social media accounts
Facebook * Instagram * Pinterest * Youtube * Twitter
Did you make this recipe? We would love to hear from you. Drop us a comment below.
Check out our video above to see how easy it is to make these overnight sourdough pancakes. We captured a time-lapse of the overnight fermentation so you can see how much it grows while you sleep.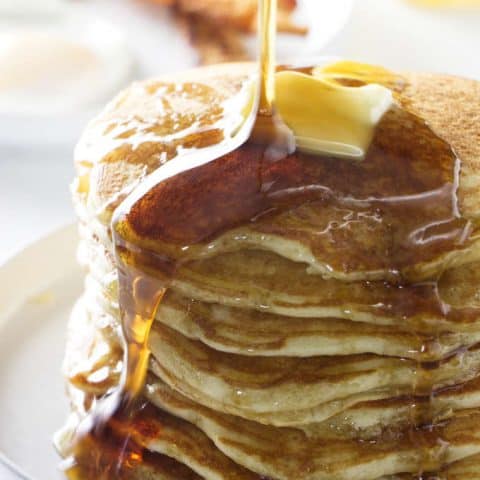 Overnight Sourdough Pancakes
Sourdough pancakes made with a portion of your sourdough starter that you would otherwise discard. These pancakes are light and fluffy with just a hint of sweetness. This is one of the most delicious ways to use your extra sourdough starter.
Ingredients
The Night Before Cooking:
1 cup sourdough starter (240 grams)
1-1/2 cups buttermilk (336 grams)
1-1/2 cups flour (180 grams)
2 tablespoons sugar
In the Morning:
6 tablespoons melted butter
2 large eggs
3/4 teaspoon salt
3/4 teaspoon baking soda
3/4 teaspoon baking powder
Instructions
The night before:
Mix sourdough starter, buttermilk, flour, and sugar together in a large bowl. Cover loosely with plastic wrap and let sit on the countertop overnight.
In the morning:
Preheat your skillet.
Stir in the melted butter, eggs, salt, baking soda, and baking powder into the batter. Mix well to combine.
Pour 1/4 to 1/2 cup of batter onto the preheated skillet and cook for 1 to 2 minutes until it starts to bubble then flip the pancake and cook for 1 to 2 more minutes until it is golden brown.
Notes
If you use a measuring cup to measure your sourdough starter, make sure you stir it before you measure it. Otherwise, if you use a scale there is no need to stir the starter.
Nutrition Information:
Yield:

12
Serving Size:

1
Amount Per Serving:
Calories:

176
Total Fat:

7g
Saturated Fat:

4g
Trans Fat:

0g
Unsaturated Fat:

2g
Cholesterol:

47mg
Sodium:

358mg
Carbohydrates:

23g
Fiber:

1g
Sugar:

4g
Protein:

5g
Nutrition information is a guideline only, is calculated automatically by third party software, and absolute accuracy is not guaranteed.