These sourdough blueberry scones are tender, flaky, and bursting with juicy blueberries. Sourdough adds a delicious complexity to the traditional scone recipe, and if you can't get enough blueberries in your baked goods, these are for you!
Not only do they taste amazing when fresh out of the oven, but they also serve as a great snack throughout the day. Serve them with butter or your favorite jam for a perfect breakfast or teatime treat.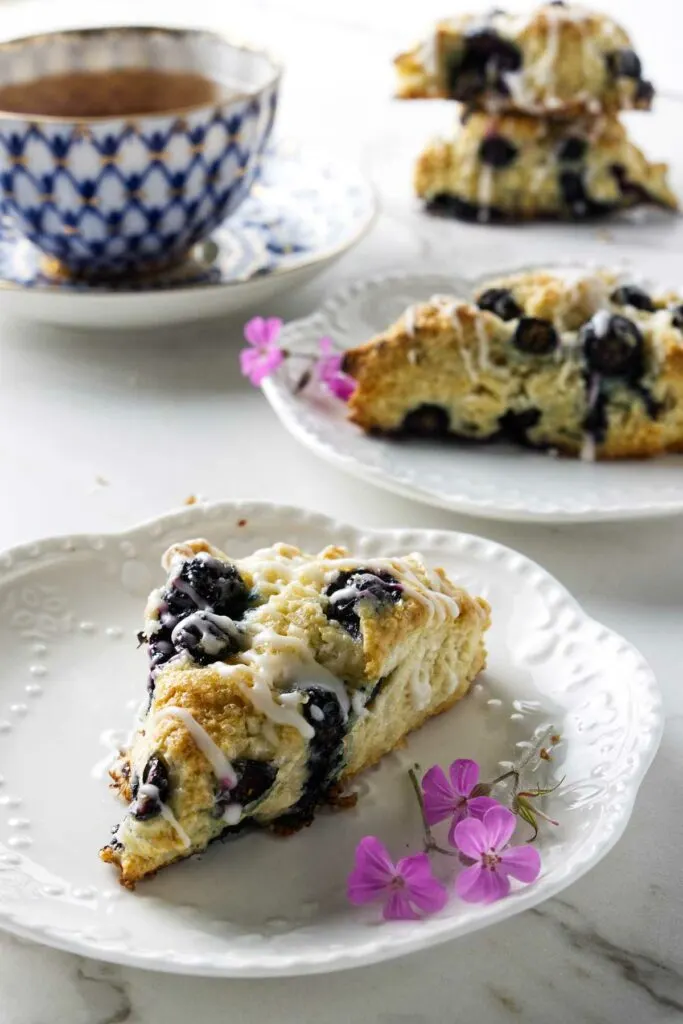 ❤️ Here is Why This Recipe Works
The sourdough starter discard adds acidity to the dough, which makes the scones extra tender and moist.

The egg adds structure and helps the scones hold together while still remaining flaky and buttery (we also have an eggless sourdough scone recipe if that works better for you).

This is a great way to use up your sourdough discard and turn it into a delicious treat. Plus, the subtle tang of the sourdough enhances the flavor of the blueberries, making them taste even more amazing!

And, of course, there are plenty of blueberries for a hint of sweetness in every bite.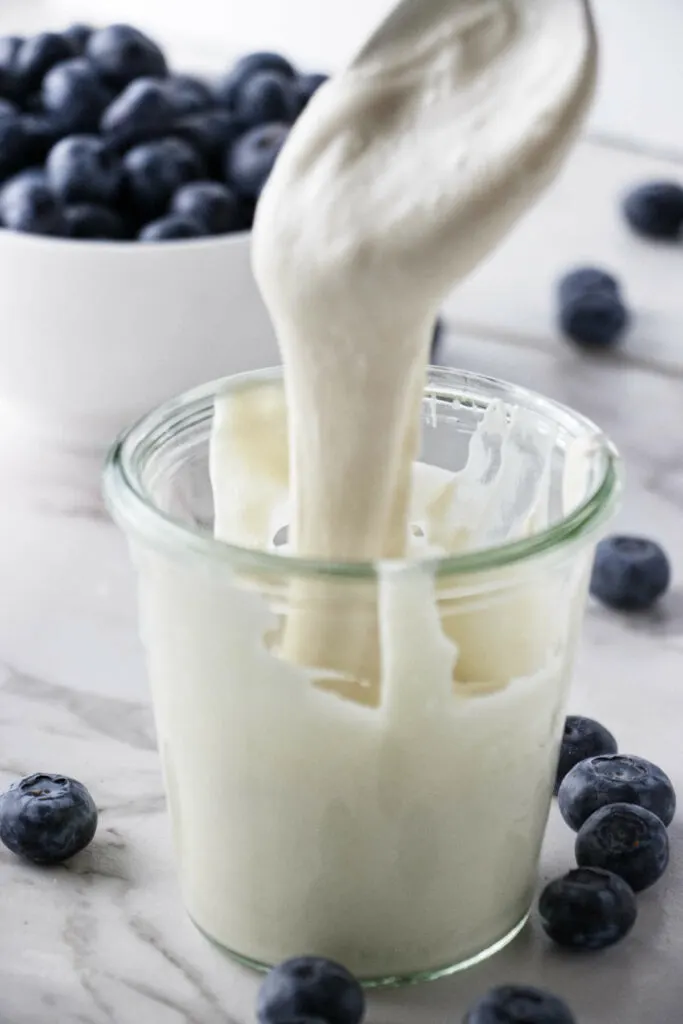 The Ingredients
Here is a list of the ingredients you will need for these sourdough blueberry lemon scones. Scroll down to the printable recipe card for all the details.
All-purpose flour. You can substitute half of the flour for whole wheat flour if you want a more wholesome scone.
Sugar. Use granulated sugar for the batter and confectioners sugar for the icing. If you prefer to use less refined sugar, you can swap it for coconut sugar.
Leavening. Baking powder and baking soda act as the leavening in this recipe because sourdough discard does not provide enough leavening power.
Sourdough discard. The discard is the part of the sourdough starter that you toss out before you feed the starter. Instead of tossing it out, save it for these sourdough blueberry scones.
Salt
Lemon. Use the lemon zest in the batter and save the lemon juice for the icing.
Butter. The butter must be cold for this recipe.
Cream. You can also use buttermilk if you don't have cream on hand.
Egg. The egg gives the scones extra structure and moisture.
Vanilla extract. A hint of vanilla adds a lovely flavor, but you can substitute the vanilla with 1/2 teaspoon of almond extract or lemon oil.
Blueberries. You can use fresh or frozen blueberries in this recipe.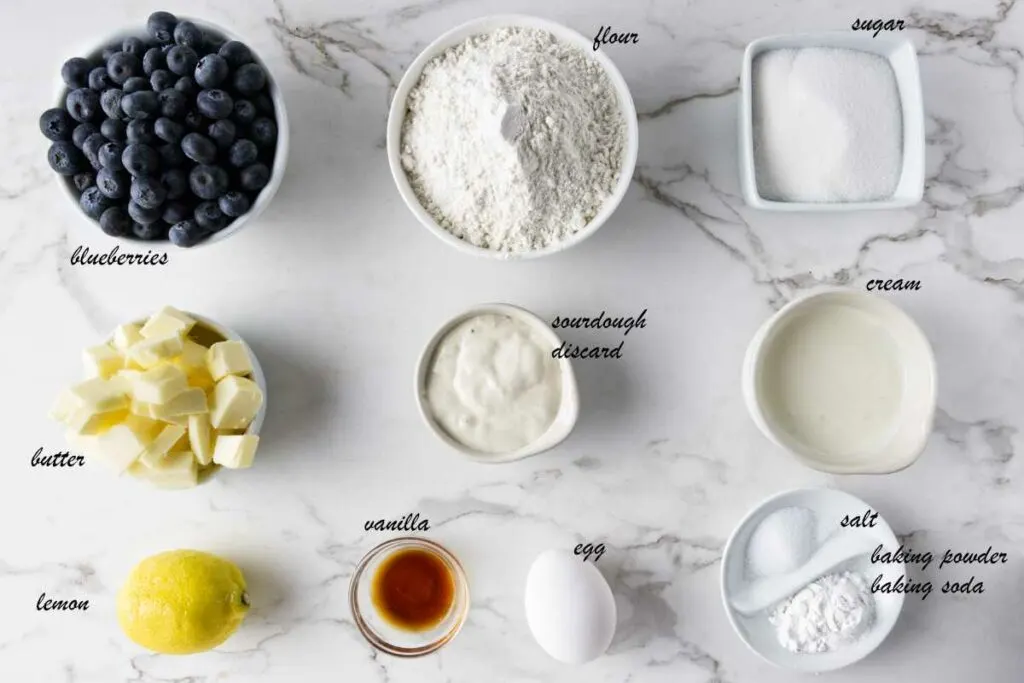 How to Make Sourdough Blueberry Scones
Here is a brief overview to get an idea of what to expect with this sourdough discard blueberry scone recipe. Scroll down to the printable recipe card for all the details.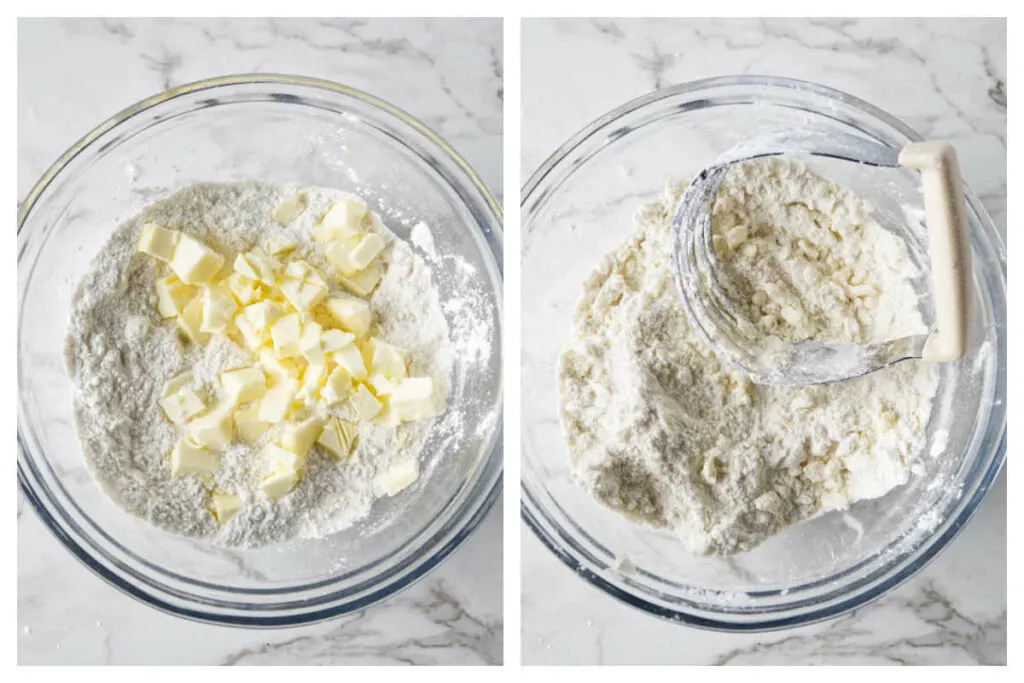 Combine the dry ingredients in a large mixing bowl, then blend in the cold butter.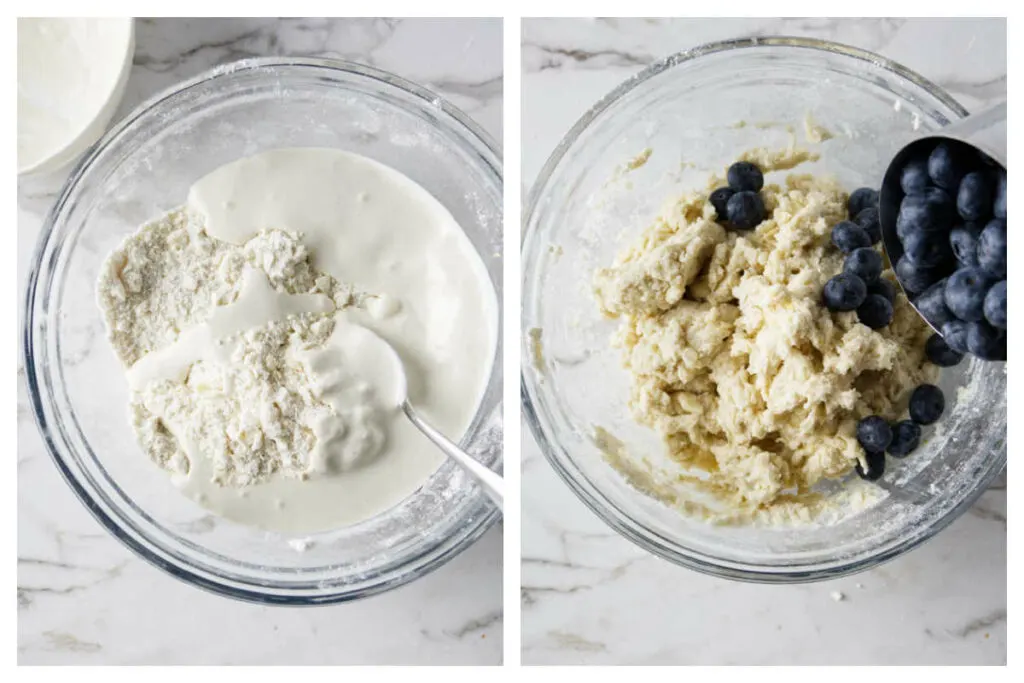 Stir in the cream, sourdough discard, egg, and vanilla extract. At this point, it will look like a rough, shaggy dough, but it will come together in the next steps.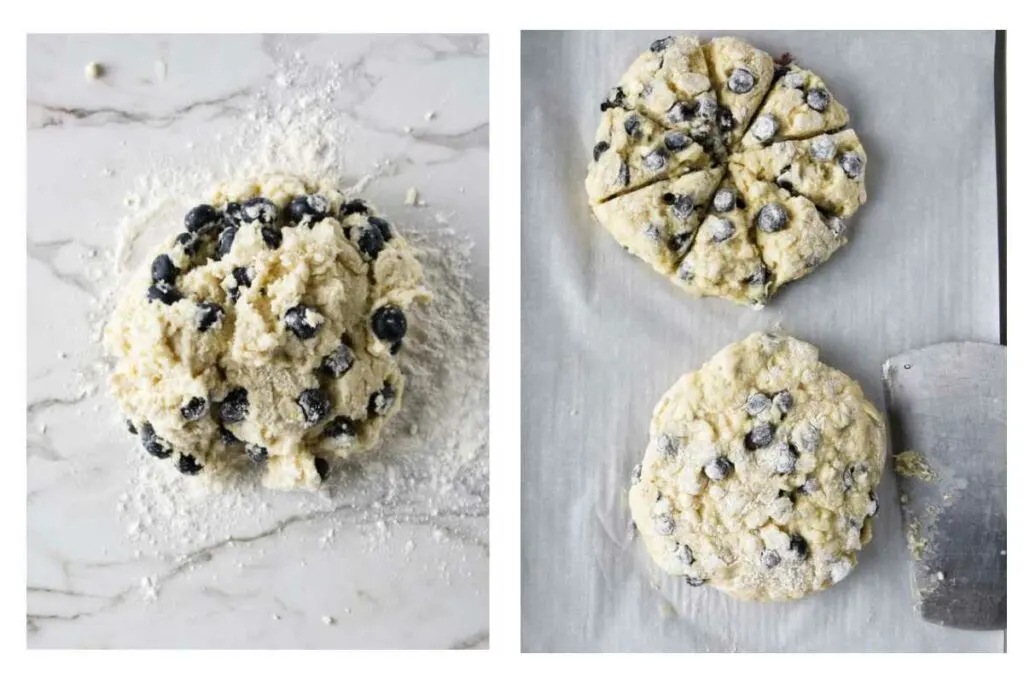 Fold the blueberries into the dough and shape the scone dough into two 6-inch disks. Chill the dough and preheat the oven.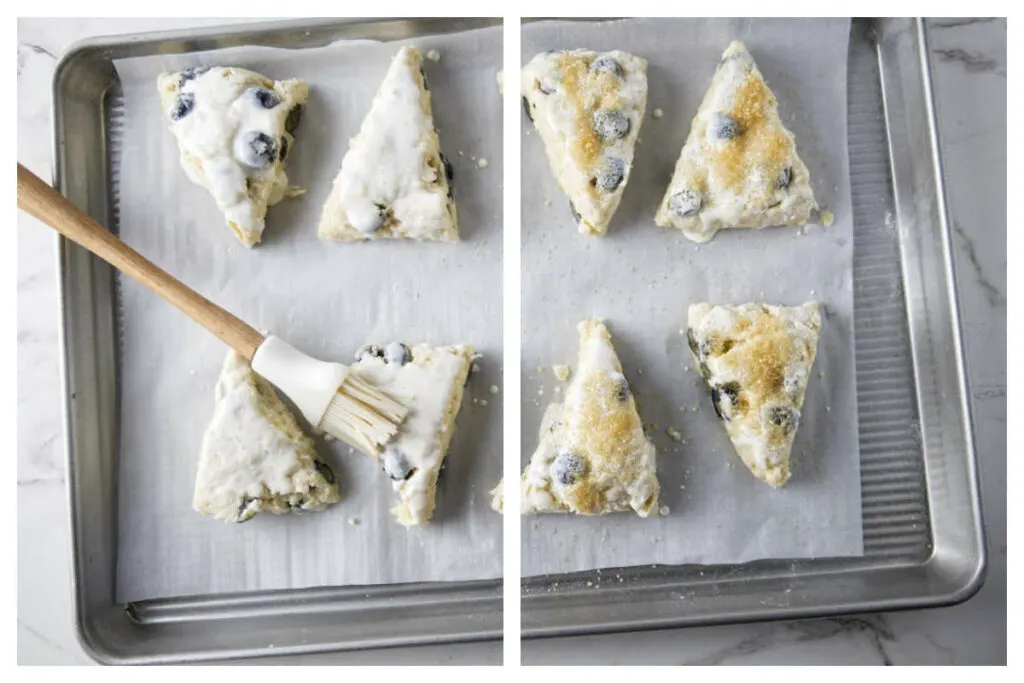 Brush the scones with cream, sprinkle the tops with coarse sugar, and then slide them into the oven to bake.
While the scones cool, mix the lemon glaze and drizzle it over the top.
Tips for Success
Here are some helpful tips for making the best sourdough discard blueberry scones.
Ensure the butter, cream, and egg stay cold, as this will help keep the scones tender and flaky.

You can use a pastry blender or a food processor to cut the butter into the flour. Another trick that works well is to freeze the butter then grate it into the flour.

When shaping the dough, handle it gently so it doesn't become too warm and cause the butter to soften.

Don't over-mix the dough or the scones will get dense and tough.

Let the shaped scone disks chill in the refrigerator before baking so the butter gets extra cold. This will help the scones hold their shape while they bake.

To get nice golden edges, brush the tops of the scones with cream and sprinkle with coarse sugar before baking.

The consistency of the dough will vary depending on your sourdough starter discard. If the dough seems too dry, add 1 to 2 tablespoons of cream or extra sourdough discard until the dough comes together.
✅ Substitutions and Variations
Get creative with your sourdough blueberry scones with these favorite add-ins.
White Chocolate Sourdough Blueberry Scones: Fold in white chocolate chips or chunks into the scone dough. The creamy sweetness of white chocolate pairs well with blueberries.

Cinnamon Blueberry Sourdough Scones: Add ground cinnamon to the dough to infuse warm and cozy flavors. You can also sprinkle a cinnamon sugar mixture on top of the scones before baking.

Sourdough Ginger Blueberry Scones: Mix in finely chopped crystallized ginger to the dough for a subtle spiciness that complements the sweetness of blueberries.

Lavender Blueberry Sourdough Discard Scones: Infuse the dough with dried culinary lavender for a floral and fragrant twist. Be sure to use culinary lavender to ensure it's safe for consumption.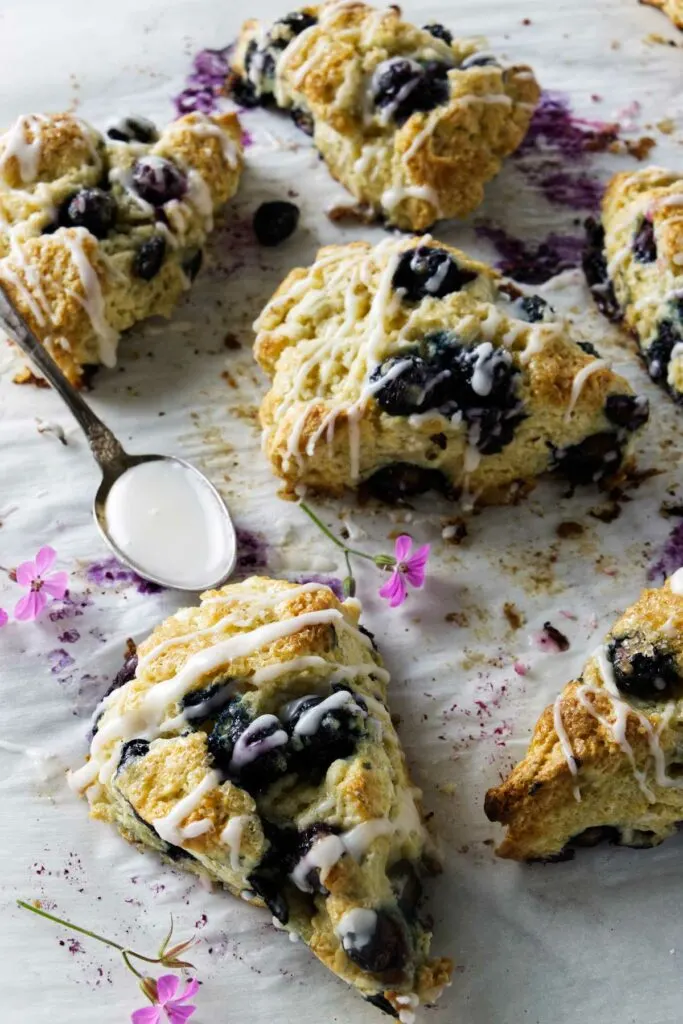 Serving Suggestions
Sourdough blueberry scones are a delicious treat to enjoy any time of the day! Enjoy them for breakfast with a cup of coffee, as a snack with lavender tea, or as a special dessert with a scoop of ice cream. They taste great topped with thick lemon curd. Here are some more ideas.
⏲ Storage and Reheating
Sourdough blueberry scones are best served fresh from the oven, but you can store them for up to two days at room temperature or three to four days in the fridge.
To store, let the scones cool completely and place them in an airtight container or resealable plastic bag.
To freeze, store them in a freezer-safe container or bag for up to 3 months. Thaw frozen scones at room temperature or reheat in the oven.
More Sourdough Recipes
There are so many wonderful things to do with sourdough discard! Every time you refresh your starter, instead of throwing away the leftover unfed starter, you can put it to use in all kinds of delicious sourdough recipes.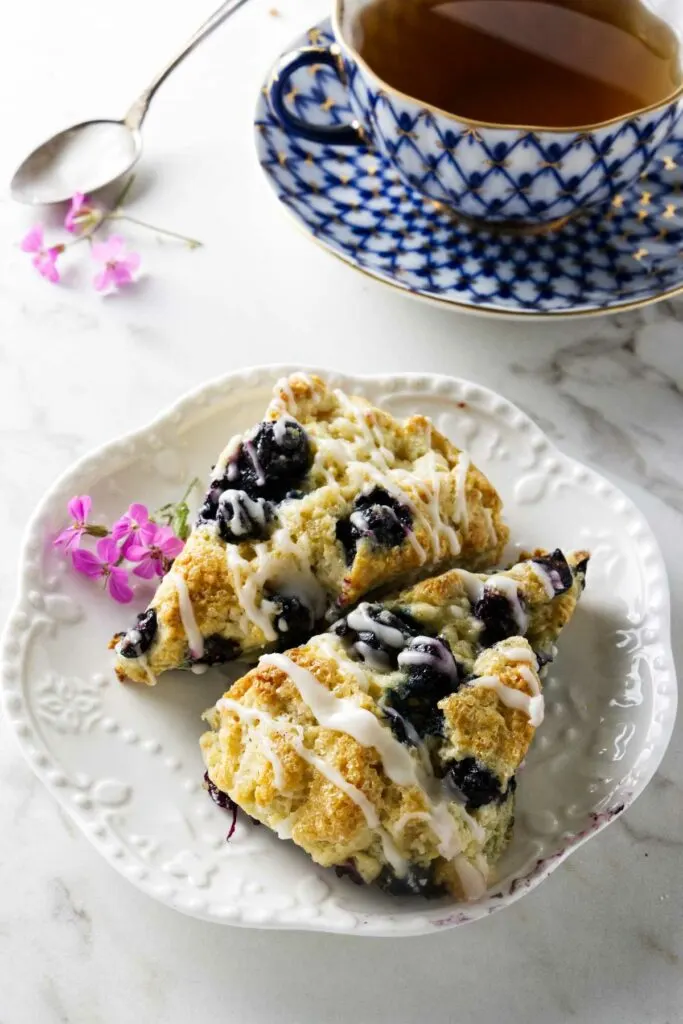 ❓Frequently Asked Questions
What is the secret to making good scones?
The key to making good scones is to use cold ingredients and work quickly while handling the dough. This prevents the butter from melting in the dough and ensures that your scones will be tender, flaky, and buttery.
Which flour is better for scones?
All-purpose flour is the best choice for tender scones. You can also use a combination of all-purpose and whole wheat flour or spelt flour for added texture. However, the scones will not rise as much.
The perfect sourdough blueberry scone recipe is just a few steps away! With this recipe, you can enjoy the unique flavor of sourdough discard and juicy blueberries in one delicious treat. Be sure to use cold ingredients and work quickly when handling the dough, and you'll be rewarded with tender, flaky scones.
⭐️ Helpful Tools
Some of the following are affiliate links. We may receive a small commission if you click on these links and purchase something. You don't pay any extra, but it will help us keep the lights on.
♥️ More Recipes You Will Love:
Connect With Savor the Best:
Please follow us on our social media accounts
Facebook * Instagram * Pinterest * Youtube * Twitter
Did you make this recipe? We would love to hear from you. Drop us a comment below.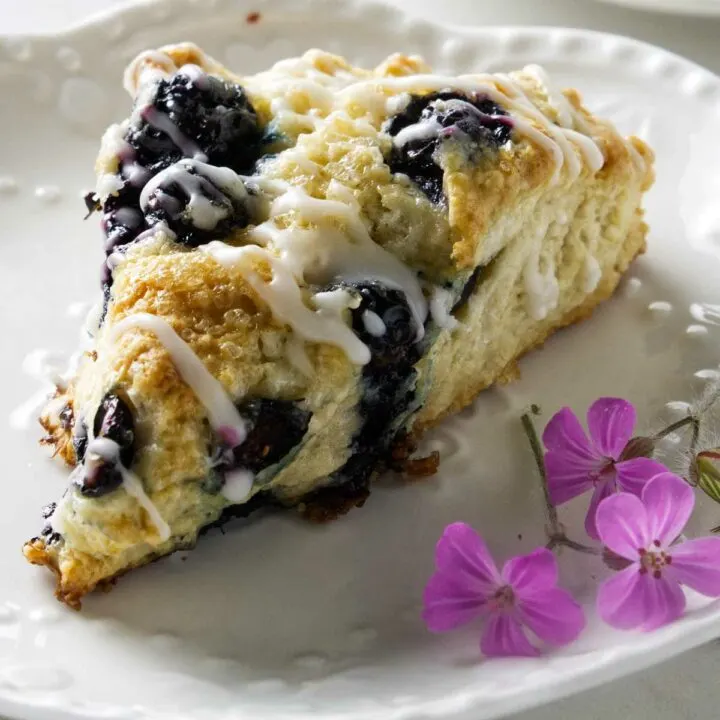 Blueberry Sourdough Scones
Additional Time:
20 minutes
Sourdough blueberry scones are flaky and buttery and bursting with juicy blueberries. The sourdough discard gives the scones a tender texture that sets them apart from regular scones. Plus, the subtle tang of the sourdough discard brings out the flavor of the blueberries.
This recipe uses an egg in the dough. You can also check out our sourdough scone recipe without eggs.
Ingredients
2-¼ cups all purpose flour (270 grams)
½ cup granulated sugar (100 grams)
2-½ teaspoons baking powder
¼ teaspoon baking soda
½ teaspoon salt
zest of 1 lemon
½ cup cold butter (1 stick; 115 grams)
½ cup sourdough discard (120 grams)
3 tablespoons cream or buttermilk, chilled (43 grams)
1 egg
1 teaspoon vanilla extract
1-¼ cups blueberries (fresh or frozen)
For the Topping
2 tablespoons heavy cream
2 tablespoons coarse sugar
Optional Icing
¾ cup powdered sugar (120 grams)
2 to 3 tablespoons lemon juice
Instructions
Mix the Dough
Combine the flour, sugar, baking powder, baking soda, salt, and lemon zest in a large mixing bowl.
Cut the cold butter into small cubes, then add it to the bowl. Use a pastry blender or your fingers to blend the butter into the flour until it looks like coarse sand with pea-size lumps mixed throughout.
Add the cream, sourdough discard, egg, and vanilla to the flour mixture, then mix until the flour is moistened (it should look a bit dry and crumbly).
Fold the blueberries into the dough, turning the dough in the bowl to fold in any dry crumbs (I use my hands so I can fold the dough gently without smashing the blueberries). If the dough seems too dry, you can add 1 to 2 tablespoons of cream. If it is wet and sticky, add a couple of tablespoons of flour.
Shape and Chill the Dough
Transfer the dough to a lightly floured counter and use your hands to push it into two 6-inch round disks. Use a knife or bench scraper to cut each disk into 8 wedges.
Transfer to a baking sheet and place in the freezer for 20 to 30 minutes or in the fridge for 1 hour.
Bake
Preheat the oven to 400°F and line a baking sheet with parchment paper.
Brush the scones with cream and sprinkle the tops with coarse sugar. Bake for 20 to 25 minutes or until golden brown.
Transfer the scones to a cooling rack.
For the Icing
Whisk the powdered sugar and lemon juice in a small dish, then drizzle over the top of the scones.
Notes
Chilling the scones before you bake them will help prevent them from spreading too much as they bake.
The dough should be thick and slightly crumbly. If the dough is wet and sticky, add more flour. Wet, sticky dough will result in flat scones that spread too much. If it is too dry, add
If the scones spread too much as they bake, remove them from the oven briefly and use a spatula to push them back into their shape. Return them to the oven and finish baking.
You can also use a scone pan that will give you perfectly shaped scones.
Recommended Products
As an Amazon Associate and member of other affiliate programs, I earn from qualifying purchases.
Nutrition Information:
Yield:

16
Serving Size:

1
Amount Per Serving:
Calories:

150
Total Fat:

8g
Saturated Fat:

5g
Trans Fat:

0g
Unsaturated Fat:

2g
Cholesterol:

33mg
Sodium:

190mg
Carbohydrates:

19g
Fiber:

0g
Sugar:

14g
Protein:

2g
Nutrition information is a guideline only. It is calculated automatically by third-party software, and absolute accuracy is not guaranteed.