Homemade sourdough croutons are incomparable to the store-bought bags and they are a perfect way to use up your day-old sourdough bread.
Put them on a fresh Caesar salad or use them as a crunchy topping for a creamy soup. You can't go wrong, they are guaranteed to add that extra pizazz to any recipe.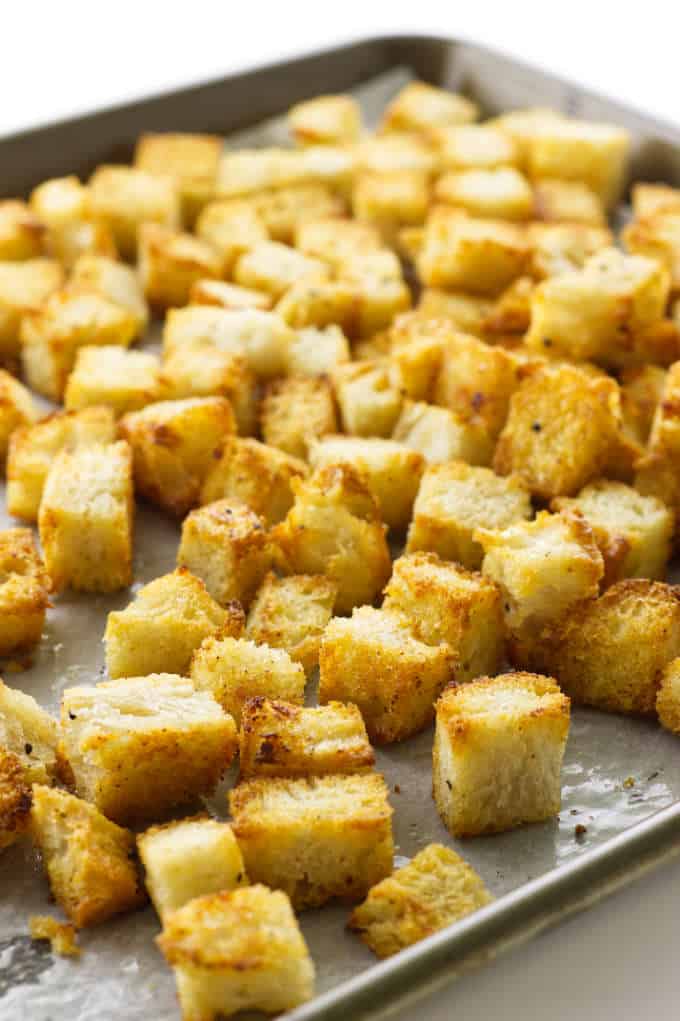 I make homemade croutons a lot throughout the year. They are just too easy to make and it's a great way to use up extra bread. Since I have been baking quite a bit of sourdough bread lately, we always have plenty left over for some incredible croutons. Sourdough adds an extra special flavor to traditional homemade croutons.
These croutons tick all the boxes:
Extra crispy.
Tangy sourdough flavor.
The perfect way to use stale sourdough bread.
Long shelf life- stays crispy for weeks.
Easy, adaptable recipe.
This is another way to use homemade sourdough bread that didn't turn out quite right. Sometimes I get distracted and over-proofed my bread which results in a pretty flat loaf after it gets baked. If you do that and you are disappointed in your bread, don't throw it out. Up-cycle that mistake and turn it into these flavorful croutons. 😉
Check out our homemade Caesar salad dressing to go along with these croutons.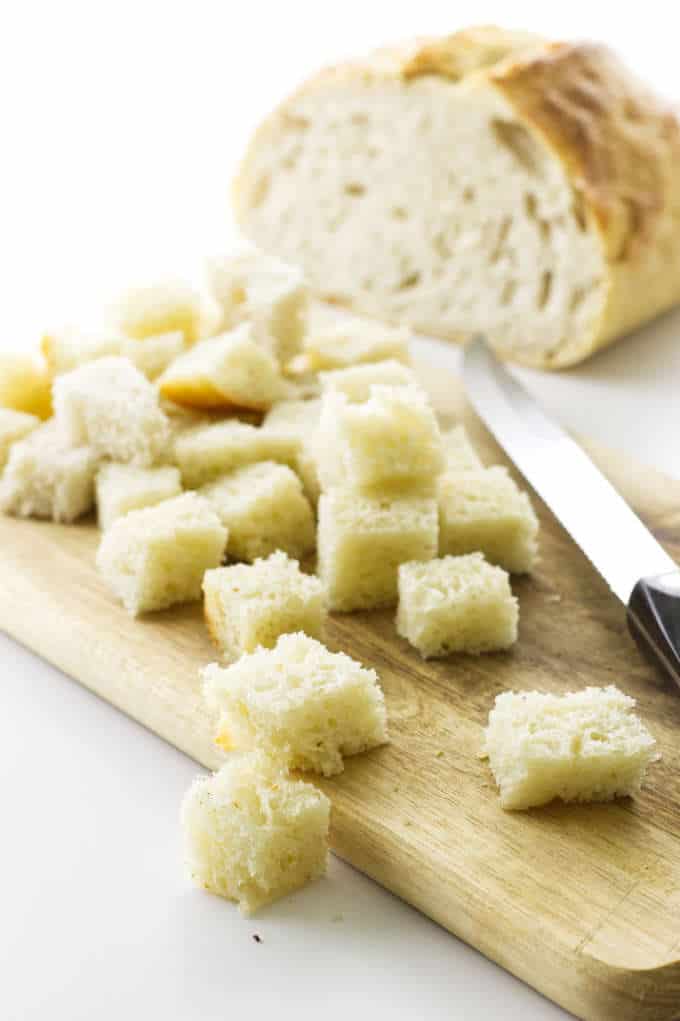 Homemade sourdough croutons
You only need 3 ingredients to make incredible tasting croutons.
Sourdough bread. This is a must or they can't be called sourdough croutons 😉
Olive oil. Otherwise known as liquid gold in our house. You can also use melted butter as a substitute.
Seasoning. We made things pretty simple with garlic powder, salt, and pepper. Every kitchen should have these.
This is a pretty versatile recipe and you can change things up with whatever is on your mind. Here are some ideas for additional add-ins if you want to change the flavor profile.
Finely grated parmesan cheese. Toss in about 3 to 4 tablespoons.
Freshly chopped herbs. Chop up 2 to 3 tablespoons of rosemary, thyme, and sage (or whatever else you have on hand).
Dried herbs. Dried herbs are even easier and faster to use.
Italian dressing mix. Just add a packet of powdered Italian dressing mix to the croutons but do not add extra salt because those packets have plenty of salt in them already.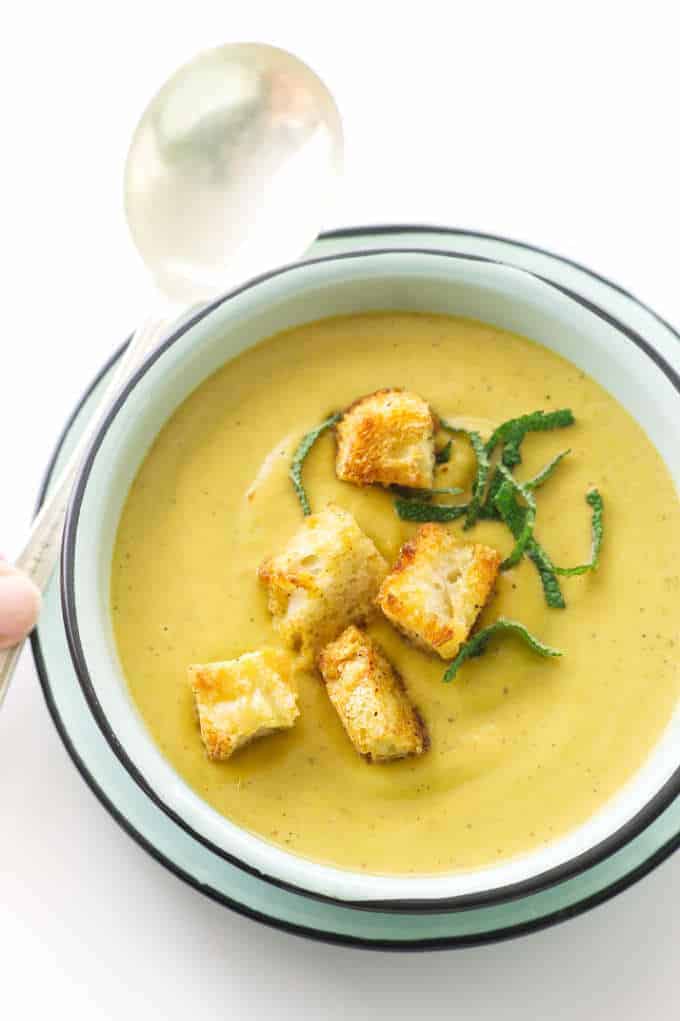 How to make them:
Here is a brief low-down and some tips/ ideas. Make sure to scroll all the way down to the printable recipe card for all the details.
Slice. Slice your sourdough bread into cubes. Heck, you can slice them into triangles if you want. This is your recipe 😉
Season. Toss the cubed bread with olive oil and your seasonings. Make sure you get them coated really well. This is key for flavorful croutons. The oil will also help them brown nicely.
Bake. Spread them out on a baking sheet and bake them until they are light brown and crisp. It is important to stir them a couple of times as they bake. That will help them brown evenly.
How to store your croutons:
These sourdough croutons will store well for weeks if you keep them in an air tight container. As long as moisture does not get to them, they will stay crispy and fresh. We like these clear storage containers because you can see what is inside and they stack well for storage.
They last even longer in a vaccum sealed bag but we doubt you will need to store them for long periods. They are just too good to keep hidden away.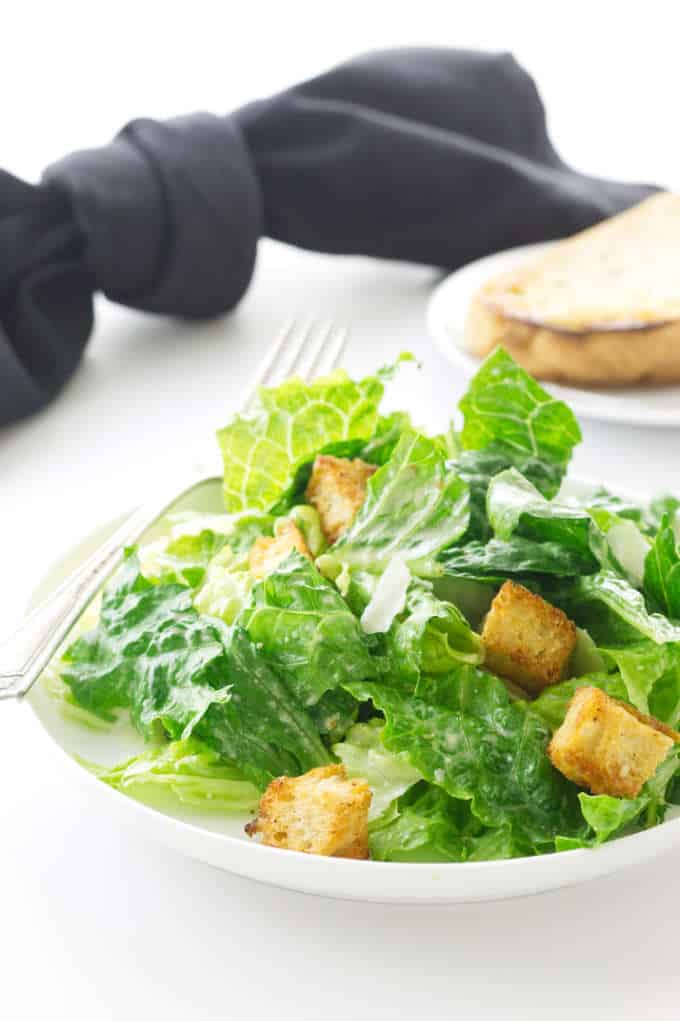 SOME OTHER RECIPES WE ARE SURE YOU WILL LOVE:
Homemade Garlic Croutons: These crisp, crunchy homemade garlic croutons are chock-full of garlic flavor. They are perfect in a Caesar salad, or on top of a bowl of soup.
Creamy Potato Leek Soup with Chive Blossoms: The luxurious texture of this soup is almost like velvet. With a garnish of crunchy croutons and fresh chive blossoms this will be a stunning appearance on your table.
Salade Lyonnaise with Poached Duck Egg: This salad combines the slight bitterness of the fresh greens with salty pancetta, creamy egg yolk, caramelized onions and croutons. The salad is finished with a simple sherry vinaigrette with anchovy and Dijon mustard.
Homemade croutons and Caesar salad dressing all in one post for a quick reference. We can't get enough of this stuff.
CONNECT WITH SAVOR THE BEST!
Be sure to follow us on our social media accounts
Facebook * Instagram * Pinterest * Twitter * Youtube
Did you make this recipe? We would love to hear from you. Drop us a comment below.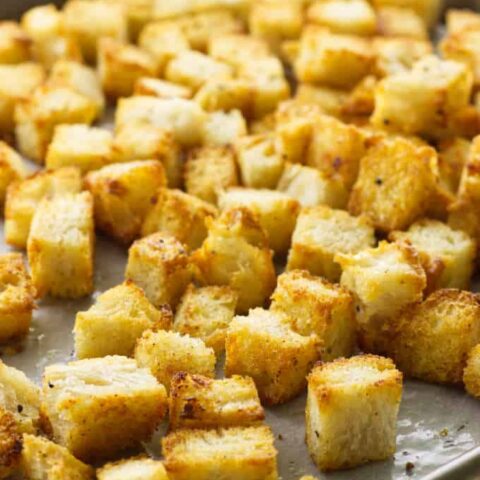 Sourdough Croutons
Yield: 8 Cups
Prep Time: 10 minutes
Cook Time: 20 minutes
Total Time: 30 minutes
Crisp and crunchy homemade Sourdough Croutons! This three-ingredient recipe is so easy. All you need is sourdough bread, a good olive oil and seasonings. Better than any store-bought bag of croutons!
Ingredients
1 loaf (24 oz.) sourdough bread
1/3 cup olive oil
1 teaspoon garlic powder
1/2 teaspoon seasoning salt
1/4 teaspoon ground white or black pepper
Instructions
Preheat the oven to 350°F and line a baking sheet with parchment paper, set aside.
Cut the bread into 3/4-inch thick slices and remove the crusts. Cut the slices into cubes and place in a large bowl.
Drizzle 1 tablespoon of olive oil along the inside edge of the bowl and toss the bread cubes. Continue drizzling the oil, one tablespoon at a time and tossing with the bread until the bread cubes are evenly coated with olive oil.
Spread the oiled bread cubes onto the parchment-lined baking sheet and sprinkle with garlic powder, seasoning salt and the pepper.
Transfer to the oven and bake for 15 to 20 minutes, stirring at the half-way time, until the croutons are crisp and golden brown.
Remove from the oven and cool on the baking sheet. Store in a closed container.
Notes
For herb seasoned croutons, sprinkle with your favorite dried herbs or a mixture such as Italian seasoning before baking.
For cheesy croutons, after the croutons have baked for 10 minutes, sprinkle with grated Parmesan or Asiago cheese and continue baking until crisp and crunchy.
Croutons will keep for several weeks in a sealed container. If they loose their crunchiness, place them on a baking sheet and reheat in a 250°F oven for 5-10 minutes to re-crisp.
Nutrition Information:
Yield: 16
Serving Size: 1/2 cup
Amount Per Serving:
Calories: 36
Total Fat: 3g
Saturated Fat: 0g
Trans Fat: 0g
Unsaturated Fat: 3g
Cholesterol: 0mg
Sodium: 57mg
Carbohydrates: 1g
Fiber: 0g
Sugar: 0g
Protein: 0g
Nutrition information is a guideline only, is calculated automatically by third-party software, and absolute accuracy is not guaranteed.