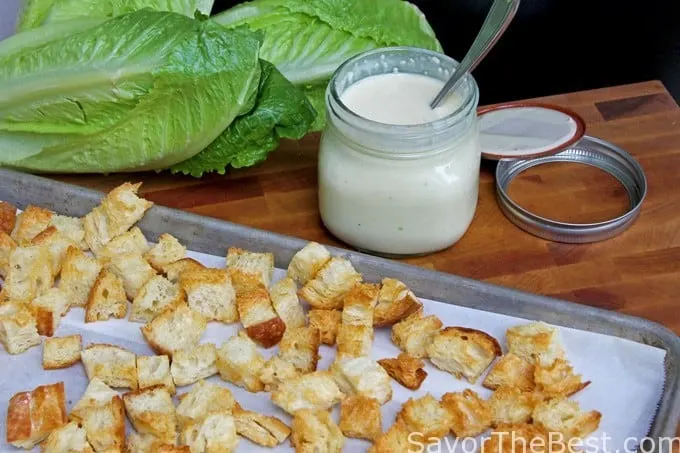 We are having our good friends, Bud and Betty Rae, for dinner Friday night and caesar salad is on the menu. It has been a few months since I prepared my recipe for homemade croutons and caesar salad dressing as a caesar salad isn't exactly a low-fat type salad. But these are special friends and I know they like caesar salad.
Caesar salad is also a family favorite and our three grandsons, Joshua, Aidan and Travis are always happy to see it on the table. I have good memories of seeing them sneak out the crunchy croutons and devouring them.
I have half a loaf of bread that is a little stale and it will be perfect for making croutons and actually is probably more cost effective than buying them ready-made. There isn't much to making your own croutons, just cut or tear the bread into pieces, toss with olive oil and toast them in the oven until golden.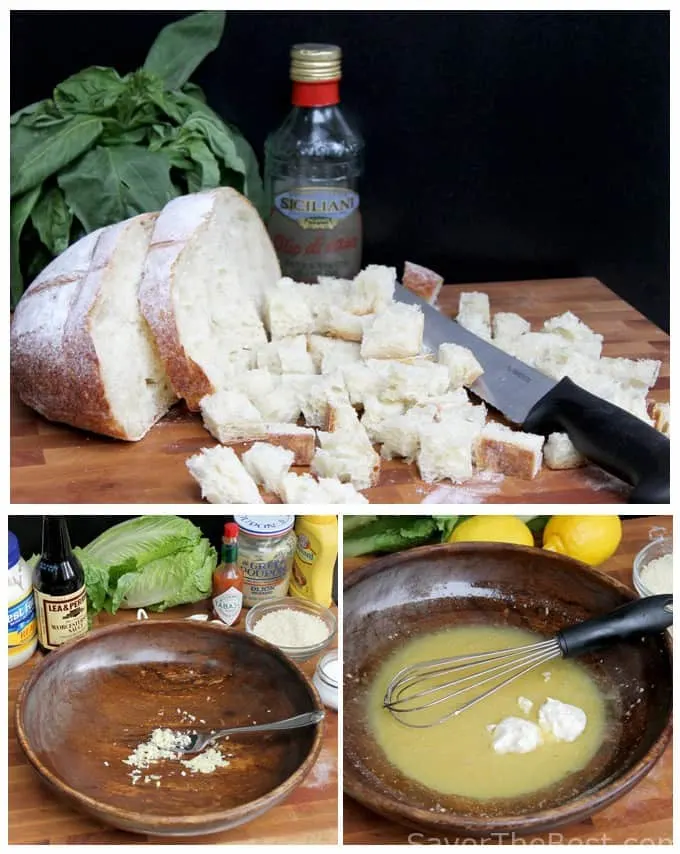 I know that traditional and original caesar salad dressing has raw or coddled eggs added as it is the fat in the eggs that adheres the dressing to the lettuce. I have an aversion to eating uncooked eggs and I substitute a couple egg yolk-size dollops of mayo and it does the same thing. Of course, I could use some of those Safe Eggs that are pasteurized but so far, I continue with the mayo. This is a creamy salad dressing with a little garlic, parmesan cheese and a nice tang from the lemon. I usually add a couple smashed anchovies to the dressing and it adds another layer of flavor but is not a 'fishy' flavor, it just blends in and improves the taste.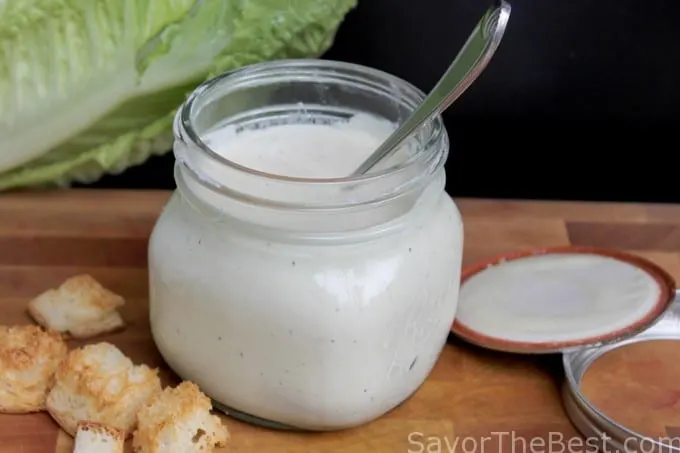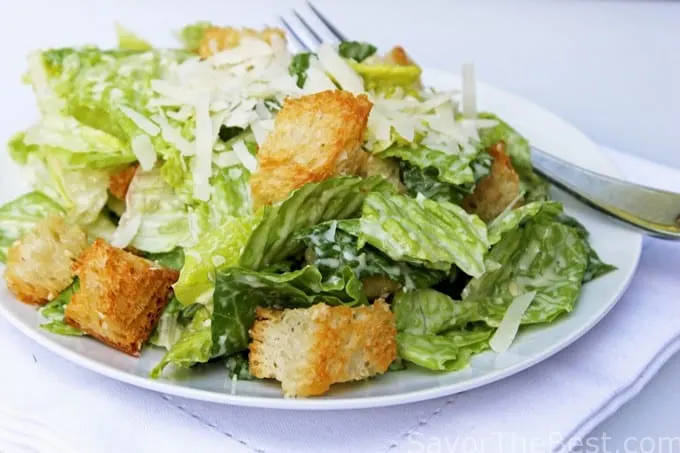 CONNECT WITH SAVOR THE BEST!
Be sure to follow us on our social media accounts
Facebook * Instagram * Pinterest * Twitter * Youtube
Did you make this recipe? We would love to hear from you. Drop us a comment below.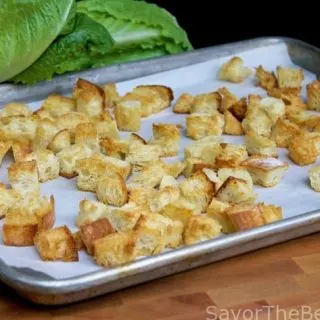 Homemade Croutons and Caesar Salad Dressing
This recipe for homemade croutons and caesar salad dressing is easy to prepare and can be made in advance. All that is needed for a great caesar salad is the torn romaine lettuce
Ingredients
Preheat the oven to 400°F
For the Croutons:
3-4 slices stale white or sourdough bread, cut or torn into 1-inch pieces
3 tablespoons olive oil
For the Caesar Salad Dressing:
3 large garlic cloves, minced
2 medium anchovies, chopped
1/4 teaspoon salt
1/2 cup freshly squeezed lemon juice
2 teaspoons Dijon mustard
2 teaspoons yellow mustard (hot dog type)
2 teaspoons Worcestershire sauce
1 cup olive oil
2-3 tablespoons real mayonnaise
1/2-3/4 cup finely grated parmesan cheese
1/4 teaspoon freshly ground black pepper
Instructions
In a medium-size shallow bowl, add the garlic, anchovies and salt then, using a fork, mash them together to make a paste. Add the lemon juice, both mustards and the Worcestershire sauce whisking together to blend. Add in the olive oil, mayonnaise and parmesan cheese and pepper whisking until completely combined.