Tangy, fresh and filling, our Salmon Salad with Strawberries makes a delicious and healthy main meal! Strawberries and blue cheese are tossed into a bed of crisp greens and topped off with tender salmon and a drizzle of preserved lemon vinaigrette. This is a wonderful leftover salmon recipe that can easily be thrown together for a quick lunch or dinner!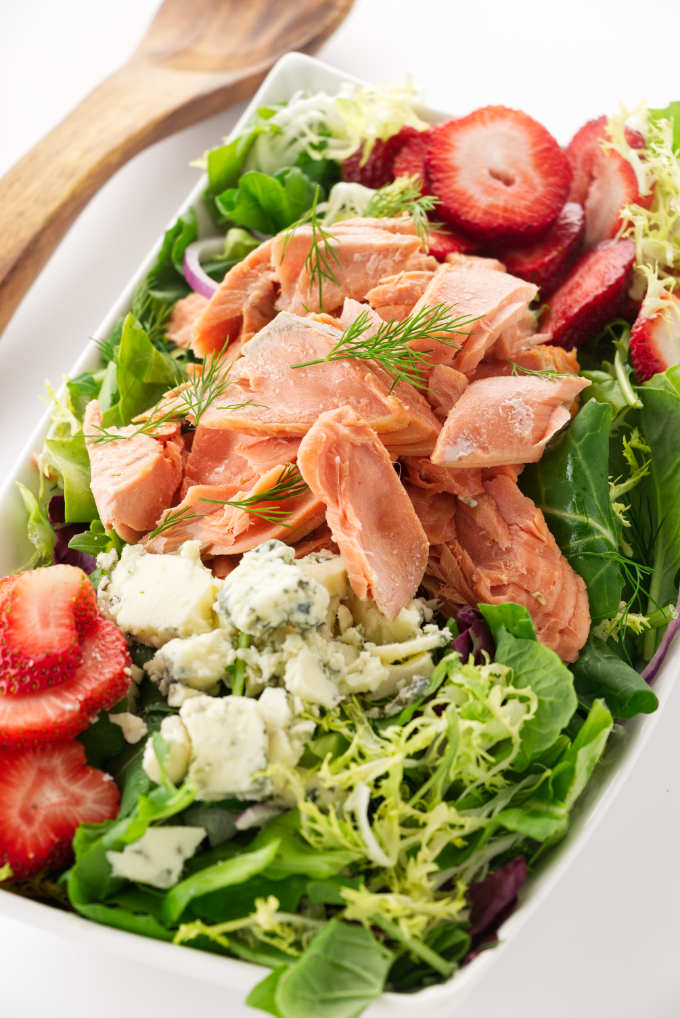 What to do With Leftover Salmon:
If you love salmon dinners as much as we do, chances are you're often left with a little extra salmon to use up the next day or two.
This salmon salad with strawberries makes the perfect leftover salmon recipe – it's a fresh way to enjoy salmon you might have leftover from last night's dinner (like this recipe for How to Bake a Whole Salmon, our Sheet Pan Salmon with Brussels Sprouts and Potatoes or even this Bourbon-Glazed Salmon Fillet). The best part? There's no need to reheat the salmon- simply serve it with the salad cold and enjoy!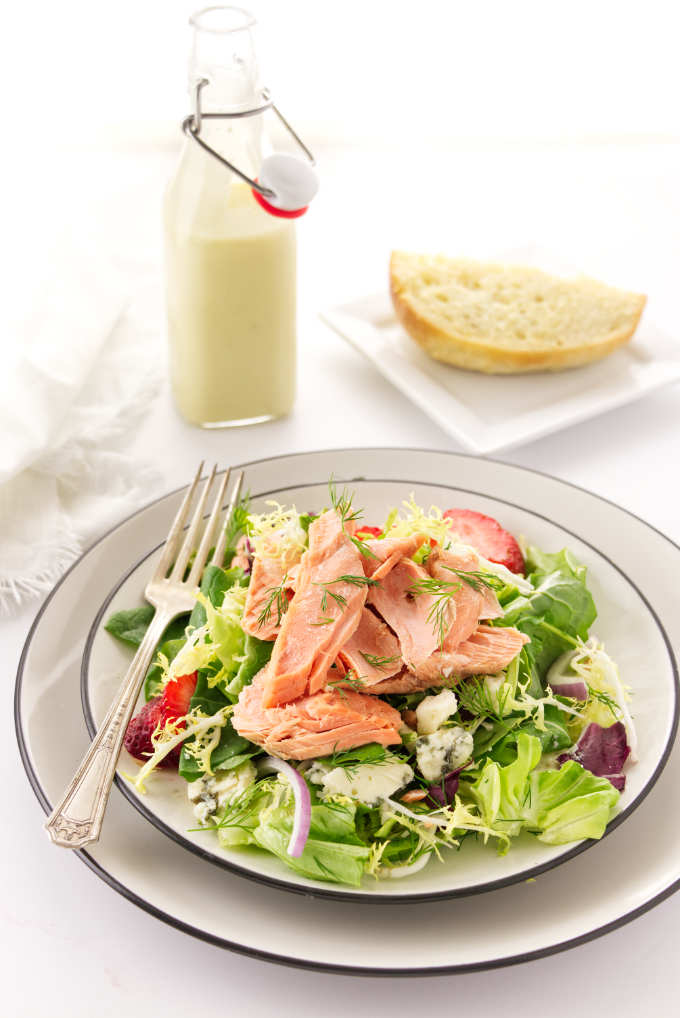 Salmon Salad with Strawberries is:
Easy to make
A healthy and filling salad that won't leave you hungry!
Vegetable and protein-packed
Full of delicious flavor and complimenting textures
The Ingredients:
The ingredient list is short for this salmon salad recipe! You will need some leftover baked salmon as well as some of our preserved lemon vinaigrette (if you haven't tried it yet, head there asap- it's soooo good!).
Salad greens (choose at least three varieties)
Leftover baked salmon
Fresh strawberries, sliced
Blue cheese, crumbled
Red onion, thinly sliced
Salt and pepper
Preserved lemon vinaigrette (made using our preserved lemons recipe)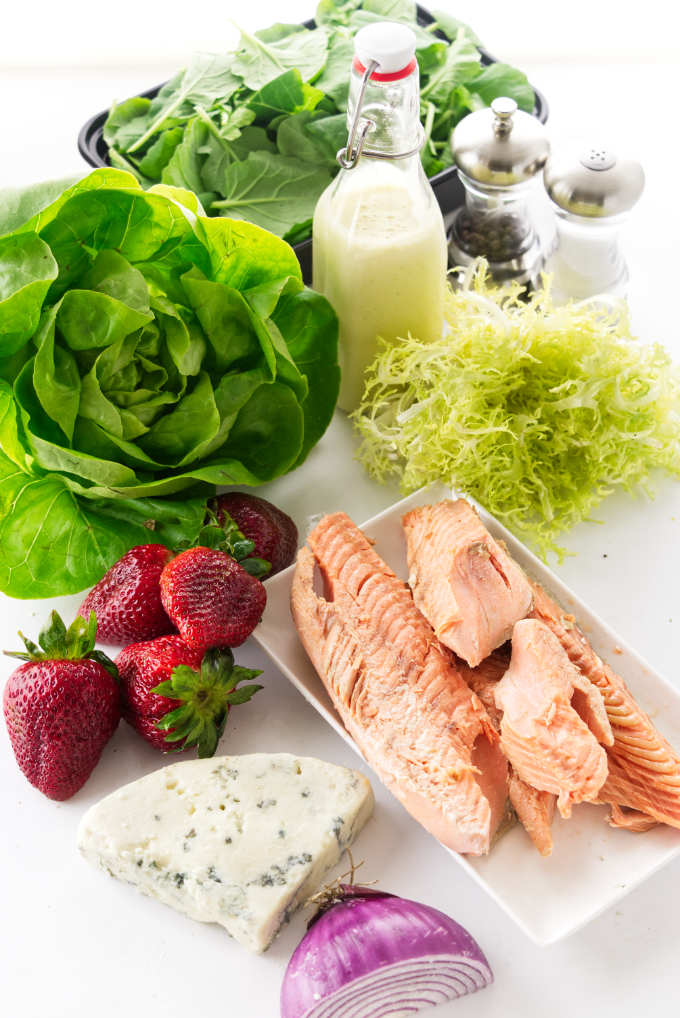 The Process:
We love how simple this salmon salad is to throw together! It's the perfect, no-fuss way to enjoy leftover salmon the next day.
To make it:
Combine the salad greens in a large salad bowl.
Top with the leftover salmon, sliced strawberries, blue cheese crumbles and onion slices.
Sprinkle with salt and drizzle the preserved lemon vinaigrette, then toss to combine.
And dinner is done in about 5 minutes flat. 😉 Don't you just love that?
Note: We really like the flavor of the preserved lemon vinaigrette but you can also use your favorite type of vinaigrette/salad dressing. Our creamy orange champagne dressing or Greek salad dressing is also delicious.
Tips and FAQs:
To assemble individual salads, combine the salad greens and divide them equally onto four chilled salad plates. Add equal portions of salmon, strawberries, blue cheese, and onion slices. Sprinkle on the salt and pepper and drizzle on a small amount of vinaigrette on each serving.
What flavors go well with salmon? Salmon's rich flavor and buttery texture work really well with a multitude of fresh vegetables and even sweet fruits like these strawberries! Salmon and lemon are perfect flavor partners, which is why we love the bright, tanginess that our preserved lemon vinaigrette brings to this salad.
This salmon salad recipe is also wonderful with grilled salmon.
It's also easy to adapt with different variations, like your choice of vinaigrette or soft cheese. Add some homemade croutons or serve with a slice of homemade Dutch oven bread for even more yum.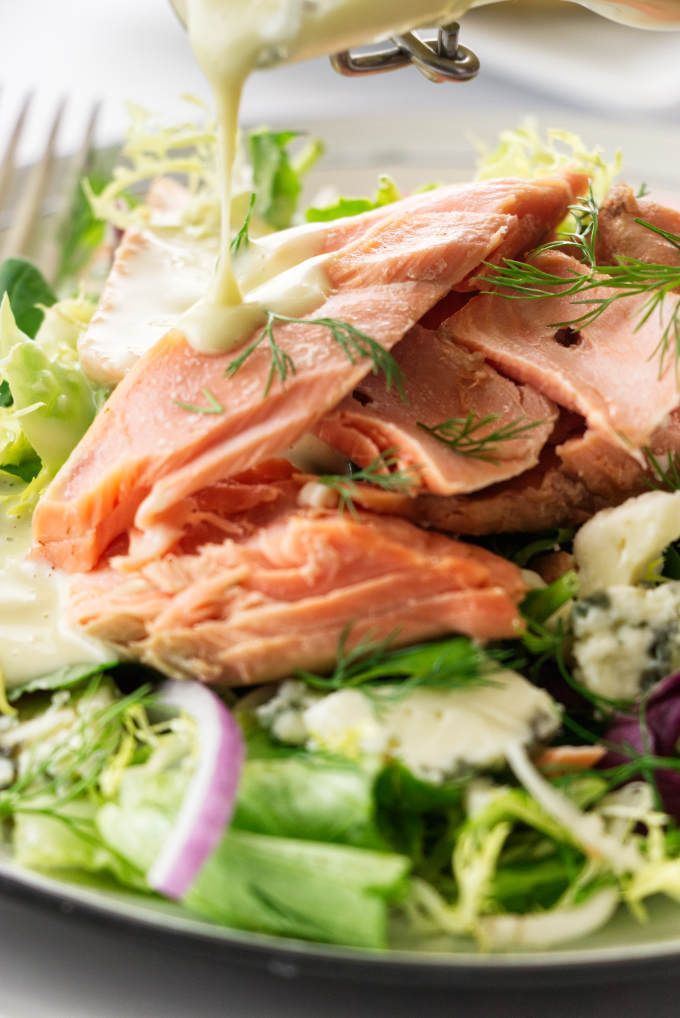 You can't go wrong with a plate of this salmon salad with strawberries! It's not only easy to prepare but it also is a great way to use leftover salmon. Plus, it makes for the perfect summertime salad with zero cooking required!
Some Other Recipes You Will Love:
Salmon Caesar Salad: Your favorite salad just got an upgrade! Nice chunks of chilled grilled salmon bring a basic Caesar salad to a new level. This is all you need for a quick summer dinner!
Salade Lyonnaise with Poached Duck Egg: A French classic, this salad combines the slight bitterness of frisée with salty pancetta, creamy egg yolk, caramelized onions and croutons. Top off the salad with a simple sherry-anchovy vinaigrette.
Heirloom Tomato Salad with Aged Goat Cheese: Thick slices of fresh tomatoes, a wedge of tangy goat cheese and crunchy, salty prosciutto add up to one great-tasting lunch salad. Serve this simple salad with a balsamic vinaigrette, crusty bread and a glass of Chardonnay.
Connect With Savor the Best:
Please follow us on our social media accounts
Facebook * Instagram * Pinterest * Youtube * Twitter
Did you make this recipe? We would love to hear from you. Drop us a comment below.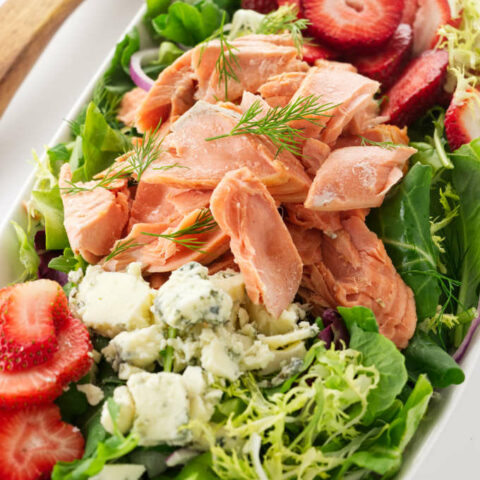 Salmon Salad with Strawberries
Our main-meal, Salmon Salad with Strawberries features left-over baked salmon, fresh strawberries and blue cheese on a bed of crisp greens. Served with a tangy preserved lemon vinaigrette.
Ingredients
8 cups salad greens, choose at least 3 varieties
16 ounces leftover baked salmon
8 ounces fresh strawberries, sliced
8 ounces blue cheese, crumbled
1/2 medium red onion, thinly sliced
Salt and pepper
4 to 8 tablespoons Preserved Lemon Vinaigrette
Instructions
Combine the salad greens and add to a large salad bowl, top with the salmon, sliced strawberries, blue cheese and onion slices. Sprinkle lightly with salt and freshly ground black pepper. Drizzle with vinaigrette, toss to combine.
Alternatively:
Combine the salad greens and portion equally into 4 individual chilled salad plates. Add equal portions of salmon, strawberries, blue cheese and onion slices. Sprinkle salt and grind pepper and drizzle vinaigrette on each serving.
Notes
This is a great use for leftover baked salmon or even a freshly baked/grilled salmon fillet.
Optional, choose your favorite salad dressing, however, our tangy Preserved Lemon Vinaigrette is very complimentary to this salad.
Nutrition Information:
Yield:

4
Serving Size:

1
Amount Per Serving:
Calories:

601
Total Fat:

44g
Saturated Fat:

15g
Trans Fat:

0g
Unsaturated Fat:

26g
Cholesterol:

114mg
Sodium:

1075mg
Carbohydrates:

11g
Fiber:

3g
Sugar:

4g
Protein:

39g
Nutrition information is a guideline only, is calculated automatically by third-party software, and absolute accuracy is not guaranteed.