Prepare your tastebuds for the wonderful flavors of this Cedar Plank Salmon with Hazelnut Vinaigrette. The salmon fillets are moist, and tender and every bite is infused with the sweet, smoky flavor of the cedar plank. Next, spoon the luxurious hazelnut vinaigrette over these fillets and you have a dinner fit for a King!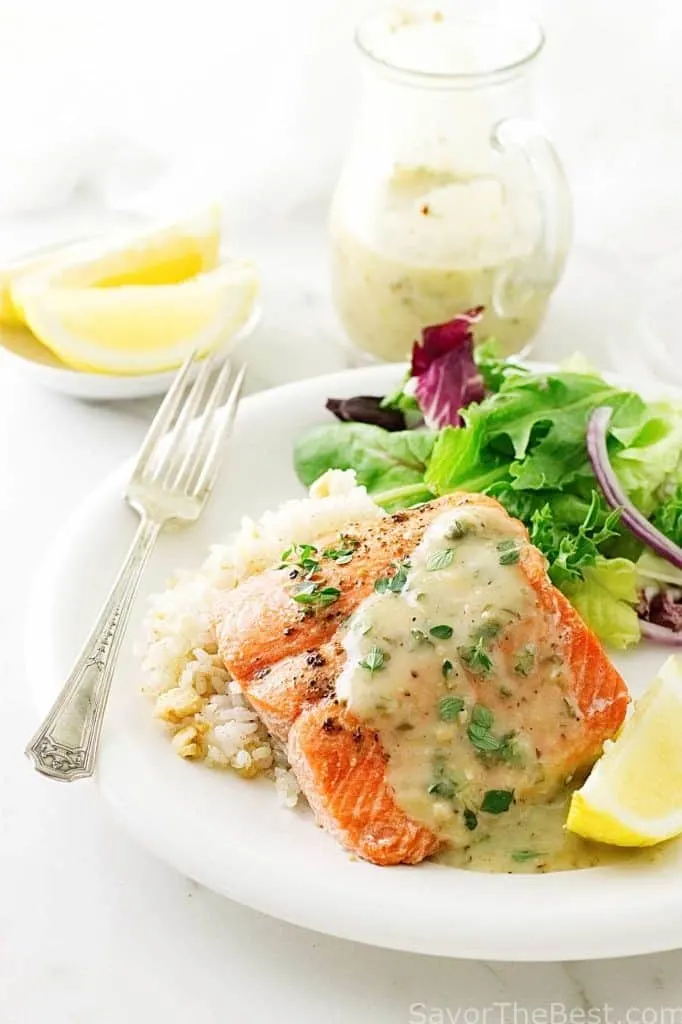 Where to Buy a Cedar Plank:
The cedar plank is not a new method of cooking and here in the Pacific Northwest the natives have been roasting their salmon like this for eons. Cedar planks are relatively inexpensive and readily available at hardware stores, lumber yards or anywhere outdoor grilling supplies are sold.
Preparing the Cedar Plank:
Cedar planks are dry and flammable wood so they need a good two-hour soaking to keep them from catching fire during the cooking process. After the soak the plank gets really hot in the oven and it begins to steam and releases that wonderful woodsy flavor of cedar that just permeates into the salmon.
Choices to Soak your Cedar Plank With:
Water
Apple Cider
White Wine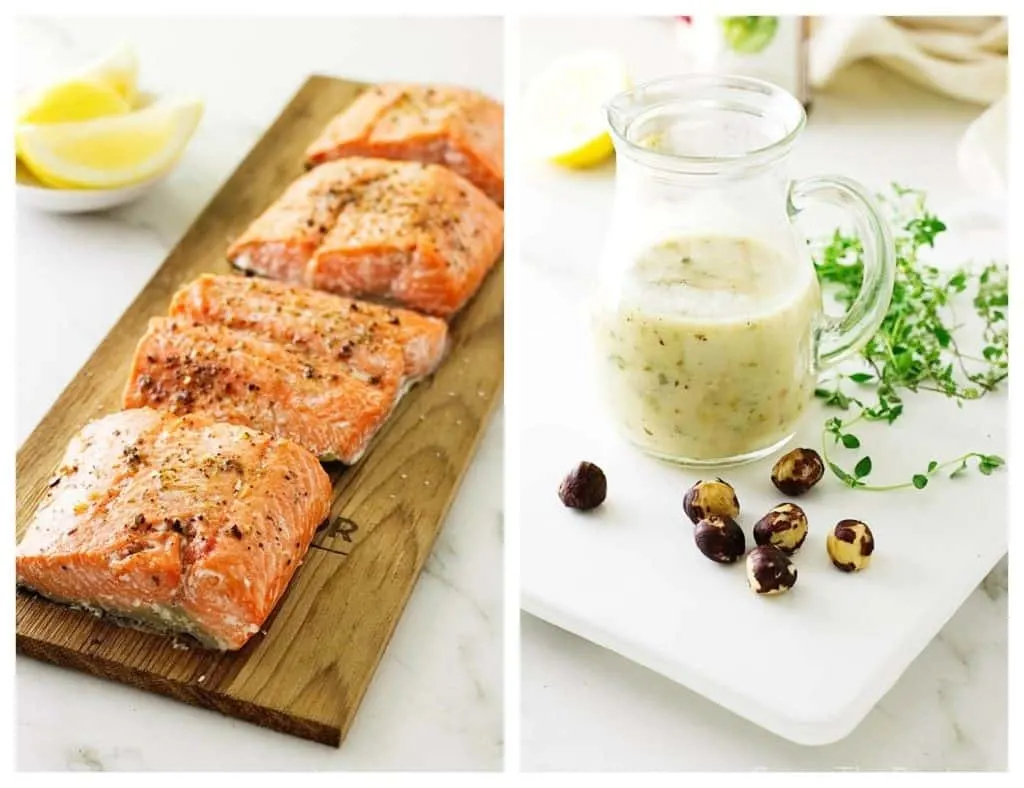 Why Soak the Salmon in a Salt-Water Solution?
Our sockeye salmon fillets also get a little soaking. It is so disappointing to pull a gorgeous cut of salmon out of the oven and see white stuff in places.
Yes, it is a natural process and it is called albumin but it can be eliminated or controlled. It is caused by protein in the flesh that is pushed out of the muscles during the cooking process.
A short ten-minute soak in a salt-water brine is the secret to eliminating all or most it. That briny soak will also firm up the salmon and make it more moist and flavorful.
How Long Should a Salmon Fillet Cook?
Calculate four minutes for each one-half inch of thickness. Try to purchase fillets that are at least one inch in thickness. Remove from the oven when it is firm and barely opaque all the way through or if using an instant-read thermometer until the temperature reaches your desired doneness (see the salmon temperature chart below).
Salmon Temperature Chart
Salmon
Doneness
Internal
Temperature
Rare (soft, buttery, juicy)
110°F
Medium rare (tender, flaky, moist)
125°F
Medium (flaky, firm, still has moisture)
130°F
Medium-well (dry, firm)
140°F
Well-done (dry and tough)
145°F
Salmon Temperature Guide
For the best results, use an instant-read meat thermometer and check the meat intermittently or use a leave-in meat thermometer so you don't have to open the oven frequently. The above links are affiliate links from ThermoWorks . They make the best thermometers we have ever used and we highly recommend them.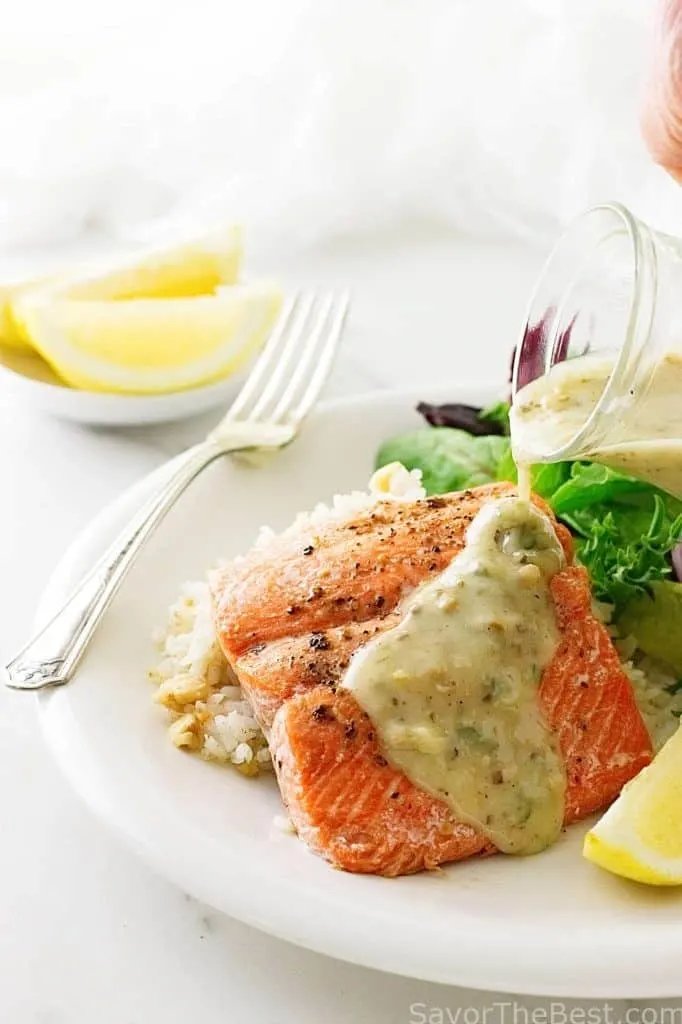 What are Hazelnuts?
Hazelnuts are the star in this flavorful vinaigrette. Hazelnuts are products of the Filbert tree and have a dark colored skin that some people like to remove after roasting. However, we like the flavor that the roasted skin imparts to the nuts and our vinaigrette.
Making the vinaigrette is an easy combination of:
freshly squeezed lemon juice
minced shallots
Dijon mustard
honey
olive oil
chopped toasted hazelnuts
fresh thyme leaves
salt and freshly ground black pepper
The ground toasted hazelnuts add a unique flavor-burst that you will love when spooned over the salmon fillets.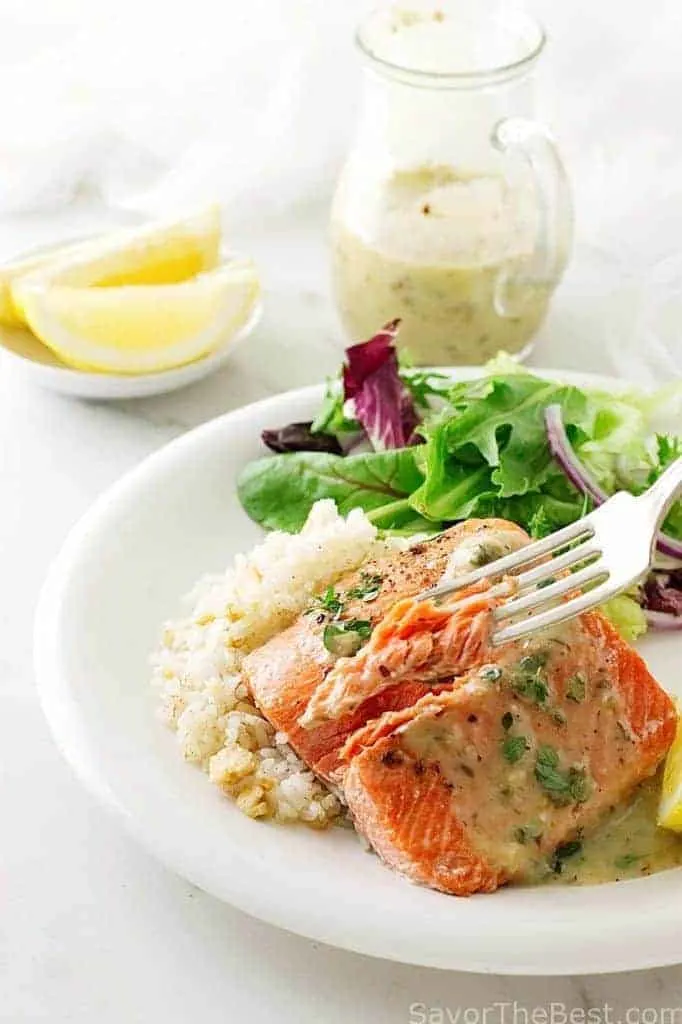 If you have not yet tried salmon roasted, baked or grilled on a cedar plank, you just do not know what you have been missing. It is really worth it!
You might also like:
This recipe for Cedar-Plank Sockeye Salmon with Hazelnut Vinaigrette is adapted from Ivar's Seafood Cookbook
Connect With Savor the Best:
Please follow us on our social media accounts
Facebook * Instagram * Pinterest * Youtube * Twitter
Did you make this recipe? We would love to hear from you. Drop us a comment below.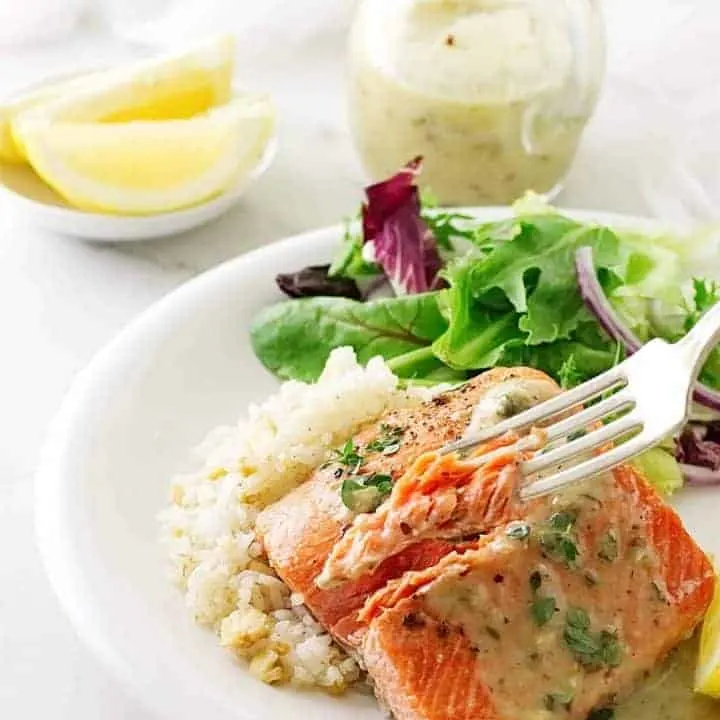 Cedar Plank Salmon in the Oven
Oven baked Cedar Plank Salmon is an easy, healthy, and delicious way to cook salmon. The cedar plank gives the salmon a subtle smoky, sweet, woodsy flavor, and the bake time is just long enough to cook the salmon through without drying it out.
We served the plank salmon with a lemony hazelnut vinaigrette that adds a luxurious flavor to the plank salmon.
Ingredients
1 Cedar grilling plank, soaked in cold water *(see notes)
4 tablespoons salt, 4 cups cold water
4 (6-ounce) fresh wild-caught sockeye salmon fillets with skin
1 tablespoon olive oil
1/2 teaspoon sea salt
1/4 teaspoon course ground black pepper
Hazelnut Vinaigrette:
3 tablespoons freshly squeezed lemon juice
1 tablespoon minced shallots
1-1/2 teaspoon Dijon mustard
1-1/2 teaspoon honey
1/2 cup light olive oil or avocado oil
1 tablespoon finely chopped toasted hazelnuts
1 tablespoon fresh thyme leaves
salt and freshly ground black pepper
Instructions
Soak the cedar plank in water for at least 2 hours (see notes)
While the cedar plank is soaking prepare the vinaigrette and save for later:
To make the vinaigrette:
Into a food processor or blender, whirl the lemon juice, shallots, mustard and honey until smooth. With the motor running, slowly add the olive oil, processing until well combined, then transfer the mixture to a small bowl. Whisk in the hazelnuts and thyme leaves. Salt and pepper to taste.
Preheat the Oven:
Preheat your oven to 400°F
Place the cedar plank on a baking sheet and transfer to the oven to preheat for 15 minutes.
Brine the Salmon Fillets:
Dissolve the 4 tablespoons of salt with 4 cups of water
Place the salmon fillets in a casserole dish, in one layer, skin side down, and pour the salt water brine over them. Allow them to soak for 10-minutes. After 10 minutes, remove the fillets to a plate and pat them dry with paper towels. Reserve until the cedar plank is ready.
Cedar Plank Salmon:
Remove the baking sheet/plank from the oven and arrange the salmon fillets on the preheated plank, skin side down. Brush with olive oil and sprinkle with salt and pepper.
Transfer to the middle rack of the oven and cook for 8-12 minutes, depending on the thickness. *See Notes
After the salmon has cooked for about 8 minutes, check for doneness by cutting into the thickest part of the salmon. Remove from the oven when it is firm and barely opaque all the way through (about 140°).
Transfer to a serving plate, drizzle with the vinaigrette, garnish with fresh thyme leaves.
Notes
To keep the cedar plank fully immersed, elevate it slightly by setting it on a can, such as tuna fish and place another object heavy enough to keep the plank weighted so it doesn't float. We placed a jar of marinara sauce on the plank.
To determine how long to cook the salmon: Measuring at the thickest part, calculate 4 minutes for each one-half inch thickness. Try to purchase fillets of at least 1-inch thick.
You can purchase cedar planks just about any place they sell BBQ grill equipment but you will pay about $8 for two planks of about 5"x12". Or…. you can go to your local lumber yard and purchase untreated cedar siding board for about $10 and cut a bunch of them yourself.
With proper care you should be able to reuse your plank several times before tossing it in the wood stove. Just scrub your plank with coarse salt, cold water and lemon juice. This will help to keep it smelling fresh. Do not use soap, as it will leave a trace of flavor.
Nutrition values represent salmon only....the vinaigrette will make approximately one cup and provide for every 2 tablespoon serving: Cals, 153, fat, 17.28, sfat, 2.4
Recommended Products
As an Amazon Associate and member of other affiliate programs, I earn from qualifying purchases.
Nutrition Information:
Yield:

4
Serving Size:

1
Amount Per Serving:
Calories:

350
Total Fat:

40g
Saturated Fat:

5g
Trans Fat:

0g
Unsaturated Fat:

32g
Cholesterol:

47mg
Sodium:

6837mg
Carbohydrates:

5g
Fiber:

1g
Sugar:

3g
Protein:

21g
Nutrition information is a guideline only, is calculated automatically by third-party software, and absolute accuracy is not guaranteed.