Blueberries and salmon, now that is a winning combination! This recipe for wild Alaskan King salmon with blueberry sauce was inspired by the renown restaurant, Dukes Chowder House located in Seattle, Washington. What is not to love about a thick, moist slab of wild Alaskan King salmon, broiled to perfection and slathered in a sauce of savory blueberries!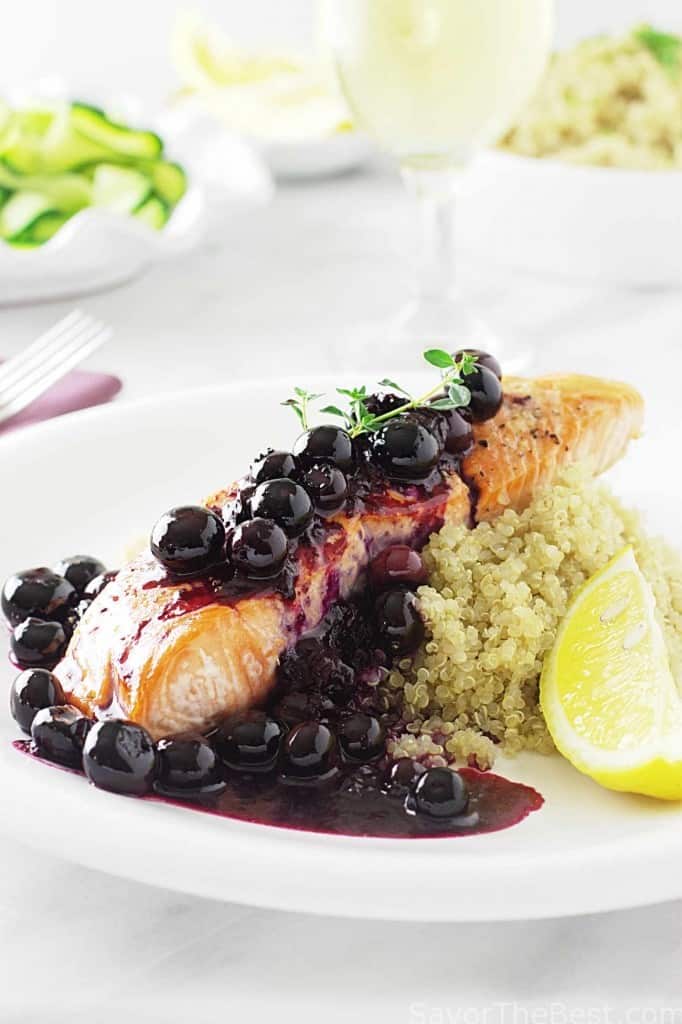 Each week Dukes Chowder House challenges his website readers to a contest in recreating one of their menu recipes. This blueberry salmon was the challenge for August 2015.
Duke's recipe also included a round slice of soft goat cheese which we eliminate in our version. We are not entering the contest as I do believe the deadline for submitting the recipe has come and gone :)….But, this salmon recipe is a winner in our house!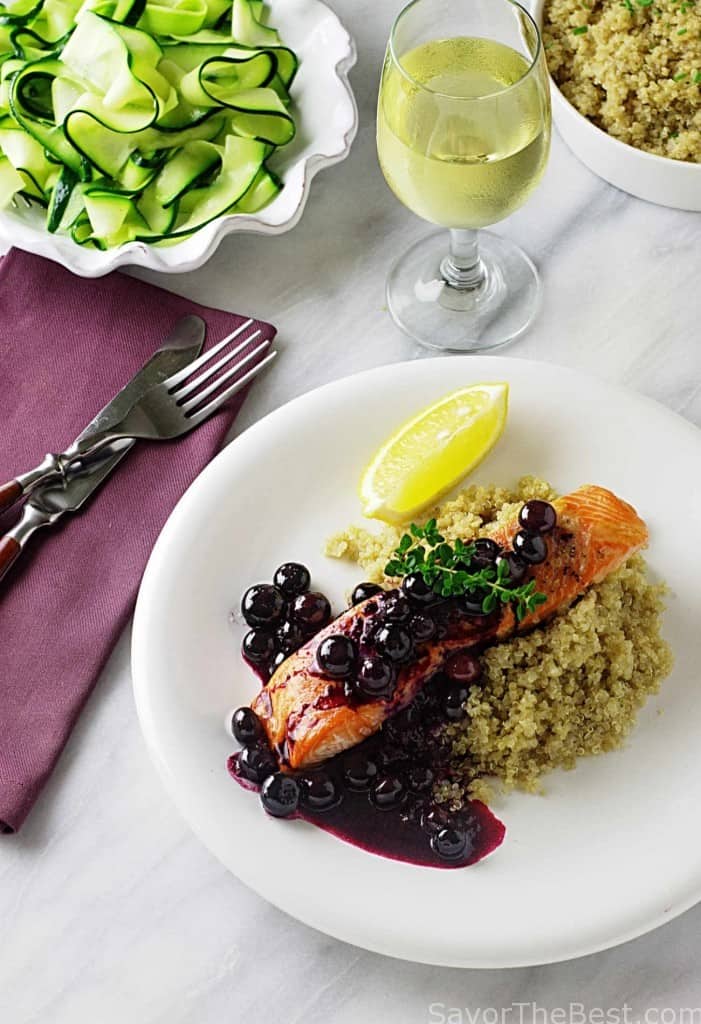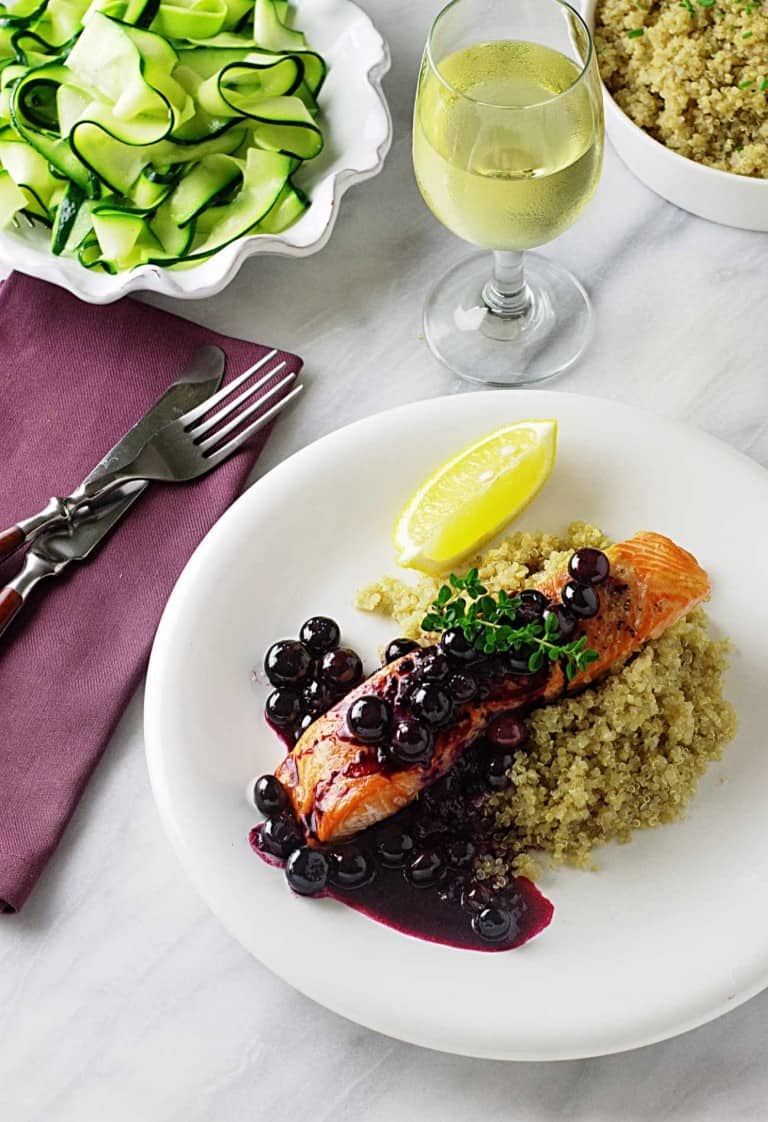 Wild Alaskan King salmon is one of my favorite salmon choices with the Silver following close behind. As King salmon is usually more pricey than other species it is mostly reserved as a special treat but any type of salmon can be substituted to make this blueberry salmon recipe.
For this recipe, we chose thick fillets of the King rather than the steaks but it is all a matter of personal choice.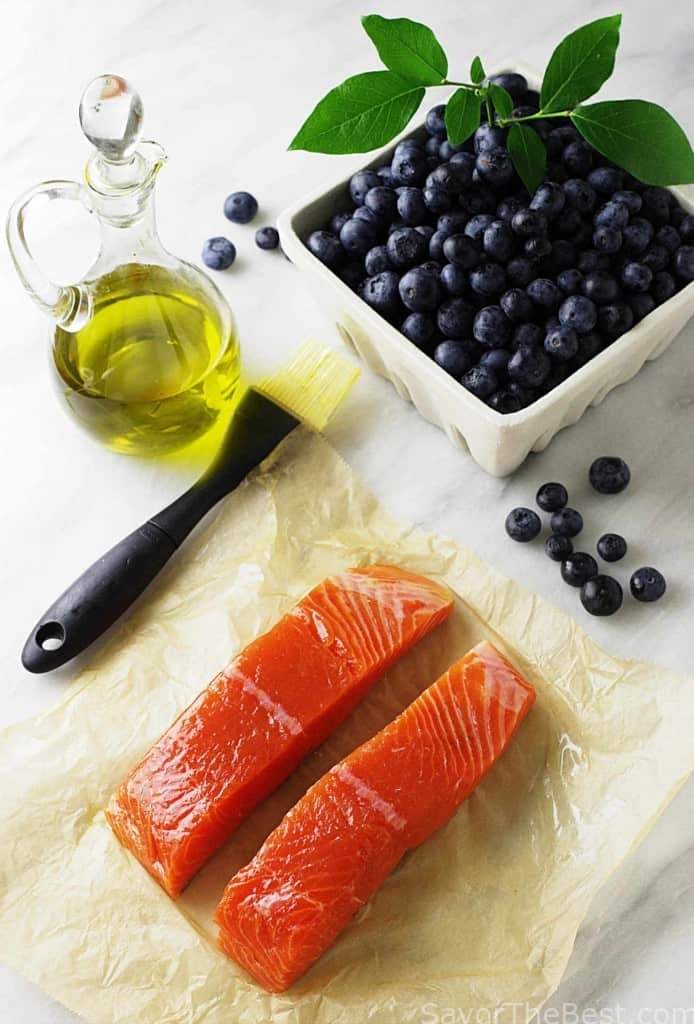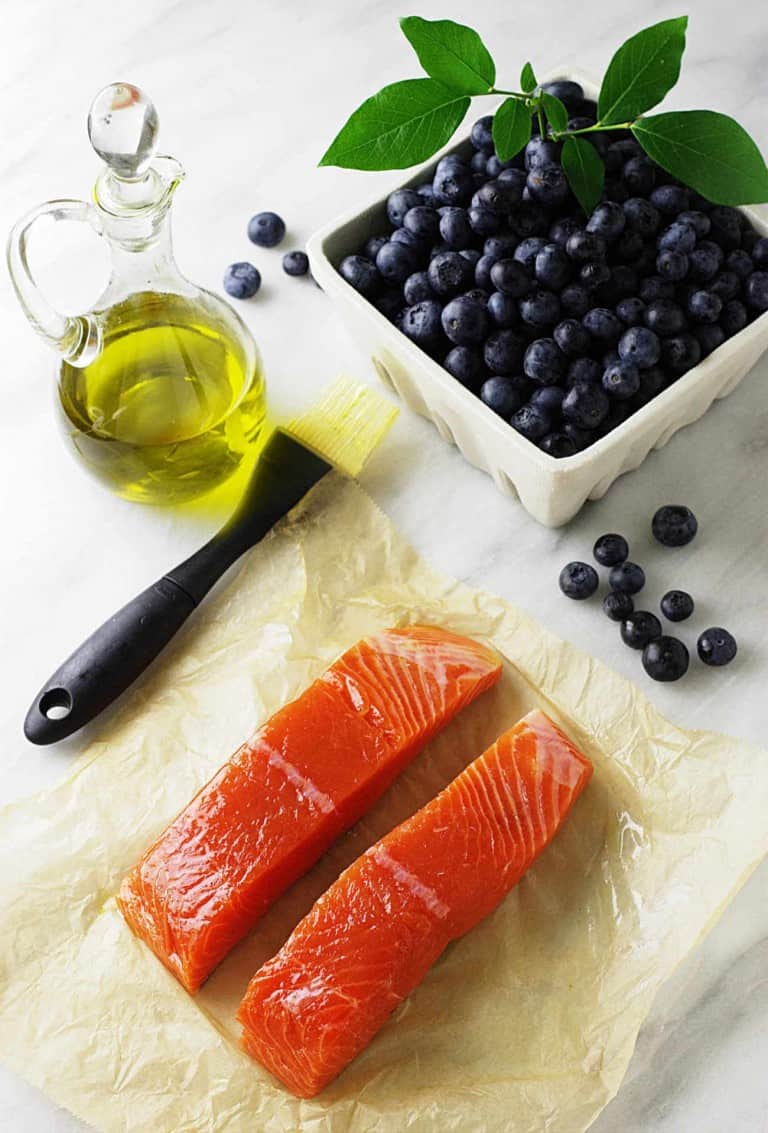 Why we soak salmon in a brine
Soaking the salmon in a salt-water brine retains moisture and helps reduce that ugly white goop that oozes out of salmon when it cooks. A nice long soak overnight is good but even this short 15-minute soak will improve the moistness of the fish.
The blueberry sauce
While the fish was brining and the broiler was preheating, we prepared the blueberry sauce. Earlier in the day I checked out our four blueberry bushes to see if the deer had left enough for my recipe, but those greedy critters had almost stripped the bushes.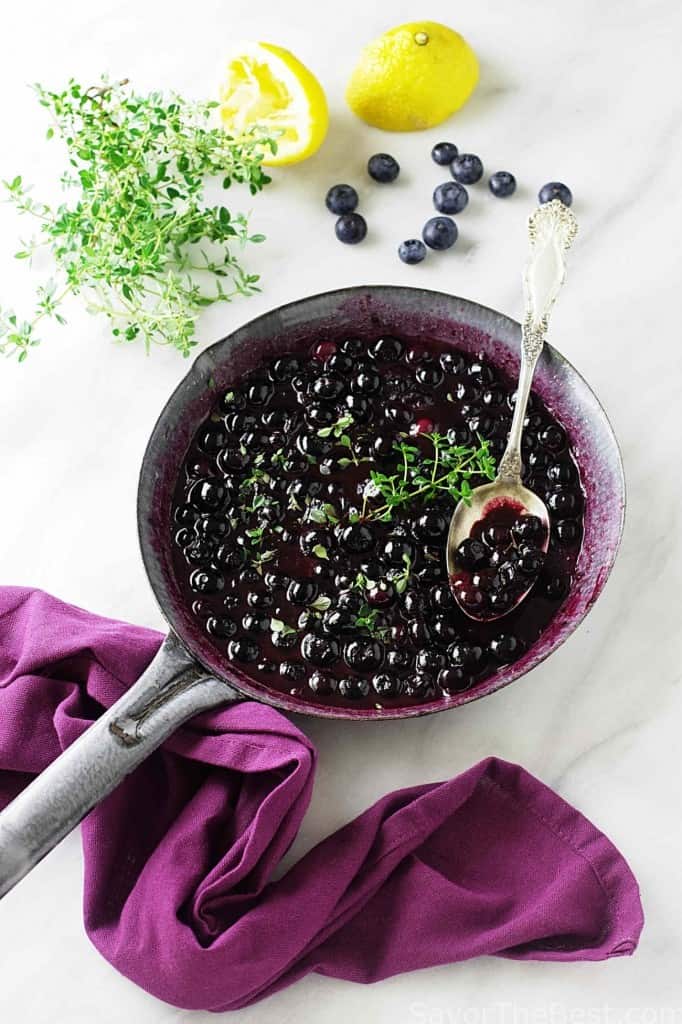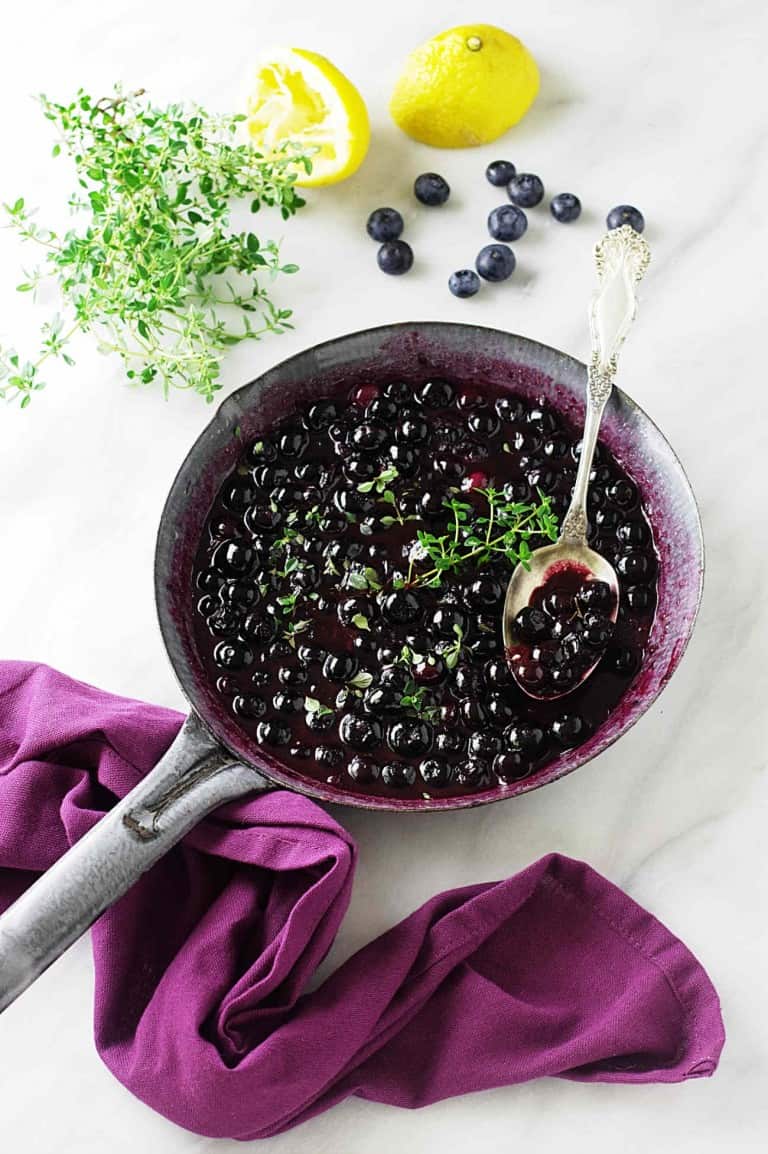 How to make blueberry sauce for salmon
We used a pint of store-bought blueberries to make this lovely sauce but frozen blueberries will work as well.
Cook the blueberries. Add half of the blueberries to a saucepan along with the lemon juice and wine. Smash the blueberries while the sauce simmers then add the lemon zest and salt. Continue cooking the sauce until it reduces and thickens.
Finish the sauce. Add the rest of the blueberries along with the butter and thyme. Stir until the butter melts then remove the sauce from the heat.
Helpful tips
This is a savory sauce and the hint of sweetness comes from the blueberries. A sprinkle of salt will help bring out their natural sweetness and enhance the flavor of the blueberries.
Simmering the blueberries releases their juices and reducing the sauce gives it a nice texture.
A dab of butter gives the blueberry sauce a beautiful sheen and rich flavor. The remaining blueberries were added just long enough to heat them and give extra texture to this blueberry salmon. Oh, yum! This sauce is sooo good!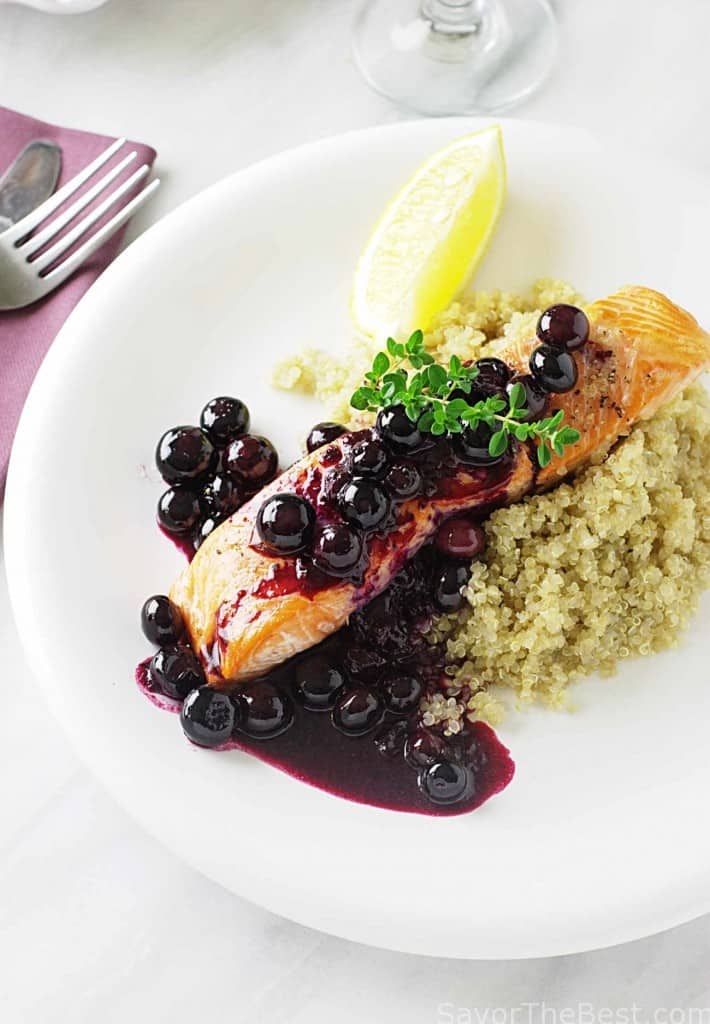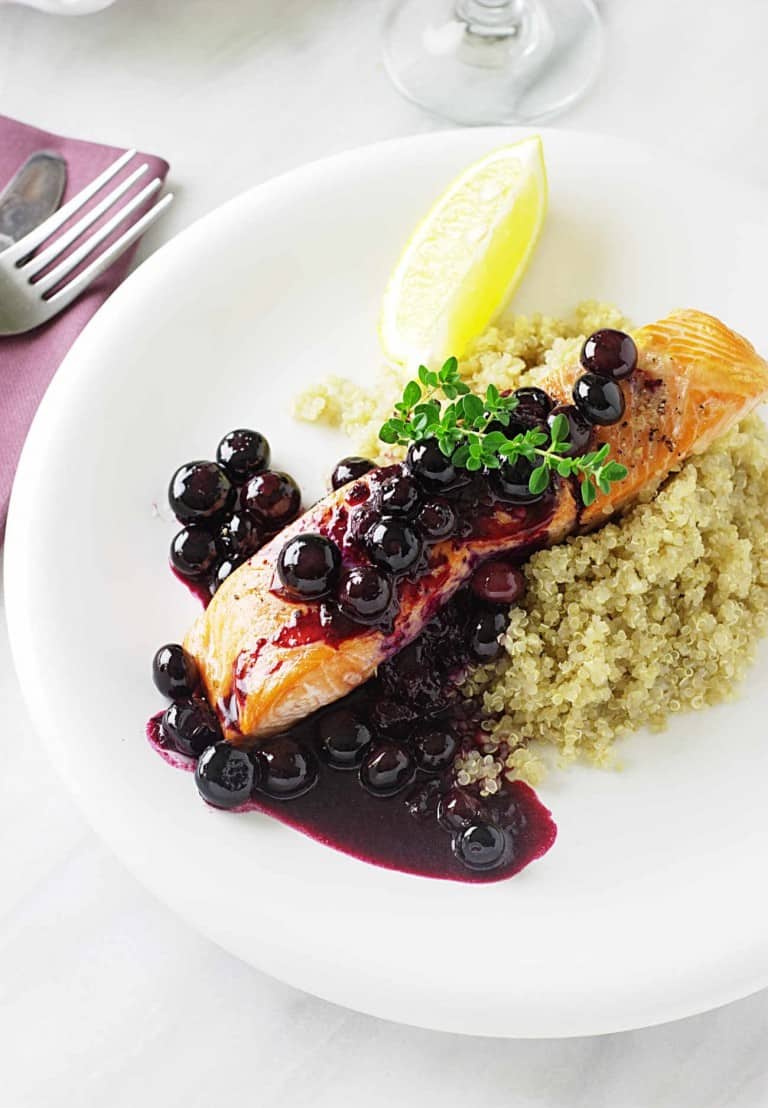 How to cook the salmon
Brine the salmon for al least 15 minutes. As mentioned above, a brine will help the salmon retain moisture and really will improve the flavor of the fish. Give it a try.
Rinse and dry the salmon. Rinse the fillets under cold water then pat them dry with paper towels. Coat them with olive oil
Broil the salmon. Broil the fillets for 6 to 8 minutes depending on the thickness of the fish and how well done you like your salmon.
Serve blueberry salmon for dinner. Spoon the warm blueberry sauce over the salmon and top with fresh thyme for a garnish.
Helpful tips for cooking salmon
Make sure to pat the salmon dry before you put it in the oven. Wet salmon will steam instead of broil. If that is what you are after then check out our recipe for steamed salmon.
For the best results, use a food thermometer to prevent over-cooking the salmon. See the salmon temperature chart below to guide you on how long to cook your salmon. Keep in mind that the USDA recommends cooking salmon to a temperature of 145° for food safety purposes.
Remove the salmon when it is 5°F under your targeted temperature. When you let it rest for 5 to 10 minutes then the residual heat will bring the temperature up another 5 degrees.
| Salmon Doneness | Internal Temperature |
| --- | --- |
| Rare | 110°F |
| Medium rare | 125°F |
| Medium | 130°F |
| Medium-well | 140°F |
| Well-done | 145°F |
We like our salmon cooked just a tad under-done at the rare to medium-rare stage so it is moist and flakey. If you like your salmon more well-done then broil it for eight minutes but longer than that you take a chance on dry salmon.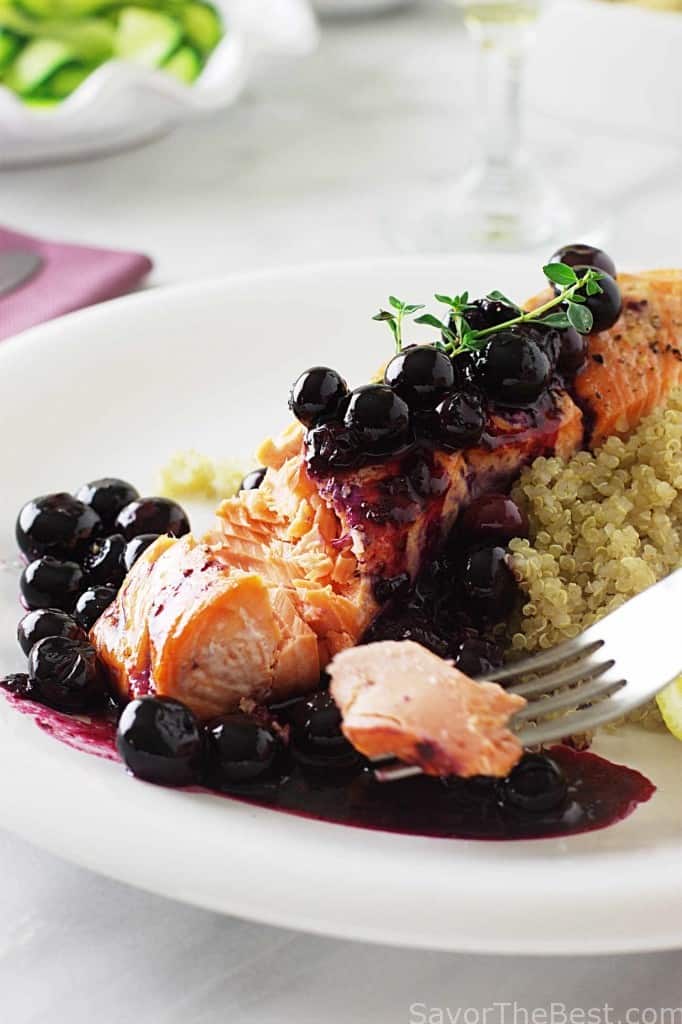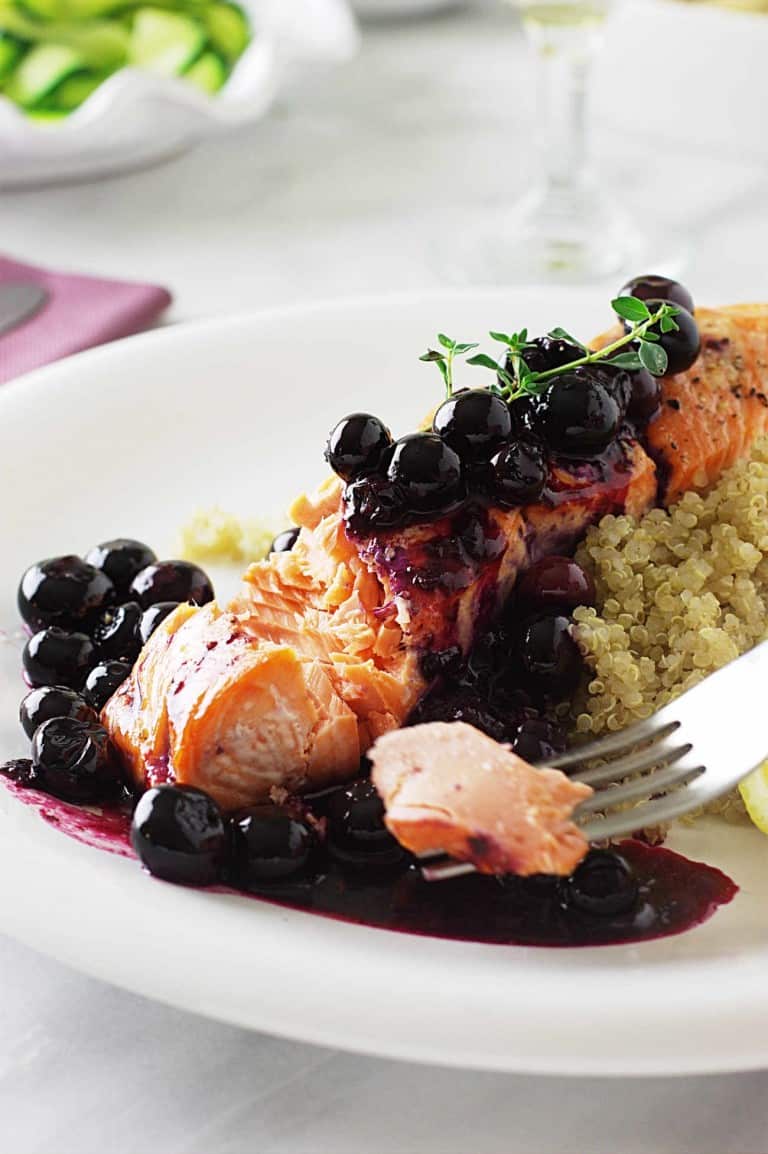 We served this blueberry salmon on a bed of quinoa and spooned that wonderful blueberry sauce over the top, garnished it with fresh thyme sprigs and lemon wedges.
You may also like these salmon recipes:
Broiled Copper River King Salmon: This vibrant, red-fleshed Broiled Copper River King salmon is rich, succulent and melt-in your mouth delicious! A simple briny soak keeps the flesh firm, moist and beautiful.
Honey-Lemon Glazed Salmon Fillets with Lemon-Dill Butter : Tender salmon fillets with a honey lemon glaze and lemon-dill butter.
Bourbon Glazed Salmon Fillet :A moist bourbon-glazed salmon fillet marinated in a complex glaze of bourbon, soy, honey and ginger marinade and broiled to perfection.
Salmon Gravlax: Salmon Gravlax is a Swedish specialty of raw salmon that is dill and salt cured. It is light-cured and has a delicate taste with a fine texture. This delicacy is usually served as an appetizer with either pumpernickel or dark rye bread or as a first course on a smorgasbord. Traditionally it is accompanied with a mustard-dill sauce.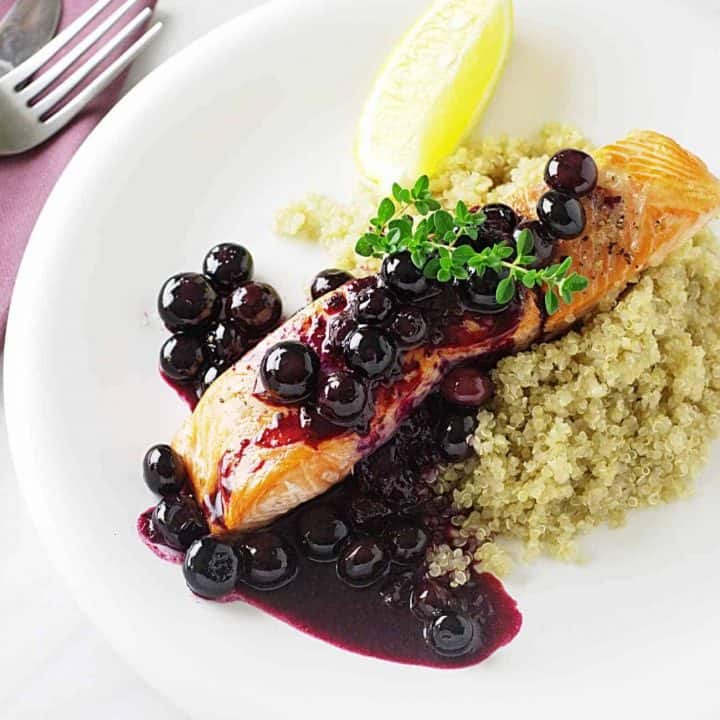 Wild Alaskan King Salmon with Blueberry Sauce
Yield: 2 servings
Prep Time: 15 minutes
Cook Time: 15 minutes
Total Time: 30 minutes
A moist, flakey wild Alaskan King salmon fillet, broiled to perfection with a savory blueberry sauce spooned over the top. Served on a bed of quinoa
Ingredients
For the Salmon:
2 (6-ounce) wild Alaskan King salmon fillets, about 1 1/4-inch thick each
Saltwater solution *see notes
Salt and pepper seasoning
For the Blueberry Sauce:
1 pint (2 cups) fresh blueberries, divided *see notes
1/4 cup freshly squeezed lemon juice - about 1 lemon
1/4 cup white wine
1 tablespoon lemon zest
Pinch of salt (1/8 teaspoon)
2 tablespoons thyme leaves
1 tablespoon butter
Fresh thyme sprigs
Lemon wedges
Instructions
Preheat the oven to broil:
Prepare a baking sheet with non-stick oil spray, reserve
For the Salmon:
Place the salmon in a shallow dish and pour enough brine solution to cover the fish. Cover with plastic wrap and allow to sit for at least 15 minutes. (See the notes below for the brine solution.)
For the Blueberry Sauce:
Add one-half of the blueberries to a saucepan set over medium heat. Add the lemon juice and white wine and bring to a boil. Reduce the heat to low and simmer while mashing the blueberries slightly to release their juices. Add the lemon zest and a pinch of salt. Continue to cook, reducing the sauce to a slightly thickened consistency. About 5-8 minutes.
Add the remaining blueberries, gently tossing to coat in the sauce and heating through. Stir in the butter and the thyme leaves. Remove from the heat, cover and keep warm.
To Finish the Salmon:
Remove the salmon fillets from the brine, rinse under cold water and pat dry with paper towels. Place the salmon on the prepared baking sheet, brush top and sides of the salmon with oil and transfer to the oven at least 4-5 inches from the broiling element.
Broil 6 minutes for medium doneness and 8 minutes for well done.
Remove the salmon from the oven and plate, spooning the warm blueberry sauce on each serving. Garnish with the thyme sprigs and lemon wedges.


Notes
Measure how much cold water you need to cover the fish, then mix salt, sugar and water in proportions of: 1 tablespoon kosher salt and 1 teaspoon sugar per cup of water.
Thawed frozen blueberries may be substituted
Nutrition Information:
Yield: 2
Serving Size: 1
Amount Per Serving:
Calories: 343
Total Fat: 20g
Saturated Fat: 6g
Trans Fat: 0g
Unsaturated Fat: 12g
Cholesterol: 87mg
Sodium: 340mg
Carbohydrates: 12g
Fiber: 3g
Sugar: 3g
Protein: 26g
Nutrition information is a guideline only, is calculated automatically by third-party software, and absolute accuracy is not guaranteed.