Do you have a favorite homemade salad dressing? Well, wait until you try this easy Greek Salad Dressing that just might become your all-purpose 'go-to' choice.
This salad dressing is actually a creamy vinaigrette and it is not confined to only salads. It is wonderfully delicious drizzled on steamed vegetables, tossed in pasta salads and as a dip for crusty bread.
Homemade salad dressings are always much more flavorful than store-bought products. Plus, you have the advantage of knowing there are no sugar or preservatives added. If you have never adventured into the DIY salad dressings, this is an easy place to begin. You may never buy another bottle of Greek salad dressing again.
How to make this Greek salad dressing:
This salad dressing is a combination of a few basic everyday ingredients. Olive oil, red wine, fresh veggies, dried Greek oregano and feta cheese.
Using a blender or food processor makes this Greek salad dressing super easy and ready in just five minutes. All the ingredients go into the blender or food processor at once. Just whizz them together until it is a thick creamy dressing.
To make a creamy Greek salad dressing, add all the ingredients except oil to a blender. With blender running on high speed, slowly pour oil into blender until mixture is creamy.
This Greek salad dressing is also great with:
You don't have to confine this dressing to green salads. It is an all-purpose dressing/sauce/marinade. It even becomes a delicious dip once it thickens in the refrigerator. We love it tossed with a dish of pasta, garlic butter sauce, and shrimp.
Pasta
Fresh steamed veggies
As a dip for crusty bread
Pasta salad
This salad dressing will keep in the refrigerator for up to a week. As it sits it will separate so give it a good shake before using to bring back the creaminess again. This Greek salad dressing is so good and so versatile you may want to make a double batch to have on hand.
This recipe has been adapted from Ivy at kopiaste.org
CONNECT WITH SAVOR THE BEST!
Be sure to follow us on our social media accounts
Facebook | Twitter | Youtube | Pinterest | Instagram
If you make one of our recipes, snap a photo and tag it @savorthebest on Instagram and hashtag it #savorthebest
More Sauce Recipes:
Yield: 1 cup
Greek Salad Dressing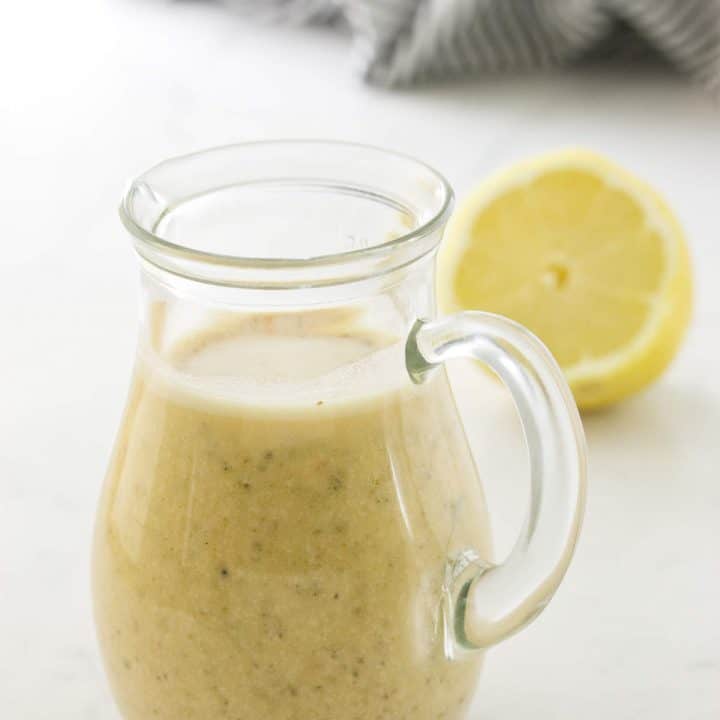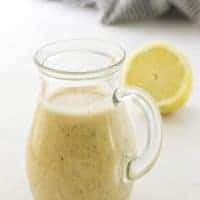 Made with a few basic ingredients, Greek salad dressing combines the simple everyday flavors of fresh veggies, oil, lemon and dried oregano with a big punch of flavor from Greek feta cheese. This DIY Greek Salad Dressing is so versatile it will become your favorite.
Prep Time 5 minutes
Cook Time 5 minutes
Total Time 10 minutes
Ingredients
1/2 cup (4 oz.) bell peppers, (red, yellow, orange)
3 ounces (80 grams) feta cheese
2 cloves of garlic
1/2 teaspoon honey
1 tablespoon red wine vinegar
4 tablespoons lemon juice
½ teaspoon salt
1 teaspoon dried Greek oregano
3/4 cup extra virgin olive oil
Instructions
Put all the ingredients in a blender or food processor and puree. Pour this Greek salad dressing on your favorite green salad and enjoy.
Notes
To make a creamier version of this Greek salad dressing, add all the ingredients except the oil to a blender. With the blender running on high speed, slowly pour the oil into the blender until the mixture is creamy.
Nutrition Information
Yield
8
Serving Size
2 tablespoons
Amount Per Serving
Calories 99
Total Fat 10.6g
Saturated Fat 2.2g
Cholesterol 5mg
Sodium 134mg
Carbohydrates 0.9g
Fiber 0.1g
Sugar 0.2g
Protein 0.9g