Do you have a favorite homemade salad dressing? Well, wait until you try this easy Greek Salad Dressing that just might become your all-purpose 'go-to' choice.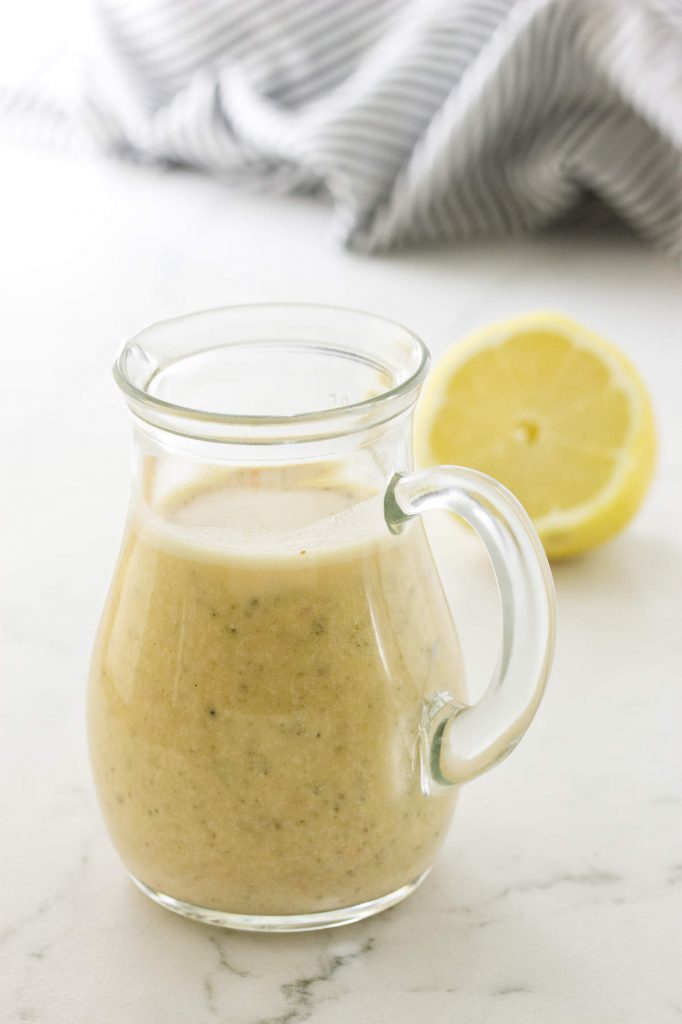 This salad dressing is actually a creamy vinaigrette and it is not confined to only salads. It is wonderfully delicious drizzled on steamed vegetables, tossed in pasta salads and as a dip for crusty bread.
Homemade salad dressings are always much more flavorful than store-bought products. Plus, you have the advantage of knowing there are no sugar or preservatives added. If you have never adventured into the DIY salad dressings, this is an easy place to begin. You may never buy another bottle of Greek salad dressing again.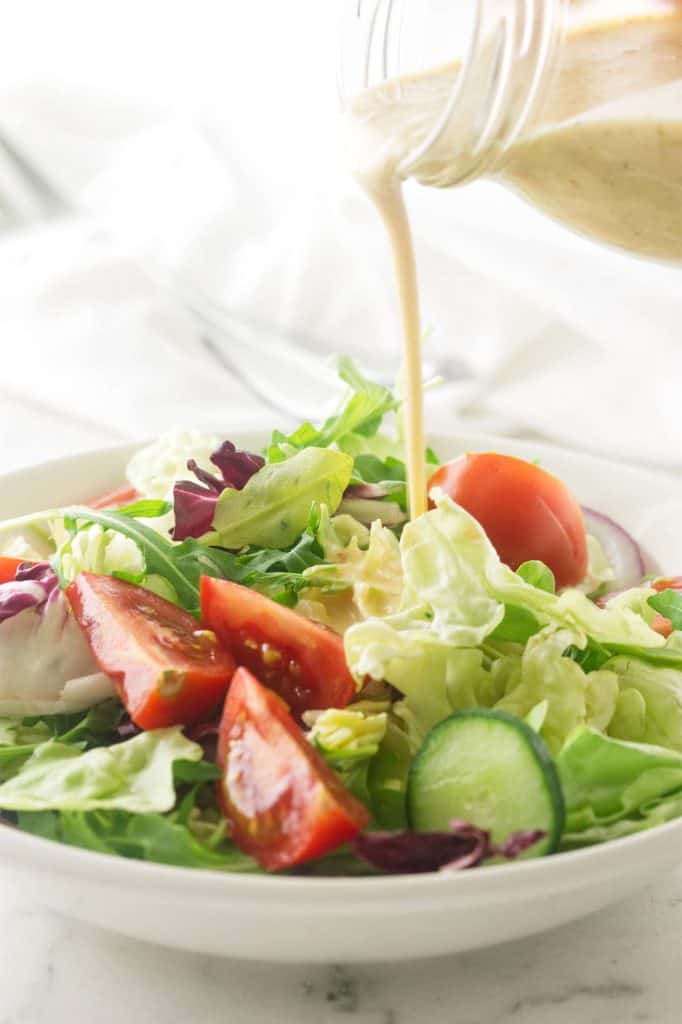 What is Greek Salad Dressing?
Greek salad dressing is typically a basic vinaigrette of quality olive oil, red wine vinegar, and dried oregano. Sometimes fresh lemon juice is added. It is easy and fresh and lets the flavor of salad shine.
We ramped up the flavor profile of traditional Greek salad dressing by adding several other ingredients. This is a creamy version that tastes great on salad, pasta, steamed broccoli and other vegetables, or used as a dip. Sop this dressing up with a slice of sourdough bread. So good!
Ingredients for our homemade creamy Greek salad dressing.
This creamy dressing is chock full of fresh ingredients. It is thicker than our recipe for authentic Greek salad dressing and it coats your vegetables with a ton of flavor. Here is what you will need:
Bell peppers.
Feta cheese.
Garlic.
Honey.
Red wine vinegar.
Lemon juice.
Salt.
Dried Greek oregano.
Olive oil.
The feta cheese gives this dressing most of the creamy texture and an incredible flavor. Olive oil also makes the dressing creamy. If you add the olive oil at the end and drizzle it into the blender slowly, it will emulsify and give the dressing an extra creamy texture.
How to make this Greek salad dressing:
This salad dressing is a combination of a few basic everyday ingredients. Olive oil, red wine, fresh veggies, dried Greek oregano and feta cheese.
Using a blender or food processor makes this Greek salad dressing super easy and ready in just five minutes. All the ingredients go into the blender or food processor at once. Just whizz them together until it is a thick creamy dressing.
To make a creamy Greek salad dressing, add all the ingredients except oil to a blender. With the blender running on high speed, slowly pour the oil into blender until mixture is creamy.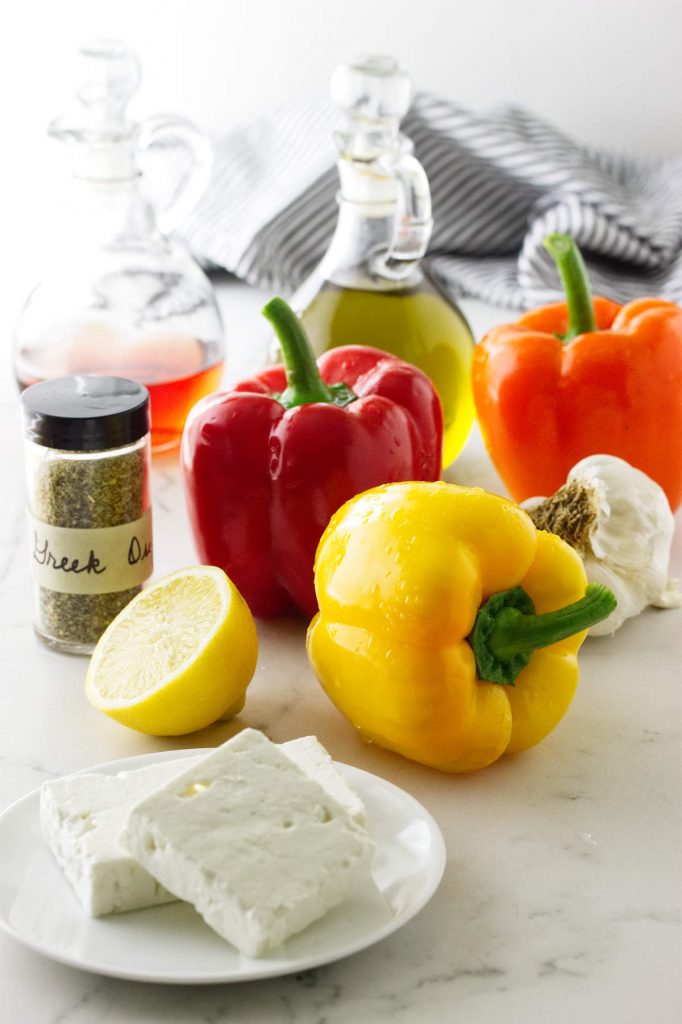 This Greek salad dressing is also great with:
You don't have to confine this dressing to green salads. It is an all-purpose dressing/sauce/marinade. It even becomes a delicious dip once it thickens in the refrigerator. We love it tossed with a dish of pasta, garlic butter sauce, and shrimp.
Pasta
Fresh steamed veggies
As a dip for crusty bread
Pasta salad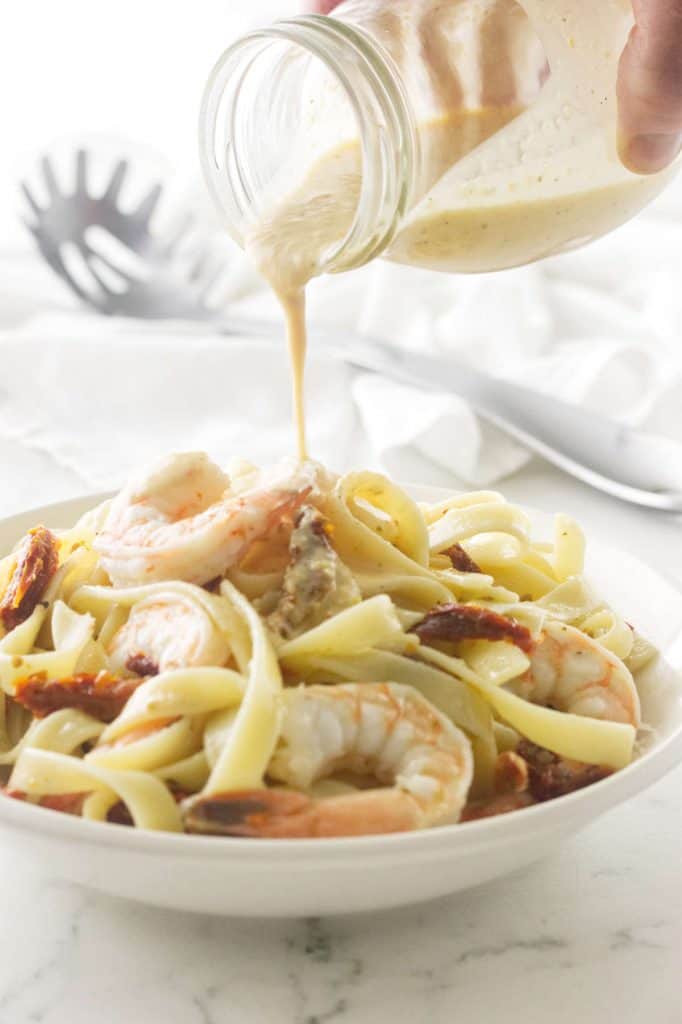 How long will this dressing last?
This salad dressing will keep in the refrigerator for up to a week. As it sits it will separate so give it a good shake before using to bring back the creaminess again. A salad dressing container like this makes it easy to store, shake, and pour.
This Greek salad dressing is so good and so versatile you may want to make a double batch to have on hand.
Tips for the best creamy Greek salad dressing.
Use good olive oil! Not all olive oils are created equal. The California Olive Oil Council has a certification program with strict standards. It is an easy way to be assured that you are buying 100% extra virgin olive oil.
Use a good quality feta cheese. The kind that comes in whole blocks or wedges. Even better, purchase blocks of feta that come soaked in brine. The flavor is far superior to crumbled feta.
Use dried oregano. I know it may sound like fresh oregano would be better but the fresh herb will turn dark and dingy in this dressing.
CONNECT WITH SAVOR THE BEST!
Be sure to follow us on our social media accounts
Facebook | Twitter | Youtube | Pinterest | Instagram
If you make one of our recipes, snap a photo and tag it @savorthebest on Instagram and hashtag it #savorthebest
More Sauce Recipes:
Have you made this authentic creamy Greek dressing?
We would love to hear from you. Drop us a comment below.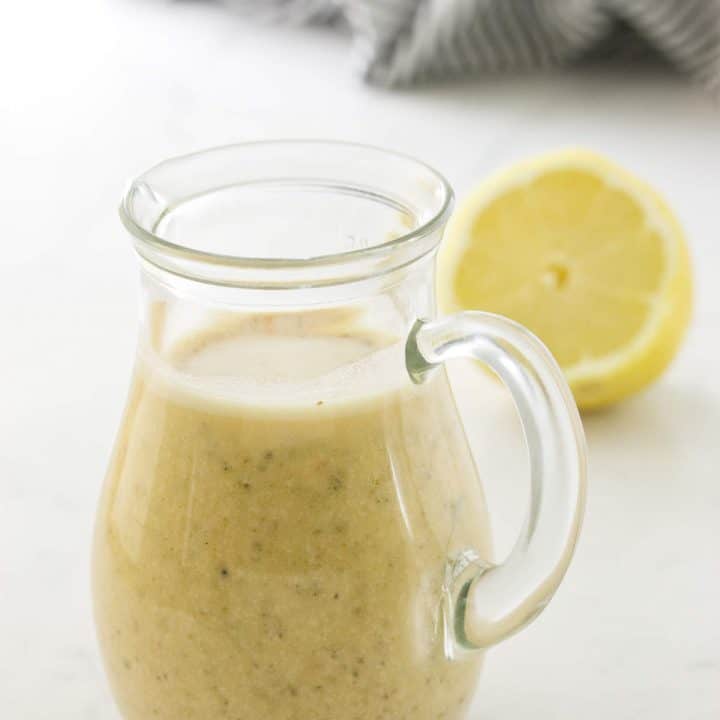 Greek Salad Dressing
Yield: 1 cup
Prep Time: 5 minutes
Cook Time: 5 minutes
Total Time: 10 minutes
Made with a few basic ingredients, Greek salad dressing combines the simple everyday flavors of fresh veggies, oil, lemon and dried oregano with a big punch of flavor from Greek feta cheese. This DIY Greek Salad Dressing is so versatile it will become your favorite.
Ingredients
1/2 cup (4 oz.) bell peppers, (red, yellow, orange)
3 ounces (80 grams) feta cheese
2 cloves of garlic
1/2 teaspoon honey
1 tablespoon red wine vinegar
4 tablespoons lemon juice
½ teaspoon salt
1 teaspoon dried Greek oregano
3/4 cup extra virgin olive oil
Instructions
Put all the ingredients in a blender or food processor and puree.
Pour this Greek salad dressing on your favorite green salad and enjoy.
Notes
To make a creamier version of this Greek salad dressing, add all the ingredients except the oil to a blender. With the blender running on high speed, slowly pour the oil into the blender until the mixture is creamy.
Recommended Products
As an Amazon Associate and member of other affiliate programs, I earn from qualifying purchases.
Nutrition Information:
Yield: 8
Serving Size: 2 tablespoons
Amount Per Serving:
Calories: 99
Total Fat: 10.6g
Saturated Fat: 2.2g
Cholesterol: 5mg
Sodium: 134mg
Carbohydrates: 0.9g
Fiber: 0.1g
Sugar: 0.2g
Protein: 0.9g