What is not to love about this Tossed Green Salad with Gorgonzola and Cranberries? The greens are crisp, the Gorgonzola is creamy and the dried cranberries bring a bright, happy color to the party. There is a crunch from toasted walnuts and the zesty onions. And topping it off is a tangy-sweet vinaigrette made with champagne vinegar and walnut oil.
A crisp salad is a great starter for any meal and depending on the ingredients it is often the meal!
Our tossed green salad with Gorgonzola and cranberries will grace your table as a start-up salad to tune up your taste buds for the main attractions.
What makes a great tossed green salad?
Ahh…it is all about fresh, fresh, fresh with the right balance of texture, flavor and color. The main ingredients in a tossed green salad are the lettuce and greens. Selecting at least three varieties in different colors and textures will go far to add interest and make a vibrant, flavor-packed salad. Here is a short list of options for some great combinations:
Bibb lettuce — Dark green baby spinach — Colorful purple radicchio.

Oak leaf lettuce —Sturdy baby romaine — Spicy arugula

Bibb lettuce — Baby spinach — Spicy watercress

Red-tipped leaf lettuce — Ruffly green-leaf lettuce — Spiky frisée
If you are using the convenient, pre-washed packaged blends be sure to check the "Use By" date stamped somewhere on the package and buy the package with the farthest out date. Try mixing the packages of salad mix with different types of whole-head lettuce and greens.
Tossed Green Salad with Gorgonzola and Cranberries:
For our tossed green salad we are combining a pre-washed bag of tender-leaf, red and green butter lettuce with a fresh sweet-tasting whole head of Little Gem lettuce. We also added the inner sprigs of a fresh head of Frisée greens. I love the fluffy, spiky frisée mixed into a salad.
Frisée is actually not a lettuce, it is a leafy green and related to the endive family that includes radicchio and Belgium endive. The mild bitter taste and frizzy texture adds flavor and interest to our salad.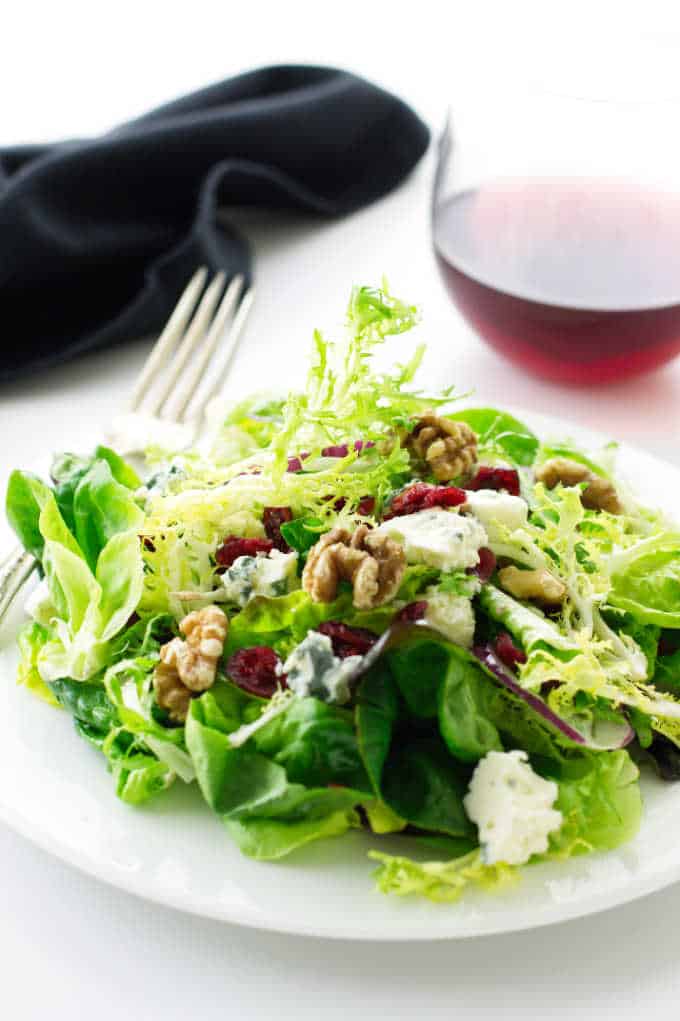 The Making of our Tossed Green Salad with Gorgonzola and Cranberries:
Step 1:
I added the contents of a package of Red and Green Butter lettuce to the salad bowl. Next, I tore a whole head of Little Gem lettuce into small pieces and added it to the bowl. I spread open a large head of Frisée and pulled out about two cups of the spiky, yellow-green center from the head and added them to the bow.
Step 2:
The tip of a paring knife was used to break up the chunk of Gorgonzola into crumbles and scattered them over the greens. You can buy pre-crumbled Gorgonzola but for the best texture and flavor, go for a moist chunk and crumble it yourself.
Next, I added the sweet, red dried cranberries, the slices of onion and the toasted walnuts. If you are not a walnut lover they can be substituted with another type of nut. In that case, you may want to choose another oil that will complement the nuts.
The Champagne Vinaigrette:
Champagne vinegar is not made from champagne, rather, it is a mild-tasting, slightly dry white wine vinegar that happens to be made from the same grapes as champagne — Chardonnay or Pinot Noir grapes.
Champagne vinegar is a crisp, mild-flavored vinegar made from white grapes. This vinaigrette is tangy and well balanced with a bit of honey. The combination pairs well with our tossed green salad with gorgonzola and cranberries.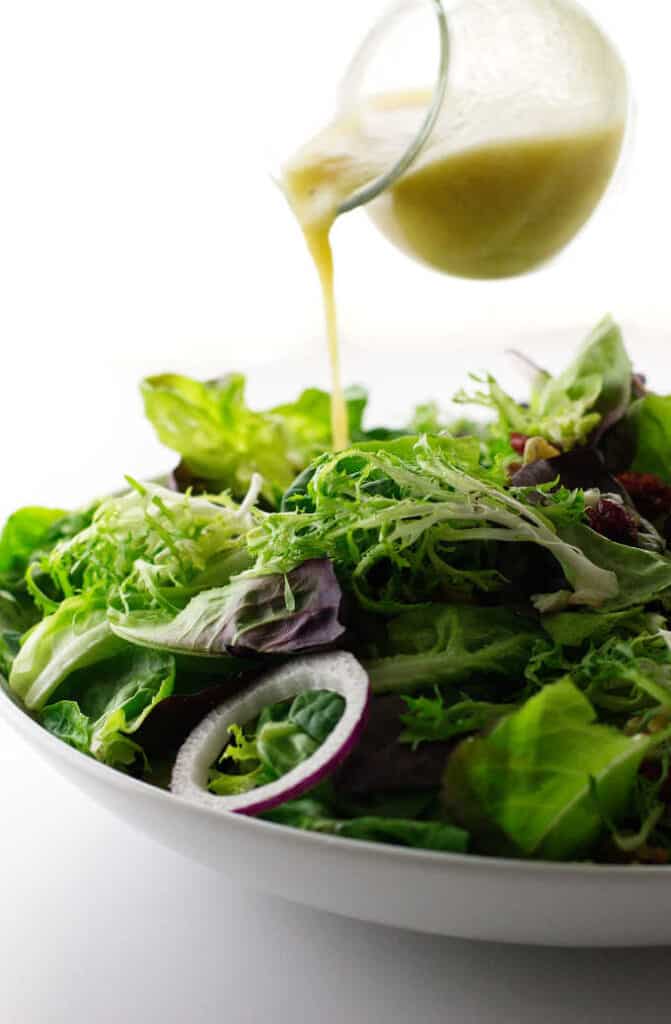 The easiest and fastest way to make this zesty vinaigrette is simply to add the garlic, mustard, salt, pepper, honey, and vinegar to a jar and shake it up. You can pour as much as you want onto the salad and store any unused portion in the same jar.
Another option is to whisk it together in a dish, then transfer to a pretty pitcher. In that option whisk everything together except the walnut oil, then slowly whisk in the oil until the vinaigrette emulsifies. Any unused portion of the vinaigrette will keep for 1 week in a lidded container and stored in the refrigerator.
More Recipes You will Love:
Cranberry-Pecan Garden Salad: This salad is a festive start to any dinner. Sweet cranberries, toasted pecans, and blue cheese crumbles get tossed with a lemon poppyseed dressing.
Butter Lettuce, Strawberries and Cocoa Nibs: Tender butter lettuce and sweet strawberries go well with the slightly bitter, chocolate flavor of cocoa nibs.
Connect With Savor the Best:
Please follow us on our social media accounts
Facebook * Instagram * Pinterest * Youtube * Twitter
Did you make this recipe? We would love to hear from you. Drop us a comment below.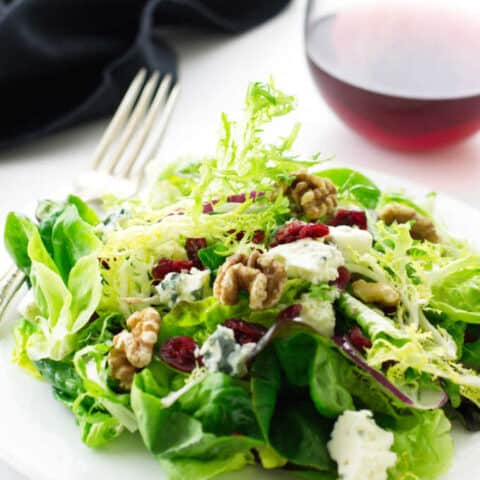 Tossed Green Salad with Gorgonzola and Cranberries
A fresh crisp salad of lettuce, greens, sweet dried cranberries, walnuts and creamy Gorgonzola cheese. The salad is tossed with a champagne vinaigrette made with champagne vinegar, walnut oil and honey.
Ingredients
For the Salad:
5-oz. package Red and Green Butter lettuce
7-oz. head of Little Gem lettuce, torn in small pieces
2 cups Frisée greens, torn from the center of the head
1/2 medium red onion, thinly sliced
8 ounces dried cranberries
1 cup toasted walnut halves
5 ounces Gorgonzola cheese
For the Champagne Vinaigrette:
2 cloves garlic, grated
2 tablespoons Dijon mustard
1/4 teaspoon sea salt
Pinch of freshly ground white or black pepper
2 tablespoons honey
1/4 cup Champagne vinegar
1/2 cup walnut oil
Instructions
For the Salad:
Place the lettuce and Frisée greens in a large shallow salad bowl add the onion slices dried cranberries and walnuts. Using the tip of a small paring knife, break the chunk of Gorgonzola into small pieces and add to the salad.
For the Champagne Vinaigrette:
Add the garlic, mustard, salt, pepper, honey and vinegar to a small dish, pitcher or jelly gar and whisk together to combine.
Slowly whisk in the walnut oil until the vinaigrette emulsifies. This vinaigrette will keep refrigerated for 1 week stored in a lidded container.
To Serve:
When ready to serve the salad, drizzle with 1/3 of the vinaigrette and toss to combine.
Notes
Check the bulk foods section for the freshest dried cranberries.
Organic dried cranberries will have the brightest color.
Walnut oil is a specialty oil sold in small containers and is on the pricy side. Any unused portion should be refrigerated after opening.
If walnut oil is unavailable substitute with a mild, light oil such as avocado or grapeseed oil.
Nutrition Information:
Yield:

8
Serving Size:

1
Amount Per Serving:
Calories:

304
Total Fat:

19g
Saturated Fat:

5g
Trans Fat:

0g
Unsaturated Fat:

14g
Cholesterol:

13mg
Sodium:

311mg
Carbohydrates:

30g
Fiber:

5g
Sugar:

22g
Protein:

7g
Nutrition information is a guideline only, is calculated automatically by third-party software, and absolute accuracy is not guaranteed.