This colorful, crisp, Cranberry-Pecan Garden Salad will be a great starter to a festive holiday dinner that will be loaded with rich foods. Our Cranberry-Pecan Garden Salad is made with vibrant greens, dried cranberries, roasted pecans and blue cheese crumbles.
Not only will this light, crisp salad brighten the table, but it is easy to put together. This salad is a crisp mix of peppery arugula and mildly bitter frisée greens that compliment each other. The greens are combined with sweet dried cranberries, pecans, spicy red onion slices and blue cheese crumbles. Just before serving, everything is tossed together with our savory make-ahead creamy lemon poppy seed dressing.
I love the fluffy, crisp frisée that is mixed with the arugula in this salad! The tender frizzy spikes adds interest and character to the salad greens. And, when combined with the peppery flavor of arugula and the sweet-savory of the dressing, you have a fantastic-tasting salad.
You will often find pieces of Frisée included in the clear packaged tubs of spring salad mix. I always peek through the outside of the container searching for it. It isn't always there.
What is Frisée
Frisée is among the endive family of leafy green vegetables. All have some degree of bitterness from mild to strong and can be cooked or enjoyed raw such as in salads. We see them in the produce listed as:
Chicory
Belgian Endive
Radicchio
Curly Endive
Frisée is a short-season greens but is available now in the produce section. It is also known as curly endive. Additionally, frisée is great as a blending lettuce as in this salad. If it is not available when I want it, my next option is radicchio which adds color and taste to any salad.
Both frisée and radicchio have a mild bitterness to them but it makes a great balance to the sweet cranberries and crunchy roasted pecans in our Cranberry-Pecan Garden Salad. Check out our Salad Lyonnaise recipe for another real salad treat using frisée greens.
Frisée is a petite, pale curly endive with frizzy, yellow-green leaves.
A note on the lemon poppy seed dressing:
Those tiny, black poppy seeds do come from that beautiful ornamental poppy plant that you see growing in gardens. Poppies are also the source of the infamous illegal drug. However, the poppy seed is one of the products from the poppy plant that is legal to produce and safe to consume. Poppy seeds are a favorite ingredient in the culinary world and you will find them in:
Muffins
Breads
Cakes
Puddings
Sauces
Salad Dressings
The dressing for the Cranberry-Pecan Garden Salad:
Our creamy lemon poppy seed dressing is fantastic on any salad with fruit in it. This dressing is easy to make in either a blender or whisked together in a dish. Adding the oil while blending or whisking the ingredients together causes the emulsifying process, resulting in the creaminess. Stir the poppy seed in by hand at the finish.
The poppy seeds add a delightful crunch to this dressing. I have yet to taste a comparable commercial salad dressing that is an equal to this tangy, creamy, homemade salad dressing.
Putting it all together: Cranberry-Pecan Garden Salad
When it comes to big family dinners, I know first hand how crazy-wild the kitchen becomes just before serving time. It all begins with slicing the turkey, dishing the mashed potatoes, stuffing, gravy, and all those tantalizing, wonderfully prepared accompaniments. Adding to the bedlam is getting everyone organized where to sit and pouring the wine.
For this very reason, the salad and the dressing are prepared in advance and refrigerated. Remove the salad and dressing from the fridge a few moments before the craziness begins, drizzle the dressing on top and toss it to combine. WooHoo!
Every year I am so amazed at how much planning, time and organizing it takes to have these wonderful celebrations and then in thirty minutes, it's over! It is so worth it though to be together with family and friends building memories and good times!
More Salad Options: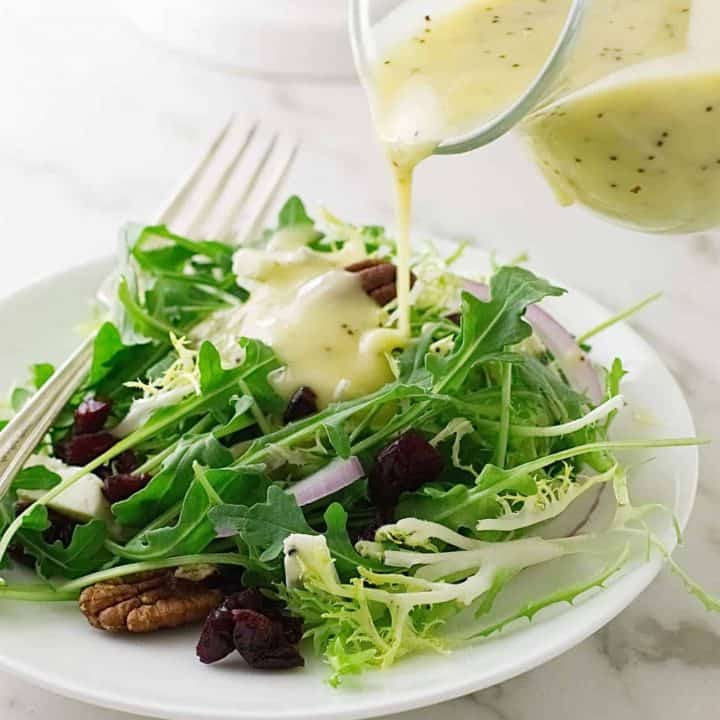 Cranberry-Pecan Garden Salad
Yield: 8 servings
Prep Time: 10 minutes
Total Time: 10 minutes
This colorful, crisp, Cranberry-Pecan Garden Salad will be a great starter to a festive holiday dinner. Vibrant greens, dried cranberries, red onion slices, roasted pecans and blue cheese crumbles. This wonderful salad is tossed with a creamy lemon poppyseed dressing.
Ingredients
For the Salad
1 head frisée, about 3 ounces (see notes)
5 ounces arugula
1/2 medium red onion, thinly sliced
1 cup dried cranberries
1/2 cup roasted pecan halves
4 ounces blue cheese, crumbled (1 cup)
Lemon-Poppy Seed Salad Dressing
2 cloves garlic, minced
2 tablespoons Dijon mustard
2 tablespoons honey
1/4 teaspoon sea salt
1/2 cup fresh lemon juice
1 cup avocado oil or olive oil
1 teaspoon black poppy seeds
Instructions
For the Salad:
To a large salad bowl, separate and add the frizzy yellow-green leaves starting at the center and work toward the edges, removing the leaves from the base pulling out as much as desired.
Add the arugula, sliced onion, dried cranberries, pecans and blue cheese crumbles.
Cover the salad bowl with plastic film and refrigerate until serving time.
To Make the Lemon Honey-Mustard with Chia seeds Salad Dressing:
In a mini-blender or regular blender add the garlic, mustard, honey salt and lemon juice. Process until well blended. While the blender is running, slowly add the oil and process until thick and creamy.
Transfer to a small pitcher or jar and whisk in the poppy seeds. Cover with plastic film or jar lid if using, and refrigerate until ready to serve.
To serve:
Transfer both the salad bowl and the dressing from the refrigerator, remove the plastic film and drizzle just enough of the dressing over the salad to lightly coat when tossed.
Refrigerate the remaining dressing.
Notes
Salad greens can be substituted with:
spring salad mix
fresh spinach
watercress
mâche
romaine
butterhead lettuce
baby kale
The nutritional value for the salad do not include the values for the creamy lemon poppy seed dressing. Assuming 1/2 cup of the dressing will be sufficient the values per serving are: Cals., 82, Fat 8.7, Sod. 35mg, Carb. 1.8g, Sugar 1.6 Pro. 0.2
Nutrition Information:
Yield: 8
Serving Size: 1
Amount Per Serving:
Calories: 165
Total Fat: 14g
Saturated Fat: 3g
Cholesterol: 11mg
Sodium: 244mg
Carbohydrates: 5g
Fiber: 2g
Sugar: 1g
Protein: 5g
Have you made this recipe? We would love to see a picture. Tag us on Instagram!