Among the many kinds of cheese found in Greece the traditional sheep's milk, feta cheese, is a staple. This snowy-white, salty Greek feta cheese is the base for our Feta Cream Salad Dressing and Dip
We love this thick, creamy mixture that is so versatile. Initially, we created this as a salad dressing but it was so delicious we have expanded it's application abilities.
What is feta cheese?
Greece's traditional feta cheese is made with sheep's milk, goat's milk or a combination of the two, although it can also be made from cows' milk.
Greek feta cheese is a regional product and will differ in firmness, flavor, and texture within the regions. Feta is usually sold in blocks or containers of crumbles. The firm texture is creamy with a salty, tangy taste. Actually, the salty taste is derived from the salt brine solution and the texture will become drier and more dense the longer it is left to brine.
Feta cheese is nearly always included in a Mediterranean mezze platter. Meze is what we Americans would call appetizers, however, as I understand the Mediterranean's also serve meze as an entire meal.
How to make the Feta Cream Salad Dressing and Dip:
This is so easy! You just add all of the ingredients to a food processor and pulse/process until smooth. The consistency can be adjusted according to what you plan to use it for. There are so many uses for this feta cream salad dressing and dip it defies imagination. Here are some suggestions:
Salad dressing
Dip for vegetables and pita bread
Slathered on as the base of a pizza
Spread on toast as a bruschetta
Mixed with cooked vegetables
Stirred into pasta
Use in place of mayonnaise for sandwiches
Have you ever tried the art of cheesemaking?
Making feta cheese is not a difficult task. A few years ago, Dahn and I took a cheesemaking class and spent the day learning some basics of this old-time craft. We enjoyed a fun experience on a goat and sheep farm near us on the Olympic Peninsula. We both brought home our own homemade DIY product of tangy feta cheese. The creamy cheese was made with a combination of sheep and goat milk.
You can learn how to make feta cheese yourself. Check the local community resources in your area as they may offer classes on cheesemaking. There are numerous books available in bookstores and online that will teach you how to craft this art right in your kitchen. It isn't necessary to limit the milk from just sheep or goats as cow's milk can also be used. Here is a link to a feta cheese making kit that would be fun and economical.
A cheese making kit or hands-on class would also be a great gift idea. 🙂
Check out these Mediterranean appetizers:
Have you made this feta cream salad dressing? We would love to hear from you. Drop us a comment below or tag us on Instagram.
Like us on Facebook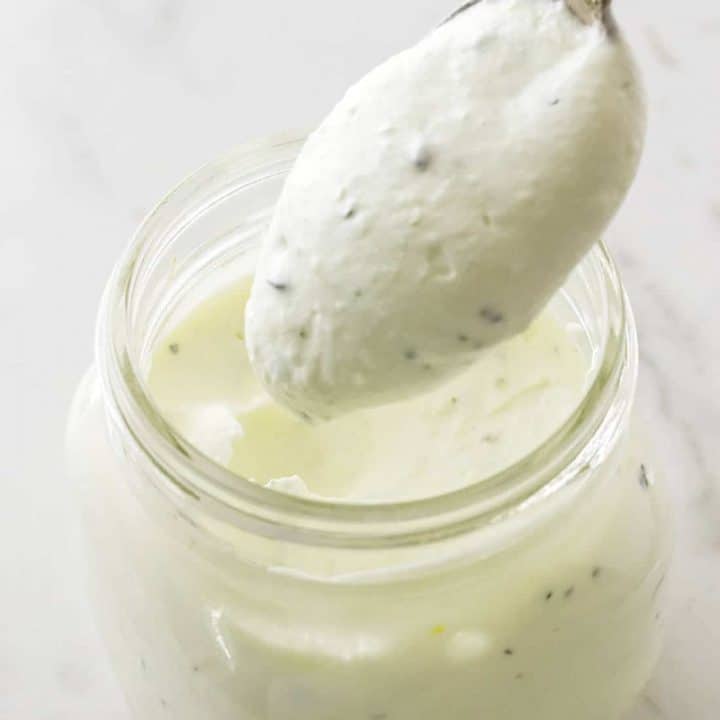 Feta Cream Salad Dressing and Dip
Yield: 24 tablespoons
Prep Time: 10 minutes
Total Time: 10 minutes
Salty, creamy feta cheese is the base for our Feta Cream Salad Dressing and Dip. This tangy mixture is versatile and not limited to salads and dips. Be forewarned... it is addictive!
Ingredients
8 oz. feta cheese, crumbled
4 oz. cream cheese
1/4 cup sour cream
2 tablespoons lemon juice
1 clove garlic, grated
zest of 1/2 lemon
1 tablespoon fresh thyme leaves (optional)
Instructions
Add the ingredients to a food processor and process until smooth.
This will be a thick mixture that can be thinned to desired consistency by adding additional sour cream or milk to serve as desired.
Nutrition Information:
Yield: 24
Serving Size: 1
Amount Per Serving:
Calories: 47
Total Fat: 4g
Saturated Fat: 3g
Trans Fat: 0g
Unsaturated Fat: 1g
Cholesterol: 15mg
Sodium: 103mg
Carbohydrates: 1g
Fiber: 0g
Sugar: 1g
Protein: 2g
Nutrition information is a guideline only, is calculated automatically by third party software, and absolute accuracy is not guaranteed.