Our Little Gem Caesar Salad is a fresh spin on a classic Caesar that is perfect for individual servings. Crisp heads of Little Gem lettuce are sliced in half, drizzled with our Caesar salad dressing, and topped with shaved Parmesan and crunchy croutons.
Everyone loves a good Caesar salad and these mini, personal-sized salads make a lovely presentation and are perfect for any special occasion dinner! Even better, they're so simple to prepare.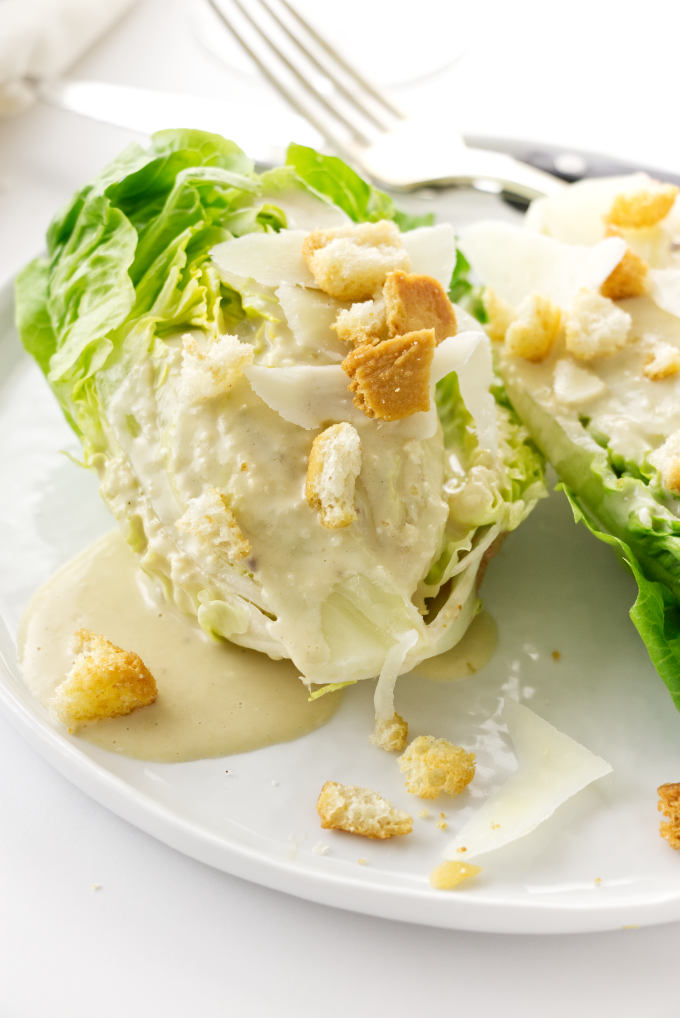 Fresh, flavorful, and ready in 10 minutes, there's really no reason not to make this Little Gem Caesar Salad! Whether you're preparing a quick dinner and want to top this with chicken, or you have a few guests to serve, this salad is a winner in every way.
Why This Recipe Works
Our Little Gem Caesar salad is:
easy to make
ready in 10 minutes
simple, with only 5 ingredients
a fun twist on a classic Caesar with all the same delicious flavors
Crisp Little Gem lettuce heads are cut in half and make the perfect vessel for Caesar salad goodness. They're the ideal size for individual salads (similar to a classic wedge salad).
Top it with our creamy homemade Caesar salad dressing, Parmesan, and croutons for one easy, tasty side salad!
The Ingredients
To make this easy Little Gem salad, you will only need five ingredients!
Here's the full ingredient list:
Little Gem lettuce (our recipe requires four heads)
Caesar Salad dressing, either homemade Caesar dressing or your favorite store-bought kind
Parmesan cheese
croutons, lightly crushed
freshly-ground salt and pepper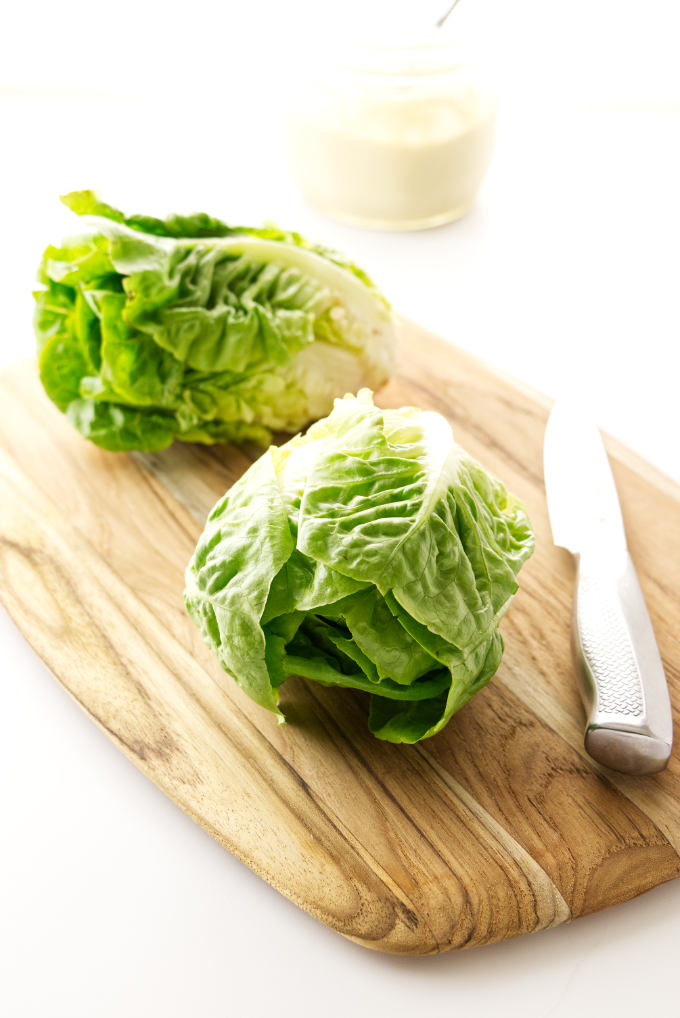 How to Make Little Gem Caesar Salad
Say hello to the most simple salad, possibly ever! Making these Little Gem salads is a breeze, which is another reason why we love this easy recipe.
If you're using homemade Caesar Salad Dressing, you can certainly prepare it in advance. Same with homemade croutons. Or go the store-bought route to speed up the process altogether.
Here's how to make them, please scroll down to the printable recipe card for all the details:
Rinse and cut the lettuce. Slice each head in half and place two halves on each of four salad plates. (We like to chill the plates ahead of time.)
Top and serve. Spoon a couple of tablespoons of Caesar salad dressing onto each serving. Add the shaved Parmesan cheese and a few croutons to each. Serve and enjoy!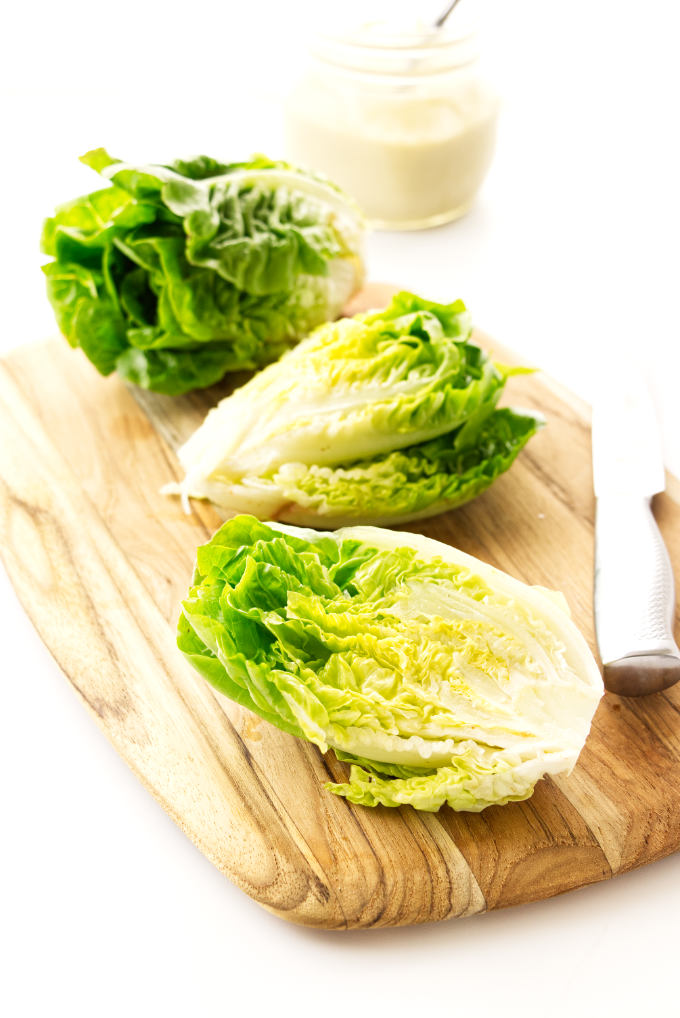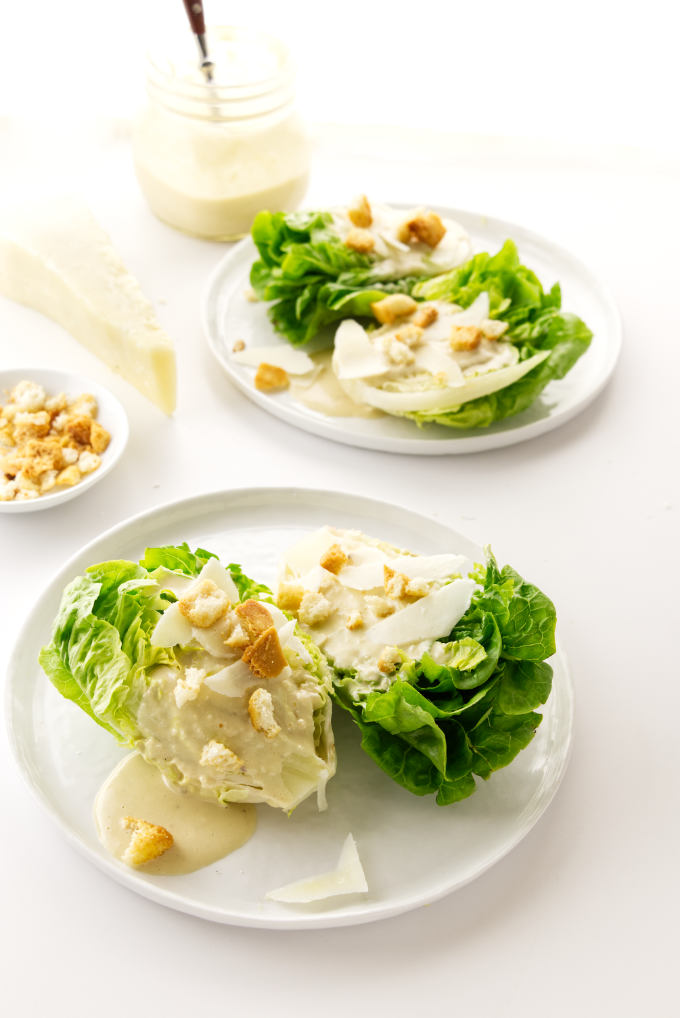 Tips and Frequently Asked Questions
Make sure to drain water from the rinsed lettuce heads. The easiest way to do this is to tip them upside-down in a soup bowl lined with a thick layer of paper towels. Let the lettuce drain for 5 minutes.

Smaller croutons work best in this salad. You can lightly crunch them up by placing them in a sandwich bag and hitting them with a rolling pin or can of vegetables.

Our Caesar salad dressing is delicious and homemade, but doesn't take a lot of time. It's a quick, five-minute dressing recipe that you can make in the blender or with a stick blender.

How do you cut Little Gem lettuce for salad? Simply slice the small individually sized heads of lettuce in half.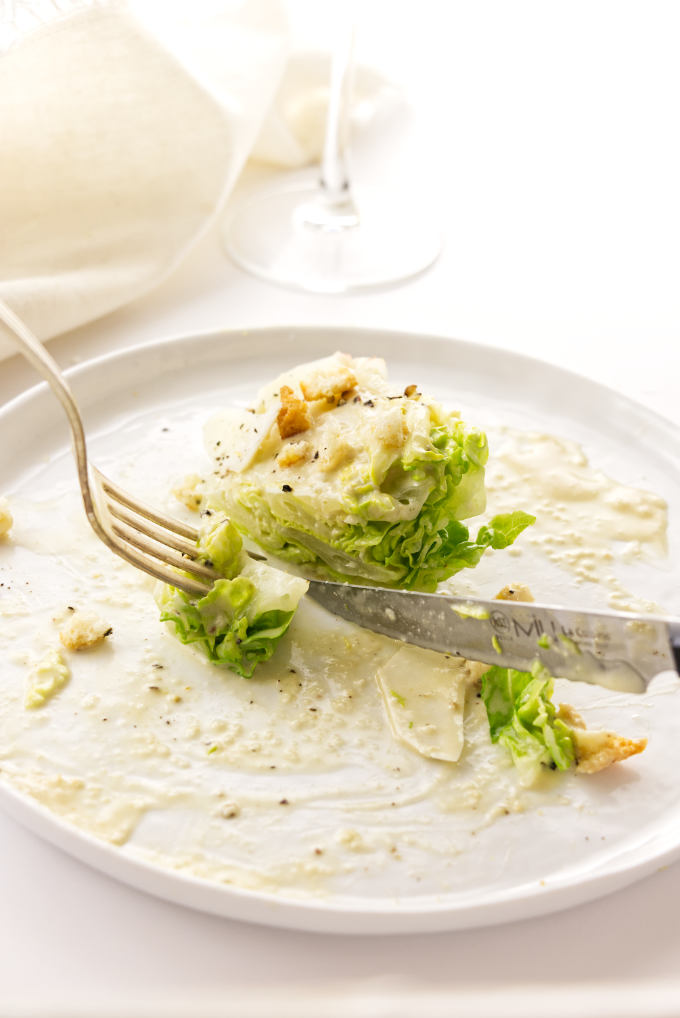 This Little Gem Caesar Salad is fresh, simple and full of flavor! We put a new spin on classic Caesar salad by using miniature Romaine lettuce, and we know it's one you'll enjoy.
Some Other Recipes We Are Sure You Will Love:
This Salmon Caesar Salad consists of crisp romaine lettuce and crunchy handmade sourdough croutons that get combined with chilled morsels of grilled salmon. We dressed the salad with a homemade Caesar salad dressing and topped it with big shards of Parmesan cheese.
Our Sugar Snap Pea Salad has an addictive crunch from sweet sugar snap peas, crisp Little Gem lettuce, and smashed croutons, while the fresh mint leaves and chives offer a ton of flavor.
Our Roasted Squash and Beets Salad is bursting at the seams with flavor! Additional texture and flavor are provided by fat slices of delicious fresh grapefruit, chunks of soft, creamy blue cheese, and chopped Pistachio nuts. This delicious salad only requires a simple drizzle of olive oil and balsamic vinegar.
Toasted sourdough bread, tender chicken, crisp lettuce, and creamy Caesar dressing come together to make a filling and delicious chicken Caesar sandwich.
Connect With Savor the Best:
Please follow us on our social media accounts
Facebook * Instagram * Pinterest * Youtube * Twitter
Did you make this recipe? We would love to hear from you. Drop us a comment below.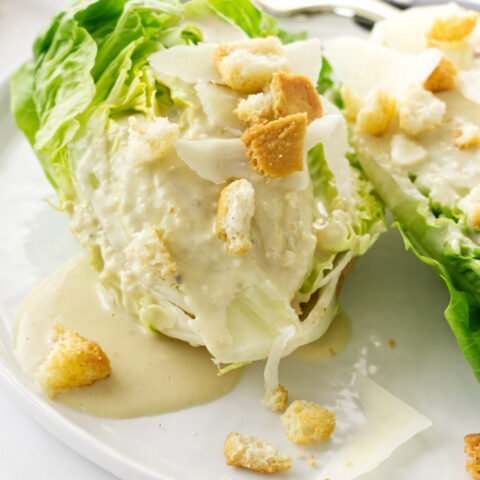 Little Gem Caesar Salad
Crisp heads of Little Gem lettuce are the perfect size for individual servings. They make a lovely presentation when sliced in half and drizzled with our easy Caesar salad dressing, shards of Parmesan cheese and crushed, crunchy croutons.
Ingredients
4 heads of Little Gem lettuce
1 cup Caesar Salad Dressing
4 ounces Parmesan cheese
1 cup croutons, lightly crushed
Fresh grindings of salt and pepper
Instructions
Rinse the Little Gem lettuce heads under cold tap water, drain and pat dry with a paper towel. Slice each head in half and place two halves on each of 4 chilled salad plates.
Spoon 2 tablespoons of Caesar Salad Dressing onto each serving, add shards of Parmesan cheese and 2 tablespoons of croutons to each serving.
Notes
To drain the water from the rinsed lettuce heads of lettuce, tip them upside-down in a soup bowl lined with a thick pad of paper towels and let drain for 5 minutes.
Smaller croutons work better in this salad than the large chunks of croutons. To lightly crunch, add to a sandwich bag and whack with a rolling pin or can of tomatoes.
The Caesar salad dressing is a quick 5-minutes in a blender or jar with the stick blender.