These homemade garlic croutons are pretty much a little life hack we're letting you in on. Is your salad missing something? Perhaps your soup needs a topping but you just can't put your finger on what. The answer is always croutons. 😉 Garlic croutons, to be exact. They're so simple to make and far exceed the tastiness of any store-bought crouton you've ever purchased. These homemade garlic croutons are crisp and full of garlic flavor. You can use them in salads, soups, or as yummy, crunchy, garlic-y snack bites!
For really gourmet croutons, it's all about the type of bread you use. We love the flavor of sourdough, especially when the bread cubes are tossed and toasted in our Garlic Butter Sauce. By the way, have you tried that sauce? It's the perfect dipping sauce for EVERYTHING. And if you have a batch already made, this whole crouton-making thing just got a whole lot easier!
How do you make croutons?
Croutons are really, really easy. So easy, in fact, that I remember being in home-economics class (anyone remember those?) in eighth grade and homemade croutons were our first cooking assignment (although they weren't even close to tasting as good as these!). This recipe for homemade garlic croutons is also budget-friendly! I guarantee, store-bought will never hold up after you've tried these. Here's how it's done:
Preheat the oven to 350°F and line two baking sheets with parchment paper.
In a small pan over medium-low heat, pour in the olive oil. When it has heated, add the grated garlic and sauté for a minute (but be careful not to let it brown!)
Add the butter, garlic powder, salt and pepper and cook until the butter is melted, stirring occasionally.
Place the bread cubes into a large bowl, pour the garlic butter over the cubes and toss until all the cubes are evenly coated.
Spread out the buttery bread cubes – one layer- on both of the baking trays. Bake them for about 10 minutes or until they begin to color, then stir and spread them out evenly again. Bake for another 10 minutes to make them crispy and golden.
Cool the croutons completely them store them in an airtight container at room temperature.
How long do homemade croutons last?
These garlic croutons will be good for three days stored at room temperature, or toss them in an airtight plastic bag to store in the freezer for up to 3 months. You can also keep the croutons in the refrigerator but they'll lose a bit of crunchiness. To make them crunchy again, spread them out on a baking sheet and bake at 250°F for about 10 minutes.
Freezing homemade croutons.
Make sure you use a well sealed freezer-proof container or freezer bag if you want to store these in the freezer. If they are sealed well then they will stay fresh much longer. If they pick up moisture while they thaw then stick them back in the oven for a while.
Things to do with croutons.
Croutons aren't just for salads. We love these crunchy little nibbles in other ways as well.
Just look at that crispy, toasted, sourdough goodness! Garlic croutons add the perfect finishing touch to salads and soups- big garlic flavor and a crunchy texture that will bring your meal up a notch!
SOME OTHER RECIPES WE ARE SURE YOU WILL LOVE:
Garlic Bread: Crunchy Garlic Bread! Full of garlic-y flavor and hot from the oven! This classic garlic bread is so simple to make, just 3-ingredients, bread, garlic and butter.

Creamy Potato Leek Soup with Chive Blossoms:

The delicate flavor of leek is a perfect match for potatoes in this Creamy Potato Leek Soup. We garnished the soup with crisp homemade garlic croutons, chopped chives and chive blossoms.

Herbed Olive Oil Dip: A quick and impressive Herbed Olive Oil Dip made with fresh herbs, garlic and seasoning. Serve with crusty Italian or focaccia bread as dippers.
CONNECT WITH SAVOR THE BEST!
Be sure to follow us on our social media accounts
Facebook * Instagram * Pinterest * Twitter * Youtube
Did you make this recipe? We would love to hear from you. Drop us a comment below.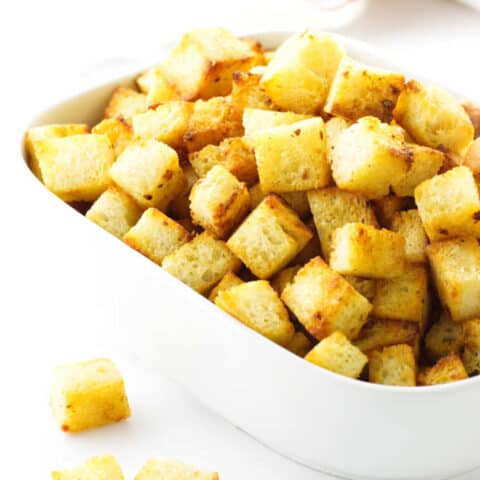 Homemade Garlic Croutons
Yield: 36 Servings @ 1/4 cup p/serving
Prep Time: 10 minutes
Cook Time: 20 minutes
Total Time: 30 minutes
These crisp, crunchy homemade garlic croutons are chock-full of garlic flavor. They are perfect in a Caesar salad, or on top of a bowl of soup. These are better than any store bought croutons and easy to prepare.
Ingredients
1/4 cup olive oil
1/2 cup unsalted butter
2-3 tablespoons fresh garlic, grated or crushed
2 teaspoons garlic powder
1/2 teaspoon salt
1/4 teaspoon white or black pepper
1 large 16 oz. loaf of Sourdough bread, cut into 1/2-inch cubes
Instructions
Preheat the oven to 350°F. Line two baking sheets with parchment paper and reserve.
In a small pan set over medium-low heat, add the olive oil and when it has heated add the grated garlic. Sauté the garlic for about 1 minute. Do not let it brown.
Add the butter, garlic powder, salt and pepper and cook only until the butter is melted, stir occasionally as it melts.
Place the bread cubes into a large bowl and pour the garlic butter over them and toss well. Divide the bread cubes between the prepared baking sheets and spread evenly into one layer. Transfer the baking sheets to the oven and bake the croutons for 10 minutes until they begin to color a little then stir them with a spatula and continue baking for another 10 minutes until they are crisp and golden.
Allow the croutons to cool completely then store them at room temperature in in an airtight container.
Notes
We used our recipe of Garlic Butter Sauce for these croutons.
When returning the sheet pans to the oven after baking for the initial 10 minutes, alternate their position on the oven racks.
Store croutons at room temperature for three days or in the freezer for up to one month.
If croutons loose their crunchiness, spread them out on a baking sheet and place in a 250°F oven for about 10 minutes.

.
Nutrition Information:
Yield: 36
Serving Size: 1/4 cup
Amount Per Serving:
Calories: 73
Total Fat: 4g
Saturated Fat: 2g
Trans Fat: 0g
Unsaturated Fat: 2g
Cholesterol: 7mg
Sodium: 109mg
Carbohydrates: 7g
Fiber: 0g
Sugar: 1g
Protein: 2g
Nutrition information is a guideline only, is calculated automatically by third-party software, and absolute accuracy is not guaranteed.