Mac and Cheese, that old-fashioned favorite that never grows old! Who doesn't love that creamy casserole where every bite of the hollow macaroni is filled with a creamy, cheesy sauce?
This original Betty Crocker recipe is an easy, cheddar cheese mac and cheese. Tender pasta is covered in a velvety cheddar cheese sauce and piled into a casserole dish.
Top it off with some bread crumbs for a crunchy texture, then bake until golden brown! The result? – everything your taste buds could want from this classic comfort food.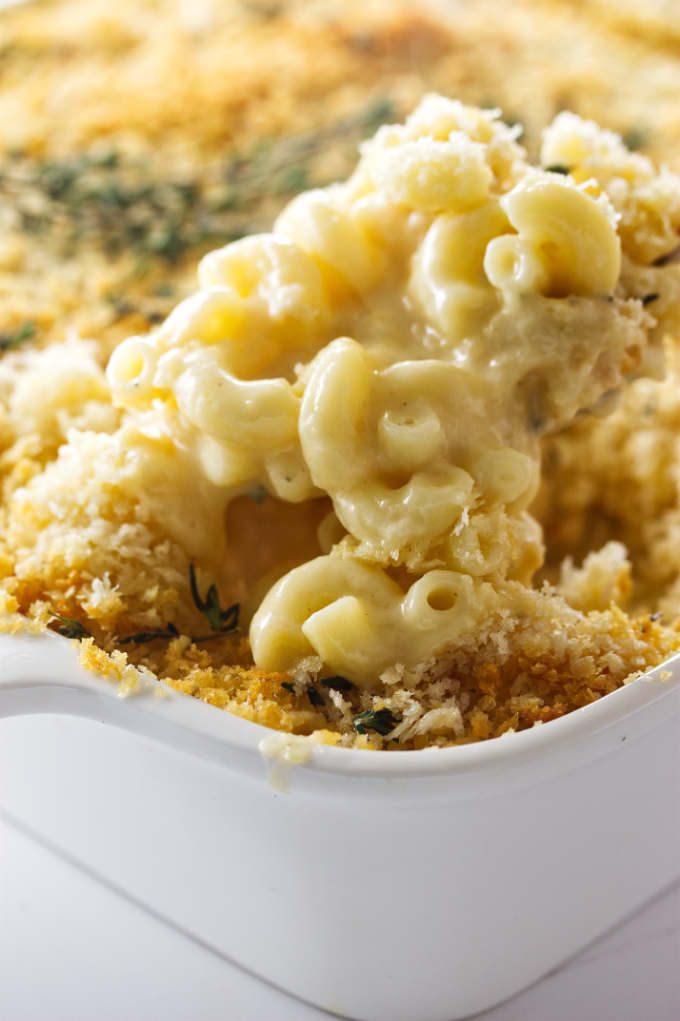 Old Fashioned Recipe From Betty Crocker:
This is an affordable and straightforward one-cheese mac and cheese. This recipe proves that you don't need to purchase several expensive kinds of cheese to make this creamy comfort food. Savory, sharp, aged cheddar cheese creates layers of flavor.
That's not to say we don't love packing in a delightful blend of cheeses in other recipes (like our seafood mac and cheese or our whole grain mac and cheese). However, this is an everyday, approachable old-school recipe.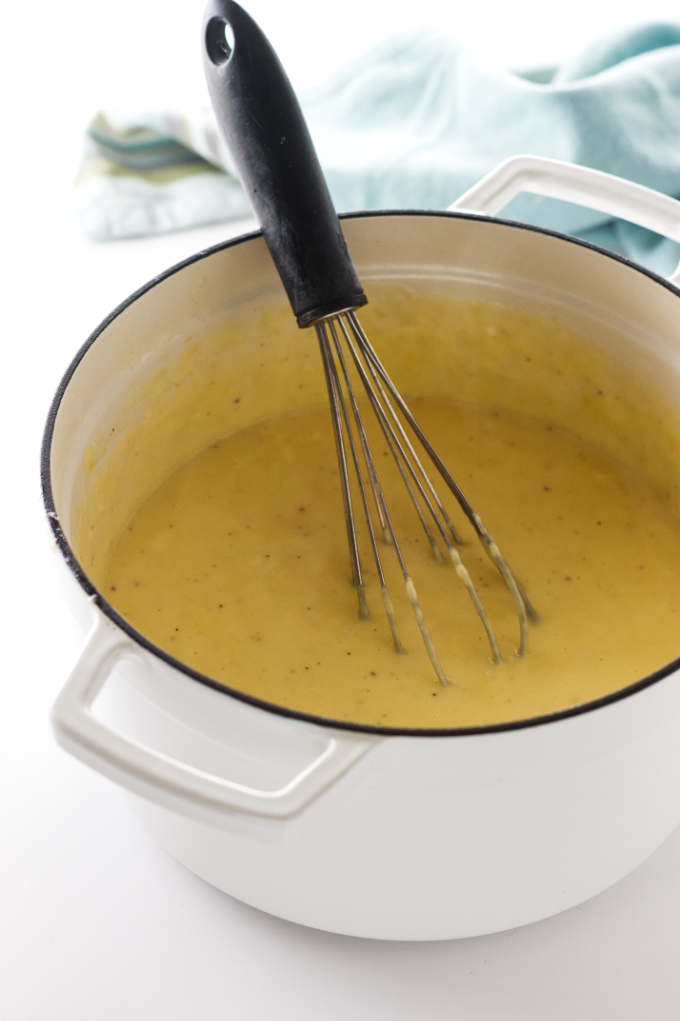 Memories of Mom's Mac and Cheese:
Growing up, my mom used that processed cheese food called Velveeta which was such a favorite back then. Velveeta cheese was 'invented' in 1918 but became popular in the 1930s and was going strong in the 1940s when I came on the scene.
Velveeta cheese was a reasonably inexpensive cheese food in those days, and it was a great meal-stretcher when added to macaroni. That was a whole different era, and a lot has changed since.
Looking back to those days, I can remember some of the other popular foods we would eat.
Are you old enough to remember how companies would package margarine?
That bag of imitation butter was packaged in a clear plastic, heavy-duty rectangular, one-pound bag. It was filled with some white stuff, which was probably Crisco.
In the center of the white stuff was a deep, dark yellowish-orange spot about the size of a quarter. There was always a squabble in our household over which one of us kids would get to mash the 'margarine' bag. When our warm hands began squeezing and mashing the bag, gradually, it all turned a pale 'butter' color and was ready to spread on our toast.
Those days are long gone but the memories live on. Times have changed, as has my cooking style which has evolved over the years. I have become a 'label/ingredient' reader with the goal of selecting healthier food.
So today, along with this stroll down memory lane, I bring you a mac and cheese casserole made with real cheddar cheese goodness. I always think of steamed broccoli and fresh sliced tomatoes or a tossed green salad being served with this easy mac and cheese dinner.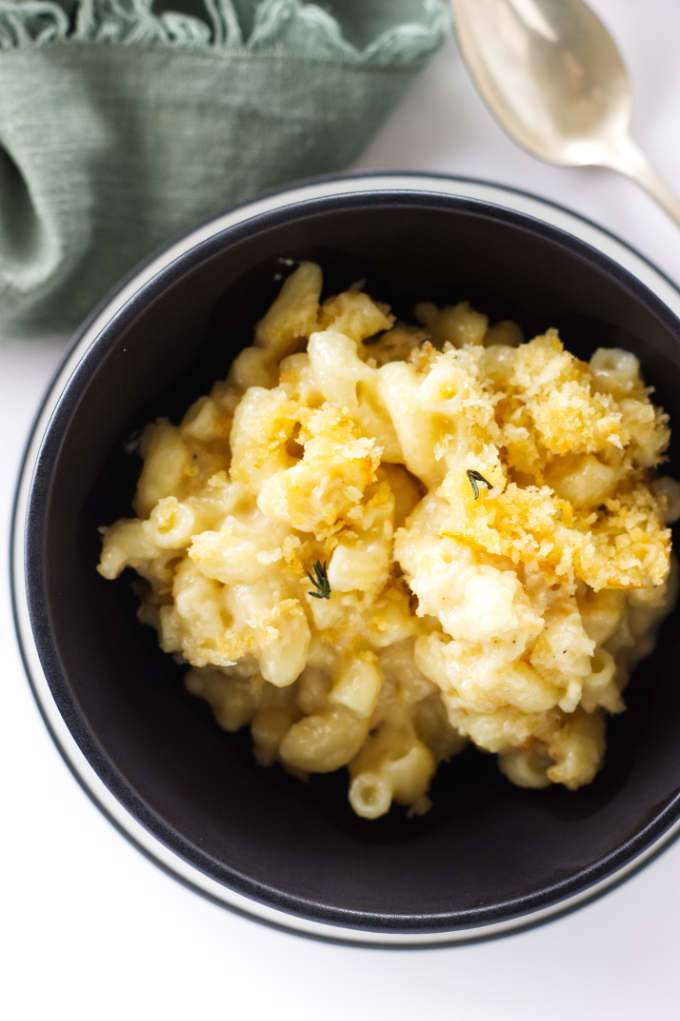 Tips for Success:
Undercook the pasta. Since the pasta will continue to cook in the oven, don't boil it quite as long as the package directs. I like to cut back on the boiling time by 3 to 4 minutes. That way the finished mac and cheese will not be mushy.
Grate your own cheese. Pre-grated cheese gets tossed with anti-clumping ingredients that prevent it from melting as smoothly. This recipe will have a better texture if you freshly grate a block of cheese.
Storing leftovers: Cover the leftovers and store them in the fridge for up to 3 days.
Reviving leftover mac and Cheese: The pasta will absorb the sauce after it sits for several hours. Return it to its creamy, saucy glory by adding milk or cream to the dish when you reheat it. Usually, 1 to 2 tablespoons per cup of mac and cheese will revive it quite nicely.
The Ingredients:
Here is the list of ingredients you will need. Make sure to scroll down to the printable recipe card for all the details.
Elbow macaroni noodles
Butter
Flour
Milk
Salt and pepper
Fresh thyme. Or you can substitute with dried thyme, oregano, or chives.
Cheddar cheese. We like using extra-sharp cheddar but you can use mild cheddar if you prefer.
Red pepper flakes
Bread crumbs.
How to Make Cheddar Mac and Cheese:
Here is a quick overview of the process. Please scroll down to the printable recipe card for all the details.
Cook the pasta.
Make the roux. The roux consists of flour and butter and it is the base for the sauce.
Whisk in the milk and seasonings. Make sure you add the milk slowly and stir constantly.
Add the Cheese. Remove the pan from the heat when you add the cheese. That way the cheese will not get too hot and break into an oily mess.
Stir in the pasta and bake. Fold in the pasta and pour the mixture into a baking dish. Top with breadcrumbs and bake.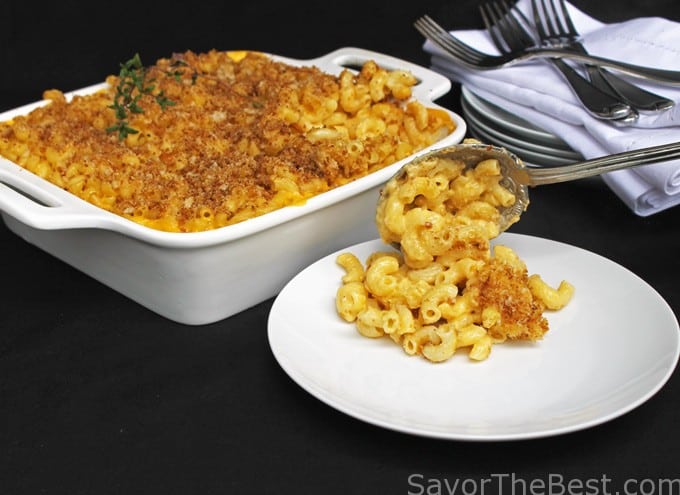 Old fashioned mac and cheese is comfort food that never goes out of style. It's creamy, cheesy, and satisfying in every way you could want–especially when it's baked with bread crumbs on top for an extra crunchy texture.
I have been using this recipe from my well-worn, 1978 Betty Crocker cookbook for so long that I have it memorized. This is a tweaked and adapted version.
More Old-time Recipes:
Our Italian-style meatball and spaghetti recipe is full of flavor from the garlicky tomato sauce and tender meatballs.
A classic beef stew, loaded with lean beef chunks, veggies, herbs, and red wine.
There are moments when nothing tastes better than an old childhood favorite. Our classic Red Beans and Ham tastes just like the one grandma made.
We've blended two of our favorite flavors, tomatoes and cheese, in a Tomato Casserole. This is such a traditional combination, yet it is so simple and so flavorful.
Dungeness crab cakes baked, not fried. The toasted Panko crumbs add a crunchy texture to the tender crab meat. This Baked Turkey Burrito Casserole is quick, healthy, and feeds a crowd.
Connect With Savor the Best:
Please follow us on our social media accounts
Facebook * Instagram * Pinterest * Youtube * Twitter
Did you make this recipe? We would love to hear from you. Drop us a comment below.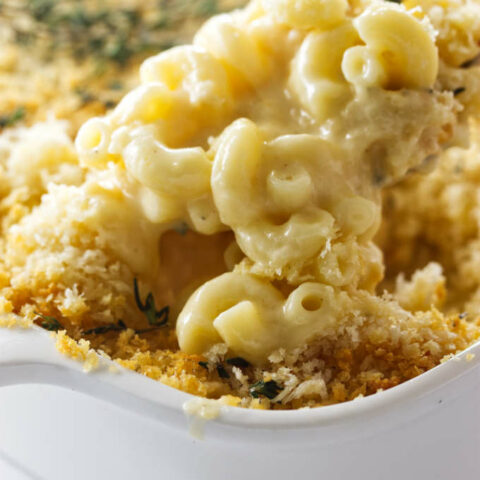 Betty Crocker Mac and Cheese
A creamy mac and cheese casserole that just oozes with warm cheese sauce. Topped with crunchy bread crumbs that are toasted to a golden brown.
Ingredients
2 cups uncooked elbow macaroni
1 stick butter (8 tablespoons)
1/4 cup all-purpose flour
2 cups milk
1/2 teaspoon salt
1/4 teaspoon freshly ground black pepper
1 teaspoon finely chopped fresh thyme
12-oz. extra sharp Cheddar cheese, shredded
1/4 teaspoon ground red pepper (optional)
1 cup bread crumbs
Thyme sprigs for garnish
Instructions
Preheat oven to 400°
Cook the macaroni according to the package instructions.
While the pasta is cooking prepare the cheese sauce: In a large saucepan, over low heat add the butter and when it has melted whisk in the flour and, stirring constantly cook until smooth and bubbly, about 3 minutes.
Whisk in the milk, salt and pepper, thyme and red pepper if using. Bring the mixture to a boil, continue cooking and whisking for another minute or two to a smooth, silky sauce.
Remove the pan from the heat and add the shredded cheese stirring until the cheese is completely melted.
Add the cooked and drained macaroni and toss with the sauce to combine well.
Transfer the mixture to a greased or sprayed 8x8 oven-proof casserole dish, sprinkle with bread crumbs and transfer to the middle rack of the oven.
Bake uncovered for 25-30 minutes or until the bread crumbs are golden brown and the sauce begins to bubble up to the top. Remove from the oven, garnish with the fresh thyme sprigs and serve.
Notes
Slightly under-cook the pasta when you boil it. The pasta will continue to cook in the oven. We usually subtract about 3 minutes of cooking time from the package directions.
Make sure you remove the pan from the heat before you add the cheese. That will prevent the cheese from over-heating and breaking into an oily mess.
Nutrition Information:
Yield:

8
Serving Size:

1
Amount Per Serving:
Calories:

423
Total Fat:

28g
Saturated Fat:

16g
Trans Fat:

1g
Unsaturated Fat:

9g
Cholesterol:

77mg
Sodium:

628mg
Carbohydrates:

26g
Fiber:

1g
Sugar:

1g
Protein:

17g
Nutrition information is a guideline only, is calculated automatically by third party software, and absolute accuracy is not guaranteed.