I have not made meatballs and spaghetti in ages and I was thinking that they would be a nice change from my usual meat sauce with spaghetti. I guess the reason I don't make them too often is that they are a little more time intensive; but today I have the time, feeling ambitious and they are so worth it! As I gathered my ingredients and began mixing and chopping my mind was going through the refrigerator hoping I had everything I need to make a caesar salad.
My little herb garden on the back deck is looking pretty sad except for the oregano and some thyme so that will go into the sauce for sure. This tomato sauce is thick and garlicky and after it has simmered with the meatballs it tastes even better. Then there is the garlic bread to sop up some of that rich sauce, mm-mmm, so good!
This recipe has been adapted from Time Life series, Foods of The World: The Cooking of Italy
Yield: 8 servings
Italian Meatballs and Spaghetti with Tomato-Garlic Sauce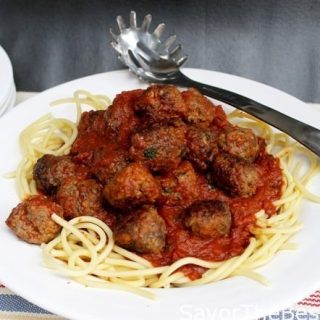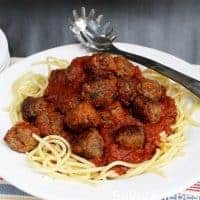 An Italian style meatball and spaghetti main course with a garlicky tomato sauce that is full of flavor.
Prep Time 30 minutes
Cook Time 1 hour 30 minutes
Total Time 2 hours
Ingredients
2 slices French or Italian bread, crusts removed and torn into small pieces
1/2 cup milk
1 egg, lightly beaten
1 pound ground beef (85-15% ratio )
1/2 pound sweet Italian sausage, not in casing
6 tablespoons freshly grated Parmesan cheese
2 tablespoons finely chopped fresh flat-leaf parsley
1 tablespoon olive oil
4 teaspoons grated or minced garlic
1 teaspoon grated lemon peel
1/4 teaspoon ground allspice
1 teaspoon ground oregano
1/2 teaspoon table salt
1/4 teaspoon freshly ground black pepper
olive oil for browning
Tomato-Garlic Sauce
Homemade Tomato-Garlic Sauce or your favorite store-bought brand
8 ounces spaghetti (I like to use Buccatini, which is thicker than spaghetti and is a lot like a long skinny tube)
Instructions
Soak the bread in the milk for 5 minutes, then squeeze out the bread and discard the milk. In a large mixing bowl, combine the soaked bread, the beaten egg, ground beef, sausage, the grated Parmesan cheese, parsley, olive oil, garlic, lemon peel, allspice, oregano, salt and the black pepper. Mix with a fork or wooden spoon until all the ingredients are blended but do not over mix or the meat will become tough.
Form the meat into balls about 2-inches in diameter. Place the meatballs on a tray or baking sheet in one layer and refrigerate for 1 to 2 hours. (In the meantime, make the sauce)
In a large heavy-bottomed skillet heat 4 tablespoons of oil over moderate heat until a light haze forms over it. Fry the meatballs in batches of 5-8 at a time shaking the skillet constantly to roll the balls and keeping them round. As each batch browns remove them from the skillet and transfer to a plate lined with paper towels to drain any excess oil off. The meatballs will be slightly underdone and will finish cooking in the simmering sauce.
For the tomato-garlic sauce and the Spaghetti:
Heat the tomato-garlic sauce (or a jar of marinara sauce) in a large saucepan over medium heat.
Transfer the meatballs to the hot sauce and continue to simmer for another 15 minutes.
In the meantime, prepare the pasta according to package instructions and when still firm (al-dente) remove from heat, drain but do not rinse, reserve half a cup of the water and add to the sauce and meatballs. Serve the meatballs and sauce immediately over the hot pasta.
Notes
You will have better tasting meatballs when using a beef with 85-15 ratio…. 85% lean and 15% fat.
The secret to these juicy, tender meatballs is the milk-soaked bread. It adds the much needed moisture to the meat blend.
The added Parmesan and fresh herbs add maximum flavor to the meatballs.
Adjust the garlic in the tomato-garlic sauce to your preference
Nutrition Information
Yield
8
Serving Size
1/8th
Amount Per Serving
Calories 501
Total Fat 24g
Saturated Fat 7g
Trans Fat 0g
Unsaturated Fat 14g
Cholesterol 87mg
Sodium 617mg
Carbohydrates 40g
Fiber 4g
Sugar 15g
Protein 28g
Nutrition information is a guideline only, is calculated automatically by third party software, and absolute accuracy is not guaranteed.