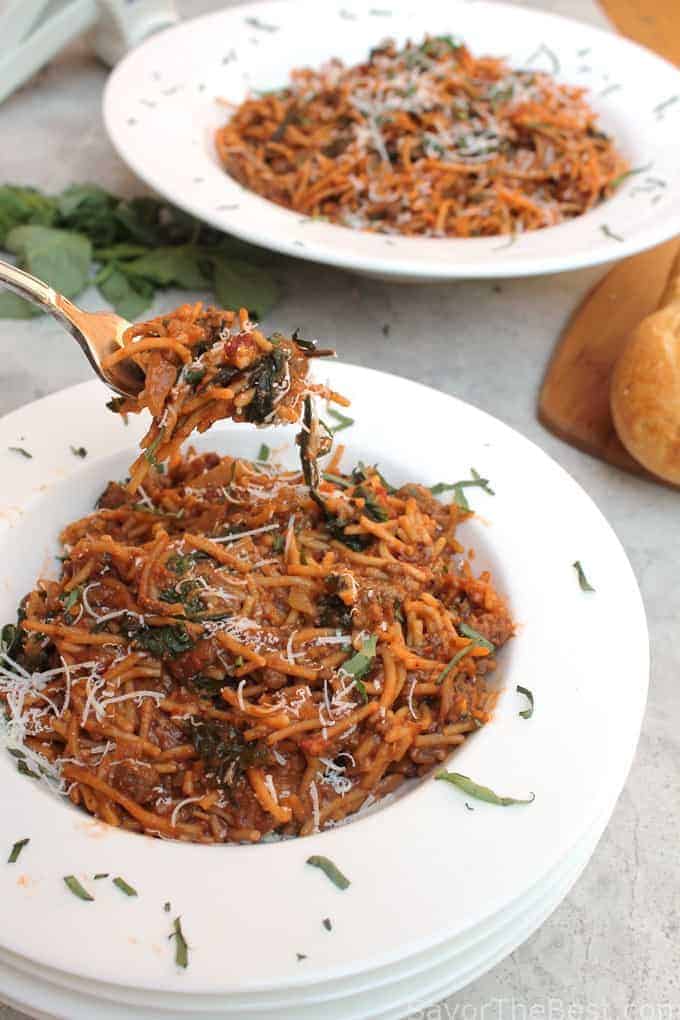 Sometimes life calls for easy, no-fuss meals that gets dinner to the table and keeps you on schedule for busy days. This one pot basil beef spaghetti just called your name. Everything is cooked in the same pot, including the uncooked noodles. There is no need to get out an extra pot to boil your pasta. No need to find a colander to drain the water. No need to get an extra skillet to cook the meat… just one pot to cook the entire dish in and one pot to clean up when you are finished. Easy peasy. This recipe calls for whole wheat spaghetti noodles which is significantly higher in fiber and nutrients than regular pasta but you can substitute regular pasta in this recipe.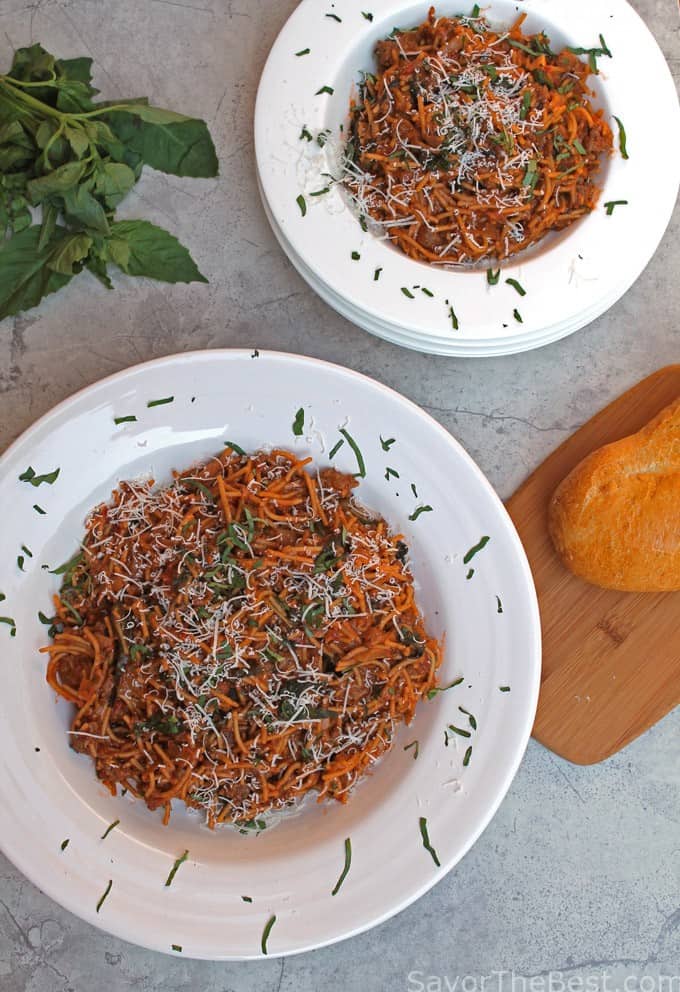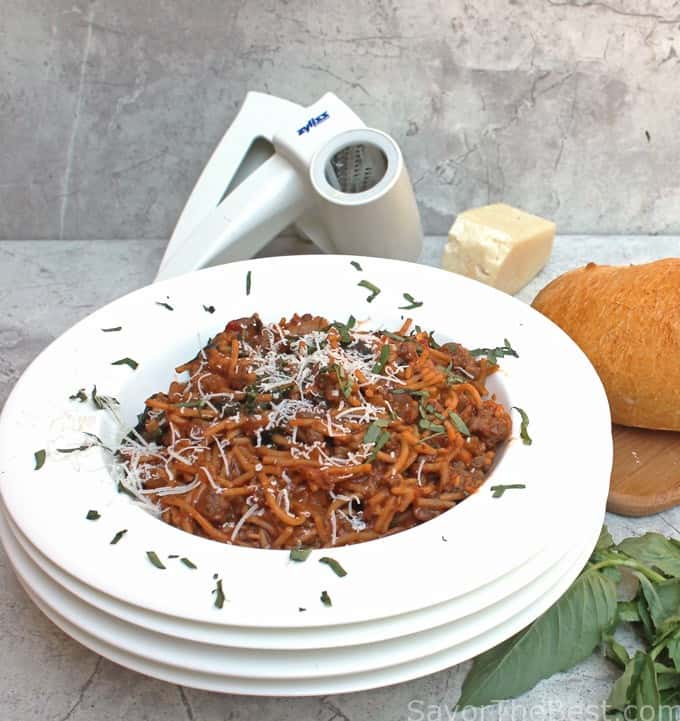 I used a wide 6 quart sauce pan for this dish. If you don't have a saucepan wide enough to submerge all of the noodles at one time then break the noodles in half so they fit. By adding the basil at the end of cooking it retains it's fragrance and flavor in the dish. I recommend using freshly grated Parmesan cheese for superior flavor. I used my Zyliss rotary cheese grater to make grating it over the pasta fast and easy.
Tips on choosing and storing fresh basil:
When choosing fresh basil make sure it is a vibrant green and free of brown spots. To keep the leaves from withering, treat it like fresh cut flowers. Trim the stems and place the stems in a glass of water. Change the water every day and your basil will last several days.
You can also freeze fresh basil. Simply place the leaves in an airtight bag and place in the freezer. The basil will loose some of it's vibrant green color but the flavor will be preserved. Alternatively you can chop the basil leaves, pack them in ice cube trays and top them off with water. Freeze the trays then transfer the frozen basil ice-cubes to an airtight container.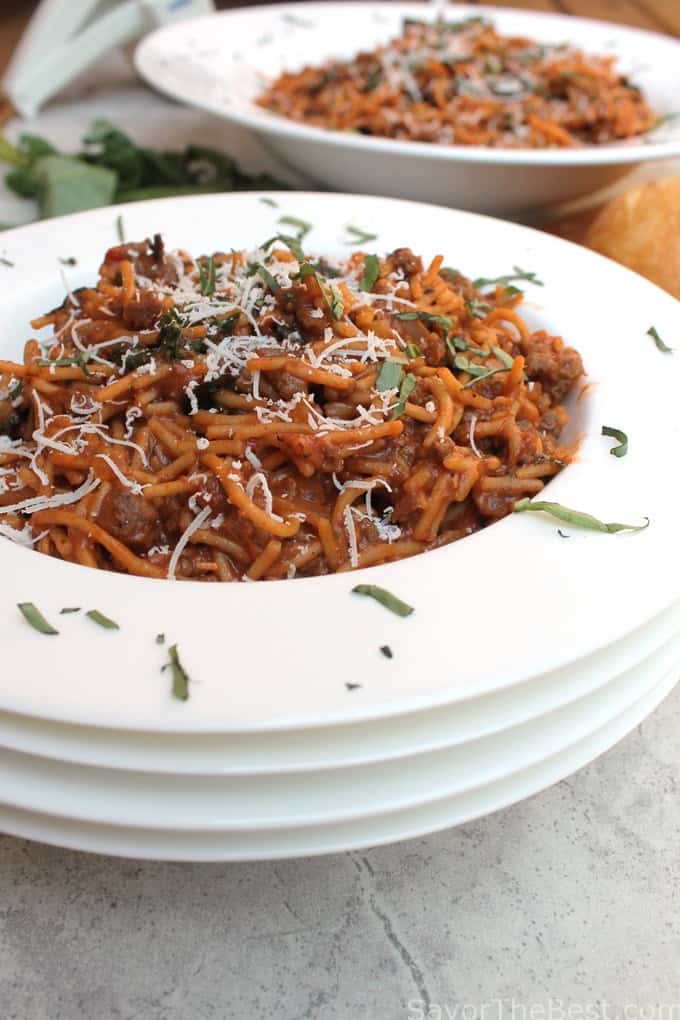 CONNECT WITH SAVOR THE BEST!
Be sure to follow us on our social media accounts
Facebook * Instagram * Pinterest * Twitter * Youtube
Did you make this recipe? We would love to hear from you. Drop us a comment below.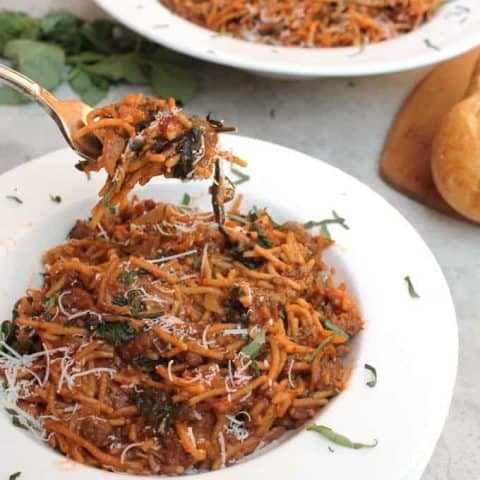 One Pot Basil Beef Spaghetti
Yield: 6 servings
Prep Time: 10 minutes
Cook Time: 20 minutes
Total Time: 30 minutes
An easy, flavorful spaghetti dish with everything cooked in the same pot, including the noodles. This dish makes cleanup a breeze.
Ingredients
1 tablespoon olive oil
1 onion, chopped
5 garlic cloves, finely chopped
1 teaspoon dried oregano
1/2 teaspoon salt
1/4 teaspoon dried crushed red pepper
8 ounces ground beef
1 (14.5-ounce) can spaghetti sauce (or homemade)
3 cups chicken stock
8 ounces whole-grain spaghetti
1/3 cup packed basil leaves
Topping
1/2 cup grated Parmesan cheese
Instructions
Heat oil in a 6 quart saucepan over medium-high heat.
Add the onion and cook 5 to 6 minutes until it starts to brown.
Add the garlic, oregano, salt and crushed red pepper then cook for 1 more minute.
Add the ground beef and cook 4 to 5 minutes, stirring occasionally to break the meat up
Add the spaghetti sauce, chicken stock, and spaghetti noodles. Push the noodles into the liquid. Bring to a boil.
Reduce the heat to medium. Cook, stirring occasionally to keep the noodles from clumping and sticking to the bottom of the pan. Cook for 8 to 9 minutes or until the pasta is almost done.
Stir in the basil leaves.
Remove from heat and let stand for 5 minutes.
Sprinkle with grated Parmesan cheese
Nutrition Information:
Yield: 6
Serving Size: 1
Amount Per Serving:
Calories: 296
Total Fat: 6.5g
Carbohydrates: 37g
Protein: 19g