Our Beef and Sausage Meatballs are so tender and flavorful, you'll love everything about them! Beef and sausage make a delicious, tender and juicy meatball, and we go the extra mile and pack these meaty bites with savory Italian herbs. Add some pasta, marinara sauce, and a side of our homemade garlic bread for an easy Italian night in!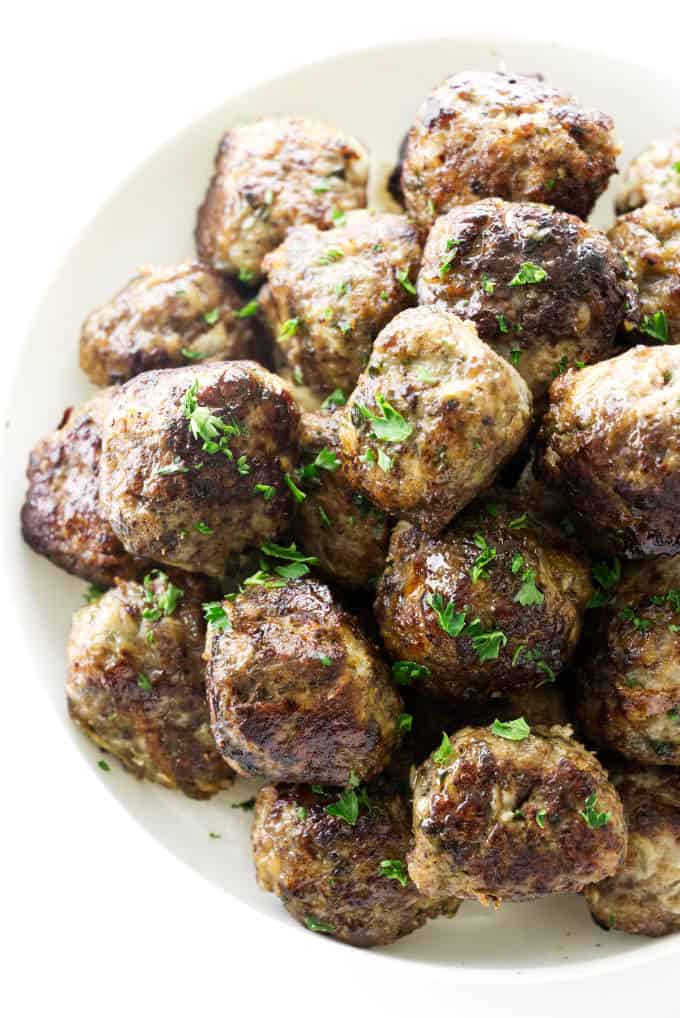 why we love these beef and sausage meatballs
Beef and sausage combine to make a flavorful, juicy meatball. We love this easy meatball recipe and it's impossible to beat the taste of homemade meatballs!
Here's why we know you'll love them too:
This easy meatball recipe is healthy and hearty and full of protein
There are so many ways to enjoy them
So tender and packed with flavor
Easy to make, these meatballs are ready in 30 minutes!
They are kid-friendly!
These beef and sausage meatballs are Italian inspired, and pair especially well with a simple marinara or mushroom marsala sauce. You could really switch things up and pair them with a flavorful romesco sauce. Pasta night is always a hit in our house, and our beef and sausage meatballs will certainly be a crowdpleaser!
how to make beef and sausage meatballs
So, how do you make meatballs from scratch? We have shared a few of our favorite meatball recipes here on Savor the Best (if you haven't already, please try these Asian Teriyaki Meatballs, our healthier Turkey Meatballs, or these Moroccan Lamb Meatballs !). But if you're like us, a classic Italian meatball is usually a go-to when it comes to meatballs!
These beef and sausage meatballs are tasty and easy to make, so be sure to bookmark this recipe!
Here are the ingredients you'll need:
Onion
Grated or minced garlic cloves
Panko breadcrumbs
Lean ground beef
Spicy Italian sausage (not in casings)
Egg
Freshly-grated Parmesan cheese
Chopped, fresh parsley
Fresh basil, chopped
Chopped, fresh oregano
Dried Italian herb mix
Lemon zest
Salt and pepper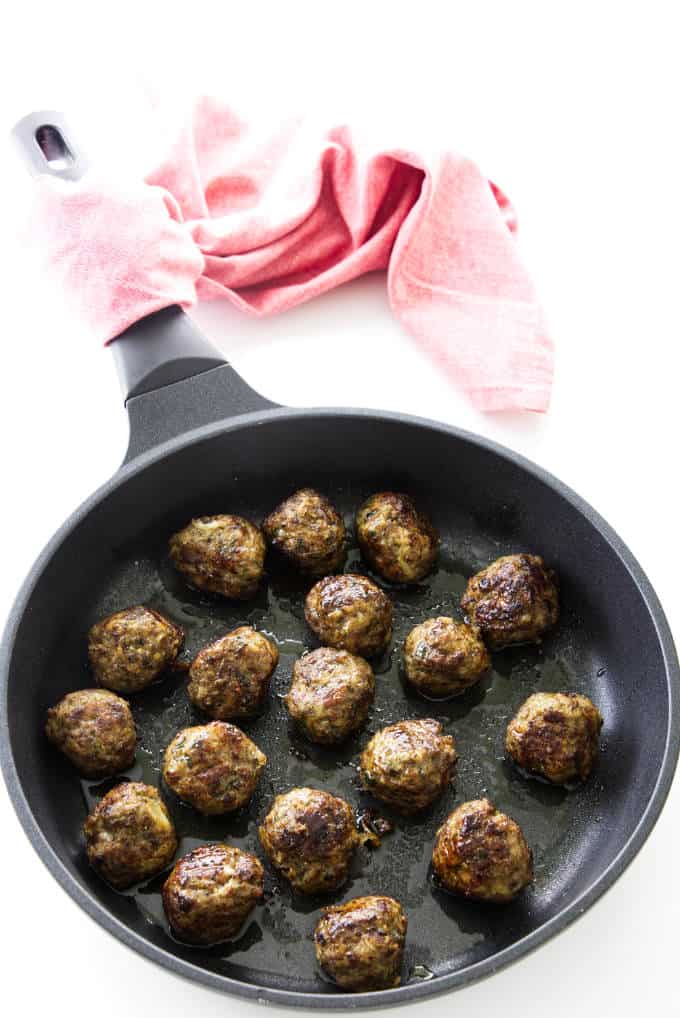 let's make Italian meatballs!
Make sure to scroll to the bottom of the page for the full recipe for these beef and sausage meatballs. Here's a quick look at how to make them:
Grate onion and garlic: In a medium sized bowl, grate the onion and garlic together. Add the Panko breadcrumbs and stir to combine. Set the mixture aside.
Combine: Add the ground beef and ground sausage together in a large bowl, breaking the meat up with a fork. Add the rest of the ingredients, including the breadcrumb mixture. Use your hands to combine, but be careful not to over mix.
Scoop and fry: Scoop the meat mixture into meatballs about two inches in diameter. Roll them between the palms of your hands to smooth them out. Fry the meatballs in a skillet with the oil, rolling them occasionally to allow all sides of the meatballs to brown. Transfer the meatballs to a paper towel-lined plate to cool.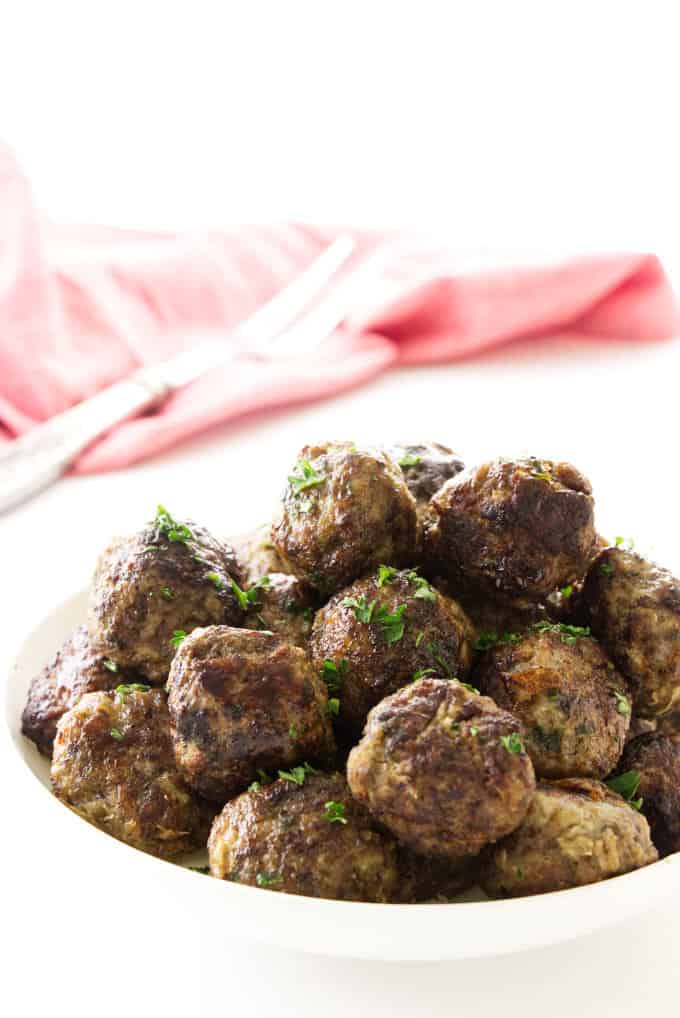 how to make spaghetti and meatballs
Now that you have the meatballs ready, you can easily turn these beef and sausage meatballs into a classic Italian meal by adding pasta and your favorite marinara sauce!
Here's how:
In a large skillet, heat up your favorite jar of marinara sauce (or make a quick, homemade marinara), then add the meatballs.
Simmer on low while cooking 16 ounces of spaghetti.
Serve the drained spaghetti in individual bowls with spoonfuls of sauce and a few meatballs on each serving. Garnish with fresh parsley and grated Parmesan cheese.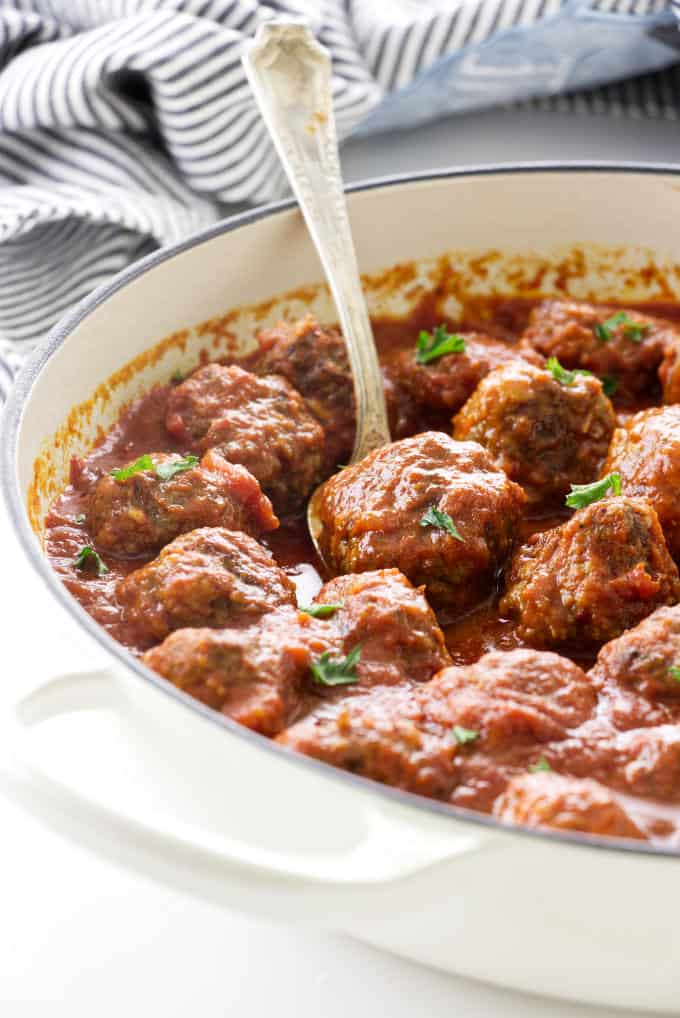 a few meatball-making tips!
Did you know meatballs are more than just little balls of meat rolled up and fried? There are "secrets" to getting the most tender, juiciest meatballs, and we are here to share them!
Don't over mix the meat. Over working the meat will result in a tough meatball, not a tender one. Mix the meat with a light touch and only until the ingredients are blended. Tip: dip your fingers in a small dish of water in between rolling the scooped meat into balls.
Shoot for even portions. Using a medium-sized cookie scoop will allow you to make uniformed meatballs.
About the cook time: If you plan on serving them with marinara sauce, they don't need to be fully cooked since they'll continue to cook simmering in the sauce.
For baked meatballs, place them on a cooling rack that fits inside a baking sheet and bake at 400°F for 15-20 minutes or until the meat is cooked (internal temperature of 160°F).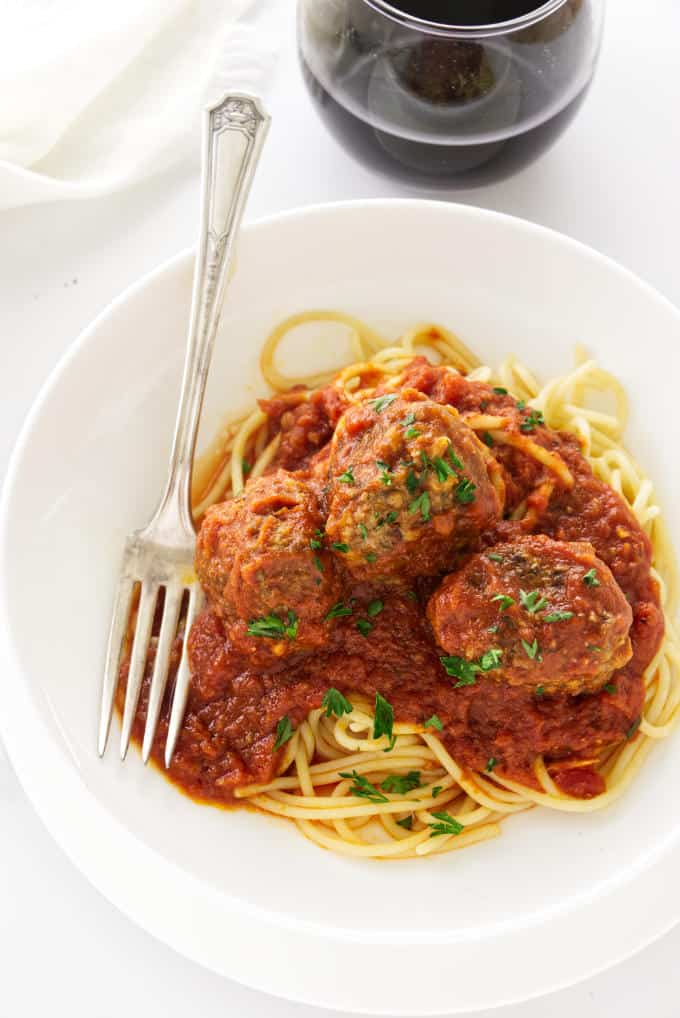 Some Other Recipes We Are Sure You Will Love:
Slow Cooker Pot Roast: The easy, everyday pot roast just got easier with this slow cooker pot roast recipe! Tender, juicy slices of beef with potatoes, carrots and baby onions are swimming in a savory, delicious sauce.
Malfatti Dumplings: A light and delicate cheese-spinach pillow, served in a puddle of garlic-tomato sauce and garnished with fresh basil.
Chicken in Mushroom Cream Sauce: An easy weeknight dinner. Meaty chicken thighs in a creamy mushroom sauce. Serve it with rice or mashed potatoes to spoon the rich sauce over.
Keto Italian meatballs are healthy and low in carbohydrates. They are also perfect for your gluten-free friends since they don't have breadcrumbs. And our Asian pork meatballs or teriyaki meatballs are perfect for appetizers.
Connect With Savor the Best:
Please follow us on our social media accounts
Facebook * Instagram * Pinterest * Youtube * Twitter
Did you make this recipe? We would love to hear from you. Drop us a comment below.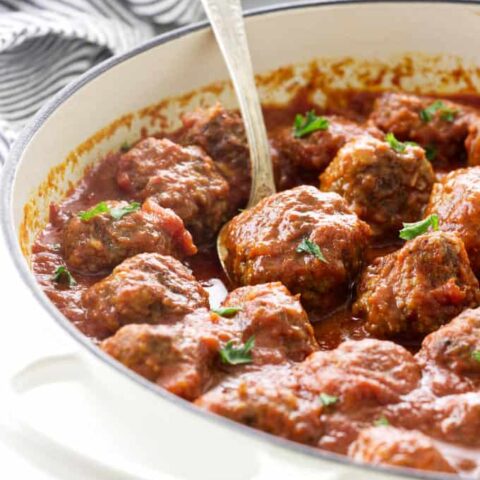 Beef and Sausage Meatballs
These Beef and Sausage Meatballs are tender, juicy and full of Italian herbs for a rich flavor. Add pasta and marinara sauce for an "Italian Night" at home.
Ingredients
1 medium onion
3 garlic cloves, grated or minced
1-1/4 cup Panko breadcrumbs
16 oz. lean ground beef (85-15% ratio)
10 oz. ground spicy Italian sausage, not in casings
1 large egg, lightly whisked with a fork
1/3 cup freshly grated Parmesan cheese
1/4 cup chopped fresh parsley
1/4 cup chopped fresh basil
1 tablespoons chopped fresh oregano
1 tablespoon dried Italian herb mix
1 tablespoon lemon zest
1/2 teaspoon salt
1/4 teaspoon black pepper
Instructions
Grate the onion and garlic into a medium size bowl; then add the panko breadcrumbs and stir to combine. Set aside.
In a large bowl, add the ground beef and ground sausage. Break up the meat with a fork. Add the remaining ingredients and the reserved breadcrumb mixture. Use your hands to blend the mixture together. Do not over mix or the meatballs will be tough.
Scoop the meat mixture into 2-inch size meatballs, rolling them in the palm of your hand to create a smooth meatball. Transfer the rolled meatballs to a plate as you roll each one. Alternatively, scoop the meat and place on a sheet of parchment, then roll each one.
When all the meatballs are rolled, heat 2 tablespoons of oil in a large skillet set over medium-high heat, add the meatballs and brown, rolling them with tongs or a tablespoon to brown all areas. Brown the meatballs in 2 batches, transferring them to a paper towel-lined plate as they brown.
For meatballs and spaghetti:
In a large skillet, heat your favorite jar of marinara sauce, or make a homemade marinara sauce; then add the meatballs to the sauce.
Reduce the heat to low and simmer while cooking 16 oz. of spaghetti.
To Serve:
Place a portion of cooked, drained spaghetti into individual bowls and scoop sauce and several meatballs on each portion. Garnish with chopped parsley and serve with a dish of grated Parmesan cheese. Enjoy!
Notes
The secret to tender, juicy meatballs is to not over work the meat mixture. Mix with a light touch and only until blended.
Tip: Set a small dish of water at your work space to dip your fingers in occasionally when rolling the scooped meat into balls.
A medium-size cookie scoop will make uniformed meatballs of about 2-inches each
If you are planning to serve the meatballs in a marinara sauce they do not need to bee fully cooked as they will continue cooking in the hot sauce.
To bake the meatballs instead of frying, place a cooling rack over a foil-lined baking sheet and place the meatballs on the rack. Bake in a 400°F oven for 15-20 minutes, until tender and cooked through. Check one of the meatballs for doneness with a meat thermometer. They are fully cooked at 160°F.
Nutrition Information:
Yield:

8 Servings
Serving Size:

1
Amount Per Serving:
Calories:

503
Total Fat:

21g
Saturated Fat:

8g
Trans Fat:

0g
Unsaturated Fat:

13g
Cholesterol:

97mg
Sodium:

926mg
Carbohydrates:

43g
Fiber:

3g
Sugar:

5g
Protein:

33g
Nutrition information is a guideline only, is calculated automatically by third-party software, and absolute accuracy is not guaranteed.