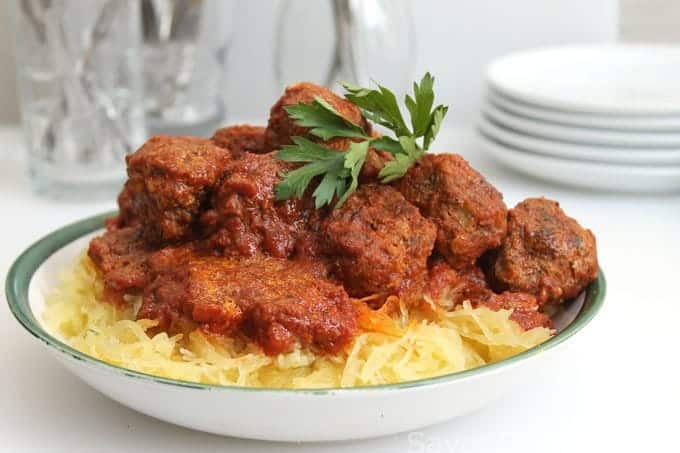 Our neighbor gave us a beautiful spaghetti squash last week. Oh, I love my neighbors! Since our big party on August 8th I have reverted to calorie-watching and this recipe for spaghetti squash with turkey meatballs is perfect for my menu-making plans. It is a nice low-budget, low-calorie meal with a lot of flavor and it is also a nice quick dinner. Add a little jared marinara sauce and that's it.
Spaghetti squash, with it's long strings is aptly named although it doesn't taste exactly like pasta spaghetti. But, if you are eating low-calorie or 'gluten-free' it is perfect. The turkey meatballs are also low in fat and calories. Years ago when I decided to eliminate the high-fat sausage in recipes, I found that I can still have the sausage flavor by adding fennel and spices to the mix. Another good way to prepare this squash is to toss the strands with melted butter, garlic, parsley and a little parmesan cheese. Yum!
I have often thought about how much fun God must have had creating some of the fruits, vegetables and even the animals for us to enjoy. For instance, the platypus is hilarious. It is a mammal but lays eggs, has a duck-bill, feet like an otter, and a tail like a beaver…. very weird. Then there is that weird jackfruit that I remember so well when we lived in the Philippines. Yuk, how I hated the smell of it so much I couldn't eat any, plus it was all bumpy and not very attractive either.
The spaghetti squash fits right into the odd and weird category with its strings. But, it is easy to prepare, although the thick, hard, outer shell can be a challenge when cutting it in half. There is a great 'how-to' video at The Kitchen with instructions of four different ways to cook a spaghetti squash.
I attacked the thick hard outer shell with my chef knife and after cutting it in half just scooped out the seeds and the membrane holding them. I roasted both halves in the oven, cut-side down and when the halves had cooled enough to handle, used a fork to scoop out the 'spaghetti' strands. It was delicious with the turkey meatballs, some jarred marinara sauce and grated parmesan cheese.
What is your favorite way to prepare spaghetti squash?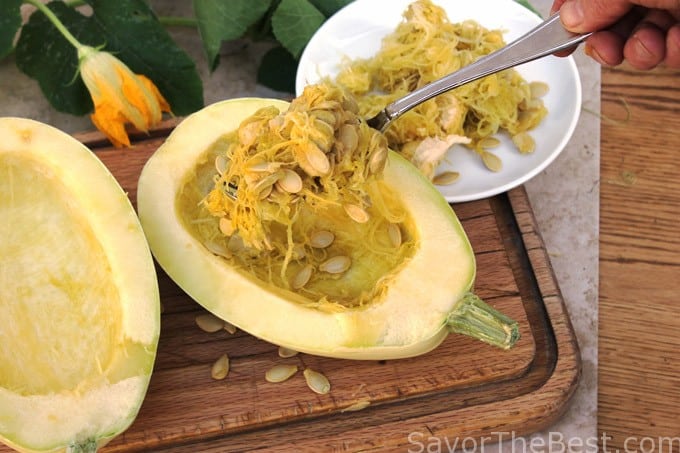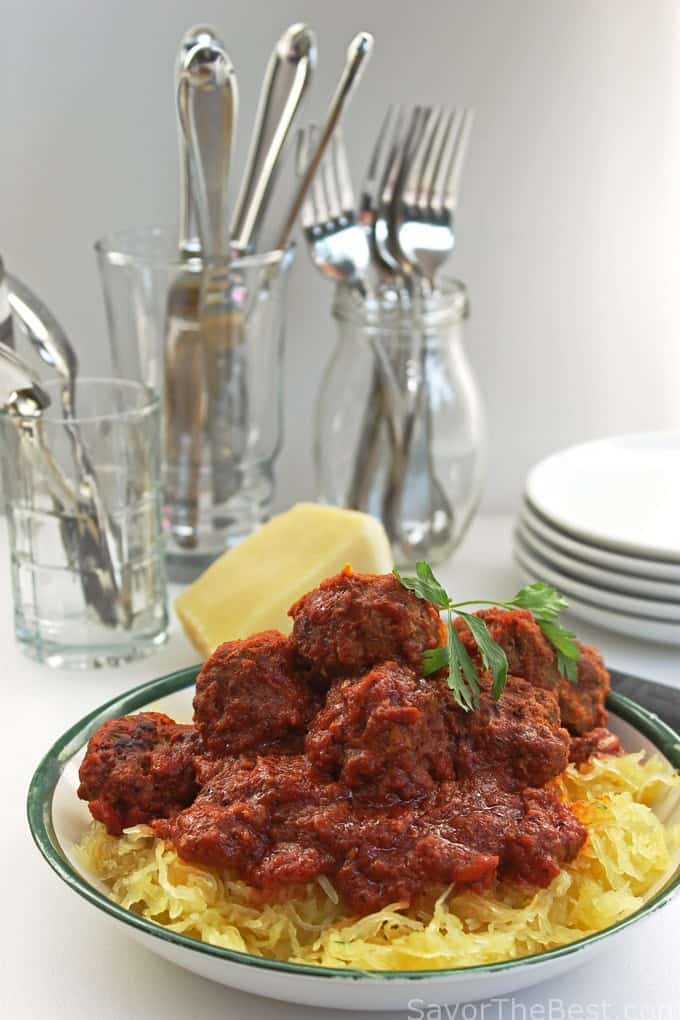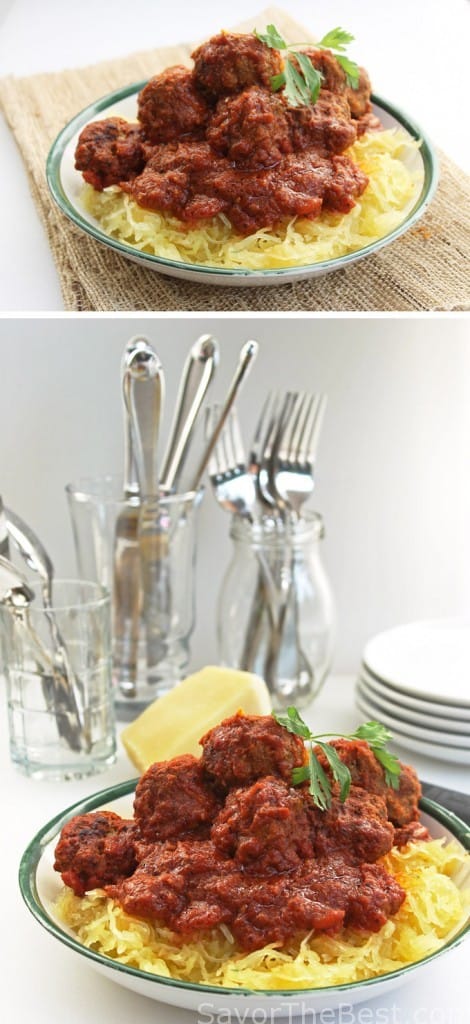 CONNECT WITH SAVOR THE BEST!
Be sure to follow us on our social media accounts
Facebook * Instagram * Pinterest * Twitter * Youtube
Did you make this recipe? We would love to hear from you. Drop us a comment below.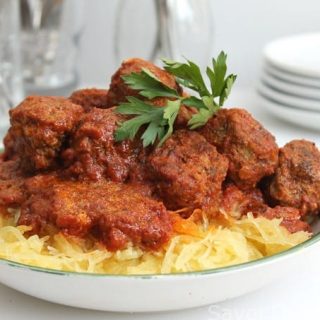 Spaghetti Squash with Turkey Meatballs
Yield: 8 servings
Prep Time: 40 minutes
Cook Time: 40 minutes
Total Time: 1 hour 20 minutes
Spaghetti squash with turkey meatballs served with marinara sauce and parmesan cheese is a good choice for a low-fat, low-calorie, gluten-free main dish.
Ingredients
For the Turkey Meatballs
2 slices French or Italian bread, torn into small pieces
1/2 cup milk
1 egg, lightly beaten
1 pound ground turkey, dark meat
1 teaspoon dried fennel seed, crushed with a mortar
6 tablespoons freshly grated imported Parmesan cheese
2 tablespoons finely chopped fresh flat-leaf parsley
1 tablespoon olive oil
4 teaspoons chopped garlic
1 teaspoon grated lemon peel
1/4 teaspoon ground allspice
1/4 teaspoon freshly ground black pepper
olive oil for browning
1 28-ounce jar of prepared marinara sauce
For the Spaghetti Squash:
1 3-pound spaghetti squash
1 tablespoon olive oil
1/2 teaspoon kosher salt
Fresh ground black pepper
Fresh parsley for garnishment
Instructions
For the Turkey Meatballs:
Soak the bread in the milk for 5 minutes, then squeeze dry and discard the milk. In a large mixing bowl, combine the soaked bread, the beaten egg, 1 pound of ground turkey, the fennel seed, grated Parmesan cheese, parsley, olive oil, garlic, lemon peel, allspice, salt and the black pepper. Mix with a wooden spoon until all the ingredients are blended but do not over mix or the meat will become tough.
Form the meat into small balls about 1-1/2 inches in diameter. Place the meatballs on a tray or baking sheet in one layer and refrigerate for 1 to 2 hours.
In a large heavy-bottomed skillet heat 4 tablespoons of oil over moderate heat. Fry the meatballs in batches of 5-8 at a time shaking the skillet constantly to roll the balls and keeping them round. As each batch browns remove them from the skillet and transfer to a plate lined with paper towels to drain any excess oil off. The meatballs will be slightly underdone and will finish cooking in the simmering sauce.
Add the marinara sauce to a saucepan and bring it to a boil; add the turkey meatballs and reduce the heat to is lowest point and simmer while the squash is roasting.
For the Spaghetti Squash:
Preheat the oven to 400°F
Cut the squash in half, lengthwise, remove the seeds and the attached membrane. Place on a baking tray cut side up, lightly brush the exposed flesh with oil, sprinkle each half with salt and grindings of black pepper and roast for 40 minutes.
Remove from the oven and allow to cool. Using a fork, scrape down from the inside edge and around to the opposite edge gathering up all the strands, repeat with the other half. Place the strands in a serving dish, top with the hot meatballs, marinara sauce and parmesan cheese. Garnish with fresh parsley.
Nutrition Information:
Yield: 8
Serving Size: 1
Amount Per Serving:
Calories: 314
Total Fat: 14g
Sodium: 422mg
Carbohydrates: 24g
Sugar: 12g
Protein: 21g