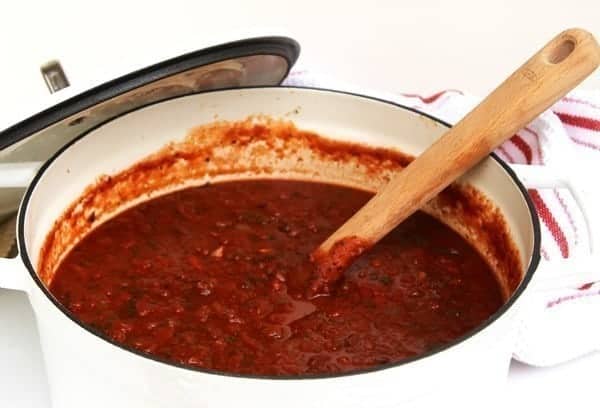 Is it spaghetti sauce, pasta sauce, marinara sauce, ragu or just tomato sauce? I am not against buying a commercial sauce occasionally as it really is convenient. But, I always check out the ingredients label before I buy one.
I choose the ones that have just the good stuff, with regular, whole foods, no added sugar or preservatives. It isn't that difficult or time intensive to make some from scratch though. Also, there is great satisfaction with making it yourself and it will taste better…..I did a side-by-side taste with this recipe and my favorite jar from the grocery store.
On my back deck I have two basil bushes. One of which is called Mammoth basil and it has huge leaves. The other basil bush is the regular variety. They are both very vigorous and have produced more than I am able to keep up with.
This recipe will make two quarts of thick, flavorful, delicious sauce. You can use these for topping chicken or fish, meatballs and spaghetti, soups or stews . It is also great as a pasta sauce for a meatless dinner.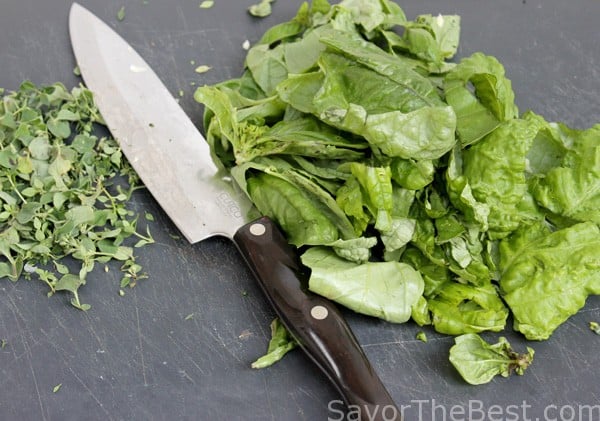 Tomato, Basil, Garlic Sauce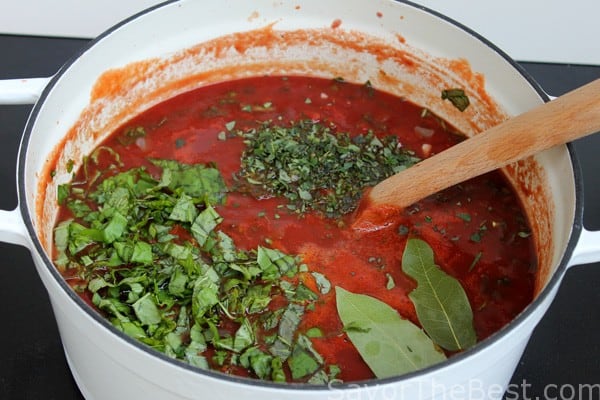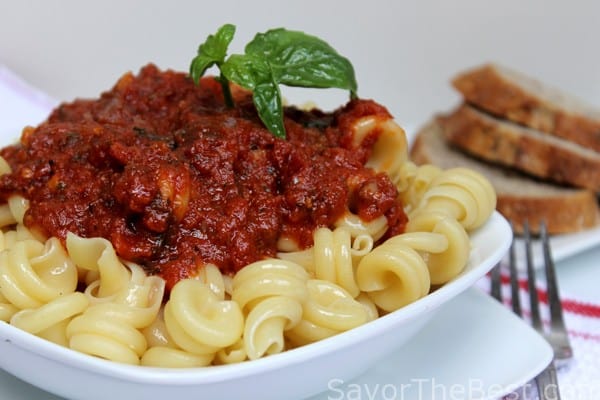 CONNECT WITH SAVOR THE BEST!
Be sure to follow us on our social media accounts
Facebook * Instagram * Pinterest * Twitter * Youtube
Did you make this recipe? We would love to hear from you. Drop us a comment below.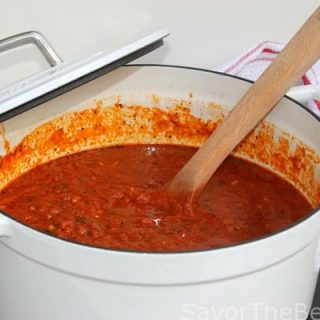 Tomato, Basil and Garlic Sauce
Cook Time:
1 hour
15 minutes
Total Time:
1 hour
35 minutes
A thick tomato sauce with basil and garlic that is wonderful served over pasta, chicken or fish.
Ingredients
3 tablespoons olive oil
2 medium onions, chopped
8-10 garlic cloves, minced
2 cans, 28 ounces each, crushed tomatoes
1 six-ounce can tomato paste
2 cups red wine
1 cup water
2 tablespoon fresh thyme leaves
3 tablespoons chopped fresh oregano
1 cup rough chopped, fresh basil leaves
2 bay leaves
1/2 teaspoons sea salt
1/2 teaspoon freshly ground black pepper
Instructions
In a large saucepan, heat the olive oil and cook the onions over medium heat, stirring frequently, for 7-8 minutes. When the onions are soft and transparent but not brown, add the garlic and cook for another 1-2 minutes, stirring constantly. Stir in the tomatoes and their liquid, the tomato paste, the red wine, water, thyme, oregano, basil, bay leaves, salt and pepper. Bring the sauce to a boil, turn the heat to low and simmer for one hour.
Remove from heat and allow the sauce to cool. Transfer to pint containers, label and freeze. Use as needed. Makes 4 pints sauce.
Notes
This sauce will thicken as it simmers and if you like it less thick add a little more water.
Nutrition Information:
Yield:

24
Serving Size:

1/3 cup
Amount Per Serving:
Calories:

61
Total Fat:

1.7g
Sodium:

8mg
Carbohydrates:

7g
Protein:

1.5g