One of the most popular Italian entrées at The Olive Garden is Chicken Parmesan and this recipe is just as good as theirs. The thin chicken cutlets have a crispy crust from a coating of bread crumbs and Parmesan cheese. It has a dollop of tomato-garlic sauce and gooey melted cheese on top.
This simple chicken entrée can easily become your favorite Italian dinner. Plus, it is a budget-friendly recipe that is easy to make. A crisp green salad and crusty garlic bread is all you need to go with it.
Is Chicken Parmesan different from Chicken Parmigiana?
Chicken Parmesan is also known as Chicken Parmigiana. The name is interchangeable, depending on the restaurant or recipe writers. The dish is the same.
The names chicken parmigiana and chicken parmesan are spin-offs from the original Italian recipe of eggplant parmigiana. According to some folks, the recipe eggplant parmigiana originated in the northern Italian city of Parma.
Many of the Italian dishes we are familiar with in the United States are actually Italian-American and not authentic Italian cuisine. Chicken Parmesan is one of the revised recipes from when Italians immigrated to America.
Tomato Sauce or Marinara Sauce?
We like to use a homemade tomato-garlic sauce. The difference between a tomato sauce and a marinara sauce is:
Tomato sauce is a smooth sauce made with a combination of crushed or pureed tomatoes, onions, garlic, red wine, herbs and spices. It slowly simmers on a back burner until it is thick, rich and flavorful.
Marinara sauce is a quick-sauce with a chunky texture. It is also tomato-based using whole tomatoes, either fresh or canned, that are coarsely crushed. The only seasoning used is garlic, crushed red pepper and basil.
How to make this Chicken Parmesan recipe:
If you do not have the time to make a tomato sauce from scratch you can use your favorite store-bought tomato sauce or marinara sauce. It will still make a great sauce for this chicken Parmesan. Heat the sauce in a saucepan, cover the pan and keep it simmering while you prepare the chicken breasts.
For the chicken:
Slice the chicken breast in half horizontally and blot dry with paper towels
Set up a three-dish breading station of seasoned flour, eggs-garlic and Parmesan-bread crumbs
Dredge the chicken breasts in the flour mixture, then the egg wash, then the bread crumbs.
Fry the coated cutlets in olive oil for 3 minutes on each side, place on a baking sheet
Top each cutlet with hot tomato-garlic sauce and grated mozzarella cheese
Place in a 400°F preheated oven until the cheese has melted.
The chicken breasts are thin and cook quickly. It is important to fry them in the skillet for only 3-minutes on each side as they will continue to cook in the oven as the cheese melts. Overcooked chicken = dry chicken.
There is a specific order for breading chicken:
As we noted above, you should dredge the chicken in the flour first, then in the egg wash and finally in the bread crumbs. It may sound fussy, but if you do it that way you will have a nice thick crispy crust on the chicken.
First off, the chicken is going to be a bit wet so you want to dredge it in the flour. The flour will stick to the wet chicken and give more 'cling' for the egg wash. If you just dip the chicken straight into the egg wash, a lot of the egg will slip off.
By dipping the chicken into the flour before dipping it into the egg, more of the egg will stick to to the chicken. That will give you more "glue" for the bread crumbs to coat the surface and give the chicken a thick coating.
What do you serve with Chicken Parmesan?
Chicken Parmesan is traditionally served with spaghetti or some sort of pasta. Prepare the spaghetti or pasta in advance. Drain it and toss it with a tablespoon of olive oil and keep it covered and warm.
You can also eliminate the extra carbs of pasta by using steamed or sautéed spaghetti squash with the sauce. Steamed or sautéed spiraled zucchini noodles is another idea. Or, just skip the pasta and serve with a crisp green salad. And, don't forget the garlic bread!
Whether you call this Chicken Parmesan or Chicken Parmigiana it is the same and it will always be delicious. And if you like this we know you will like our parmesan crusted chicken. It is a bit faster to make than this chicken parmesan recipe so you can have dinner on the table in just about 20 minutes.
SOME OTHER RECIPES WE ARE SURE YOU WILL LOVE:
CONNECT WITH SAVOR THE BEST!
Be sure to follow us on our social media accounts
Facebook * Instagram * Pinterest * Twitter * Youtube
Did you make this recipe? We would love to hear from you. Drop us a comment below.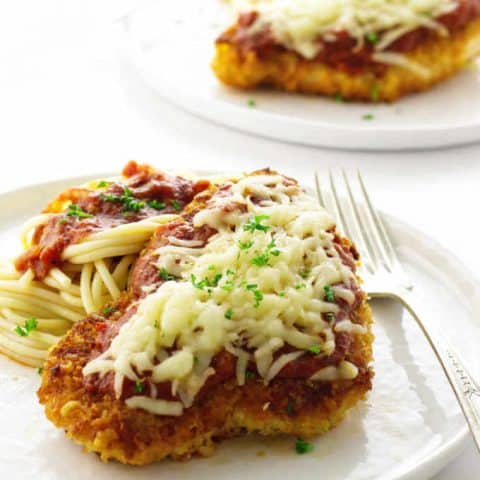 Chicken Parmesan
Yield: 4 Servings
Prep Time: 20 minutes
Cook Time: 20 minutes
Total Time: 40 minutes
One of the most popular Italian entrées at The Olive Garden is Chicken Parmesan and this recipe is just as good as theirs. This favorite recipe is a tender Parmesan-breaded chicken cutlet with a dollop of tomato-garlic sauce and gooey melted cheese on top
Ingredients
2 cups tomato-garlic sauce or marinara
2 boneless, skinless chicken breasts
1/2 cup all-purpose flour
1 teaspoon table salt
1/2 teaspoon freshly ground black pepper
2 extra-large eggs
2 clove garlic, grated or crushed
1-1/4 cup Panko bread crumbs
1/2 cup freshly grated Parmesan cheese
2-4 tablespoons olive oil
Instructions
Add the tomato-garlic sauce to a saucepan set over medium heat. When it is hot reduce the heat to low and simmer while cooking the chicken.
Using a sharp, thin knife, slice the chicken breasts in half horizontally into cutlets. If necessary, flatten to an equal thickness. Blot each cutlet with paper towels to remove the moisture.
Set up a breading station with 3 pie plates. Combine the flour, salt and pepper to the first plate. Whisk together the eggs and grated garlic in the second plate, and combine the Panko crumbs and Parmesan cheese in the third plate.
Working with one chicken breast, add it to the flour mixture coating it on both sides, then dip it into the egg-garlic wash, then into the bread crumb-Parmesan mixture. Pressing down lightly. Place the coated chicken filet on a plate and proceed with the remaining filets.
In a large skillet set over medium-high, heat 2 tablespoons of oil until it begins to shimmer. Place 2 of the prepared cutlets in the skillet and cook for 3 minutes. Do not move the chicken!
After 3 minutes, gently nudge the chicken with a spatula. If it does not loosen, continue to cook for another 30 seconds. If the cutlet is crisp on the bottom it will move easier. Flip it over and cook the other side for 3 more minutes.
Place the chicken cutlets on the parchment-lined baking sheet and proceed with the next batch.
When all the cutlets are cooked and on the parchment paper, add 2 tablespoons of tomato-garlic sauce on each cutlet, then add 2 or 3 tablespoons of mozzarella cheese, covering most of the sauce.
Set the oven to broil and raise the rack to it's highest level.
Transfer the baking sheet to the oven and broil until the cheese melts, about 1-2 minutes. It is ok if it begins to get toasty. Use a meat thermometer to check for doneness of 165°f.
Garnish with fresh chopped parsley and serve with a side of spaghetti or your desired side.
Notes
You can use either a homemade tomato-garlic sauce or a store-bought variety.
For a more speedy preparation, chicken cutlets are available in the frozen meat section of most super markets
Do not move the chicken until is loosens from the pan otherwise the crust will slip off the chicken. These cutlets are thin and will cook quickly. Do not overcook them as they will continue to cook while the cheese is melting.
If using a meat thermometer the chicken will register 165°F when done
One slice of Mozzarella per chicken breast can be used in place of the grated cheese. Fold the slice in half to fit the top of the chicken breast.
Nutrition Information:
Yield: 4
Serving Size: 1 Chicken Cutlet
Amount Per Serving:
Calories: 333
Total Fat: 19g
Saturated Fat: 4g
Trans Fat: 0g
Unsaturated Fat: 14g
Cholesterol: 103mg
Sodium: 539mg
Carbohydrates: 14g
Fiber: 1g
Sugar: 1g
Protein: 24g
Nutrition information is a guideline only, is calculated automatically by third party software, and absolute accuracy is not guaranteed.