Have you been searching for a fast and delicious chicken dinner option? Well, we've got you covered with this crispy Parmesan Crusted Chicken. Underneath that crunchy golden crust is an impossibly tender and juicy chicken breast.
You are going to want this easy Parmesan Crusted Chicken entrée added to your weeknight dinner recipes.
Our chicken breasts get a dusting of flour, a drenching in a garlic-egg wash and a coating in a mixture of panko crumbs and Parmesan cheese.
How to keep the coating on the chicken breasts:
Moisture will keep the coating from sticking to the chicken breast. Be sure to pat the chicken breast dry with paper towels before dipping in the coating mixture. Begin the coating with the flour, then the egg wash, then the bread crumb mixture.
Place the chicken breast in the pan and do not move it. If it moves before the crust adheres the chicken will slide right off the crust.
How to cook tender, juicy chicken cutlets in the skillet:
Chicken breasts are very lean and it is easy to overcook them and end up with dry, tough, chicken breasts. There are several keys to getting those chicken cutlets to be juicy and tender:
An equal thickness of no more than 1/2-inch to the sliced chicken cutlets. Flatten any thicker areas slightly with a meat mallet.
Set the skillet over medium-high heat and flash-fry for three minutes per side.
Do not add a lid to the skillet.
After three minutes give the chicken a gentle nudge with a spatula, if it sticks, cook another 30-seconds. When the crust forms it will loosen from the pan and can be flipped. If cooking in batches, plate and cover with foil and keep warm in a 200°F oven as you cook each batch.
What sides are good with this crispy Parmesan crusted chicken?
This is a quick and easy main entrée and we would suggest a quick and easy side of steamed rice or quick-cooking quinoa and a green salad. We served our crispy chicken with steamed baby red potatoes, roasted asparagus with curry sauce and a simple tossed green salad. And for dessert, I had half of a Gluten-Free Chocolate Bundt Cake in the freezer that I thawed.
HERE ARE SOME MORE QUICK AND EASY RECIPES:
Crockpot Chicken and Vegetables is perfect for a busy weeknight dinner. You only need 10 to 15 minutes to prep the meal then let the slow cooker do the rest while you go to work. Come home to a delicious family dinner.
This Lemon Chicken Piccata is fast and easy to make and it tastes amazing. Drizzle the tangy lemon-caper sauce over the tender chicken cutlets for a spectacular finish.
This Salmon with Thai Yellow Curry has so much flavor we are sure it will become a regular weeknight favorite. Skip the restaurant meals and make dinner at home.
CONNECT WITH SAVOR THE BEST!
Be sure to follow us on our social media accounts
Facebook * Instagram * Pinterest * Twitter * Youtube
Did you make this recipe? We would love to hear from you. Drop us a comment below.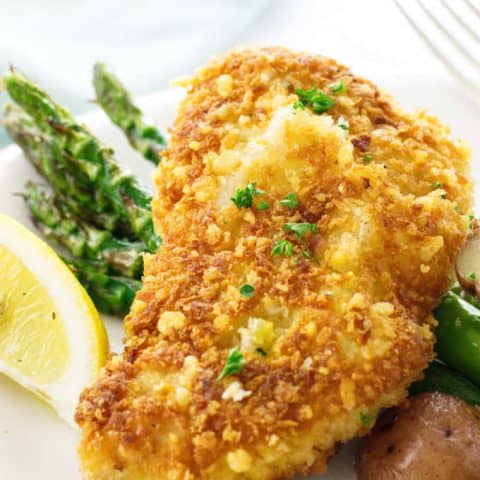 Parmesan Crusted Chicken
Yield: 4 Servings
Prep Time: 10 minutes
Cook Time: 12 minutes
Total Time: 22 minutes
Crispy Parmesan Crusted Chicken! Underneath that crunchy golden crust is an impossibly tender and juicy chicken breast.
Ingredients
2 boneless, skinless chicken breasts
1/2 cup all-purpose flour
1 teaspoon table salt
1/2 teaspoon freshly ground black pepper
2 extra-large eggs
2 clove garlic, grated or crushed
1-1/4 cup Panko bread crumbs
1/2 cup freshly grated Parmesan cheese
2-4 tablespoons olive oil
Instructions
Preheat the oven to 200°F and line a baking sheet with parchment paper. Set aside
Using a sharp, thin knife, slice the chicken breasts in half lengthwise into cutlets. If necessary, flatten to an equal thickness. Blot each cutlet with paper towels to remove moisture.
Set up a breading station with 3 pie plates. Combine the flour, salt and pepper to the first plate. Whisk together the eggs and grated garlic in the second plate, and combine the Panko crumbs and Parmesan cheese in the third plate.
Working with one chicken breast, add it to the flour mixture coating it on both sides, then dip it into the egg-garlic wash and then into the Panko bread crumb-Parmesan mixture. Pressing down lightly. Place the coated chicken filet on a plate and proceed with the remaining filets.
In a large skillet set over medium-high, heat 2 tablespoons of oil until it begins to shimmer. Place 2 of the prepared cutlets into the skillet and cook for 3 minutes. Do not move the chicken for 3 minutes!
After 3 minutes, gently nudge the chicken with a spatula. If it is crisp on the bottom it will move, flip it over and cook the other side for 3 more minutes.
Remove the chicken from the skillet and place onto the parchment-lined baking sheet, then transfer to the oven to keep warm.
Add additional oil to the skillet if necessary and cook the remaining cutlets. Serve hot with sides of your choice.
Notes
Partially freezing the chicken breasts will firm them up and make them easier to slice in half.
To slice the chicken in half, lay the chicken flat on a cutting board and place your hand on the top to keep it from moving. Next, with the other hand and a sharp knife, slice through the chicken, keeping the knife parallel to the cutting board, creating to equal cutlets.
Chicken cutlets are also available in most frozen meat sections of the grocery stores.
Parmesan cheese can also be finely chopped in a food processor
If the chicken is moved too soon it will slide off of the coating
Do not cook the chicken longer than 7-minutes total, if you cook it too long, it will dry out.
Nutrition Information:
Yield: 4
Serving Size: 1 Chicken Fillet
Amount Per Serving:
Calories: 374
Total Fat: 20g
Saturated Fat: 4g
Trans Fat: 0g
Unsaturated Fat: 14g
Cholesterol: 103mg
Sodium: 853mg
Carbohydrates: 22g
Fiber: 1g
Sugar: 1g
Protein: 26g
Nutrition information is a guideline only, is calculated automatically by third party software, and absolute accuracy is not guaranteed.