If you love Thai curries you are going to love these moist broiled fillets of Salmon with Thai Yellow Curry. This recipe is easy to prepare and easy on the budget. Thai curry salmon may become a regular weeknight favorite.
This simple curry dish is bursting with flavor and packed with nutrition. We took a short-cut and used a bottle of ready-to-eat Thai yellow curry sauce from Trader Joe's to bring this dish together quick and seriously easy.
Wild salmon fillets get a brushing with a flavor-packed sauce before broiling. A pool of zesty Thai yellow curry surrounds a mound of black rice and steamed bok choy with a salmon fillet perched on top.
This easy, Thai inspired week-night curry dish is flavorful and high in nutrition. A blend of soy, lemongrass and ginger glazes the salmon which cooks up quickly under a broiler.
We added the ancient grain, black rice which is gluten-free. And you will get your serving of greens with the steamed baby bok choy!
But it is the creamy, zesty Thai yellow curry that is the star of this curry dinner.
What is Thai Yellow Curry?
Thai yellow curry is a paste made with lemongrass, ginger, coriander, garlic, chilies, lime leaves and spices. This savory curry paste gets its yellow color from an infusion of turmeric. Thai Yellow curry paste is milder and sweeter than their cousins, the green and red curries.
Where can I buy Thai Yellow Curry?
Most grocery stores carry small jars or cans of Thai curry paste or powder in their international food section. Combining the spicy curry paste with coconut milk and coconut cream causes an explosion of flavors and a delight to the taste buds.
Thai yellow curry is also available in a ready-to-use bottled variety. We purchased a bottle of ready-to-use Thai yellow curry at Trader Joe's for this salmon with Thai yellow curry and it made this meal EASY!
If you are a curry lover and prepare Thai curry often, you could make a batch of Thai Yellow Curry Paste from scratch. You can whip up our recipe for Thai Yellow Curry Paste in just twenty minutes and portion it out into ten small, lidded containers, freeze it and have a curry dish anytime you want!
Salmon with Thai Yellow Curry and Black Rice:
Black rice is an ancient grain cultivated in Asia for centuries.
Considered a treasure, black rice was reserved for the emperors and forbidden for the common people to eat. This is why it is also referred to as Forbidden Rice.
This gluten-free black rice is so dense with nutrients and antioxidants. It is one of the most healthy choices of rice in the world and is on the world list of superfoods.
The black color of the rice is due to the pigments known as anthocyanins.
Anthocyanins are what causes the purple and reddish pigments in the bran hull of the rice. These pigments are also found in blueberries, grapes and other blue-purple foods, and interestingly, black rice has more anthocyanins antioxidants than blueberries.
As black rice cooks, the color changes from a deep black to a purplish-black. The longer it cooks, the softer it becomes and the more purple it gets.
How We Made Our Salmon with Thai Yellow Curry Dinner:
First, we got the rice cooking. It takes longer to cook than white rice but the procedure is the same.
The black rice can also be prepared and refrigerated in advance and reheated as needed. While the rice was cooking we whisked together the makings of the salmon sauce:
Fresh lime juice
Soy sauce
Honey
Grated garlic
Grated ginger root
Lemongrass paste
Chopped Thai basil leaves
We brushed the sauce on the tops of the salmon fillets. As soon as the rice was cooked, the bok choy was added to a sauté pan to steam. The salmon went under the broiler and we heated the Thai yellow curry sauce in a saucepan.
To serve, pour a pool of the heated Thai yellow curry sauce into a dish, spoon on a mound of black rice and a portion of bok choy. Then position a broiled salmon fillet on top and garnish with Thai basil. How easy is that!
Check Out These Easy Dinner Recipes:
CONNECT WITH SAVOR THE BEST!
Be sure to follow us on our social media accounts
Facebook | Twitter | Youtube | Pinterest | Instagram
If you make one of our recipes, snap a photo and tag it @savorthebest on Instagram and hashtag it #savorthebest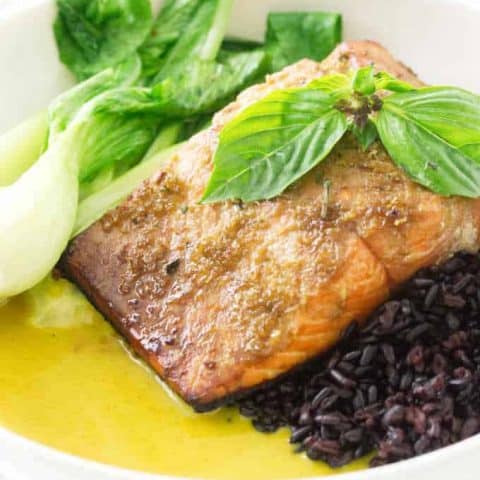 Salmon with Thai Yellow Curry
Yield: 4
Prep Time: 15 minutes
Cook Time: 45 minutes
Total Time: 1 hour
Moist broiled fillets of Salmon with Thai Yellow Curry is served on a bed of black rice and a side of bok choy. A fast and easy weeknight dinner!
Ingredients
For the Rice
1 cup black rice
2 cups water
1/2 teaspoon sea salt
For the Glaze:
2 tablespoons toasted sesame oil
2 tablespoons fresh lime juice
3 tablespoons soy sauce
2 tablespoon honey
1 garlic clove, grated
1 tablespoon grated ginger root, peeled
1 tablespoon lemongrass paste
1 tablespoon finely chopped Thai basil leaves
1/4 teaspoon sea salt
1/4 teaspoon freshly ground black pepper
For the salmon:
4 salmon fillets (6-ounces each) about 1-inch thick
For the bok choy:
1 pound fresh bok choy, trimmed
2 teaspoons coconut oil
salt and pepper
For the Thai yellow curry sauce:
Lime Wedges for garnish
Thai Basil sprigs for garnish
Instructions
For the Rice:
Rinse rice under cold water until the water runs clear. Add to a 3-quart saucepan with water and salt. Bring to a boil over medium-high heat. Reduce to simmer and cook, covered, for 40-45 minutes or until desired doneness.
If the water has not totally absorbed, drain, cover with lid and let rest for 10 minutes Fluff with a fork and serve.
For the Glaze:
Add all the ingredients to a dish and whisk together. Brush over the top of each salmon fillet.
Broil the Salmon:
When the rice is cooked, place the salmon on a foil-lined baking sheet that has been coated with non-stick oil spray and place under the broiler, four to 6 inches from the element, for 8-10 minutes, depending on desired doneness. (See notes)
Steam the Bok Choy:
Place the rinsed and trimmed bok choy in a saucepan with 1/2 cup of water and cook over medium-high heat until tender. Drain off any remaining water, toss with coconut oil, season with salt and pepper.
Heat the Thai Yellow Curry Sauce:
Pour the bottled sauce into a small saucepan and heat over medium heat. Do not boil the sauce.
To Serve:
Pour equal portions of the sauce into 4 shallow bowls, add a mound of black rice and a portion of bok choy to each dish. Place a broiled salmon fillet on each portion. Garnish with chopped Thai basil and sprigs. Serve with lime wedges and sprigs of basil.
Notes
Place the top rack of your oven high enough so when you place a heat proof skillet like a cast iron pan with the salmon filets on it there will be 2-inch distance from the heat for every 1/2 inch thickness of salmon. For 1-inch thick fillets they should be 4-inches from the heat. This prevents thicker cuts from overcooking on the outside before the center is completely cooked.
To determine how long to cook your salmon, rare is 110°F. Medium rare is 120-125°F. Medium is 130°F and well done is 140°F.
Recommended Products
As an Amazon Associate and member of other affiliate programs, I earn from qualifying purchases.
Nutrition Information:
Yield: 4
Serving Size: 1 Fillet, 1 cup Rice
Amount Per Serving:
Calories: 428
Total Fat: 18.g
Saturated Fat: 2g
Cholesterol: 80mg
Sodium: 947mg
Carbohydrates: 27.3g
Fiber: .01g
Sugar: 0.2g
Protein: 35.8g