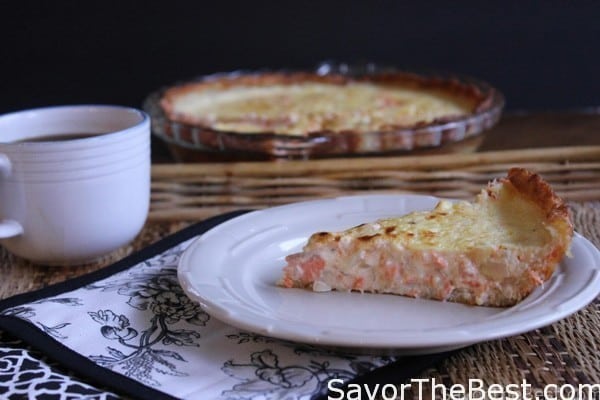 Salmon is my favorite fish, it just might be my favorite protein source. We had a baked salmon for dinner last night and this morning there was a small serving left, just enough for me. I know it isn't a traditional breakfast but I am known to have some leftover salmon and a slice of whole wheat bread or maybe some wild rice for breakfast. Who wrote the rules for eating breakfast anyway?
Before hogging the last of the salmon to myself I decided I would stretch it and share it. One serving of salmon can turn into 8 servings of a salmon quiche. Not a bad way to stretch an expensive piece of wild caught Alaskan Salmon. Now Jon and I can enjoy several more meals out of this last bit of fish.
The original recipe for this quiche came from Emeril Lagasse on the Food Network. I have revamped it and lightened it up considerably. The original recipe has 240 calories and 18 grams of fat. My revised recipe has 169 calories and 9.5 grams of fat.
I have made the original recipe in the past and it was quite delicious but also quite heavy. This quiche is much lighter with milk replacing the heavy cream. I have reduced the cream cheese and butter enough to keep it creamy without sacrificing flavor.
I used my leftover grilled salmon in this quiche. The original recipe calls for smoked salmon which adds a wonderful flavor. If you choose to use smoked salmon in this recipe the sodium will increase from 273mg to 711mg per serving.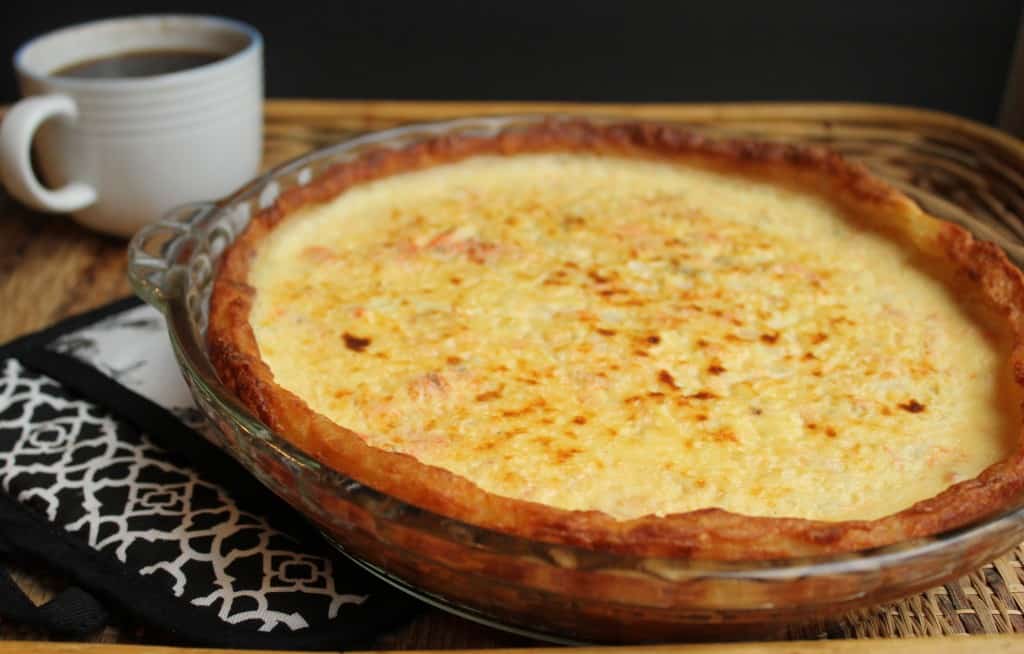 SOME OTHER RECIPES WE ARE SURE YOU WILL LOVE:
Crispy Phyllo Breakfast Burrito
Wild Alaskan Smoked Salmon Chowder
Spinach gouda quiche with quinoa crust
CONNECT WITH SAVOR THE BEST!
Be sure to follow us on our social media accounts
Facebook | Twitter | Youtube | Pinterest | Instagram
If you make one of our recipes, snap a photo and tag it @savorthebest on Instagram and hashtag it #savorthebest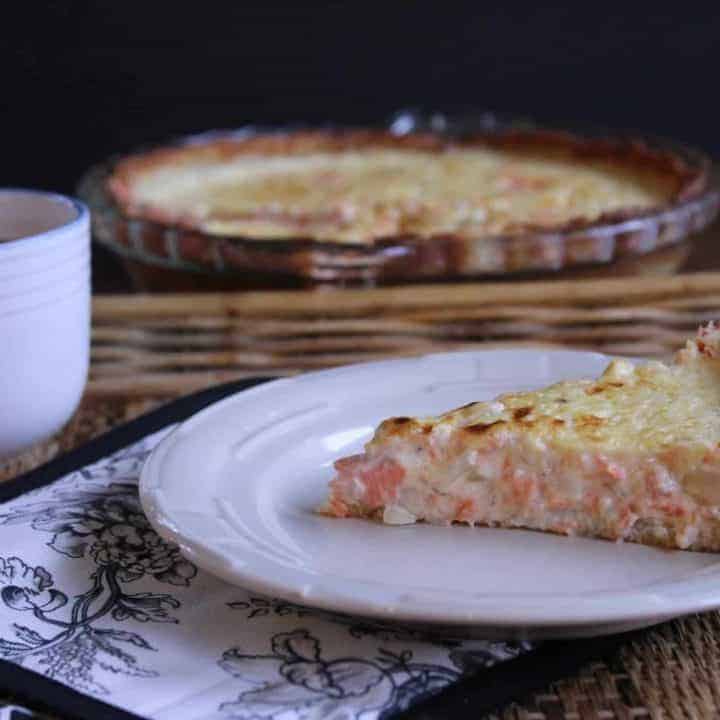 Salmon Quiche with Potato Crust
Yield: 8 servings
Prep Time: 20 minutes
Cook Time: 1 hour
Total Time: 1 hour 20 minutes
A delicious, easy recipe for a potato crust salmon quiche that has a savory filling of cream cheese, salmon, lemon and fresh herbs.
Ingredients
Crust
2 medium potatoes
1 tablespoon melted butter
¼ cup grated parmesan
¼ teaspoon salt
Filling
1 medium onion, diced
1 clove garlic, minced
3 ounces cream cheese
2 teaspoons lemon juice
zest of one lemon
3 eggs
1 cup 2% milk
6 ounces cooked salmon
2 tablespoons chopped fresh dill
½ teaspoon salt
½ teaspoon freshly ground pepper
Instructions
Instructions
Pre heat oven to 425° and grease a 9 inch pie plate with butter.
Crust
Scrub the potatoes and prick them several times with a fork. Place them on a microwave proof plate and cook them on full power in the microwave for 8 to 10 minutes. Allow to cool for 10 minutes and grate them with a grater, include the peel in the grating.
In a small bowl, toss the grated potato, melted butter, parmesan cheese, and salt until combined. Press into the bottom and up the sides of the pie plate and bake 25- 30 minutes until light golden brown. Remove from oven and cool to room temperature.
Filling
Reduce oven to 350*.
In a sauté pan over medium heat, cook the onion in 1-2 tablespoons of water (or 1 tablespoon olive oil) until translucent, about 3-4 minutes. Add the garlic and cook for 1 minute then remove from heat and allow to cool down.
Place the cream cheese in a mixing bowl and beat with a mixer until soft. Stir in the cooked onions, lemon juice, lemon zest, eggs, and milk. Gently stir in the salmon, dill, salt and pepper.
Pour filling into the potato crust and bake for 30 to 35 minutes until golden brown. If the edge of the crust begins to brown too much before the quiche is done, place a strip of tin foil around the edge of the crust as it cooks. Allow to cool down for 20-30 minutes before slicing.
Notes
Smoked salmon can be substituted for the cooked salmon however the nutrition label will change from 273mg of sodium per serving to 711mg of sodium per serving.
Nutrition Information:
Yield: 8
Serving Size: 1
Amount Per Serving:
Calories: 169
Total Fat: 9.5g
Saturated Fat: 4.8g
Cholesterol: 91mg
Sodium: 270mg
Carbohydrates: 11g
Fiber: 1.4g
Sugar: 2.4g
Protein: 10g