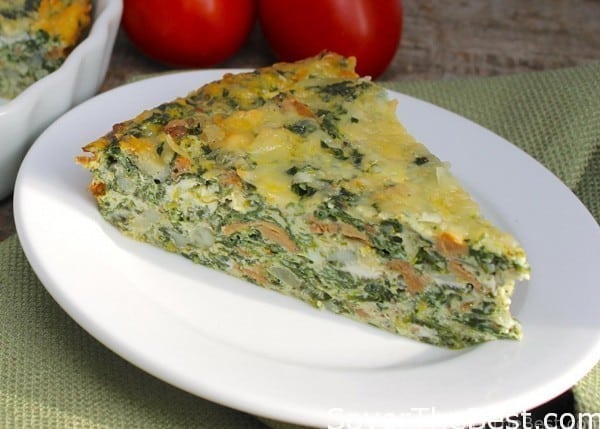 Sometimes I really get stumped when it comes to fixing a breakfast that is different, quick, nutritious and delicious while still not being too heavy with calories and fat. It seems that I get stuck on the old stand-by choices of scrambled eggs, oatmeal or fruit and yogurt. Not that there is anything wrong with those choices but the same ole, same ole needs a change occasionally.
The idea I had in mind was to prepare something with enough servings to it that Don and I could enjoy it for breakfast a couple times during the week by just warming it up in the microwave.
I was visualizing that if I have an especially busy day ahead of me to just go to the refrigerator or freezer and pulling out some leftovers and reheating them in the microwave which would be fast; then I could get on with my workout routine and the rest of my day.
I was searching through my recipe box a few days ago for ideas and I came across an old recipe entitled "Spinach Squares" that was given to me by one of the ladies of the wives' club when we lived in Subic Bay, Philippines.
When I spotted that recipe it was my ah-ha moment as I remembered how good these tasted as a side dish and it inspired me to create something for breakfast. One of my old diet recipe books also contributed to some additional ideas.
We really did not need the extra calories from the pastry crust so I eliminated that right off. Next, I changed the cheddar cheese and the one-cup of heavy cream to half a cup of low-fat cream cheese and a half-cup of 2% cottage cheese.
In order to further decrease calories, I used eight whole eggs and two egg whites rather than ten whole eggs. There is also a hefty amount of spinach and mushrooms to round out the nutritious and delicious part of the requirement. Any variety of mushrooms will work well here but I just happen to have some frozen Chanterelles on hand that will be perfect.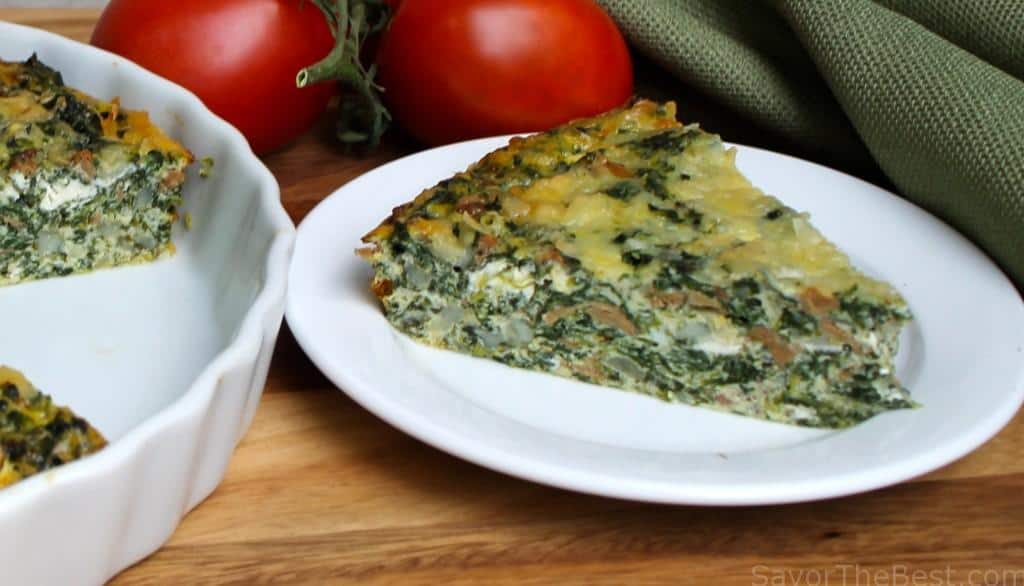 So, all in all I feel that this quiche fulfills my requirement of being quick to fix, different and nutritious and delicious. The initial preparation takes a good 20 minutes and the baking time is 50 minutes and I would not classify that as 'quick', however, the leftovers definitely put it in the 'quick' category when it is microwaved, plus it is absolutely delicious, nutritious and different from our everyday fare and the calorie/fat quotient is still within my limits.
A slice of quiche plus a cup of coffee and some fresh fruit would be a quick and nutritious breakfast. Covered with plastic wrap it will keep several days in the refrigerator and it also freezes well.
CONNECT WITH SAVOR THE BEST!
Be sure to follow us on our social media accounts
Facebook | Twitter | Youtube | Pinterest | Instagram
If you make one of our recipes, snap a photo and tag it @savorthebest on Instagram and hashtag it #savorthebest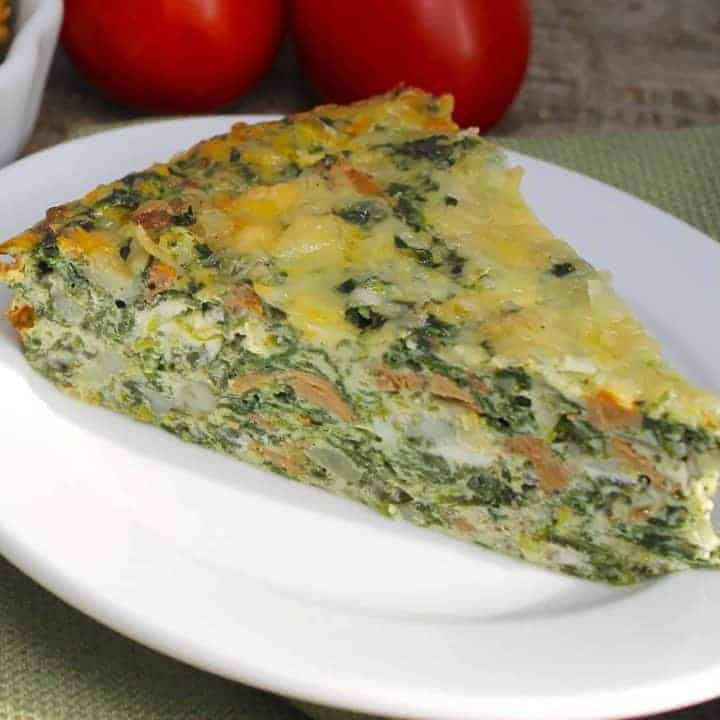 Crustless Spinach-Mushroom Quiche
Yield: 8 servings
Prep Time: 20 minutes
Cook Time: 50 minutes
Total Time: 1 hour 10 minutes
A delightful breakfast recipe for a low-fat-low-calorie crustless spinach-mushroom quiche that is full of flavor as well as nutritious.
Ingredients
2 tablespoons olive oil
1/2 cup minced onion
8 ounces sliced button or any variety of mushrooms
1 (16 ounce) package chopped frozen spinach, thawed and squeezed dry
8 large eggs
2 egg whites
1/2 cup 1/3-less fat cream cheese (softened)
1/2 cup 2% cottage cheese
1/2 teaspoon kosher salt
1/2 teaspoon fresh ground nutmeg
1/8 teaspoon fresh ground black pepper
sprinkle of crushed red pepper to taste
zest of one lemon
1/4 cup freshly grated parmesan cheese
Instructions
Preheat the oven to 350°F. Prepare 11" quiche dish or tart pan with non-stick spray and set aside.
Heat the oil in a skillet over medium heat, add the onions and mushrooms until the onions are translucent and the mushrooms slightly browned. Remove from heat, add the spinach tossing together with a fork and set the mixture aside.
In a large mixing bowl beat the softened cream cheese and mix in the eggs and the egg whites. Continue to mix until the cheese is well incorporated into the eggs. Stir in the cottage cheese, salt, pepper, nutmeg and red pepper and the lemon zest. Using a fork, fold in the reserved onions, mushrooms and spinach.
Carefully pour the mixture into the prepared quiche dish, transfer the dish to the middle rack of the oven and bake for 25 minutes then remove it from the oven and sprinkle the parmesan cheese on top. Return it to the oven and continue to bake for another 25 minutes or until the center is firm and a toothpick comes out clean when tested. Slice into eight wedges and enjoy!
Nutrition Information:
Yield: 8
Serving Size: 1
Amount Per Serving:
Calories: 229
Total Fat: 15g
Carbohydrates: 5g
Protein: 8g