There is a kaleidoscope of colors in this Goat Cheese Quiche with Sweet Potato Crust! The non-traditional crust of sweet potato slices forms the backbone of this goat cheese quiche. It is low in calories and high in nutrition and flavor. Bright, colorful garden veggies of kale, leek, red bell pepper and more sweet potato slices are combined with a tangy, custard-like filling.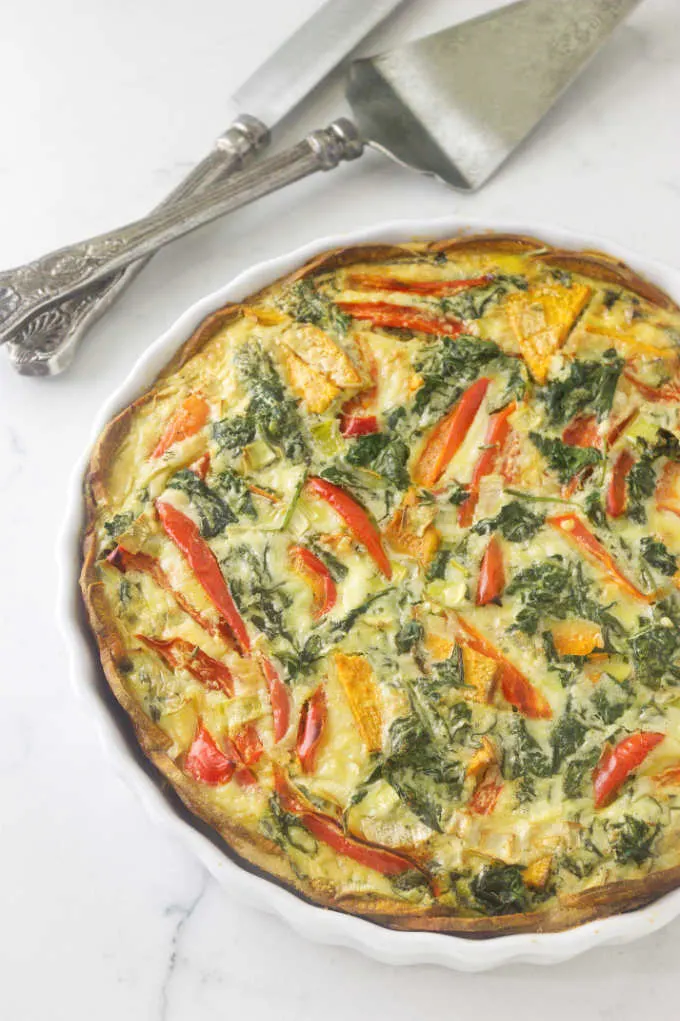 We served this goat cheese quiche as a Sunday brunch entrée for a small gathering and it was a big hit. The fresh garden veggies of kale, leek and red bell pepper paired well together with the sweet potatoes and creamy filling.
With a piece of fruit and a slice of this quiche for breakfast you will get your day off to a great start. There is only 185 calories, 10 grams of protein and 14 grams of fat per serving. This goat cheese quiche is also a great dinner option when served with a side salad and crusty bread.
If you are a working mom that packs a lunch every day this healthy goat cheese quiche with sweet potato crust is for you. It is very portable and reheats well. And, if you are an on-the-go mom that needs a quick lunch for the kids you will be getting some good, healthy veggies into them.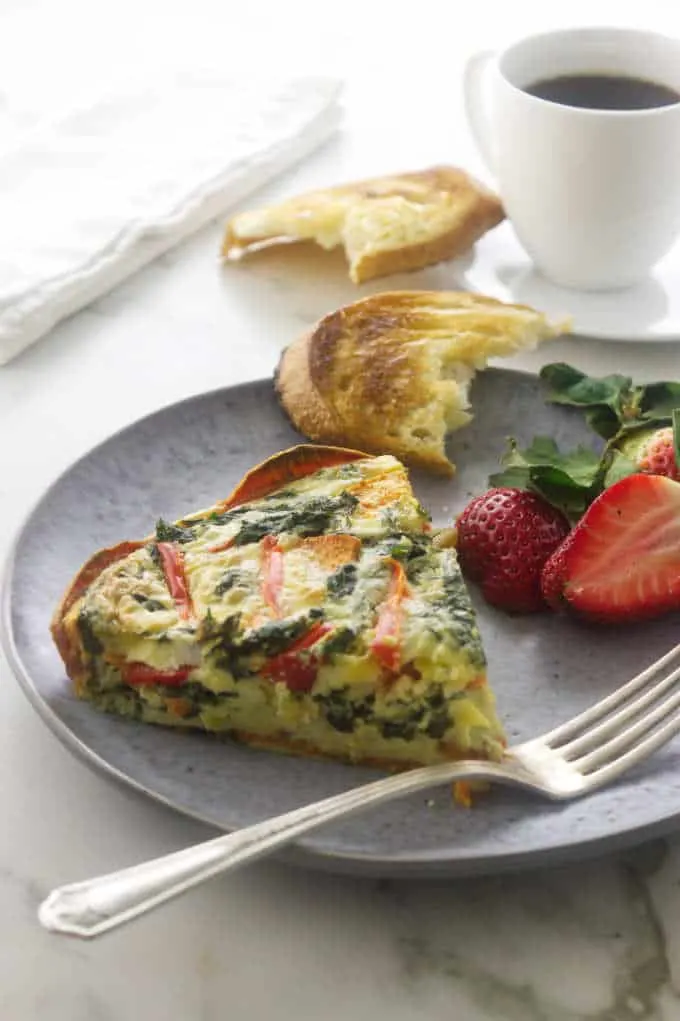 What is the Difference Between a Quiche and a Frittata?
They are from two different cuisines…a quiche is from France, and a frittata is from Italy.
While both have eggs and cheese as a base they are both a wide canvas for creativity with many options. Adding a variety of veggies and/or meats increases the nutrition value and the flavor. The differentiating factor between a quiche and a frittata is a quiche will have a crust and a frittata is crustless.
Frittatas can have all the ingredients of a thick quiche and can also be oven-baked. There is another frittata style made with fewer filling ingredients. It is thin and pancake-flat, usually cooked on the stove top and finished in the oven. It resembles an open-face omelet.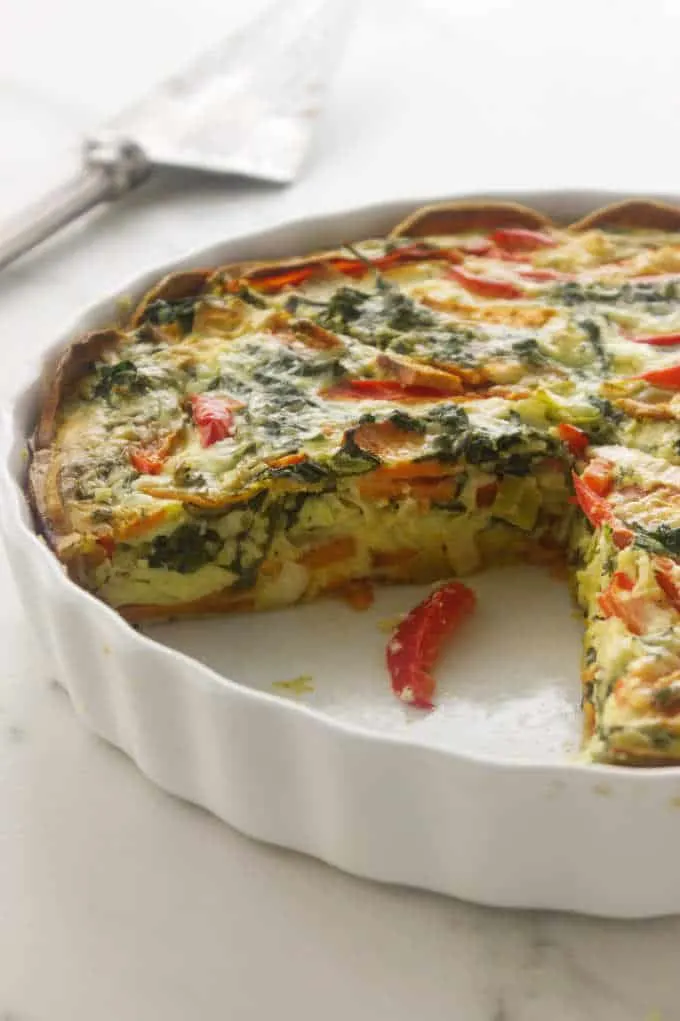 This savory quiche with sweet potato crust is easy to prepare, healthy and budget-friendly. You can serve this quiche hot or cold for a delicious meal or snack. Try adding some type of quiche to your rotating menu plan. Swap out different vegetables and cheeses. Be creative and adventurous. ❤️
More Breakfast Ideas You Will Love
Connect With Savor the Best:
Please follow us on our social media accounts
Facebook * Instagram * Pinterest * Youtube * Twitter
Did you make this recipe? We would love to hear from you. Drop us a comment below.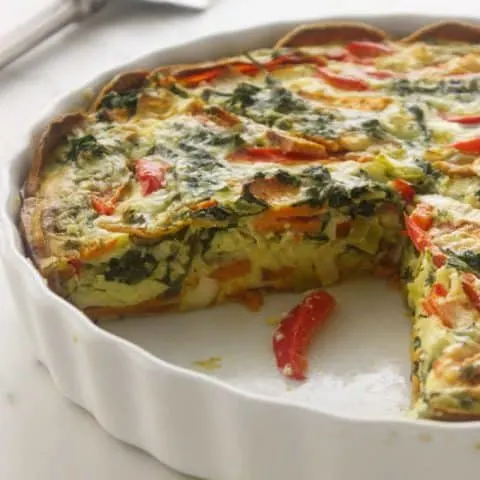 Goat Cheese Quiche with Sweet Potato Crust
Total Time:
1 hour
20 minutes
The non-traditional crust of sweet potato slices makes this goat cheese quiche gluten-free. Bright, colorful garden veggies of kale, leek, red bell pepper and more sweet potato slices are combined with a savory, custard-like filling.
Ingredients
1 large sweet potato (about 10 oz.)
5 oz. pkg. baby kale
2 tablespoons olive oil
1 leek, thinly sliced, white and light green parts only
1/2 red bell pepper, thinly sliced (about 1 cup)
8 oz. log soft goat cheese, room temperature
1/2 cup sour cream
8 eggs
2 tablespoons fresh thyme leaves
1 teaspoon salt
1/2 teaspoon black pepper
Pinch red pepper flakes
Instructions
Preheat the oven to 350°F Spray a 11-inch quiche dish/pan with non-stick oil.
Peel the sweet potato and cut into thin 1/8-inch slices. If possible, use a mandoline for uniform slices.
Arrange part of the sweet potato slices in the prepared dish to cover the bottom. Cut enough of the remaining slices in half to line the edges of the dish. Sprinkle the rounds with salt and freshly ground black pepper.
Transfer the dish to the oven and bake for 10-minutes. Remove and set aside to cool slightly.
Meanwhile, add the kale to a large plate, drape a paper towel over the kale and microwave for 1-2 minutes until lightly wilted. Remove from the microwave, discard the paper towel and let cool. With kitchen scissors, cut the kale slightly. Set aside
Add the olive oil to a skillet set over medium-high heat and when it is hot add the leek and bell pepper slices, cook until just beginning to soften. Remove the skillet from the heat.
Arrange the leek and red bell pepper slices over the dish of cooled sweet potatoes.
Distribute the kale over the veggies.
Make the Custard Filling:
Add the soft goat cheese to a mixing bowl with the sour cream and using an electric mixer beat until well combined. Add the eggs and continue mixing to a smooth and creamy consistency. Stir in the thyme leaves, salt pepper and red pepper flakes.
Pour half of the egg mixture into the dish over the vegetables.
With a fork, lift the mixture slightly to allow the egg mixture to settle around the veggies, then add the remaining egg mixture. Add additional cut strips of sweet potato, sliding them down into the egg mixture.
Place the dish into a rimmed baking sheet and transfer to the oven. Bake for 45-50 minutes until golden, puffed and the center is set. Remove from the oven and allow to cool 5 or 10 minutes before serving.
Notes
A slicing disc in a food processor or a mandoline slicer will make even slices of sweet potatoes.
The baked and cooled quiche can be stored tightly covered in plastic wrap in the refrigerator for up to 5 days.
The quiche can be served cold, room temperature or reheated in a preheated 350°F oven for about 15-25 minutes or until heated through.
A baked and cooled quiche can be frozen for up to 3-months. To reheat a baked frozen quiche, first thaw it overnight in the fridge then bake in a preheated 350°F oven for about 15-25 minutes or until it is heated through. Have it reach at least 165°F. A thermometer can help determine the initial temperature.
Recommended Products
As an Amazon Associate and member of other affiliate programs, I earn from qualifying purchases.
Nutrition Information:
Yield:

10
Serving Size:

1 Slice
Amount Per Serving:
Calories:

185
Total Fat:

14g
Saturated Fat:

6g
Trans Fat:

0g
Unsaturated Fat:

6g
Cholesterol:

166mg
Sodium:

385mg
Carbohydrates:

6g
Fiber:

1g
Sugar:

2g
Protein:

10g
Nutrition information is a guideline only, is calculated automatically by third party software, and absolute accuracy is not guaranteed.