We love the way the flavors pair together in this Asparagus-Ham and Gouda Breakfast Strata while they each still retain their distinctive individual flavors. Our savory breakfast strata is rich, creamy and super delicious. This is a perfect entrée if you are hosting a brunch party.
A strata simply means "layers"…think lasagna. They are hearty, savory casseroles and incorporate bread chunks or bread slices. Any type or flavor of bread can be used for a strata.
The custardy base is a mixture of eggs and milk that is poured over the bread layer as it is being constructed. We added a chunk of cream cheese to the base mixture in our recipe. Additional flavor-enhancers added into the custard could be Dijon mustard or hot sauce. There is a touch of our Horseradish Aioli in the recipe which is certainly optional however if you do use it you wont be disappointed because the flavor sets it apart.
Cheese options:
For our strata we selected a smokey Gouda cheese which is a good melter and adds creaminess to the custard. Furthermore , we love that smokey flavor and silky texture! Here are more cheese options that would be delicious.
Monterey Jack

Gruyère

Fontina

Havarti
Be creative:
Any meats and/or vegetables that you can conjure up may be added into the layers. Some vegetables that have a lot of moisture in them; such as mushrooms, onions or zucchini should be sautéed before adding to the strata. This will cook out some of the liquid, consequently preventing the strata from becoming too watery. A strata is really a blank canvas for creating unique flavor combinations.
In our asparagus, ham and gouda breakfast strata we chose a rustic Pugliese bread which we cut into one-inch cubes. The bread cubes are sometimes dried out or toasted in the oven. I think the idea is that they are able to soak up more of the custard base.
How we created our Asparagus-Ham and Gouda Breakfast Strata:
There are two layers in our strata, each layer consists of half of the bread cubes, one-half of the egg mixture, half of the cheese-chive mix, half of the asparagus pieces, and half of the ham cubes. Grated Parmesan was sprinkled over the final layer and the top was dusted with smokey paprika. It is easy to create a breakfast strata and it will be a hearty meal in itself.
It is a make-ahead, time-saving casserole:
Another reason this Asparagus-Ham and Gouda Breakfast Strata gets an A+ in our opinion is that it can be assembled the day or night before, refrigerated and then baked the next morning. That means it is a huge time-saver when planning a large brunch party. And we are always open to 'time-saver' ideas. Most of all, the time saved with this recipe leaves more time for you.
More breakfast recipes:
Have you made our Asparagus-Ham and Gouda Breakfast Strata? We would love to see a picture. Tag us on Instagram.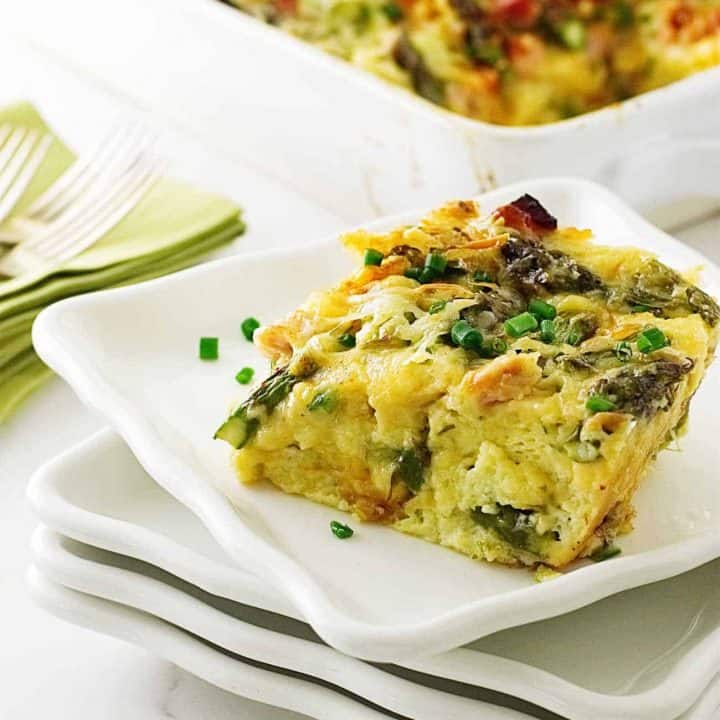 Asparagus-Ham and Gouda Breakfast Strata
Total Time:
1 hour
20 minutes
Our savory Asparagus-Ham and Gouda Breakfast Strata is rich, creamy and super delicious. This is a perfect entrée if you are hosting a brunch party. Just assemble the dish the day or night before, refrigerate it then bake it the next morning.
Ingredients
1-1/4 pounds of bread, crusts removed, about 7 cups
10 eggs
3 cups whole milk
8 oz. cream cheese, room temperature
1/2 teaspoons sea salt
1/4 teaspoon freshly ground black pepper
1 tablespoon Horseradish Aioli or bottled horseradish cream
1-1/2 pound fresh asparagus, trimmed and cut into 1-inch pieces
1 pound ham, cut into cubes
1/4 cup chopped chives
8 ounces smokey Gouda cheese, shredded
2 ounces Parmesan cheese, grated
1/2 teaspoon dusting of smokey paprika
2 tablespoons chopped chives for garnish
Instructions
Cut bread into 1-inch size cubes and add to a large bowl
To the bowl of the food processor, add the eggs, cream cheese milk, salt, horseradish or mustard and pepper. Pulse until smooth.
Add the asparagus and cubed ham to individual bowls
In another bowl add the Gouda cheese and chives, toss to combine.
Grate the Parmesan cheese into a small dish
Arrange the dishes on your workspace: Egg mixture, bread cubes, cheese-chive mixture, asparagus, ham cubes, Parmesan cheese and paprika.
To Assemble:
Grease an ovenproof 9x13 casserole dish or spray with non-stick baking oil
Add 1/2 of the bread cubes to the prepared baking dish, add 1/2 of egg mixture, sprinkle 1/2 of the cheese-chives mixture, 1/2 of the asparagus and 1/2 of the ham. Press down on the layer slightly with a spatula. Repeat with the remaining ingredients. Distribute the Parmesan cheese evenly over the top and dust with paprika.
Cover the dish with the foil and refrigerate overnight. (*See Notes)
When ready to bake the strata, transfer from the refrigerator, and allow the dish to sit on the counter top while the oven heats.
Preheat the oven to 350°F and bake the strata for 40 minutes, remove the foil and bake for an additional 20 minutes and the strata is golden brown and crisp on top.
Transfer from the oven and allow to cool for 10 minutes, sprinkle with additional chopped chives before cutting into square serving sizes.
Notes
We trimmed off the crusts then cut the bread into cubes. There should be about 7 cups of bread cubes
Dijon mustard can be substituted for the horseradish aioli
Low fat milk can be used but whole milk or half and half will make a richer custard
We used a low-fat cream cheese to save a few calories
To prevent the cheese from sticking to the aluminum foil, spray the underside (the dull side) of the foil with a non-stick baking oil
Check for doneness by inserting a knife into the center. If it comes out clean it is done.
If the strata tests 'done' and you want a deeper brown on top, switch the oven heat to 'broil' and watch it closely until the color is achieved.
Nutrition Information:
Yield:

12
Serving Size:

1
Amount Per Serving:
Calories:

433
Total Fat:

28g
Saturated Fat:

13g
Trans Fat:

0g
Unsaturated Fat:

11g
Cholesterol:

240mg
Sodium:

1098mg
Carbohydrates:

21g
Fiber:

2g
Sugar:

7g
Protein:

26g
Nutrition information is a guideline only, is calculated automatically by third party software, and absolute accuracy is not guaranteed.