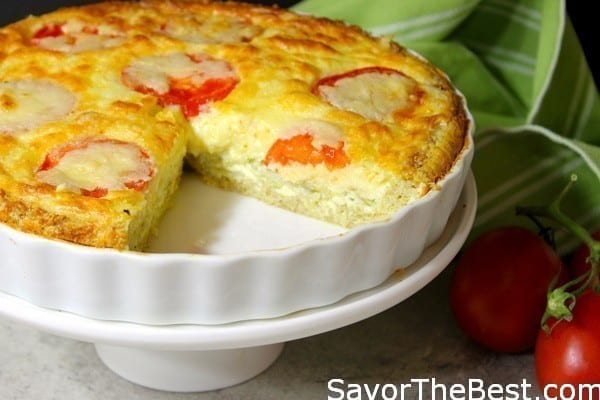 Our daughter-in-law, Gillian, recently had a birthday and I had the pleasure of hosting a little party-brunch in her honor. I just love Gillian! I confess that I am a little bit intimidated when it comes to my kitchen skills as she is such an accomplished Culinary Artist.
She was born and raised in Ireland and after finishing University she worked in London, Germany and Switzerland in the culinary field including some high-end hotels in Europe. She has a vast knowledge in all things food related. She has such a warm, gracious, loving personality and I am so pleased that Burl had the good fortune to find and marry this lady. She is the best thing that ever happened to Burl!
The main attraction for this brunch was the quiche that I made with sweet baby Walla Walla onions. The crust, adapted from simplywizardress.com, was made with cooked quinoa rather than the standard pastry crust and it was easy to put together and baked up crisp and golden brown.
This is an incredibly delicious quiche that has a mild onion flavor and a creamy cheese filing. The recipe has been adapted from allrecipes.com/Recipe/Leek-and-Cheese-Quiche and I am sure that it will also be delicious with leeks but this is the season for the baby Walla Walla's and they were an excellent choice.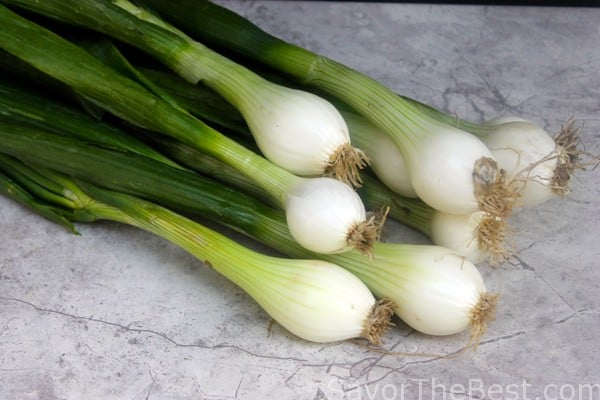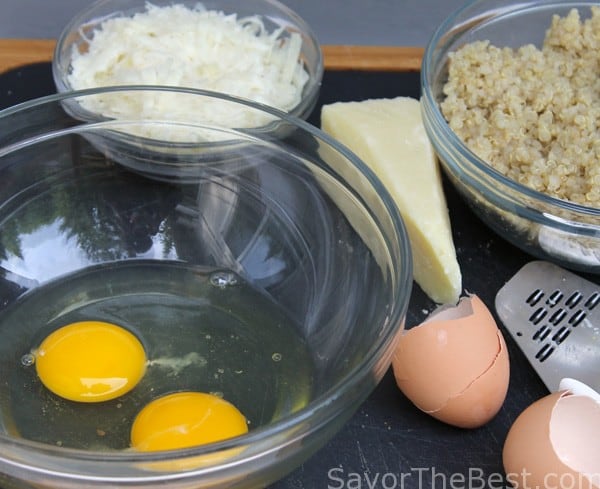 Quinoa crust ingredients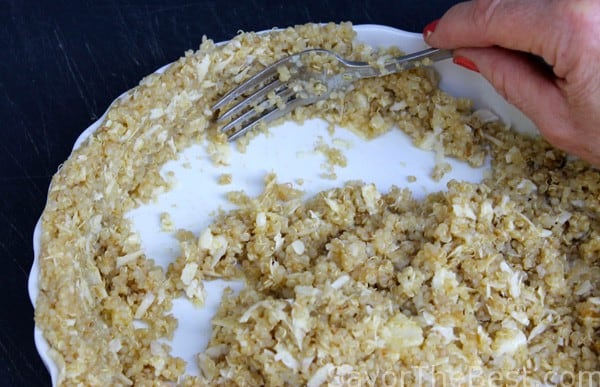 Forming the quinoa crust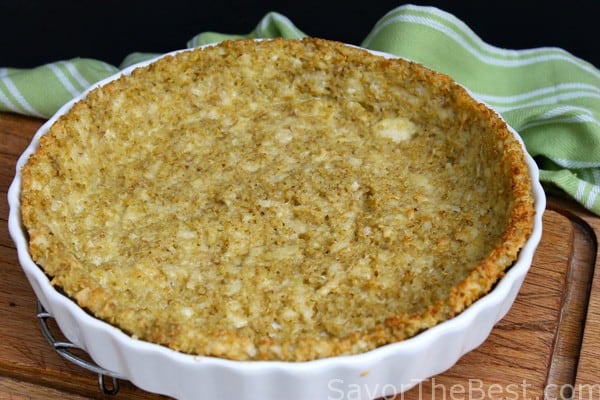 Baked quinoa crust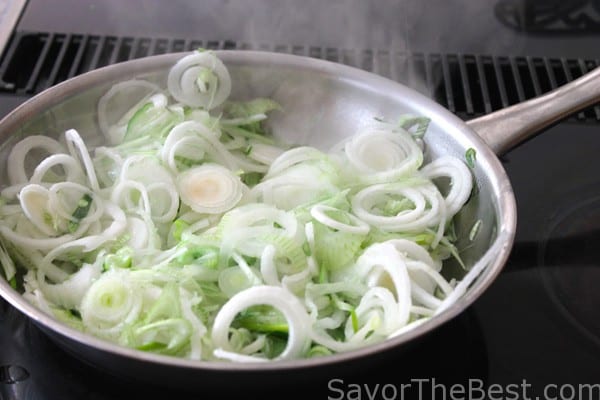 Sautéed baby Walla Walla onions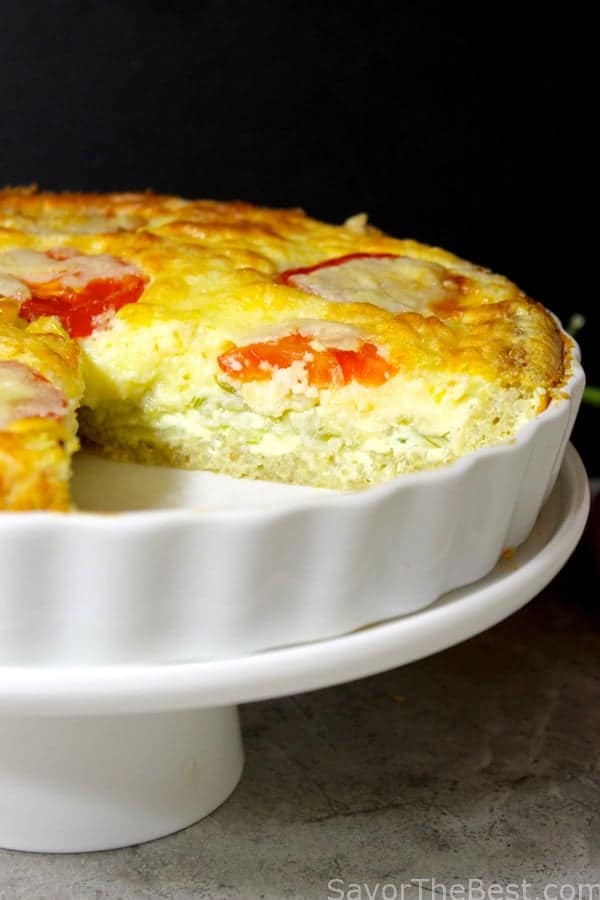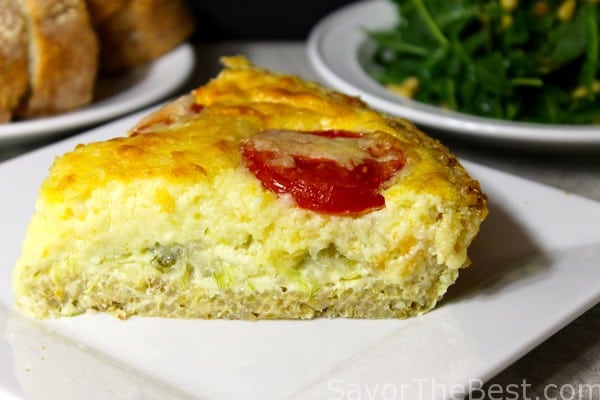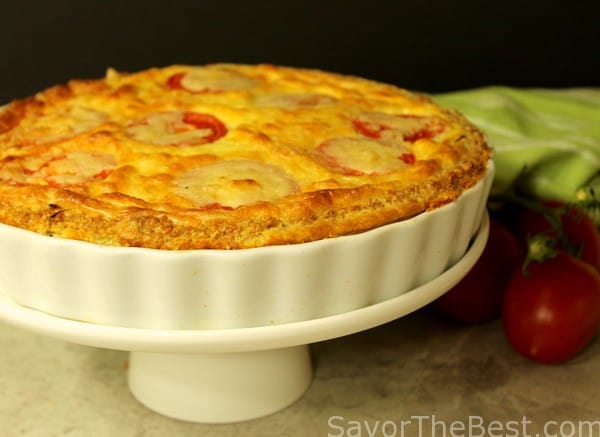 CONNECT WITH SAVOR THE BEST!
Be sure to follow us on our social media accounts
Facebook * Instagram * Pinterest * Twitter * Youtube
Did you make this recipe? We would love to hear from you. Drop us a comment below.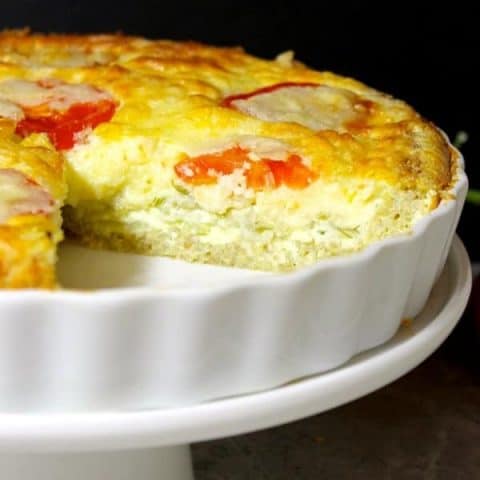 Sweet Baby Walla Walla Onions and Tomato Quiche
Yield: 8 servings
Prep Time: 45 minutes
Cook Time: 1 hour 45 minutes
Total Time: 2 hours 30 minutes
An incredibly delicious quiche that has a mild onion flavor and a creamy cheese filing with a crust made of quinoa.
Ingredients
Preheat the oven to 450°F
Quinoa Crust
2 eggs
2 cups cooked quinoa
1/2 cup grated parmesan cheese
1 teaspoon cumin
Filling
2 tablespoons butter
2 cups sliced baby Walla-Walla onions
1-1/2 cup shredded havarti cheese, reserve 1/2 cup
1 tablespoon all-purpose flour
4 eggs
1/2 teaspoon salt
1/4 teaspoon fresh ground pepper
1-1/2 cup heavy cream
2 tomatoes, thinly sliced
Instructions
In a medium sized bowl, whisk the eggs together, add the quinoa, parmesan cheese and cumin and stir until well combined. Transfer the mixture into a 10-inch quiche dish that has been sprayed with non-stick and using a dinner fork press the mixture up the sides of the quiche dish. Smooth the remaining mixture on the bottom of the dish, pressing down slightly. Transfer the dish to the oven and bake for 15 minutes. Remove and cool on a wire rack.
For the filling:
Slice the onions as thin as possible. I used my food processor with a slicing blade.
Melt the butter in a medium-sized skillet over medium heat and saute the onions until tender. Spread them evenly over the bottom of the cooked, cooled crust.
In a bowl, add 1 cup of the cheese and toss with the flour. Sprinkle evenly over the onions.
In a separate bowl or your VitaMix, beat the eggs and cream together with the salt and pepper. Pour the mixture over the onions and cheese mixture and top with sliced tomatoes. Sprinkle the remaining 1/2 of cheese over the top.
Place the prepared dish on a baking sheet and transfer to the middle of the oven and bake at 450°F for 15 minutes then reduce the heat to 325°F and continue to bake for an additional 30 minutes, until the top is lightly browned and a knife inserted into the center comes out clean.
Remove from the oven and allow to cool for five (5) minutes before serving.
Nutrition Information:
Yield: 8
Serving Size: 1
Amount Per Serving:
Calories: 378
Total Fat: 28g
Saturated Fat: 16g
Trans Fat: 1g
Unsaturated Fat: 10g
Cholesterol: 210mg
Sodium: 384mg
Carbohydrates: 21g
Fiber: 3g
Sugar: 6g
Protein: 13g
Nutrition information is a guideline only, is calculated automatically by third party software, and absolute accuracy is not guaranteed.