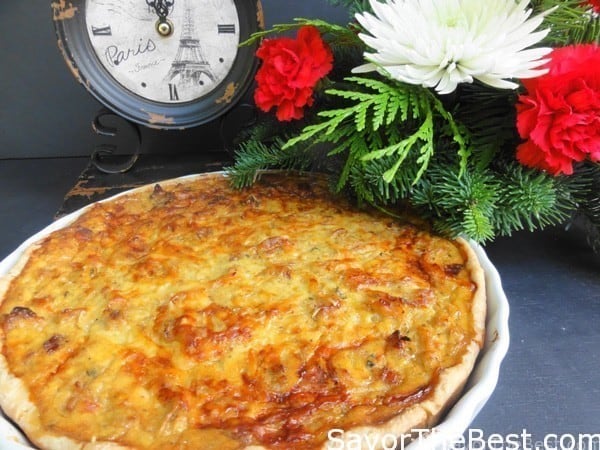 Don and I are a part of a small group of church friends that meet each Tuesday night for a bible study in the home of one of the couples. Everyone is about the same age so we have a lot in common and enjoy our times together. At the end of the year we always have a Christmas party that is a pot-luck as well as a White Elephant gift giving time. This year we decided to do just appetizers and desserts for the pot-luck and Don and I will be hosting the party in our home. It should be great fun.

My contribution to the menu is an Alsace onion tart. Alsace is the smallest French region of France and is located in the northeast corner of France. This is one of the areas we visited in 2009, and it is well known for their Alsatian wines and great food.
This tart has a flaky, tender pastry shell with a custard filling of rich and creamy caramelized onions and a hint of thyme. It can be served at room temperature as an appetizer but also it is a wonderful entrée served hot for dinner with a salad and a warm, crusty loaf of bread, and of course, a nice glass of Chardonnay would be lovely.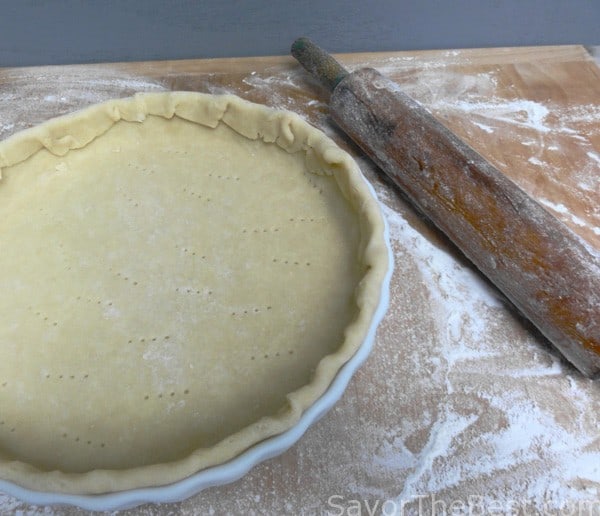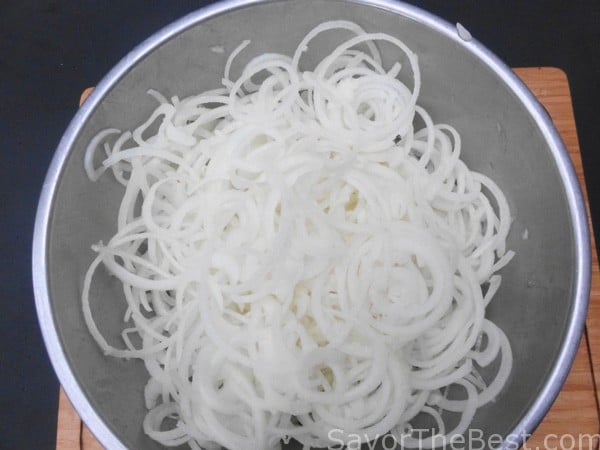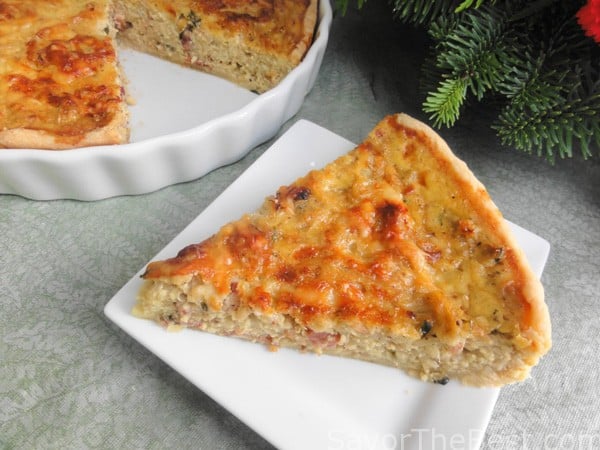 SOME OTHER RECIPES WE ARE SURE YOU WILL LOVE:
Olive and cheese pinwheel appetizers
Breakfast potato skillet with bacon and mushrooms
Stuffed portobello mushrooms with feta cheese
CONNECT WITH SAVOR THE BEST!
Be sure to follow us on our social media accounts
Facebook * Instagram * Pinterest * Twitter * Youtube
Did you make this recipe? We would love to hear from you. Drop us a comment below.
This recipe was given to me by our friend Randy, the owner of Tucker Cellar's Winery in the Yakima Valley, WA. It was served as one of the appetizers for a wine tasting event earlier this year.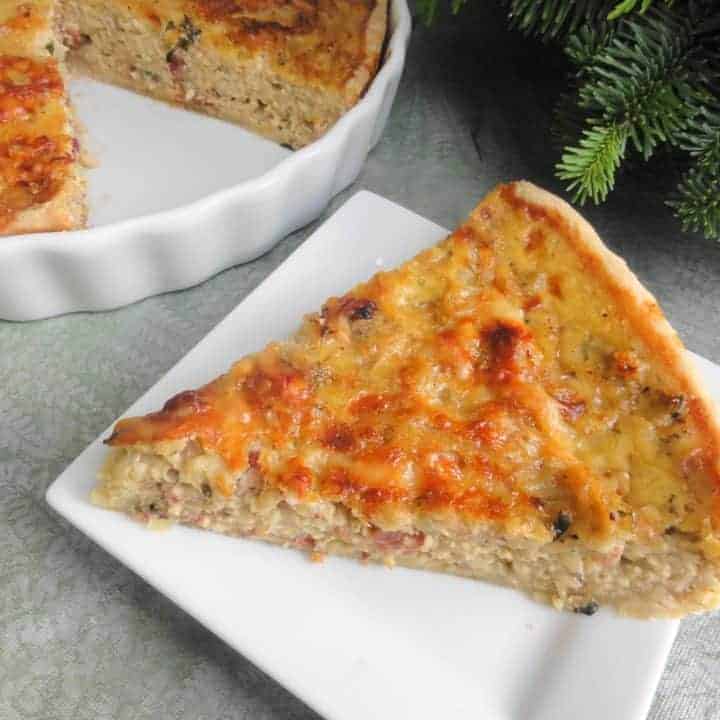 Alsace Onion Tart (Tarte à l'Oignon)
Yield: 20 servings
Prep Time: 1 hour
Cook Time: 45 minutes
Total Time: 1 hour 45 minutes
A savory onion tart that is perfect for a brunch or appetizer
Ingredients
For pastry
2 cups all-purpose flour, plus more for dusting
¾ teaspoon salt
1-1/2 sticks of cold butter, cut into cubes
5 tablespoons ice water
1 teaspoon cider vinegar
For filling
4 bacon slices (1/4 lb), cut crosswise into ⅛- to 1/16-inch-wide strips
2 lb onions, halved lengthwise and very thinly sliced crosswise (10 cups)
1¼ teaspoons salt
1 teaspoon black pepper
1 cup heavy cream
4 extra large eggs
2 egg yolkes
½ teaspoon freshly grated nutmeg
2 tablespoons minced fresh thyme
Instructions
Blend flour and salt together in a large bowl. Cut in the butter using a pastry blender (or pulse in a food processor) just until most of mixture resembles coarse meal with some small (roughly pea-size) butter lumps. Mix the vinegar and 5 tablespoons of ice water together and drizzle evenly over the flour mixture and gently stir with a fork
Squeeze a small handful: If it doesn't hold together, add more ice water, ½ tablespoon at a time, stirring (or pulsing) until just incorporated, then test again. (Do not overwork mixture, or pastry will be tough.)
Turn out mixture onto a lightly floured surface. Gather dough together with pastry scraper and press into a ball, and then flatten into a disk. Chill dough, wrapped in plastic wrap, until firm, at least 1 hour.
Roll out dough on a floured surface with a floured rolling pin into a 15-inch round and fit into a 11″ tart pan, lifting and gently pressing into the pan. Trim excess dough, leaving a ½-inch overhang, then fold overhang over pastry and press against side to reinforce edge. Lightly prick bottom with a fork and chill until firm, about 30 minutes. (If using a tart pan with a revomable bottom place the pan on a baking sheet when putting it into the oven).
Put oven rack in middle position and preheat oven to 400°F.
Line chilled shell with foil and fill with pie weights. Bake until pastry is set and pale golden along rim, 15 to 20 minutes. Carefully remove foil and weights and bake shell until golden all over, 10 to 15 minutes more. Transfer baked shell to a rack to cool. (Reduce oven temperature to 375 degrees)
Filling:
Place the bacon into a cold skillet, and cook over medium heat until browned. Remove bacon from skillet and drain on paper towels, reserve 4 tablespoons of the bacon fat.
Add sliced onions to the skillet with the reserved bacon fat and cook onions with ¾ teaspoon salt and ½ teaspoon pepper over moderate heat, stirring, until just wilted, about 2 minutes. Cover skillet with a lid and continue to cook, stirring frequently until onions are very soft and pale golden, about 20 minutes. Stir in bacon, then remove from heat and cool completely.
Whisk together the cream, eggs and yolks, nutmeg, thyme, remaining ½ teaspoon salt, and remaining ½ teaspoon pepper in a large bowl, then stir in onions.
Pour filling into tart shell, spreading onions evenly, sprinkle ½ cup of grated Gruyere cheese evenly over the top and bake until filling is set and top is golden, 40 to 50 minutes. Serve warm or at room temperature
Nutrition Information:
Yield: 20
Serving Size: 1
Amount Per Serving:
Calories: 193
Total Fat: 13g
Saturated Fat: 8g
Trans Fat: 0g
Unsaturated Fat: 4g
Cholesterol: 71mg
Sodium: 324mg
Carbohydrates: 15g
Fiber: 1g
Sugar: 3g
Protein: 4g
Nutritional information is provided as a courtesy and is not guaranteed to be accurate. This information is a result of online calculators. Although we attempt to provide accurate nutritional information, these figures are estimates.