Put down that store-bought chip dip. This homemade chili relleno dip is why your guests are coming to the party
We have re-constructed all the flavors in our easy chili relleno casserole and created this amazing chili relleno dip. This dip will make all your guests happy. It is full of ooey, gooey cheese for all the cheese lovers and it is meat free for all the vegetarians.
Heck, this party dip even satisfies the gluten-free crowd, just serve it with some gluten-free chips and you're set! Your party guests have never been so happy. 🙂
How to make this chili relleno dip
The base for this party dip is cream cheese. The mild taste of cream cheese absorbs other flavors very well.
Let the cream cheese sit on the counter for a while so it is soft. Softening the cream cheese will help you whip it to a smooth and creamy consistency. If you have ever tried beating cold cream cheese, you know that it is very difficult to get all the lumps out.
Once the cream cheese is soft, beat it with an electric mixer until it is smooth. Next toss in all but a couple of handfuls of the cheese and some garlic powder and mix that together.
Stir in a can of diced green chilis but save a couple of tablespoons for the top along with a handful of shredded cheese.
Now spread the cheese mixture into an 8-inch baking dish. Top it off with salsa, the extra green chilis, and the extra cheese.
Stick it in a hot oven and bake it until the cheese is bubbly and hot. When you pull it out of the oven, top it off with some crumbles of queso fresco and chopped cilantro.
What dish can I use to bake this Chili relleno dip?
We used an 8-inch cast iron skillet to bake this chili relleno party dip. Cast iron retains the heat really well and will keep this chili relleno dip hot and gooey until the last bite. Cast iron skillets are affordable, last forever, and can be used for practically everything.
If you don't have an 8-inch cast iron skillet, you can use any 8-inch baking dish. You can even use a larger baking dish if you would like.
Keep in mind if you use a larger baking dish, you will want to reduce the baking time. Just keep an eye on the cheese and pull it out of the oven when it is hot and bubbly.
Can I make this ahead of time?
You can make this party dip one to two days ahead of time. Just don't bake it until the guests arrive. Mix it all together and spread it in the baking dish then cover it with plastic wrap and store it in the fridge.
When the party starts, stick the chili relleno dip in a hot oven. As soon as it is hot, pull it out and sprinkle the queso crumbles on top.
SOME OTHER RECIPES WE ARE SURE YOU WILL LOVE:
CONNECT WITH SAVOR THE BEST!
Be sure to follow us on our social media accounts
Facebook * Instagram * Pinterest * Twitter * Youtube
Did you make this recipe? We would love to hear from you. Drop us a comment below.
Watch our video and see how easy it is to make this chili relleno dip.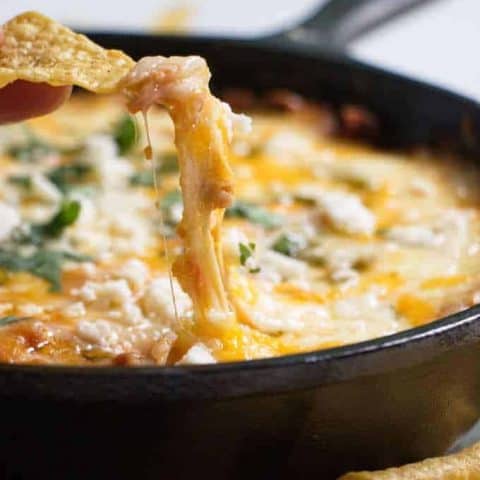 Chili Relleno Dip
All the flavors of a chili relleno are combined into a fabulous party dip.
Ingredients
1 (8-ounce) package of cream cheese (softened)
1-1/2 cup shredded Monterey Jack cheese (6 ounces)
1 cup shredded cheddar cheese (4 ounces)
1 (7-ounce) can diced green chiles
1/2 cup salsa
2 to 3 tablespoons queso fresco crumbles
2 tablespoons chopped cilantro (or parsley) for garnish
Instructions
Preheat the oven to 350°F
Place the cream cheese in a mixing bowl and cream it with a mixer until it is smooth. Add 1 cup of the Monterey Jack cheese and 1/2 cup of the cheddar cheese to the bowl (reserve 1/2 cup of each cheese for the top). Add the garlic powder then beat it on medium speed until well combined.
Stir in all but 2 teaspoons of the diced green chiles. Reserve the 2 teaspoons for the top.
Spread the mixture in an 8-inch baking dish. Top with the salsa, remaining cheese and diced green chiles.
Bake for 20 to 25 minutes until hot and the cheese is melted.
Remove from the oven and sprinkle with queso fresco crumbles and chopped cilantro.
Serve with chips, crackers, or bread.
Notes
We used an 8-inch cast iron skillet to bake and serve this party dip in.
If you don't have a 8-inch baking dish available, you can make this in a standard 9-inch pie plate but you will need to reduce the cooking time if you use a larger dish like a pie plate.
It should take 12 to 15 minutes to heat through completely in a 9-inch dish.
For extra green chili flavor, add two cans of diced green chili.
The diced green chili is very mild. If you want to have a spicy dip then add 1/4 teaspoon of chili powder or a dash of hot sauce.
Recommended Products
As an Amazon Associate and member of other affiliate programs, I earn from qualifying purchases.
Nutrition Information:
Yield:

12
Serving Size:

1
Amount Per Serving:
Calories:

149
Total Fat:

12.6g
Saturated Fat:

8g
Cholesterol:

39mg
Sodium:

298mg
Carbohydrates:

2.6g
Sugar:

1g
Protein:

6g