A light, flaky killer crust envelopes these spicy pulled pork empanadas. They are just in time for Cinco De Mayo. All the delicious Mexican flavors are in the spicy pork filling. You will be dreaming of a vacation to Mexico.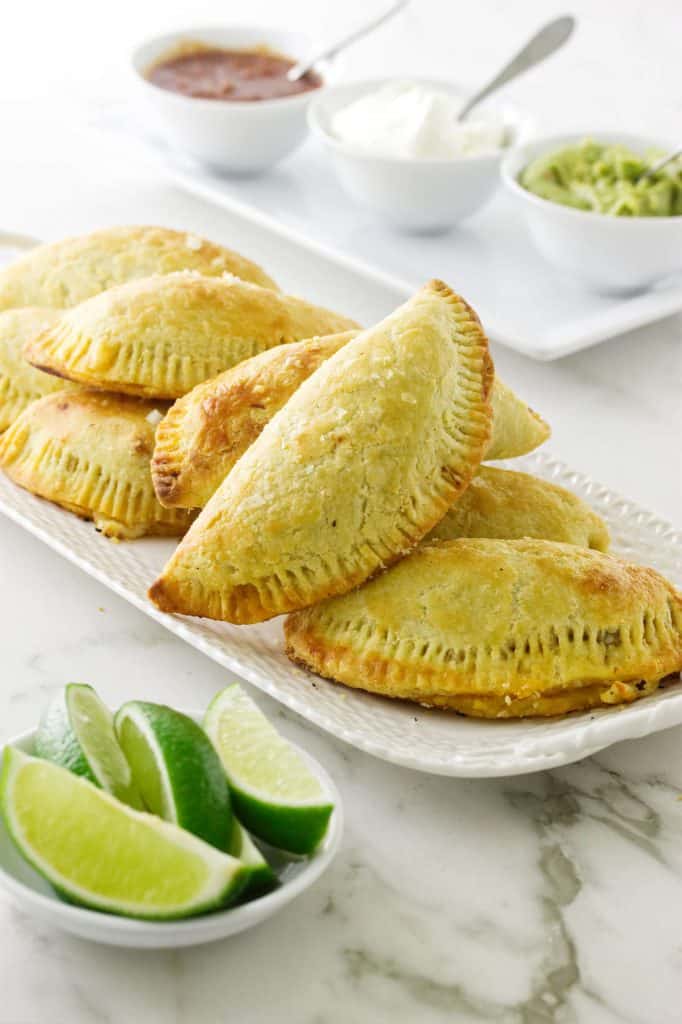 We created these Mexican spicy pulled pork empanadas in a dinner-sized serving, but they can be formed into a small appetizer size as well.
We also call empanadas individual pastry-stuffed small pies because they are perfect little hand pies. You can fill these little hand pies with a savory filling of meat, vegetables, cheeses, and spices. They can also be made as a sweet empanada and filled with a fruit mixture. Yum!
We think hand pies is a good description of them as they are so convenient and portable. Empanadas may look intimidating. However, they are pretty easy to make.
Resist the urge to add a lot of moisture to the meat-veggie mixture keeping it more on the dry side. Otherwise, it will seep out during the baking process. Consequently, we added only a small amount of sauce to our empanadas.
If you are starting with a freshly slow-roasted chunk of pork, you will have the juices to make a yummy gravy/sauce. I had some frozen shredded pork made from our Chipotle Pulled Pork but not the cooking juices. We made a light sauce with canned beef broth and spices to serve with these spicy Mexican pulled pork empanadas. Other condiment ideas would be:
Salsa
Guacamole
Sour Cream
Avocado slices
Fresh lime wedges
How We Made These Spicy Pulled Pork Empanadas: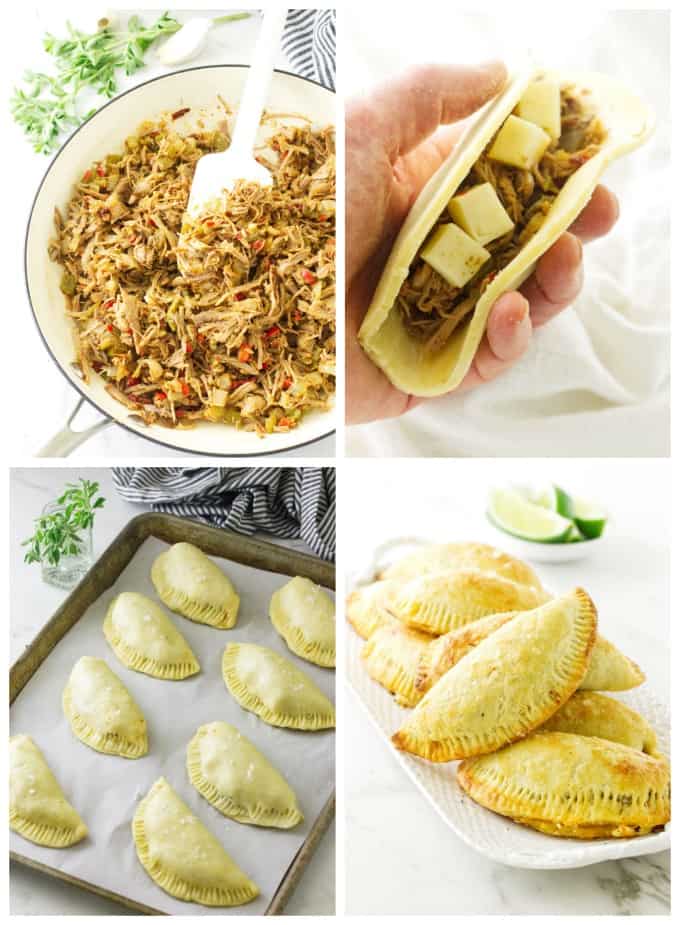 An all-butter pastry was made first and to make it fast and easy we mixed it in the food processor. The key to a light, flaky pastry is to not over-knead the dough and to chill the dough before rolling it.
While the dough was chilling in the refrigerator, we first prepared a beef-broth based sauce. Next, we sautéed onions, garlic, red bell pepper, green chiles, and spices. To give the mixture its spicy heat we used four canned chipotle chiles. About three cups of shredded pork was tossed with the vegetables and a quarter cup of sauce to hold it together.
Filling the Empanadas:
Roll the chilled dough out and cut it into six-inch rounds using a bowl as a guide. Each round was filled with about one-third cup of the pork mixture along with cubes of cheese. The dough was pressed together, brushed with egg wash and sealed with a fork. Finally, we sprinkled the tops of the empanadas with salt flakes and baked them.
I have found that the larger dinner-size is easy to form by holding the filling and dough round in your hand as shown in the photo and pinching the edges closed. Next, just lay it on the work surface and mash the edges lightly with a fork. It only takes twenty-five minutes to bake these empanadas.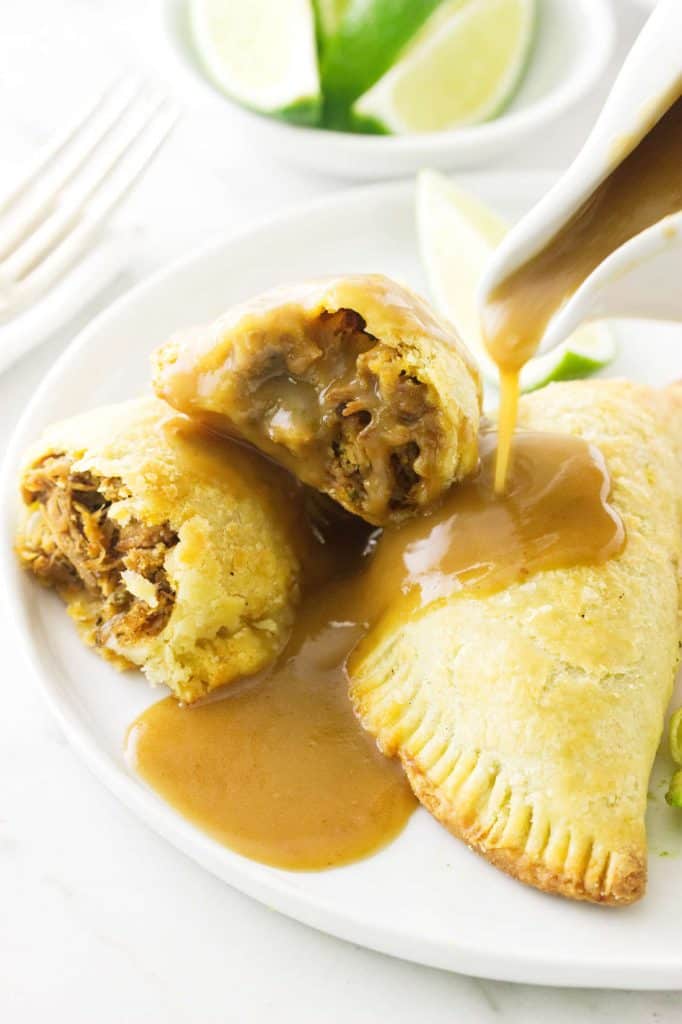 This was a great-tasting empanada served with all the condiments, a green salad and a cold beer. Enjoy your Cinco de Mayo feast!
More Recipe Ideas:
Have you made these spicy pulled pork empanadas? We would love to hear from you.
Like us on Instagram.
Like us on Facebook.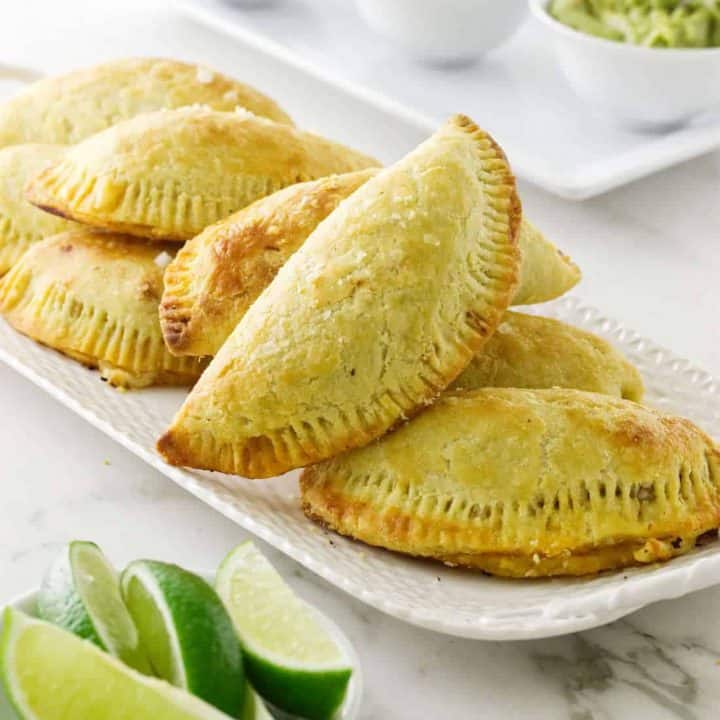 Spicy Pulled Pork Empanadas
Yield: 8 servings
Prep Time: 2 hours
Cook Time: 25 minutes
Total Time: 2 hours 25 minutes
A light, flaky killer crust envelopes these spicy pulled pork empanadas. The filling is a mixture of pork, vegetables, cheese, fresh herbs and Mexican chiles and spices. These flavorful stuffed pastry pies are served with a light sauce, salsa, sour cream and lime wedges.
Ingredients
For the Crust:
3-1/4 cups all-purpose flour
3/4 teaspoon sea salt
1-1/2 cubes butter, (6 ounces) cut into small pieces
1 egg
1/2 cup ice-cold water
2 tablespoons vinegar
For the Sauce:
4 tablespoons butter
3 tablespoons flour
2 cups beef broth
1 teaspoon cumin powder
1/2 teaspoon garlic powder
Salt and pepper to taste
For the Pork Mixture:
2 tablespoons olive or vegetable oil
1 medium onion, chopped
2 cloves garlic, finely chopped
1 (7-ounce) can diced green chiles, drained
3-4 canned chipotles, seeds and stem removed and chopped
1 teaspoons cumin
2 tablespoons finely chopped fresh oregano
1/2 teaspoon salt
3 cups shredded pork, about 1 pound
2-3 tablespoons beef sauce (from above)
4 ounces Pepper Jack cheese, cut into small cubes
Egg Wash
Instructions
For the Pastry:
Add the flour, salt, and butter to a food processor and pulse to combine until crumbly and small pieces of butter are still visible. In a small dish, whisk the egg, water, and vinegar together and sprinkle over the flour mixture. Pulse the mixture until it begins to clump into a ball.
Turn the pastry onto a lightly dusted work surface and gently shape together. Divide in half and flatten into each section into a round disc. Wrap in plastic wrap and refrigerate for 2 hours.
For the Sauce:
Melt butter over medium-low heat, add flour, cook and stir for one minute to cook the flour. Whisk in the beef broth, cumin, and garlic powders. Continue to whisk for another 2-3 minutes until the sauce thickens. This will be a light sauce. Remove from heat, cover and reserve.
For the Pork Mixture:
In a large skillet set over medium heat, add the oil and when it is hot add the onions, cook and stir for 2 minutes, add the garlic, drained green chilies, chopped chipotles, cumin, oregano and salt. Add the shredded pork and toss the mixture together with 2-3 tablespoons of the reserved beef sauce. Remove from the heat and allow to cool.
Preheat the oven to 400°F and line a baking sheet with parchment paper
Remove the pastry from the refrigerator. On a lightly floured work surface, roll out one portion to a thickness of 1/8-inch. Cut into 6-inch circles. We used a 6-inch bowl as a guide. Place the circles of pastry on a sheet of parchment as you cut them. Continue with the second pastry disc, then gather the pastry scraps and lightly press into a disc, roll and cut. You should have 8 completed circles of pastry.
In a small dish, prepare the egg wash by whisking the egg and water together.
To Assemble the Empanadas:
Pre-heat the oven to 400°F.
Working with one pastry circle at a time, brush the edge with some of the egg wash. Pick it up in your hand as shown in the photo and add 3 or 4 tablespoons of the meat mixture inside (about 2 1/2 ounces). Add a few cubes of the cheese, then pinch the pastry closed around the edges. Lay the closed empanada on the work surface and lightly press the edges together with a fork. Place the filled empanada on the prepared baking sheet and proceed with filling the remaining pastry circles.
Brush the filled empanadas with egg wash and bake in the preheated oven for 20-25 minutes.
Reheat the beef sauce and serve with the empanadas
Nutrition Information:
Yield: 8
Serving Size: 1
Amount Per Serving:
Calories: 524
Total Fat: 27g
Saturated Fat: 12g
Trans Fat: 0g
Unsaturated Fat: 12g
Cholesterol: 126mg
Sodium: 833mg
Carbohydrates: 45g
Fiber: 2g
Sugar: 2g
Protein: 24g
Nutrition information is a guideline only, is calculated automatically by third party software, and absolute accuracy is not guaranteed.