In Mexico, pulled pork is called carnitas and traditionally it is cooked in a lot of lard for flavor and tenderness. Our version is called chipotle pulled pork. We by-pass the lard and all those fat calories but this chipotle pulled pork is not lacking in flavor, or tenderness!
This is a spicy pork recipe with herbs, spices, fresh jalepeno peppers and the canned chipotle peppers for heat and flavor. We used a nice pork shoulder which at $1.79 a pound was pretty economical and this recipe will yield enough delicious pork to make a batch of enchiladas, some tacos and some yummy burritos.
This recipe is so easy to make, just mix the spices together and rub over the pork then add everything to a Dutch oven or lidded oven-proof casserole dish and slide it into a 250°F oven for about three hours. As it cooks the pork releases it's liquid and swims around with the spices soaking up all those good flavors. And your kitchen will have an awesome fragrance!
When the pork has cooked to the point it is falling apart, it is transferred to a large platter where bones and chunks of grizzle are removed and the meat is shredded with two forks. Now it is ready for tacos or your favorite Mexican recipe.
If you like the crispy bits of meat that is in the Mexican version then just heat up a skillet, add some of the cooking fat and fry the bottom of the pork to a crispy crust.
More recipes to check out: Chipotle Pork Skillet Dinner, Salsa Verde Tamale Pie, Chipotle Chicken Enchiladas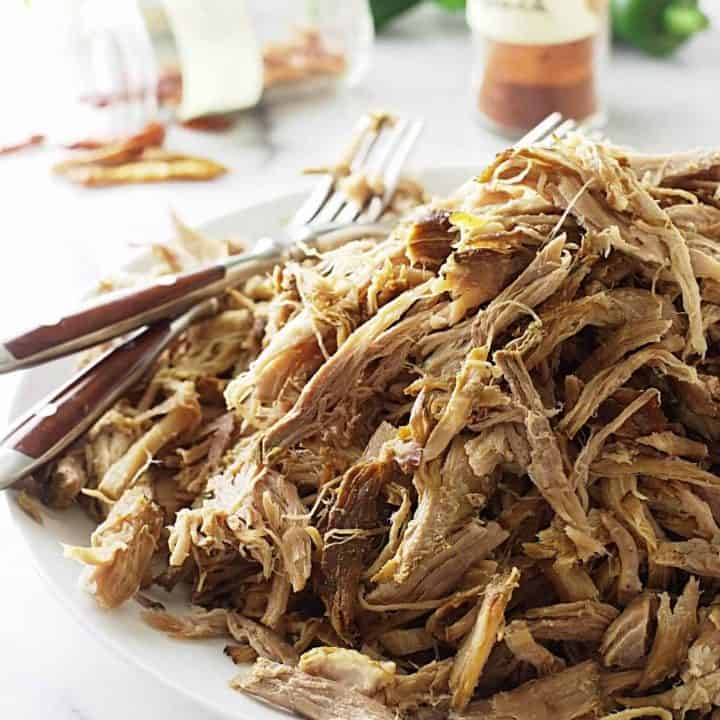 Chipotle Pulled Pork
Yield: 16 servings
Prep Time: 15 minutes
Cook Time: 3 hours
Total Time: 3 hours 15 minutes
We used flavor full pork shoulder for this easy chipotle pulled pork recipe with herbs, spices, fresh jalepeno and the canned chipotle peppers for heat and flavor.
Ingredients
1 tablespoon sea salt
1/2 teaspoon black pepper
1/2 teaspoon ground chipotle
1 teaspoon ground cumin
1 teaspoon dried oregano
3 1/2-4 pounds pork shoulder with bones, cut into chunks
1 large yellow onion, chopped
1 jalepeno pepper, seeded, ribs removed cut into chunks
1 or 2 chipotle peppers canned in adobo sauce
4-5 cloves garlic, chopped
1 tablespoon fresh oregano, chopped
1/2 cup chopped cilantro
1 cup beef broth or water
Instructions
Preheat the oven to 250°F
In a small dish, mix the salt, pepper, chipotle, cumin and oregano together. Rub the spice mixture over the surface of the pork and set aside.
Add the onion, jalepeno pepper, canned chipotle peppers, garlic and cilantro to the bottom of Dutch oven or large covered ovenproof casserole. Add the seasoned pork and pour the beef broth around the pork. Bring to a boil over medium high heat, transfer to the middle rack of the oven and cook for 2 1/2 to 3 hours or until the meat is falling apart.
Remove the pot from the oven and transfer the pork to a large platter and allow to cool slightly. Discard the cooking vegetables, strain the cooking liquid and refrigerate it, when it is cold and the fat rises to the top, remove the fat, reserving enough to crisp up the bottom of the pork and discarding the rest. Reserve the remaining liquid, if any, for another use, it may also be frozen. Using two forks, shred the meat, discarding the fat, bones and grizzle parts.
To make a crispy crust on the bottom: Set a large heavy-bottomed skillet or Dutch oven (cast iron skillet is my choice) over moderate heat and add a tablespoon or two of the reserved fat. When it has melted, add the pork and brown so that it gets a nice crust on the bottom. It may be necessary to do this in batches if your skillet isn't large enough.
Nutrition Information:
Yield: 16
Serving Size: 1/2 cup
Amount Per Serving:
Calories: 269
Total Fat: 16g
Cholesterol: 96mg
Sodium: 180mg
Carbohydrates: 1g
Protein: 27g