These apple breakfast cookies are a delicious, healthy and convenient way to start your morning. They are loaded with apples, coconut, pecans and crystalized ginger. The molasses gives them a robust flavor and keeps the cookies tender and moist.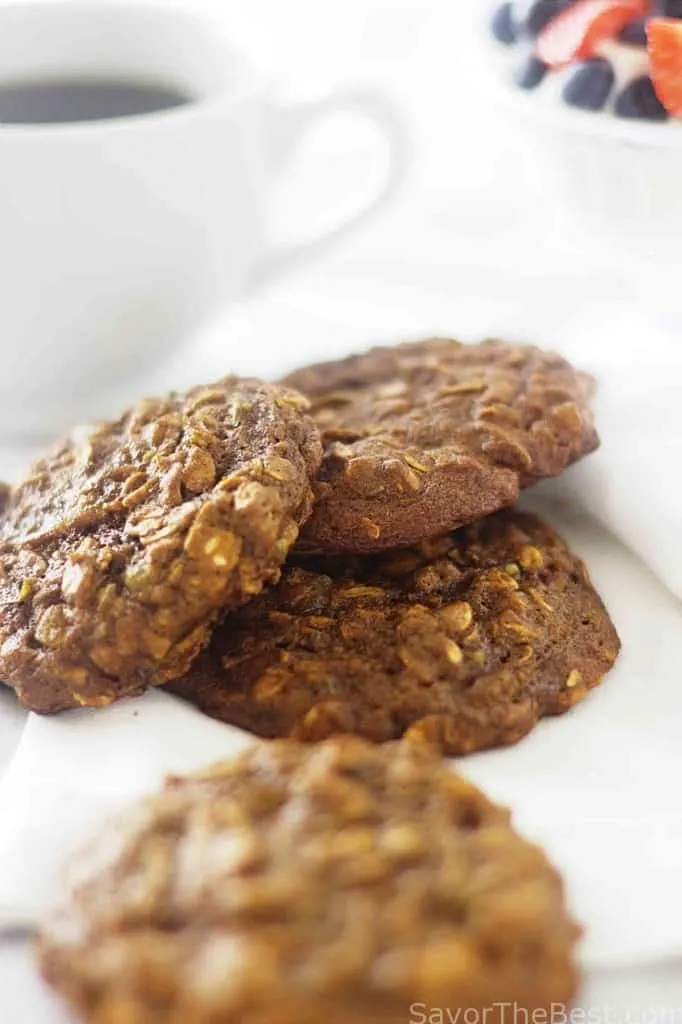 There is nothing more convenient than grabbing a cookie for breakfast and dashing out the door when your short on time. These cookies won't leave you feeling guilty for eating dessert for breakfast. They are made with healthy einkorn flour, an ancient grain that is lower in gluten and higher in protein and nutrients than modern flour.
The cookies are also loaded with apples, pecans, coconut flakes, rolled spelt and crystalized ginger for a well rounded and filling breakfast. The molasses gives these cookies a deep, hearty flavor that goes well with the warm spices plus it keeps the cookies moist and soft.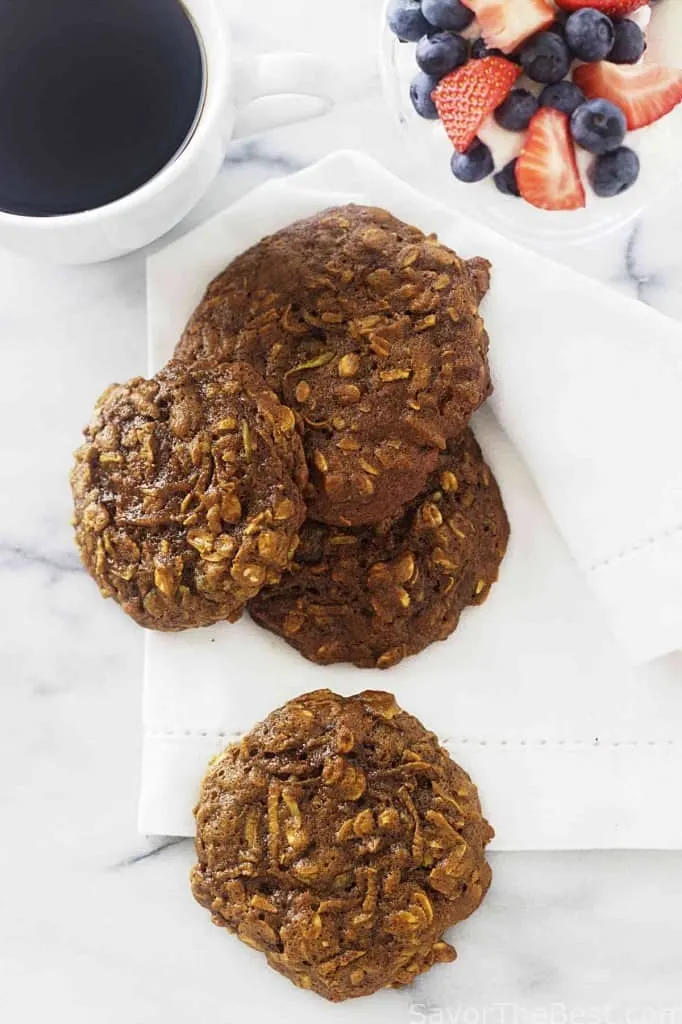 This recipe makes 30 large cookies that store well in an airtight container for 5 days or they can be frozen for 2 to 3 months. Save them for those days your short on time and you need a great grab-and-go breakfast or a quick snack.
Einkorn is an heirloom wheat that was first cultivated about 10,000 years ago and grew wild long before that. It is the first wheat known in history and has never been cross breed or altered.
Not only is it more flavorful than modern day wheat, it is more nutritious and easier to digest. It is higher in protein, lutein, riboflavin, vitamin A, and carotene.
Although it has gluten, the gluten has a different composition and molecular size than that of modern day wheat. These differences in it's genetic structure makes it more tolerable and easier to digest. It does not have the same toxic effects that the gluten in modern wheat has. It is wheat in the purest form, the way God intended wheat to be….. healthy, wholesome, unaltered and delicious.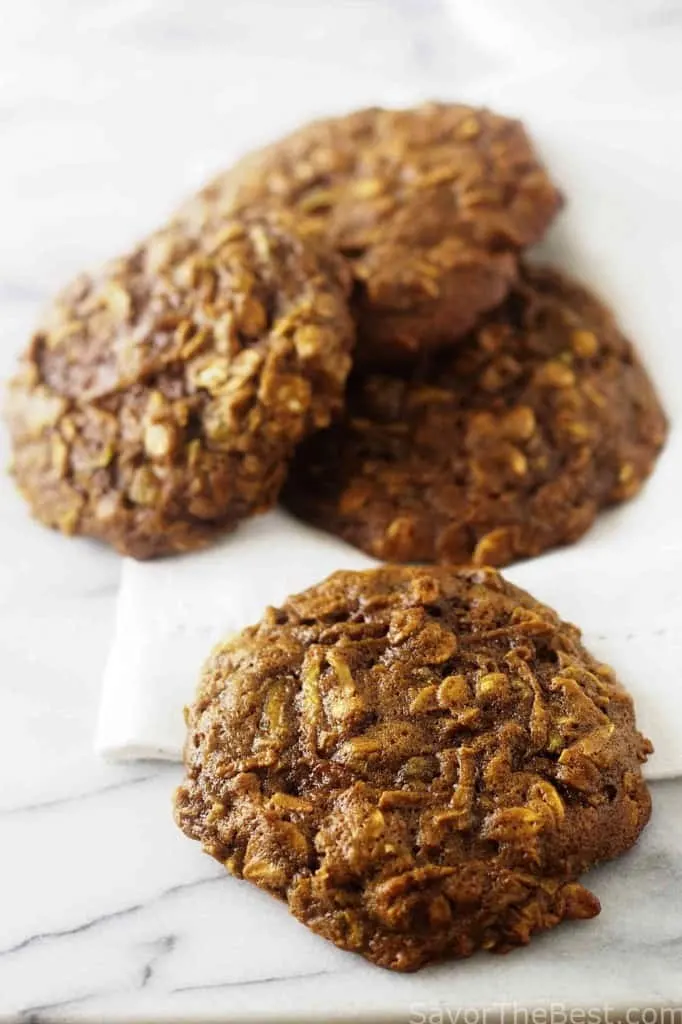 More breakfast recipes:
Ancient Grains Apple Cranberry Granola,
Ricotta Pancakes with Pomegranate Syrup
CONNECT WITH SAVOR THE BEST!
Be sure to follow us on our social media accounts
Facebook * Instagram * Pinterest * Twitter * Youtube
Did you make this recipe? We would love to hear from you. Drop us a comment below.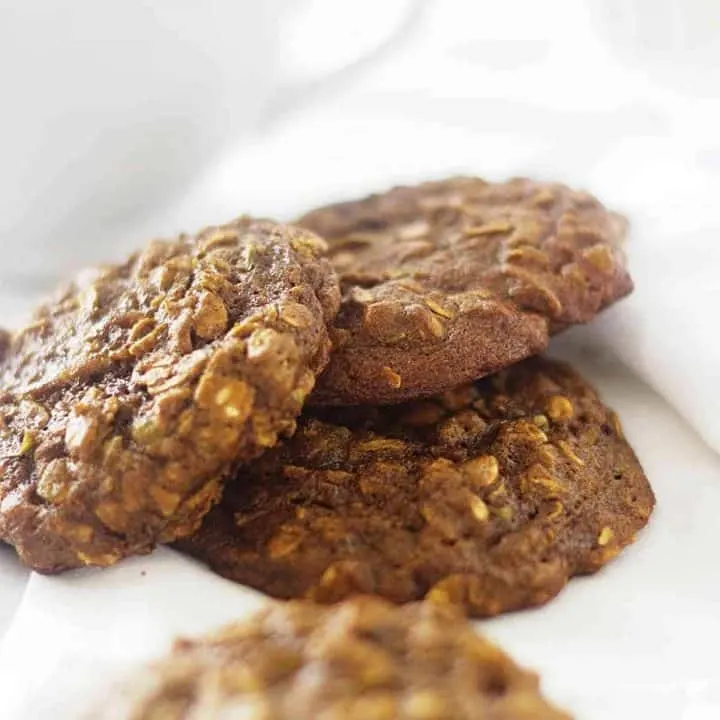 Ancient Grain Apple Breakfast Cookies
These tender, moist and spicy cookies are loaded with apples, coconut, pecans, ginger and healthy ancient grains. The molasses keeps them soft and gives them a robust flavor.
Ingredients
Dry ingredients
3 cups all purpose einkorn flour (360 grams)
3 teaspoons cinnamon
1 teaspoon ground nutmeg
1/2 teaspoon ground ginger
1/4 teaspoon ground cloves
1 1/2 teaspoons baking powder
1 teaspoons baking soda
1 teaspoon salt
Wet ingredients
1 1/3 cups coconut sugar (270 grams)
1/3 cup coconut oil
2 large eggs
1/3 cup molasses
1 teaspoon vanilla extract
Add ins
3 cups shredded apples (from about 3 apples)
1 1/2 cups rolled spelt flakes (150 grams)
1 cup coconut flakes toasted (112 grams)
1 cup chopped toasted pecans (112 grams)
3/4 cup chopped crystalized ginger (140 grams)
Instructions
Preheat the oven to 350° and line two baking sheets with parchment paper.
Combine all of the dry ingredients in a medium-size bowl. Use a whisk to combine the dry ingredients together.
In a large mixing bowl, combine all of the wet ingredients and beat on medium speed for 2 to 3 minutes. Stir the dry ingredients into the wet ingredients until well combined. Add the shredded apples, spelt flakes, coconut flakes and pecans. Stir until well incorporated.
Using a 1/4 cup cookie scooper or measuring cup, scoop out 1/4 cup sized pieces of dough and place on the cookie sheets spacing them 2 inches apart.
Bake for 12 to 14 minutes until lightly browned on the edges. Cool the cookies on the cookie sheets for 2 to 3 minutes then transfer to a cooling rack until completely cool.
Nutrition Information:
Yield:

30
Serving Size:

1
Amount Per Serving:
Calories:

165
Total Fat:

6g
Saturated Fat:

3g
Trans Fat:

0g
Unsaturated Fat:

3g
Cholesterol:

12mg
Sodium:

152mg
Carbohydrates:

26g
Fiber:

3g
Sugar:

14g
Protein:

3g
Nutrition information is a guideline only, is calculated automatically by third party software, and absolute accuracy is not guaranteed.