Cedar Planked Salmon with Thai Sweet Chili Sauce will become one of your favorite ways to prepare salmon! It's easy and quick to prepare and the cedar plank is a wonderful method to get perfect salmon every time.
Smoky cedar and a sweet and spicy chili sauce add so much flavor to the moist and tender salmon. You can bake it in a grill or an oven and enjoy a healthy and delicious salmon dinner in no time!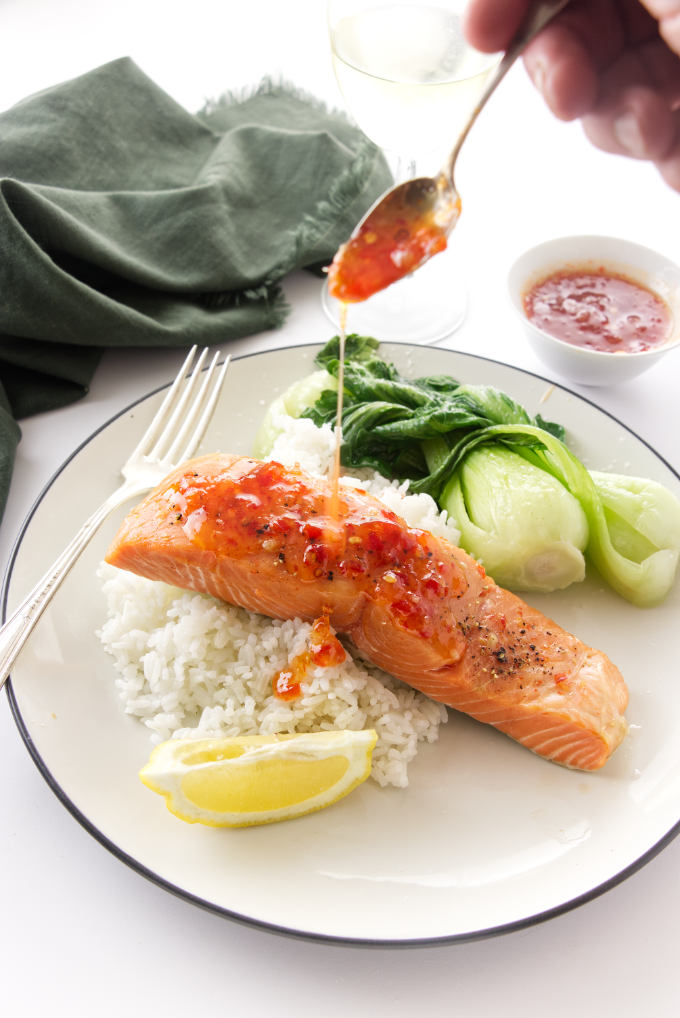 All About Cedar Plank Salmon:
What does a cedar plank do for salmon? If you've never tried cedar-planked salmon, you are in for a treat! A cedar plank infuses the salmon with the subtle smokiness of the cedarwood, and also allows the fish to gently steam.
Whether you use the cedar plank on the grill or in the oven, this cooking method results in tender and wonderfully moist salmon every time. Plus, that soft and subtle woodsy flavor from the cedar makes this salmon irresistible!
We've shared several tips previously in our Cedar-Plank Sockeye Salmon with Hazelnut Vinaigrette recipe, so check that out for tips on where to buy a cedar plank and how to soak it.
Why You Will Love It:
This Cedar Planked Salmon with Thai Sweet Chili Sauce is:
Whether you've been cooking salmon on a cedar plank for a while now or this is your very first time trying it out, we'll walk you through the easy steps to get perfect salmon on a cedar plank.
The Ingredient List:
We use Wild Copper River King Salmon for this recipe, which is one of the finest salmon varieties out there, both in texture and flavor. However, if you can't source Copper River Kings (or they're not in season), no worries. This recipe will work with many salmon varieties.
To make this dish, you will need:
Thai sweet chili sauce is good drizzled on almost anything. Try it on our pork satay or our spicy shrimp and rice bowl and we know you will really enjoy it paired with this smoky, tender cedar plank salmon.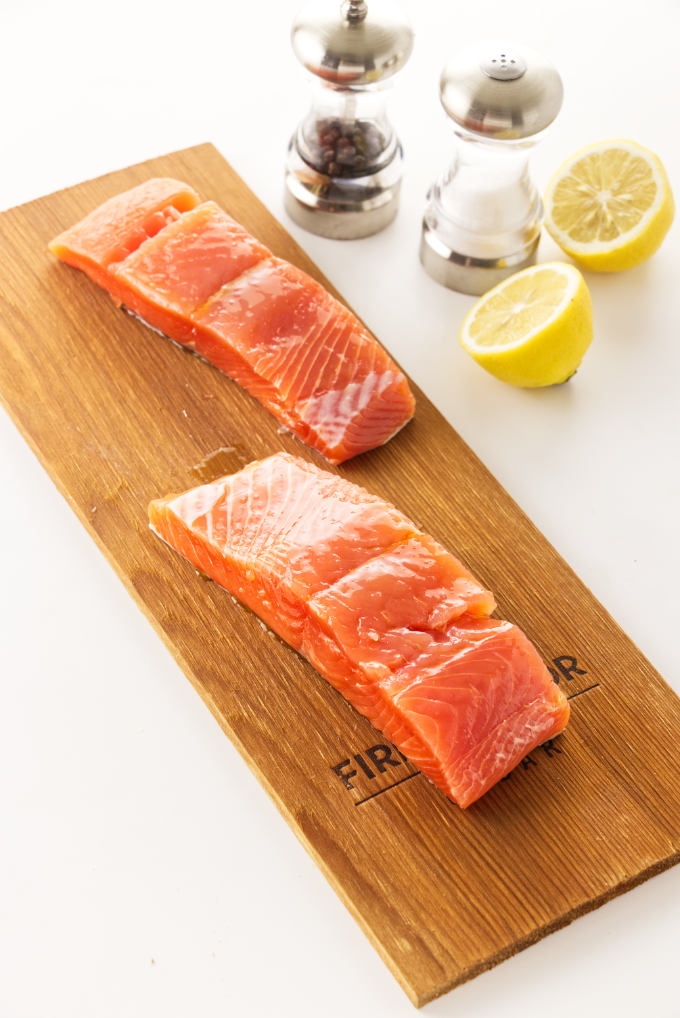 How to make Cedar Planked Salmon:
To make cedar plank salmon, one of the first things you'll need to do is soak the cedar plank. We soak it in water for at least two hours, and turn it halfway through to allow for even absorption of water on both sides.
Here's a quick overview of the recipe. Scroll to the printable recipe card for all the details.
Soak the cedar plank. This helps the fish stay extra moist while it cooks and it also prevents the cedar plank from burning.

Season the salmon and heat the grill. Place the Thai chili sauce in a small pan and keep it warm on a back burner.

Cook the salmon. Place the soaked cedar plank on the grill (without the salmon), close the top, and heat the plank for 2-3 minutes. Flip the plank and place the salmon on the hot cedar wood. Brush it with the chili sauce. Close the grill cover and finish cooking the salmon.

Serve. Use a meat thermometer to check the temperature of the salmon. Serve it with the remaining warm chili sauce.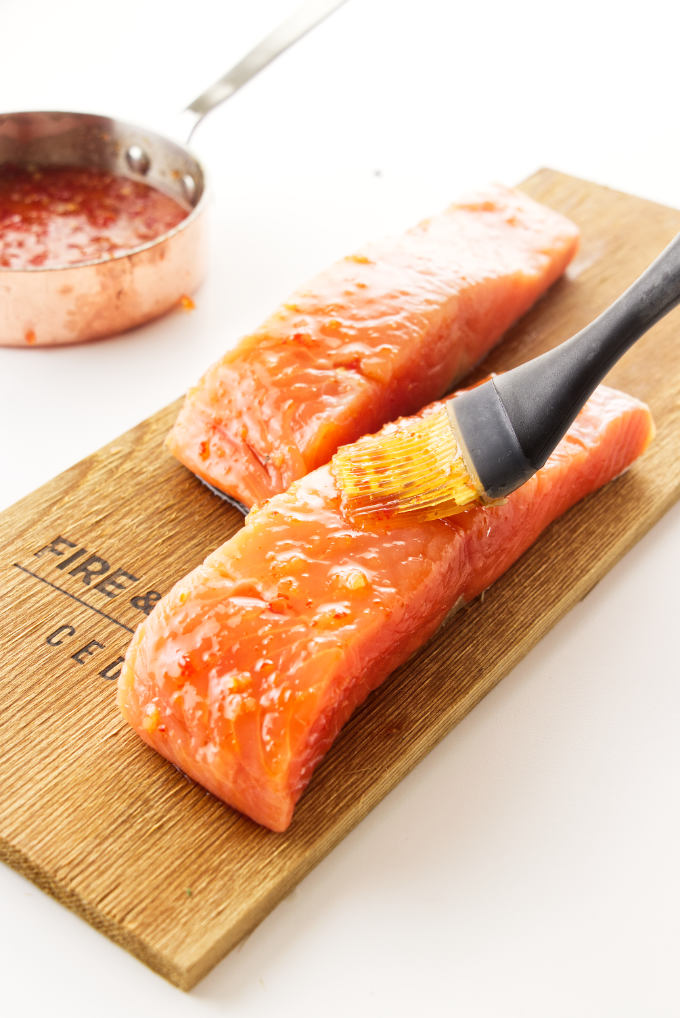 Recipe Tips
Salmon
Doneness
Internal
Temperature
Rare (soft, buttery, juicy)
110°F
Medium rare (tender, flaky, moist)
125°F
Medium (flaky, firm, still has moisture)
130°F
Medium-well (dry, firm)
140°F
Well-done (dry and tough)
145°F
Salmon Temperature Guide
Remember to place your thermometer probe in the thickest part of the fillet and keep in mind that there will be carryover cooking. The salmon will continue to cook about 7°F to 10°F AFTER you remove it from the heat.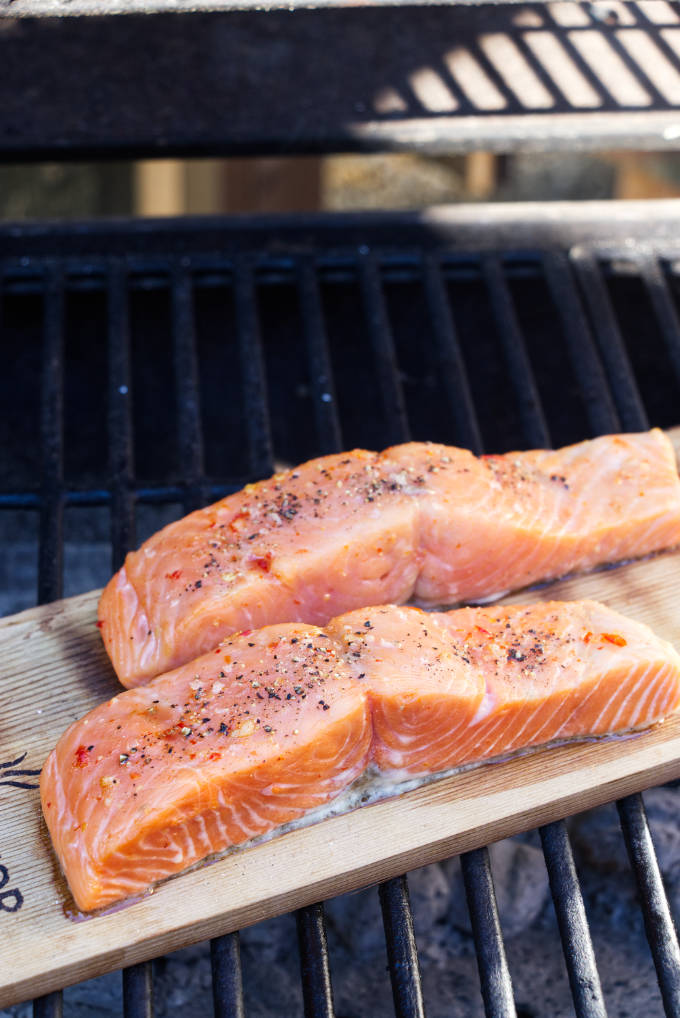 Frequently Asked Questions:
How long do you soak a cedar plank for salmon?
We recommend a minimum of two hours, flipping the plank after one hour of soaking so that both sides soak evenly.
Can you reuse cedar planks for salmon?
If the cedar plank is used on the grill, it may get pretty charred and might be unusable for a second time. You can reuse cedar planks if you feel they are in decent condition and you clean them well, however it's best to use a fresh cedar plank each time.

This will also depend on how you prepare the salmon since the cedar plank will most likely take on the flavor of whatever sauce you used. Luckily, cedar planks are pretty inexpensive and you can often find them in packs of six or twelve (or more).
What temperature do you grill salmon on a cedar plank?
Whether you're cooking cedar plank salmon on a grill or in the oven, we recommend a temperature of medium-high, about 350°F.
Do you flip fish on cedar plank?
There is no need to flip the fish on a cedar plank. If your salmon has the skin on, place the salmon pieces on the cedar plank with the skin side down.
Is cedar plank grilling healthy?
Yes, cedar plank grilling is simply a method of steaming the salmon and is a healthy way to prepare the fish.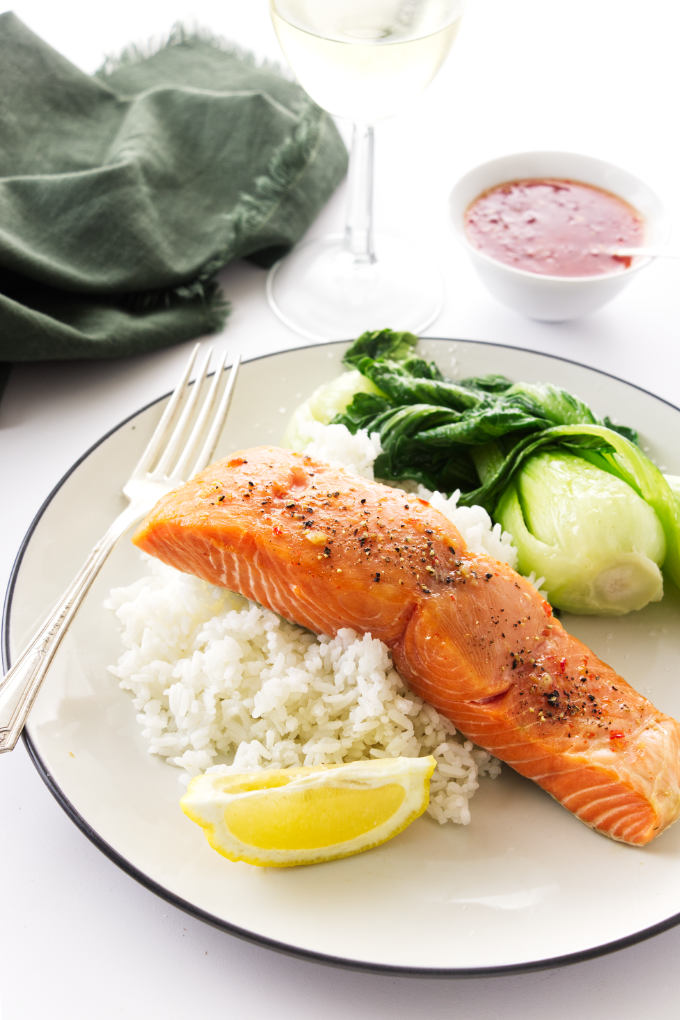 What to Serve with Salmon
Here are a few ideas for side dishes that go well with the Asian-fusion flavor of our Cedar Plank Salmon. Choose a starch and one or two veggies from the list below and you will have a complete meal.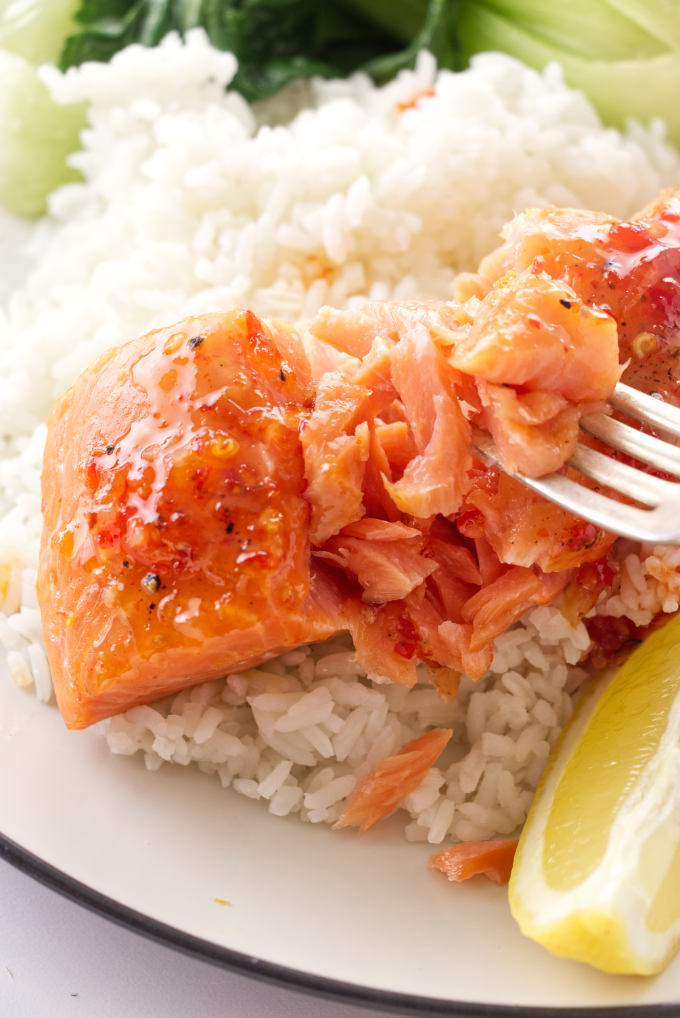 Cedar plank salmon with Thai sweet chili sauce is one of those meals you'll want to prepare over and over! It's so yummy and a simple salmon dinner that will be a hit every time!
Some Other Recipes We Are Sure You Will Love:
A rounded-out, how-to guide for baking a whole salmon! It's simple to do and is non-intimidating with our recipe, which includes a quick brine and even a temperature chart for your desired salmon doneness.
This Creamy Salmon Piccata consists of tender salmon fillets that are pan-seared then drenched in a creamy lemon caper sauce. Served over hot linguini, this delicious dinner is easy yet elevated.
Creamy and thick with potatoes, onion, and salmon, this delicious smoked salmon chowder has an intense smoky flavor and makes the perfect lunch or dinner on a chilly day.
Adzuki beans are nutty, sweet, and a little savory. They are easy to cook in the Instant Pot and taste great. Give them a quick season with Thai Lime Sriracha seasoning for a quick side dish.
Connect With Savor the Best:
Please follow us on our social media accounts
Facebook * Instagram * Pinterest * Youtube * Twitter
Did you make this recipe? We would love to hear from you. Drop us a comment below.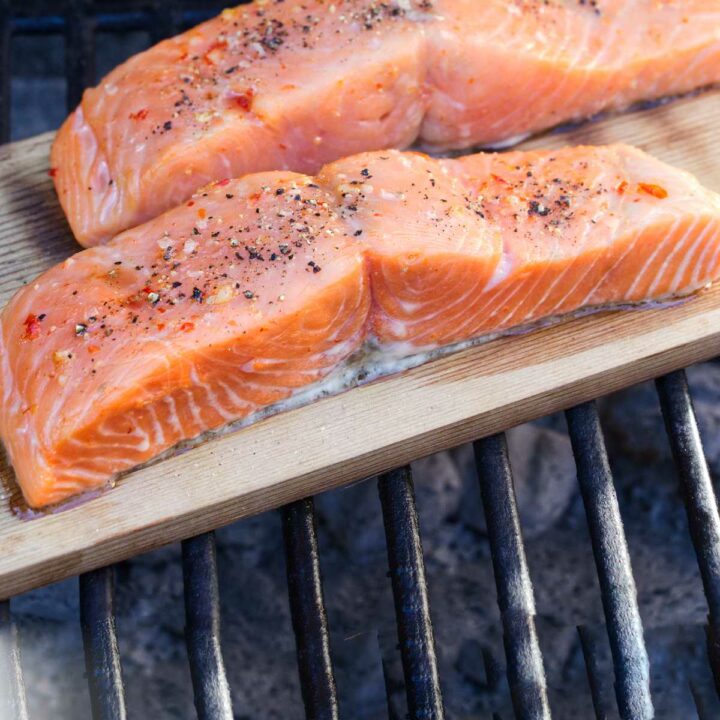 Cedar Planked Salmon with Thai Sweet Chili Sauce
Total Time:
2 hours
30 minutes
The subtle taste of smoky cedar make this Cedar Planked Copper River King Salmon with Thai Sweet Chili Sauce one of our favorite methods of preparing salmon. Baked in a grill or oven, this is a quick, easy and delicious entree.
Ingredients
1 Cedar Grilling Plank
2 Wild King Salmon Filets (1-1/2 inch thick)
Salt/pepper
8 ounces Thai Sweet Chili Sauce
Lemon wedges for serving
Instructions
Soak the cedar plank in water for at least 2 hours, turning the plank after 1 hour to allow for even absorption on both sides.
Season the salmon with salt and pepper.
Prepare the grill for direct-heat cooking over medium-hot charcoal (350°F) or set a gas grill at medium-high heat.
Heat the Thai chili sauce in a small pan and keep warm on the back burner.
Place soaked cedar plank on the grill, close the top and heat for 2-3 minutes. With tongs, flip the plank over and place the salmon on the hot cedarwood.
Brush the salmon generously with the Thai chili sauce.
Close the grill cover and cook the salmon for 18-20 minutes or to your desired doneness. Use a meat thermometer to check for doneness and refer to the temperature chart below.
Serve with the remaining warm chili sauce.
Notes
While we are using Copper River King salmon, this method can be used for any species of salmon. Adjust the cooking time depending on the thickness of the fillets.
Be sure to soak the cedar plank thoroughly before adding it to the grill
The USDA recommends a minimum internal temperature of 145°F. We like our salmon cooked to medium-rare. Keep in mind that there will be carryover cooking and the salmon will cook 5 to 10°F more after you take it off the grill.
Salmon Doneness Guide
Medium-rare = 125°F
Medium = 130°F
Medium-well = 140°F
Well done = 145°F

Recommended Products
As an Amazon Associate and member of other affiliate programs, I earn from qualifying purchases.
Nutrition Information:
Yield:

2
Serving Size:

1
Amount Per Serving:
Calories:

750
Total Fat:

28g
Saturated Fat:

5g
Trans Fat:

0g
Unsaturated Fat:

20g
Cholesterol:

143mg
Sodium:

461mg
Carbohydrates:

71g
Fiber:

1g
Sugar:

66g
Protein:

51g
Nutrition information is a guideline only, is calculated automatically by third-party software, and absolute accuracy is not guaranteed.